Whether you're a casual day-tripper, an avid hiker, or a serious traveler, we know that choosing the right backpack is essential for a comfortable and organized experience.
There are lots of important factors to consider before choosing a backpack for yourself. From size to durability, your backpack should be built to suit all of your personal needs.
In this complete guide, we together with adventure writer Cez Krol explore the different types of backpacks, how to get the right fit, and share some of the key features to consider when making your purchase.
Types of Backpacks by Size
There are many different types of backpacks out there, but usually they're differentiated by size. Here are the different variations of backpacks you can get and when they're best used.
Mini or Small Backpacks: 6-15 Liters
Small backpacks, sometimes called mini backpacks, are great for simple day excursions, such as taking a long walk or packing a few items to visit the Zoo.
While these backpacks are often used casually for shopping or light travel, they also make great kids' backpacks. Mini backpacks can easily hold packed lunches and drinks, as well as some school supplies.
Daypacks: 15-30 Liters
Daypacks are considered a size up from mini backpacks, and are usually between 10 and 30 liters. These backpacks are designed for single-day holiday trips, and are most used by hikers who enjoy spending their day off in the great outdoors.
Because of the nature of their use, some daypacks include hydration packs, or at least have a function where one can be inserted. In a pinch, this size can easily be used for simple weekend trips to carry spare clothing, toiletries, and snacks.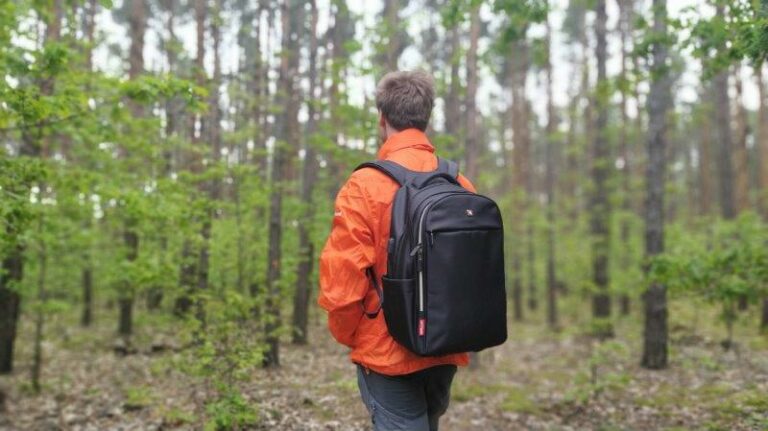 Medium Backpacks: 30-50 Liters
Medium backpacks range anywhere between 30 and 50 liters. This size tends to be the sweet spot for many travelers, as it's perfect for overnight camping trips up to 3 days (depending on how lightly you pack!).
These backpacks are stronger than daypacks so you can easily carry heavier loads with them with proper weight distribution. They also tend to have extra padding and pockets, so you can fit more belongings without hurting your back.
In some cases, medium backpacks are able to carry gear like tents or sleeping bags. Ultimately, this depends on the size of your gear and how much you need to pack in entirety for your trip.
Large Backpacks: 50-80 Liters
This final category of backpack is perfect for serious travelers, hikers, and campers. Large backpacks range anywhere from 50 to 80 liters, with most averaging around 65 liters.
Backpacks of this grand size are designed for more multi-day travel, such as extended overnight hiking expeditions or backpacking. They're able to handle carrying large amounts of survival gear at once, including clothing, tents, sleeping bags, water bottles, emergency supplies, and more.
If you're planning to travel outdoors for several days, a large backpack is your best choice.
What to Look for in a Good Backpack
Beyond size, there are several things to look for to find a good backpack. Here are some of the main things to consider when making your choice.
Sturdy Frame
While most mini backpacks don't have a frame, daypacks, medium backpacks, and large backpacks do.
Frames are designed to make your backpack sturdier in specific places, helping to distribute weight throughout the pack. This makes carrying your backpack easier on your body, as it provides support for your hips and shoulders. Without a frame, larger backpacks would be extremely uncomfortable to carry, and you would struggle to keep an upright posture as you walk.
There are two different types of backpack frames:
Internal Frame – hidden in the back panel so it hugs your body, more easily supporting the load. Often made of plastic sheets or aluminum rods.
External Frame – shown on the outside of the backpack, offers better ventilation and works best for extremely heavy or irregular loads. Often made of aluminum framework.
Backpack frames can be made of different materials, such as plastic, fiberglass, or aluminum. Each material is fairly lightweight, though aluminum frames tend to be a bit more durable.
Good Ventilation
With a heavy load on your back all day, it's no surprise that your back may get sweaty after a while. To combat this, some backpacks have a suspended mesh panel on the back to improve the ventilation of the pack. Others may be built with ventilation channels throughout the back panel to improve airflow.
These panels and channels keep a bit of space between your back and the main material of your backpack. This will keep sweat from building up, so your back can stay drier longer even as you hike in humid conditions.
Easy Access
Most backpacks open strictly at the top, to maintain waterproofness and safety.
While this may work for simple day trips, this isn't always efficient with larger backpacks. If you need something at the bottom of the bag, you have to remove all of the items on top first.
To make things easier, some backpacks have specific panel access, which lets you unzip lower in the bag. This lets you remove anything you need at different parts of the bag without having to unload the entire thing.
If you need to carry lots of items for big trips like rock climbing trips and camping trips, we highly recommend finding a pack that has easy panel access.
Multiple Compartments and Pockets
Backpacks aren't just big, open sacks. High-quality backpacks have lots of different pockets and compartments for you to organize your belongings as you pack. This keeps you from just tossing everything together in a big, jumbled mess.
Better backpacks will have more compartments for your things. In general, the more storage space a backpack offers, the better. Look for backpacks with different types of compartments, such as a sleeve for a hydration pack, or tiny pockets for pens or smaller gear.
Padding
Padding on your backpack can make all the difference. You'll likely be wearing your backpack for several hours (or maybe even the entire day!), so you want to make sure it's comfortable.
Padding is especially important on medium and large backpacks, as these can cause more strain on your back and shoulders. Look for backpacks that have extra padding on the shoulder straps, back panel, chest straps, and hip straps for the comfiest fit.
Clips, Hooks, and Other Attachment Points
Hikers and travelers often need to attach certain gear to their backpacks, like tools or helmets. Attachment points like loops, hooks, clips, and cords are essential for keeping your gear secure.
One of the most common attachment points found on backpacks are daisy chains. These are a strip of webbing loops, so you can attach multiple items to the chain at once.
You can also attach some extra carabiners to your gear loops to give yourself more attachment points if needed, though a good backpack should have plenty.
Raincover
It's easy to forget about a raincover until you feel that first raindrop. Though many good-quality backpacks are made from waterproof materials, water can still seep between seams and zippers.
Your backpack should come with a waterproof raincover to prevent water from soaking into your backpack and weighing you down, or damaging your belongings. If it doesn't come with one, you can always buy one separately as long as it's the right size and made of waterproof material.
At a minimum, any backpack you purchase without a raincover should be made of waterproof material to keep your belongings safe.
Backpack Fit
To get the most comfort from your backpack, you should make sure you have the right fit. Fitting your backpack to your body is about more than just the backpack's size.
Torso Length
Everyone's body is different, so not all backpacks will fit everyone the same. Many professional backpacks come with adjustable suspensions to accommodate different torso lengths for individual users. If your backpack doesn't feel quite right, see if you can adjust the torso length on it.
In general, torso lengths up to 15 inches are best suited for extra-small backpacks, 16-17 inches for small backpacks, 18-19 inches for medium backpacks, and 20 or more inches for large backpacks. However, this can vary based on your body type, strength, and the ability to adjust your pack size.
Waist and Hip Size
The majority of your backpack's weight should actually be carried by your hips. Hipbelts should be adjustable to fit a variety of body shapes and sizes, though some people may still not fit within these adjustments.
If this is a concern for you, look for a backpack that has interchangeable hipbelts, so you can easily attach one that you know is your correct size.
Load Lifter Strap
The load lifter straps are the ones that adjust the pack's weight on your shoulders. If your backpack feels like it's pulling too tightly or heavily on your shoulders, try to adjust the load lifter straps to see if that helps. If necessary, some backpacks come with extenders for their adjustable straps.
Sternum Strap
As the name implies, the sternum strap goes across your chest and connects your shoulder straps. This improves your stability while carrying the backpack. As with the other straps, make sure the sternum strap fits you comfortably, and use an extender if needed.
Points to Consider
There are a few last points to consider when choosing a backpack, from comfort to budget to usage.
Comfort
Since you'll likely be carrying your backpack a lot, you should make sure it's comfortable on your body. Invest in a backpack that has padding on the back and all the straps to keep it from pulling too harshly on your body.
Whenever possible, try on a backpack at the store and see how it feels. Adjust it to your body and make sure it doesn't feel too snug or uncomfortable.
If you have a smaller frame, women-specific backpacks may be more comfortable than traditional ones. These backpacks tend to have shorter and narrower torso dimensions than men's or unisex backpacks, which could be a more comfortable fit for you.
You should always be comfortable wearing your backpack, whether you're casually carrying your homework or trekking with a tent and sleeping bag.
Durability and Material
You want your backpack to last a long time, especially if you're investing a pretty penny into it. Make sure your backpack is made of durable materials such as nylon, polyester, or canvas.
Nylon is particularly popular as it is extremely durable and resistant to abrasion. However, it is not as good at holding up to UV rays as polyester is, so consider how sunny it will be as you use your backpack.
Canvas tends to be a bit heavier than the other materials, but is extremely durable and long-lasting. You'll want to make sure it has a rain cover or some waterproof coating, though, as it tends to be pretty absorptive.
You'll especially want more durable materials for intense activities like hiking or camping. The tougher the material, the more activities you can do with it without risking damage or tearing. For more casual use, lighter or thinner materials should work just fine.
Organization
Though several backpacks may have lots of different compartments, they may have compartments in all different places. You should consider the type of organization you want for your belongings in your pack when choosing a backpack.
For example, those going on overnight trips may want a backpack with a specific compartment for a sleeping bag. Others may instead want one with pockets for sketching pencils next to a sleeve for a notebook or laptop.
The compartments you choose ultimately depend on your personal use of the bag. Backpacks with fewer compartments are usually best for casual use.
There are countless organization options out there, so take a peek at your top backpack choices and see what will suit your needs best.
Budget
Backpacks can range greatly in price depending on their size, materials, and brand. A backpack can run you anywhere from $20 up to several hundred dollars, depending on your needs.
In general, larger backpacks with more compartments or stronger materials will be more expensive than smaller frameless ones. If you want a rugged pack built to last you on some major expeditions, plan to have a higher budget than you would for a casual backpack.
Generally, you can find a good-quality backpack for around $100-150 that fits the majority of your needs. For those with greater needs (cross-country hiking, anyone?) you'll likely have to shell out for a more intense backpack.
Final Thoughts
There are a lot of different backpacks out there, so you'll have to consider your needs carefully when making a choice. By taking this guide into consideration, you should be able to find one that is comfortable and works best for your purposes.
Related Articles in Backpacks
Backpacks by Brand
Backpacks by Size
Outdoor Backpacks
Backpacks with Special Features
Budget Backpacks
Everyday Backpacks
Backpacks by Demographics
Travel Backpacks
We've reviewed lots of backpacks during our years of travel. Read one of our other articles to learn more about the best ones out there by type and use: