Etramping – the adventure travel blog you're reading right now – is a place to discover and to share the passion for adrenaline and curiosity of new destinations. It's a place for those who are eager to experience the world with all of their senses!
Who started Etramping?
Agness and Cez, travel buddies and best friends (not a couple!). Originally hailing from Poland, we ditched our nine-to-five's in favor of taking off for unique adventures around the world. Ever since 2011, that's when it all started!
How did it all start?
We now think in retrospection of the tremendous efforts we put in to get where we were, and the simple and painful realization that this wasn't where we wanted to be. That's one of the hardest things to swallow – a thought that you were working so hard towards a goal you didn't want to achieve. There is an alternative, and this is the story of our journey to dreams.
For Agness…
In her own words:
Since I remember, travelling has been in my blood. I'm not interested in a typical beach or all inclusive holiday but prefer to spend my free time doing active and exciting things with my backpack on. When my friends were going out for parties every weekend, I was working hard (full-time university, full-time job in a coffee shop and part-time teaching) trying to save as much money as possible for my next journey. When others were booking their holiday in a travel agency thinking how big the swimming pool in their hotel should be, I was planning from the very beginning my next trip wondering how to get off-the-beaten-path. This is how much I differ from most of my friends when it comes to travelling.
And so, Agness set off for her first "real" adventure to China in August 2011 with her luggage, a Lonely Planet book, no idea what to expect, and a lot of curiosity to satisfy. Full of energy and ideas, trying to figure out how to manage to live and blend in on a different continent, Agness embarked on a quest to discover the new perspectives that travel provides in abundance.
For Cez…
He had this moment later in 2011. Sitting at his desk, in one of the biggest banks in the world, sipping on a coffee. Yeah, that's the perk of the job, you can bring a cup to work and refill it every so often with a brown mixture of milk, sugar and energy kick. Something that gets you glued to that position and to this life of hidden slavery. As a bundled package, with such an amazing perk one also receives a steady flow of stress – a norm in nearly every well-respected job. Predictable working hours, aspiring opportunities, official dress code, reasonable pay, all those things make people believe that this career is a good place to be. Many people would love to be in the position Cez was back then, and we don't blame them, it looks so good on the surface.
For Cez, being the accountant type, it didn't start with a simple realization "I want to travel". It was more of a thought process that eventually led to that point. A kind of conversation in his head:
What are you working so hard for?
For money. It's hard to deny the fact that waking up in the morning to go to work brings a lot of stress. It leaves me tired in the evening and is anything but a necessity to get money.
What will you do once you become rich?
Travel the world and see all those things I used to watch on Discovery Channel when I was younger, but this time being able to interact with all that surrounds me.
What stops you from traveling now?
I – erm – I don't know… There's just no reason!
Our travel style
Initially, money was the issue for both of us when it came to travel. This is why we have become experts in traveling for less than $25 a day and this blog has so much to say on the topic. However, as we continued on our journey, and got better in both planning the trips and earning money on the way, we overcome the boundary that the budget brings.
Now, we don't focus on the budget anymore, it is the intensity and uniqueness of our trips that matter the most. From the beautiful landscapes of Tibet, through the cycling trip across Vietnam, to the mysterious land of North Korea, and far beyond, we strive to discover what others don't believe is possible to do.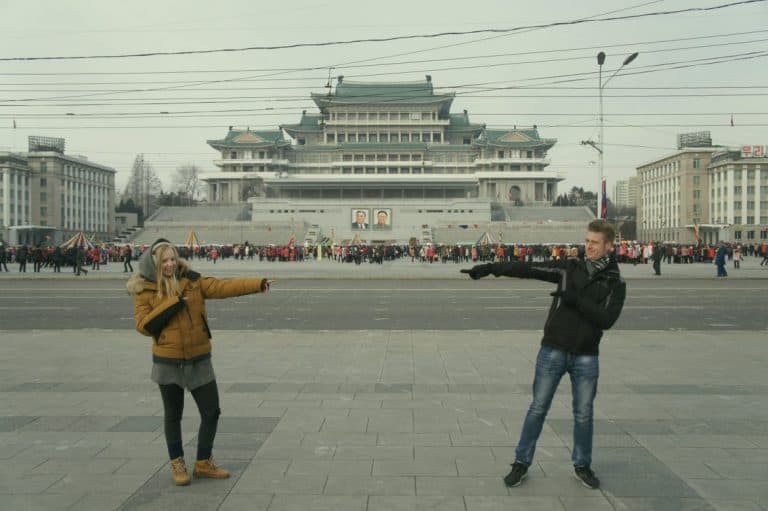 We are talking here about travel full of twists and unknown ahead and all-inclusive holidays have nothing to do with this. Traveling with a one-way ticket, backpack and hunger for real experiences, you may sometimes be seen as a tramp. Own up to this and be proud to be different and open. In return, you get the freedom to do exactly what you want to do.
Over time, we have also realized our passion for health and fitness, choosing to live a life devoted to healthy eating and exercise. You can follow Agness's tips and advice on runagnessrun.com, a website focusing on improving diet and running to keep fit. And last, but by no means least, make sure you check out atuktuk.com, our blog filled with more tips and tricks to help you get the most out of your budget.
What's on eTramping for you?
An abundance of knowledge, tips, and first-hand experiences but that's just what you find on every blog. We differ by discussing topics that are rarely covered elsewhere and we pride ourselves on writing our honest opinions and staying true to our values, even when it isn't the easiest route to take. You'll always get the true picture from us, no matter how it smells.
Hit that search button at the top-right corner to find out about what interest you, and connect with us on Facebook, Twitter (Cez and Agness), and subscribe to our newsletter.
How do we support our travels?
By working with various companies so if you know someone who runs a business in the travel industry and may benefit from working with us, please do let us or them know. Muchas gracias!