In today's blog post, we are going to guide you through Jeju Island, one of the largest islands off the coast of the Korean Peninsulas. In this 5-day itinerary for Jeju Island you will find things to see on Jeju Island, things to do in Jeju, dishes to try, where to stay and other points of interest.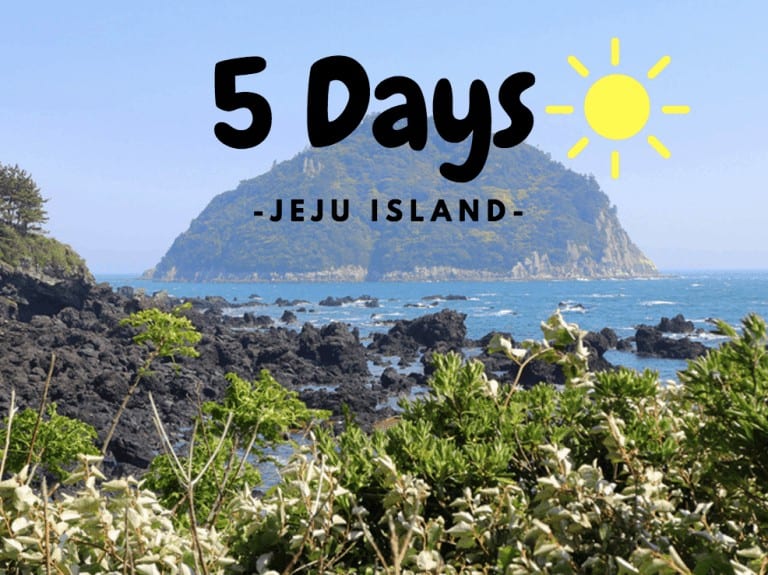 Jeju is a great place to visit if you're interested in Korean culture and enjoy the outdoors. It's an easy place to be: the hiking routes are clearly signposted, there is an efficient bus network connecting the whole island, there is Wifi everywhere and the food is great.
This beautiful place is an uncommon holiday destination for Western people, but you might be very pleasantly surprised when you visit Jeju Island!
If anything, we hope this free and easy itinerary for Jeju Island is going to help you in exploring the area in the best way possible.
---
What to Expect from this Jeju Island Itinerary
Two friends of mine have been living on Jeju Island for over a year now teaching English to Korean kids. I was able to stay at their place for two weeks and explore the island based on their tips.
Being my ever-so-active self I followed practically all of them, which resulted in a surprisingly fun and versatile stay. You will enjoy this Jeju Island itinerary to the fullest if you are into hiking, sharing food, relaxing on the beach, having the occasional coffee and croissant splurge and discovering (Korean) culture.
You can use this Jeju Itinerary even if you have less than 5 days here.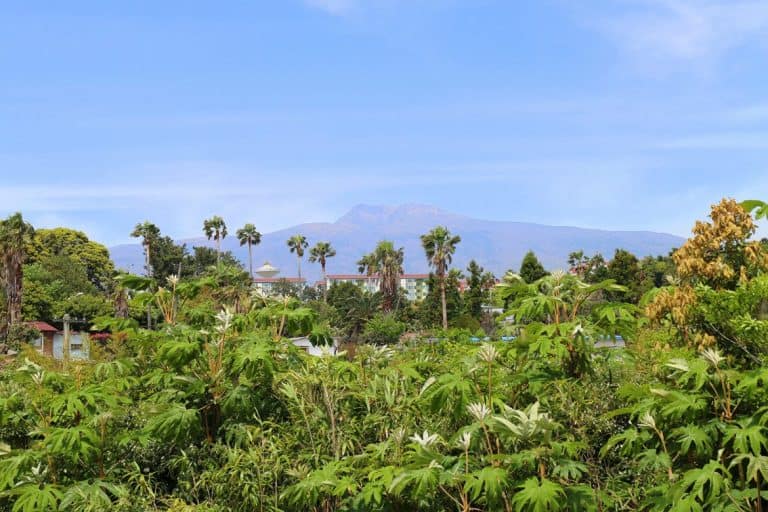 How to get to Jeju Island?
Jeju Island is located off the south coast of South Korea and if you're already in Seoul or Busan, it is possible to take a ferry to Jeju. However, a round-trip ticket for one person will cost around $100, which is quite expensive compared to the costs of flying.
Ferry to Jeju
If you decide to go for the ferry, you can pick one of the three terminals to arrive on Jeju:
Jeju Domestic Ferry Terminal
Jeju International Ferry Terminal
Seongsanpo Ferry Terminal
Fly to Jeju Island
Seoul is just a cheap domestic flight away (flights from Seoul usually cost around €50 return) and considering the ferry is not the most comfortable way of commuting, I would recommend to book a flight ticket to Jeju Island from Seoul. This will save you some money as well as some possible seasickness.
For your convenience, I've added an easy search box to find your flight to Jeju. Help yourself!
Pro tip: read our guide on how to book the cheapest flights.
Accommodation around Jeju Island
You can find plenty of places across the island to stay. Check the map below to see what options are currently available and where.
Getting around Jeju Island
If you are (like me) quite dependent on Google Maps to navigate in foreign lands, Jeju Island and Korea, in general, might be a bit of a challenge. The first thing you will notice is that Google Maps won't show any directions for driving or getting there on foot. The reason for this is that Korea has strict rules for exporting map data to anyone outside of the country, to prevent it falling into the wrong hands (*cough* North Korea *cough*).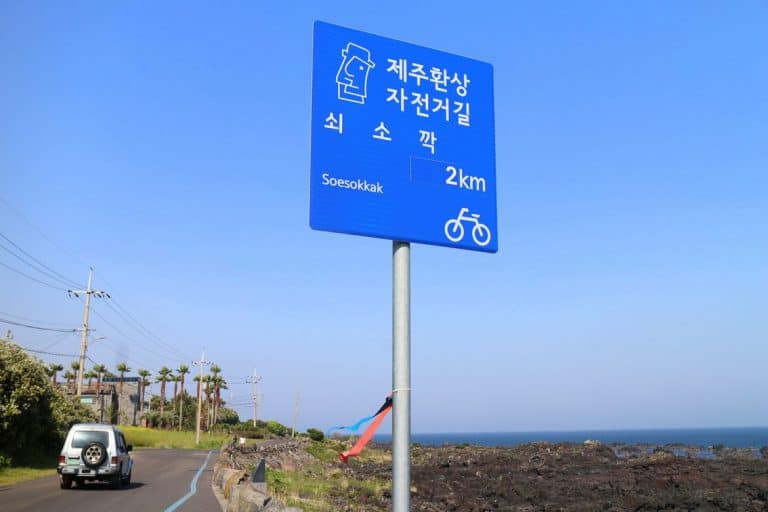 Another tricky part of navigating in South Korea is finding shops, cafes, restaurants, and other establishments. You won't find many of them (especially outside Seoul) without using the exact Korean characters.
The best workaround I could find is to try to look for the shop/ cafe/ restaurant on Google search. Often a blog post will pop up with the Korean name of the place next to the name written using "our" Latin alphabet. A copy paste of the characters into Google Maps and good chance you will get a hit. Instagram is another good place to find the name in Korean characters, especially for cafes and restaurants. People often post their food/drinks online and name the place using hashtags in both Korean and Latin characters.
Jeju Island Map
Here's a Google map with all the places mentioned in this itinerary on it:
Note: A lot of the Google Maps markers I linked to in this itinerary might look like they are building sites or like a completely different business. This is because Google's maps and street view images of South Korea aren't updated regularly (for the reasons read the previous few paragraphs). However, I have physically been to all of the places I mentioned, so I know they exist and can be found at the locations I put the markers.

Day 0: Arriving in Jeju City
This is the day your plane arrives at Jeju airport near Jeju City. Take the Airport Limousine (don't get any big ideas, it's just a couch or taxi) to Seogwipo, Jeju's second biggest city on the other side of the island. That's the best place book your hotel. I liked this city as a base for my daily endeavors; it has less of a city-feel to it and most of the highlights on this itinerary are easy to reach from there.
Day 1: Coffee and Traditional Markets in Seogwipo
Wake up and brush your teeth; it's time to explore Seogwipo! The second-largest city on Jeju Island has much more of a beach vibe than Jeju City, and its compact size makes it easy to get around by foot. If you love a cup of coffee you're in luck: so do Koreans! In fact, having a cup of coffee is deeply embedded in Korean culture and is considered a social event mostly scheduled for late afternoons or evenings. Fun fact: Seoul has a higher coffee-per-capita than Seattle and San Francisco!
Coffee time
It's easy to find a cup of coffee as there are loads of places in Seogwipo. One of my favorites is Paik's coffee (빽다방), where you can get an Americano for 2000 KRW (around €1.50). Most places are open from around 9:30 AM to around 10 PM.
Paik's coffee Seogwipo (서귀포 빽다방)
Opening hours: 9:30 AM to around 10 PM
Browse the Cozy Maeil Olle Market
Another great part of the Korean culture on Jeju is the many markets, where anything from clothes to fruit and seafood is being traded. In this itinerary, you will visit two of my favorite markets, the Seogwipo Maeil Olle Market, and the traditional 5-day market. The Maeil Olle Market (서귀포매일올레시장) is a collection of covered passageways with individual stalls selling mostly food.
The Maeil Olle market is open from 7 AM to 9 PM, but as the stalls open and close whenever they want there is a chance that most of them will be closed if you arrive closer to the official closing time. Be sure to get some Jjinbbang (찐빵), which are Korean steamed buns either filled with meat (pork, beef) or sweetness (mostly soy bean).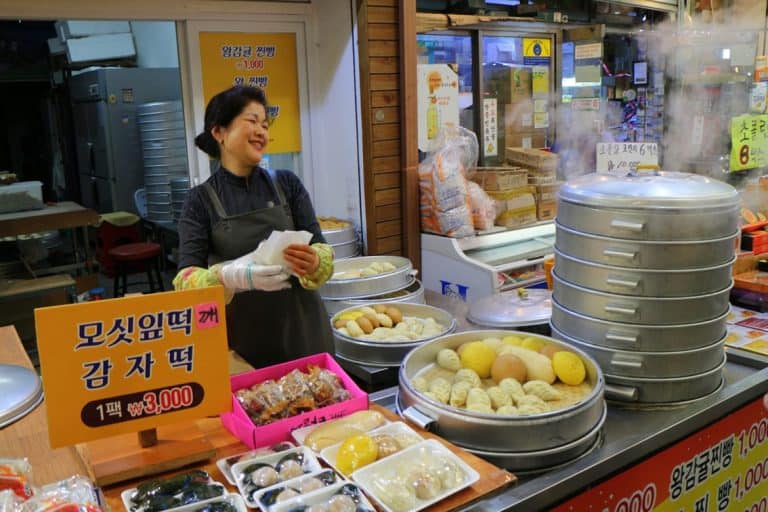 Seogwipo Maeil Olle Market (서귀포매일올레시장)
22 Jungjeong-ro73beon-gil, Seogwi-dong, Seogwipo, Jeju-do, South Korea

Open daily from 7 AM to 9 PM
Kimchi and Oranges at the Traditional 5-day Market
The traditional 5-day market can be found in different locations around the island and has peculiar business hours. The market has a long tradition, starting as early as 1906. In times without large department stores, the market days gave people the opportunity to exchange information about fishing and farming.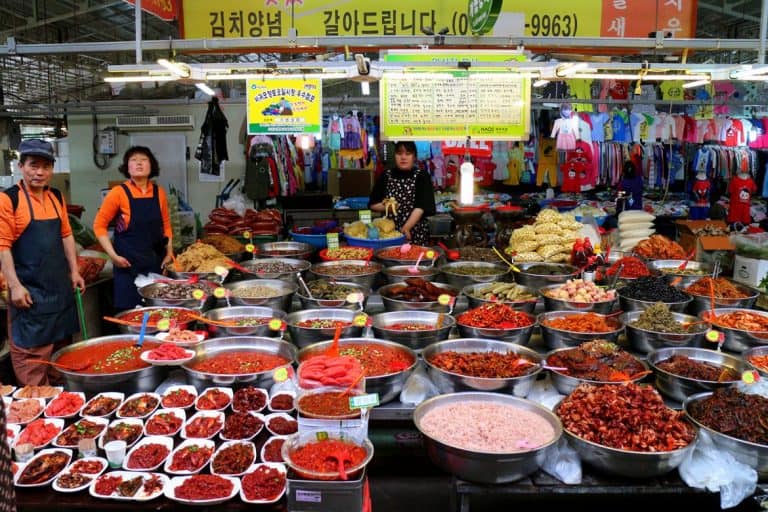 Next to doing their shopping, of course. The markets can be found in Hallim, Daejeong, Seogwipo, Hamdeok, Sehwa, and Pyoseon. In Seogwipo, the markets open on days that have a 4 or a 9 in them, so the 4th, 9th, 14th, 19th, 24th and 29th of every month. Conveniently, the market is also open on all weekends. It's a great place to get the famed Jeju Island oranges and see plenty of stalls with typical Korean vegetable and seafood stalls.
Seogwipo 5-day traditional market (서귀포향토오일시장)
18-5 Jungsangandong-ro 7894-gil, Seogwipo-si

Operates on the 4th, 9th, 14th, 24th, 29th of every month, and every weekend

Opening hours: 9 AM to 6 PM
Soban: an Amazing Korean Dining Experience
Soban (소반) is one of my favorite places to on Jeju Island. This quirky little place has tight opening hours (Mon – Fr 11:30 AM – 2:30 PM and 6 PM – 8 PM, closed on weekends) and only seats 20 people spread over 6 tables. You can imagine that it is often full, so you might have to wait a little bit before you can sit down. Your best bet is to arrive close to the opening time; I was the first one there but when I left all tables were occupied.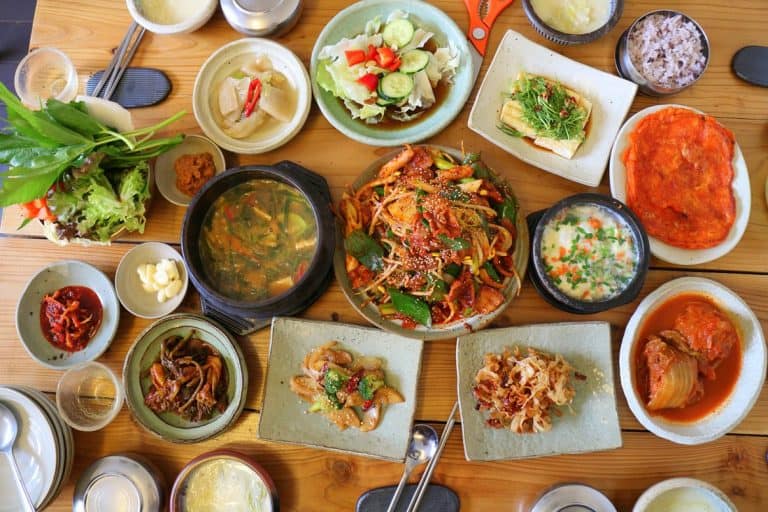 The food is simply fantastic and the staff is very friendly and the owner even speaks some English. Korean cuisine is known for its combinations of little dishes with different vegetables, mushrooms and kimchi (this is a whole different category in Korea).
For our group of 4, we got 12 plates of food to share (sharing food is a big thing in Korea), each with their own taste-explosion on the first bite. I have to stop writing about this place now as I think I just dribbled a bit on my keyboard.
Soban (소반)
Seogwi-dong 260-26, Seogwipo-si Jeju-do, Korea

Opening hours: Mon – Fri 11:30 AM – 2:30 PM and 6 PM – 8 PM, closed on weekends

Only 6 tables (20 persons) so it fills up quick
The History of Jeju's Stone Grandpas
Perhaps the most common sight around Jeju Island are the cute statues resembling a grandfather with a hat on. They are called "Dol hareubangs" and are the mascot of the island. In old times (and perhaps even the new) they were considered to be gods offering both protection and fertility and were placed outside of gates for protection against demons traveling between realities.
If that sounds interesting to you and you would like to know more about this and other rock formations, paying a visit to the Jeju Stone Park (제주돌문화공원) is a must. This park is open every day of the week from 9 AM to 6 PM, so there is plenty of time to visit.
Jeju Stone Park (제주돌문화공원)
2023 Namjo-ro, Jocheon-eup, Jeju-si, Jeju-do, Jochon-eup, Cheju, South Korea

Opening hours: Mon – Sun 9 AM – 6 PM, closed on the first Monday of every month

Adults: 5.000 KRW (about €3.70)

Free admission on "Culture day", every last Wednesday of the month.
Made to Share: Korean BBQ
Korean food is tailor made to share, and you will rarely see a Korean person eat on his own. Typically you order a big (meat-heavy) dish that will be prepared by the waiter (or by yourself if you can handle it) and comes with loads of small side dishes. Korean BBQ is slightly different in that you do it all yourself; the meat arrives raw and you cook it yourself on the hot grill in front of you. It is one of my favorite Korean dishes and it is best eaten with a group of friends while drinking Korean beer!
Hwaggeunhan Galmaegi is a local place to have great Korean BBQ. They have a meal deal where you buy 4 portions of meat and get 4 extra for free.
Hwaggeunhan Galmaegi (화끈한갈매기 서귀포점)
Central Road 138, Seogwipo-si, Jeju-do, Korea

Open daily from 4 PM to 12 AM

Prices: 8000 KRW to 15.000 KRW for a portion of meat
Day 2: Discover the Olle Trails
Koreans love the outdoors, but perhaps, even more, to show the world that they love the outdoors. You'll see loads of (usually elder people) sitting on the bus of train wearing full-on hiking outfits and clutching Nordic walking sticks. You can't blame them; Jeju Island has some beautiful hiking routes bundled under the name "Olle trails". At the time of writing, there are 21 official routes (some have 2 variations), all following the coast with a few parts going slightly inland. The trails are all well-marked and well-maintained, and all have their own difficulty level. As we had chosen Seogwipo as a base, we looked for a trail nearby: number 6.
The trail starts at a little town called Soesokkak and follows the coast back to the Seogwipo Maeil Olle Market, which you have visited on day 1. To get to Soesokkak, take bus 730 (every 10 minutes) or 710 (every 40 minutes) from the Dongmun Rotary stop to the "Dure Villa" stop, which takes about 10 minutes. You will find a touch screen with the bus schedules at almost every stop. Once you get off at your stop, follow the river in the direction of the coast until you find a bridge crossing the river. The bridge is called Soesokkak Bridge (쇠소깍다리 or Cedar Bridge) and is the starting point of the Olle Trail number 6. More information and the route can be found on the official site of the Olle Trails.
You will find a few places to have lunch along the route, most of them in and around Soesokkak. It could, therefore, be more logical to start in Seogwipo and end in Soesokkak, have lunch there and take the bus back. But, of course, this is entirely up to you. A lovely cafe for a stop along the route is the Geuzy Cozy coffee house. It's a beautiful space overlooking the sea with great coffee and lots of treats fresh from their bakery.
Olle trail nr. 6
Geuzy Cozy (게우지코지)
1371 Hahyo-dong, Seogwipo, Jeju-do, South Korea

Open daily 10 AM – 8 PM
BONUS: Wild Camping at the Beach
Did I mention to bring your tent? Oh, perhaps I didn't… Well, you should, as it will enable you one of the most rewarding activities on the island: free wild camping!
Not every place on the island is fair game (the National parks usually have a designated camp site), but a good place to set up your tent is at one of the many beaches.
There are a few beaches that are popular camping spots for outdoorsy Koreans, but it's just as easy to find a completely secluded spot. One beach, in particular, tickled my fancy: Hado beach.
It's a 2-hour bus ride and a 30-minute walk from the Maeil Olle Market, where the Olle trail ends. It's easier accessible by car, and there are parking spaces next to the beach where you can leave your car overnight while you set up your tent on the beach. There is a public toilet block next to the beach. The main reason for staying at this beach? Read on and you'll find out.
Day 3: Haenyeo diving show
The Hado beach itself isn't the prettiest one on the island. You'll have a view on Udo Island and the Seonsang Ilchulbong, a green, crated-like volcanic mountain (Korean: 성산일출봉), but that's about it.
The magical part of this beach, however, is that it's a hotspot for Haenyeo (pronounced "Henyah"), which I had never heard of myself before coming to Korea.
Wikipedia describes the Haenyeo as follows: Haenyeo (sea women in Hangul) are female divers in the Korean province of Jeju. Known for their independent spirit, iron will, and determination, the haenyeo are representative of the semi-matriarchal family structure of Jeju.
After waking up in my tent at Hado beach I noticed an orange buoy floating on the shore in front of me. Soon enough a small creature in a wetsuit and goggles emerged; it was a Haenyeo looking for the treasures of the sea, which they sell in one of the many markets on the island.
These fearless grandmas (yes, many of them are well in their 70s and 80s) are a well-respected part of society on Jeju Island. Even UNESCO has put them on the list of Intangible Cultural Heritage of Humanity.
It is amazing seeing them at work. They are in the water for up to 6 hours and they can hold their breath under water for about 3 minutes while they look for octopus, muscles, seaweed and other marine plants and animals.
What started as one Haenyeo quickly became a whole community when a dozen trucks arrived, all with their own Haenyeo in the back.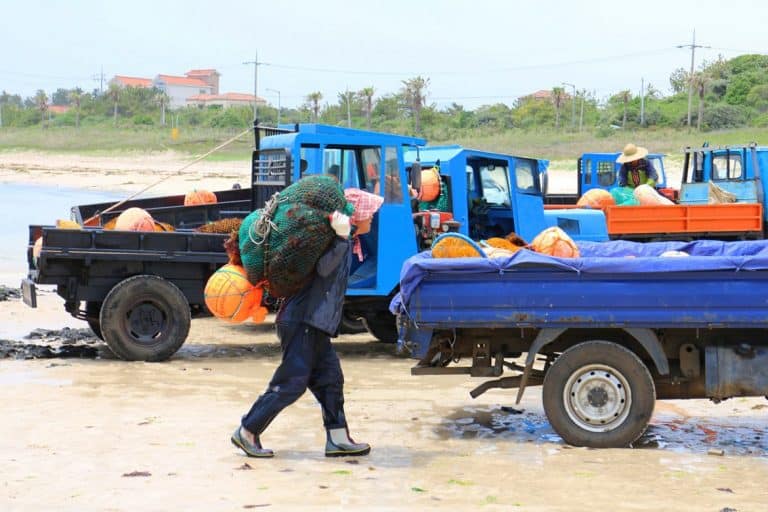 It was low tide, which meant that they could walk much further into the sea on a barren rock path. The men would stand watch while the women did their job, and from time to time a Haenyeo would drag her overflowing pouch back to the truck.
It's hard to put the feeling of watching these Haenyeo at work into words, but it's definitely a very interesting experience I would recommend to everyone.
Pro tip: you can get a ticket for the Jeju UNESCO sites tour. The unique experience of the female divers show is part of this full-day excursion. Consider getting your ticket in advance, as they tend to sell out.
Hado beach (하도해수욕장)
(Overnight) parking next to the beach
A mountain of chicken: Dak Galbi
Another Korean dish you should definitely try is Dak Galbi. It is made by stir-frying marinated diced chicken with sweet potatoes, cabbage, perilla leaves, scallions and rice cakes.
The dish is served on round hot plates, which are usually built into the tables. You'll get a few side dishes with assorted vegetables as well. It's a meal you'll have to share due to the portion size alone.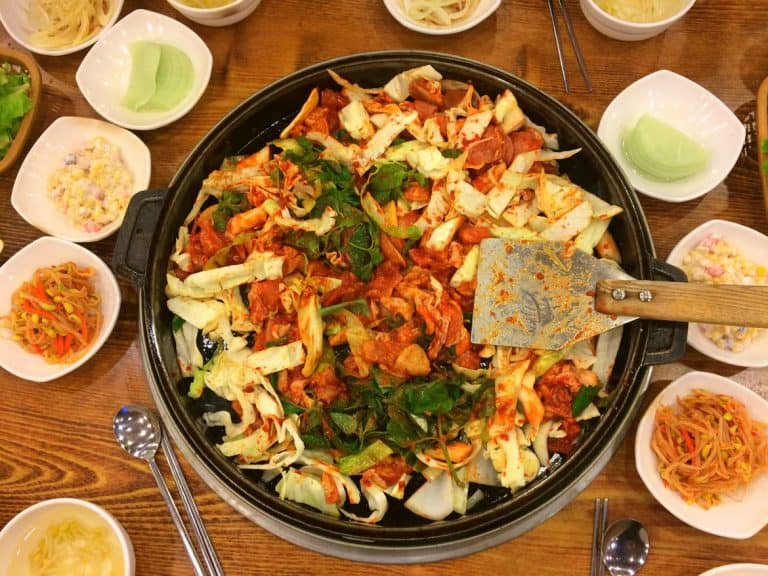 A nice local restaurant can be found here:
Chun cheon son ga dak galbi (춘천손가닭갈비)
Donghong-dong, Seogwipo-si, Jeju-do, South Korea

Price per serving starts around 10.000 KRW (€7.50)

+82 64-763-9333
Day 4: Conquering the Hallasan Mountain
Wherever you are on the island there is a good chance (if weather permits) that you will see the mountain in the middle of the island, towering over everything else. This volcanic mountain is called "Hallasan" and has the highest peak in all of Korea.
The walk up isn't easy, as you will have to climb lots of man-made stairs to get to the top. The hike is well signposted (even showing the difficulty of the all the parts of the trail) and the surroundings are changing from forest-like to rocky and barren. It will take you a good 4 or 5 hours to get to the top and about 3 hours to get down, so be sure to leave early enough in the morning.
It is good to pack some food and drinks for the way, but you will also run into a checkpoint a few hours into the hike where you can buy water, ramen and chocolate bars.
One thing I noticed straight away is how fit most of the (elder) hikers were, as they were passing us left and right even though we weren't particularly slow.
There is a view on the crater at the top, but as there were a bit too many people doing photo shoots (tripods included) we decided to hike down pretty quickly. The way down is equally pretty and includes a few resting stops with spectacular views and a suspended bridge to cross.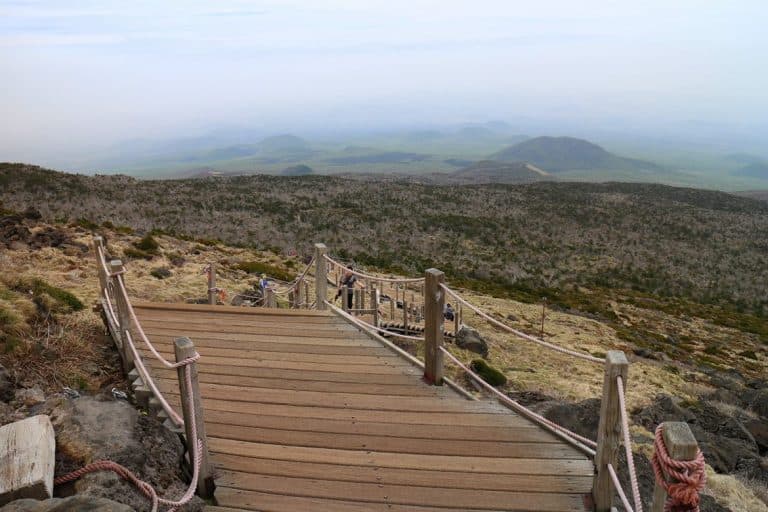 Seongpanak Trail (성판악 탐방로)
Gwaneumsa Trail (관음사 탐방로)
How to Get to the Entrance of the Seongpanak Trail
Take bus 782 or 782-1 (1.400 KRW, about €1) from Seogwipo-si (Former) Intercity Bus Terminal to the Seongpanak bus stop (takes about 30 minutes). You will see a car park, this is where you can find the entrance to the trail.
How to get back to Seogwipo
Getting back is a bit trickier, as the Gwaneumsa trail ends at a spot where there is no public transport. There are however always a few taxis waiting, that will take you to the entrance of the Seongpanak trail for about €15. From there you can take the 781 or 781-1 bus back to the Seogwipo-si (Former) Intercity Bus Terminal.
Treat Yo'self
Completing a hike always makes you feel like you can conquer the world. Right after you recover from your sore calves and quads, of course. Enjoy a well-deserved treat, Korean style.
Another must-try dish is Bingsu: almost literally a mountain composed of ice shavings paired with other ingredients such as sweetened condensed milk, various fruits, small pieces of tteok (rice cake) and cereal flakes. My personal favorite is the matcha (green tea) bingou which is served with green tea ice cream and a slice of cheese cake on top. It's a delight to look at, and it tastes surprisingly light!
Alice cafe (앨리스카페)
423-4 Seogwi-dong Seogwipo Jeju

Green tea Bingsu: 15.000 KRW (2 people portion) or 22.000 KRW (3 people portion)
Day 5: Chilling out on the Beach Eating Ramen Noodles
Time for a lazy day after all the hiking. Today we'll be mostly hanging out at the Jungmun beach, which is a 20-minute bus ride west of Seogwipo. It is a popular beach for Koreans to hang out, and there is a good chance you will catch a surf class in session. As I personally like to drink at least one coffee a day, I struggle a bit with drinking a hot drink on a hot day.
Luckily for me (and perhaps you as well) the convenient store CU has a great option: do-it-yourself ice coffee! The (liquid) coffee comes in a plastic package, and you have a wide selection of flavors to choose from.
Grab a cup and add ice (there is a machine for this in the store) and you'll have a fresh summery drink for about 1.000 KRW (€0.75) for the regular size ones up to 1.800 KRW (€1.35) for the fancy or XL sized ones.
There is a CU near Jungmun beach as well, which is handy if you want to grab some beach snacks as well. Good chance you can get a nice tan on the beach, as in Korean culture (and in many other Asian cultures) having a pale skin is the equivalent of the Westerners' obsession with getting a tan.
If you're hungry on your way back from the beach, drop by the same CU to get the snack that every Korean teenager is obsessed with: instant Ramen noodles. It's much more tasty than back home!
If weather doesn't permit or you get bored on the beach, head back to Seogwipo for a portion of one of Korea's most famous dished: Korean fried chicken. The Korean chain restaurant that does the best fried chicken is Chicken Kyochon. You can find it in many places around Korea like Seoul, Busan, Jeju City and yes, also in Seogwipo. Enjoy (I'm jealous!).
Chicken Kyochon (교촌치킨)
499-13 Donghong-dong, Seogwipo, Jeju-do, South Korea

+82 64-732-9982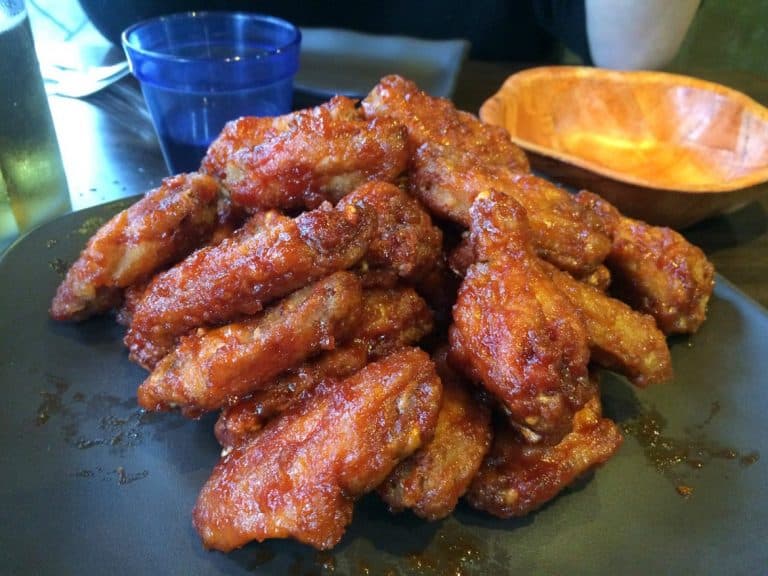 Shiny Squid Boats
If you stick around until darkness falls, you might be able to see a few bright lights on the horizon. These are the lights on one of the many squid boat, which use their brightness to attract mature squid that lives deeper down in the ocean.
These boats leave the harbors on Jeju Island (you can find them in pretty much every harbor) between 5 and 6PM, as the squid are most active right after sunset.
The best seasons to see the squid boats are fall or spring and the best time in a month is on the new moon, when moonlight doesn't distract the squid from the boat.
Bonus Option
If you find yourself with time on your hands, check out the cool Cafe Aewol Monsant on the west coast of Jeju Island. Run by famous K-Pop star G-Dragon (from the Big Bang group), Koreans flock to this unusual building from all over the country.
The outside of the cafe is made completely out of two-way mirrors, causing everyone to pose and take pictures on the outside while everyone on the inside is watching the outside folk act like fools. Great spot for instagram pictures, something you don't have to tell Koreans twice!
Cafe Aewol Monsant (카페 애월 드 몽상)
2546 Aewol-ri, Aewol-eup, Cheju, Jeju-do, South Korea

+82-64-799-8900

Open daily 9AM – 9PM
Tickets for Tours and Attractions in Jeju Island
If you have little time and want too quickly see the highlights of the island, there's some island tours and attractions you could attend. We've listed a few here.
So are you ready to check out Jeju this coming year? You can consider this tranquil and exotic island destination in summer, spring, autumn and even winter time. Yes indeed, its a great destination to explore all year around!
About the author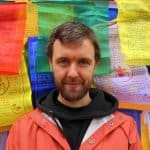 Victor's Travels is a rapidly growing travel blog curated by Victor Eekhof himself, 30-something Dutch world explorer. The blog is all about traveling on his own terms and not following the masses. It's for people who are happiest with a big backpack on their backs and a smaller one on their front; people who walk where others take a cab, or take a bus where others take a plane.
Victor absolutely loves to go where not many people would think to travel. Places like Mongolia, North Korea, Antarctica or Venezuela. He shares his experiences visiting these places and how you too can visit them, including prices, insider tips and (alternative) routes. His favorite blog post is Full-time travel, is it really the dream? that you should definitely check out (together with Victor's Facebook, Twitter, and Instagram) if you want to travel full-time like him.
Note from Victor: "Special thanks to Heather and Ben, my British friends living on Jeju Island, for providing me with these amazing tips during my stay and for their help in putting together this article."
So which of these days on the itinerary excites you most and why?