Did you know that hiking ranks among the best ways to connect to nature? And that for an enjoyable hike, you need a good hiking backpack? Well, now, you are in the know. The bag you choose does not have to come at a price that threatens to make you bankrupt. A decent budget hiking backpack will do the trick.
Some people argue that cheap is expensive, but I believe that this is not always the case. When you go through the list of backpacks below, you will most likely agree with me.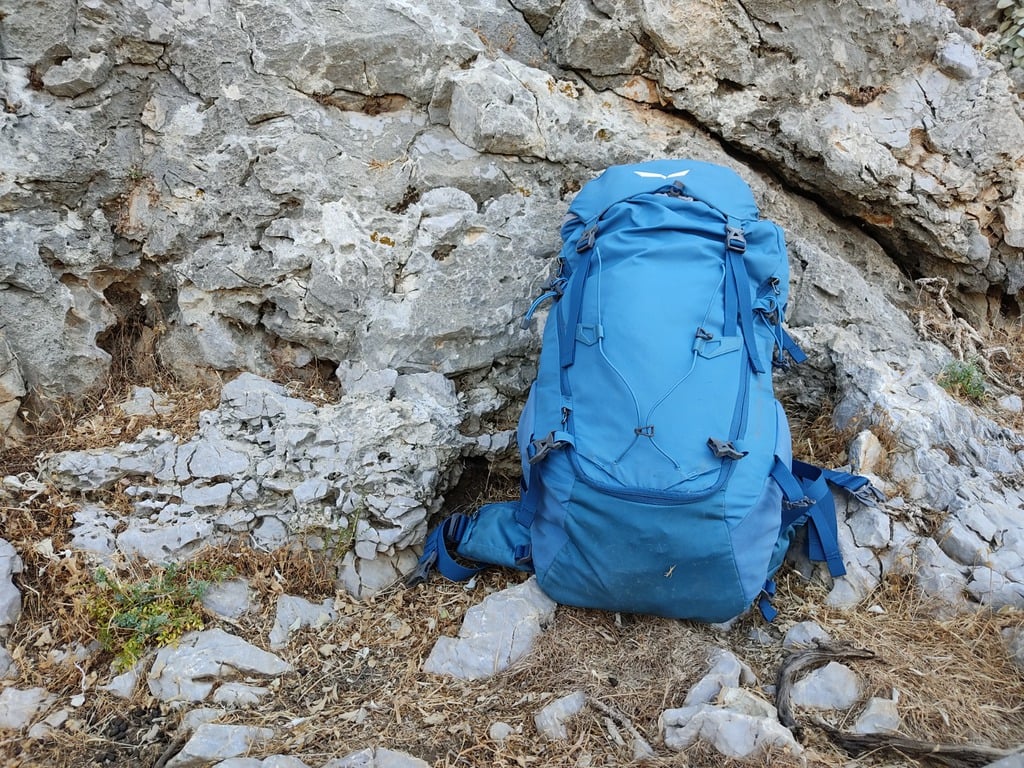 What is the Best Budget Hiking Backpack?
We could say that we traveled the world to find for you the Best Budget Hiking Backpack and it's partially true – we've been on the road since 2011 after all.
More importantly, we have done a very thorough research online and have gone through most of the available budget backpacks for hiking that you can buy today. We read the comments left by people who bought and used these budget hiking backpacks.
We also wrote a brief budget hiking backpacks Buying Guide and FAQ sections to address most questions you may have.
Without further ado, here's the list of top 10 budget backpacks for hiking based on their pricing, specs and ratings by real users.
Specs
Price: 💲💲 (fewer 💲 = cheaper)
Capacity: 28 liters
Weight: 1.54 pounds (0.7 kg)
Size: 18 x 12 x 7.8 inches (45.7 x 30.5 x 19.8 cm)
Material: Polyester
Wheels: No
Water Resistant: Yes
Waterproof: No
This high-quality backpack has a separate laptop compartment, a large main compartment and a front organizer to ensure that all your accessories fit perfectly. It distributes the weight evenly across both shoulders to ensure a comfortable carry. Comes with side pockets to fit a large water bottle without falling out. The external USB port with a built-in charging cable and the provision of a luggage strap to attach this to your rolling luggage, make this the best budget anti-theft backpack.
Pros
Our readers get 10% off with coupon code "ETRAMPING" on the manufacturer's website,
Padded shoulder straps and a foam-padded top handle ensure comfortable carrying,
Anti-theft pocket hidden in the back to protect your valuables,
Luggage strap on the back to attach to your rolling luggage securely for easier transport,
USB port for charging your phone
Cons
Minimal padding on the bottom
Specs
Price: 💲💲💲 (fewer 💲 = cheaper)
Capacity: 45 liters
Weight: 2.6 pounds (1.18 kg)
Size: 19.2 x 14.6 x 9.9 inches (48.8 x 37.1 x 25.1 cm)
Material: Polyester
Wheels: No
Water Resistant: Yes
Waterproof: No
Packed with a tonne of useful features, this backpack by Sosoon might be all you need for your business or hiking trip. It features a spacious main compartment to accommodate your daily necessities, a dedicated 17-inch laptop compartment, and a hidden back pocket for your wallet. The backpack comes with a USB port with an earphone jack to help you charge your phone and also listen to your favorite music while your mobile phone is still in the backpack.
It is made from high-quality polyester fabric, TSA-friendly, and comes with a sturdy molded top handle for easy grab and go. The back panel features breathable mesh padding for back support, while the massage mats on the shoulder straps help to reduce load pressure on your shoulders.
Pros
Comes with a USB port and an audio jack to connect with your electronics,
180 degree unfolding of the laptop compartments gives you easy access,
Practical and easy to use with top handle, luggage belt, and shoulder straps,
Separate, lie-flat laptop compartment so you can get through security checks faster when taking your computer out,
Pocket on the shoulder straps where you can store tickets for easy access,
Features a hidden pocket for your wallet
Cons
Not completely waterproof
Specs
Price: 💲 (fewer 💲 = cheaper)
Capacity: 20 liters
Weight: 1.9 pounds (0.86 kg)
Size: 17 x 12 x 6 inches (43.2 x 30.5 x 15.2 cm)
Material: Nylon
Wheels: No
Water Resistant: Yes
Waterproof: No
Made with high-quality,tear and water-repellent nylon fabric, this backpack by Gonex might just become your long-term hiking companion. It is of excellent quality with durable SBS metal zippers and reinforced seams and stress points for extra strength. The backpack fits into a compact pouch for easy storage and it makes the perfect companion for any outdoor sport.
It features a 20L capacity with three zippered compartments, an outer pocket for books and snacks, and an inner pocket for valuables. The pack is perfect for day hikes and day trips where you need to pack lightly and it comes in a variety of colors.
Pros
Lightweight and roomy,
Comfortable padded straps,
High-quality zippers
Cons
Color bleeds when washing
Specs
Price: 💲💲 (fewer 💲 = cheaper)
Capacity: 20 liters
Weight: 0.4 pounds (0.18 kg)
Size: NaN x 12 x 5.5 inches (-5607320256000 x 30.5 x 14 cm)
Material: Nylon
Wheels: No
Water Resistant: Yes
A nice small hiking backpack with water-resistant and high-quality nylon material construction to guarantee its durability. Made with durable shoulder straps, you can customize the length for a comfortable body fit.
The backpack weighs 7.5oz when empty which reduces the overall weight when loaded and it folds easily for convenient storage. Although it is a compact pack, it features a 20L internal space with an internal pocket for your cash and cards. The external pocket is convenient for quick access items like energy bars and a book. It has a large main pocket for daily needs with an outer pocket for a camera, guidebooks, and your tickets. The side pockets are also convenient for your water bottle and umbrella. I like that it is easy to adjust the weight distribution on the go as it comes with adjustable shoulder straps, and it's also highly ergonomic for back support.
Pros
Keeps things organized with the zippered compartments,
Made with tear-resistant nylon and waterproof,
Easily adjustable shoulder straps,
Versatile to use biking and hiking and other outdoor activities,
Washes and dries fast,
Strong mesh pockets to hold your water bottles,
Lightweight and easy to fold when traveling,
Reinforced at more than 14 places for extra strength
Cons
Design of backpack doesn't allow for sufficient ventilation on the back whole carrying
Little to no padding on the back and shoulder straps
Specs
Price: 💲 (fewer 💲 = cheaper)
Capacity: 40 liters
Weight: 0.7 pounds (0.32 kg)
Size: 19 x 12 x 6 inches (48.3 x 30.5 x 15.2 cm)
Material: Nylon
Wheels: No
Water Resistant: Yes
Waterproof: No
This budget backpack for hiking stands out for its convenient wet pocket that helps to separate damp or soiled clothes from your other personal things. The backpack features a 40L capacity, which makes it one of the larger hiking backpacks on this list. It has a generous main compartment with a zippered front pocket and two side pockets. Despite its large size, the pack has an ergonomic design for comfort and easily folds into a pouch for storage. It also boasts heavy-duty zippers that provide long-lasting durability and has a chest clip with a buckle that helps distribute weight evenly.
Pros
It cleans and dries up pretty fast,
Available in a variety of colors,
Generous sponge padding on shoulder straps to relieve stress,
Double-layer bottom piece for extra strength,
Beautifully designed fabric for durability
Cons
Slick material makes it unsuitable for one-shoulder carry
Specs
Price: 💲 (fewer 💲 = cheaper)
Capacity: 22 liters
Weight: 0.7 pounds (0.32 kg)
Size: 16.5 x 11 x 7 inches (41.9 x 27.9 x 17.8 cm)
Material: Nylon
Wheels: No
Water Resistant: Yes
Waterproof: No
Sinotron Lightweight Backpack makes an excellent buy for hikers looking for a budget hiking backpack for short hikes. It is also a lightweight pack that only weighs 0.7 pounds, which is also a good size for teenagers and kids to use. The pack is also easy to store when not in use as it can fold into the size of a booklet.
The Sinotron features a 22L capacity with a main section, two side pockets, and an internal pocket for valuables. The main compartment can accommodate a 14-inch laptop, which gives you versatility for use. It features an ergonomic design with adjustable mesh shoulder straps for comfort and breathability.
Pros
Folds up into a small size when not used,
Lightweight with 22L capacity,
Added pockets on front and side,
Breathable mesh shoulder straps for comfort,
Water-resistant nylon fabric construction,
Durable and reliable metal zippers,
Machine washable, easy to open and use
Cons
The front pocket lacks a zipper closure; hence easy to pickpocket
Specs
Price: 💲💲💲 (fewer 💲 = cheaper)
Capacity: 30 liters
Weight: 2 pounds (0.91 kg)
Material: Rubber
Wheels: No
Water Resistant: Yes
Waterproof: Yes
This ZBRO backpack will help to keep your gear dry and clean at all times with its waterproof construction. It is quite visible during the night thanks to its reflective stripe that you can see from a distance. Worry no more about your wet clothes mixing with the clean ones since all you have to do is to keep them in the outer mesh pocket.
It comes with a removable inner pocket where you can store your money, phone, or keys. The bag is ideal for hiking in wet weather and for water activities such as fishing and kayaking.
Pros
Waterproof construction to keep your contents dry,
Large 40L capacity to fit gear for two people,
Breathable mesh and bungee strap,
Waterproof construction for use in wet conditions
Cons
Straps are a little scratchy and may be uncomfortable to wear
Specs
Price: 💲💲💲💲 (fewer 💲 = cheaper)
Capacity: 20 liters
Size: 17.7 x 10.7 x 2.4 inches (45 x 27.2 x 6.2 cm)
Material: 600 Denier Polyester, PVC
Wheels: No
Water Resistant: Yes
Waterproof: No
One of the most outstanding aspects of this backpack is the thermal insulation compartment that keeps the water in your hydration bladder cooler for longer. It also comes with a leak-proof 2L hydration bladder that is BPA free and easy to clean.
This hydration backpack features a rugged 600D Polyester with PVC lining construction for long-lasting performance. It also has multiple compartments to store your clothes, among other necessities.
Pros
Hip straps add to its comfy design,
Breathable material on the back panel and shoulder straps,
Solid stitching on the seams for extra strength,
Insulated bladder compartment that keeps drinks cool
Cons
Little padding and reinforcement at the bottom
Specs
Price: 💲💲💲💲 (fewer 💲 = cheaper)
Capacity: 2 liters
Weight: 2 pounds (0.91 kg)
Size: 18.5 x 10 x 7 inches (47 x 25.4 x 17.8 cm)
Wheels: No
Water Resistant: Yes
The TETON Sports Oasis 1100 is a complete hydration set that features a hydration pack and a 2L bladder as a package, and it is also the premium option on my list. The backpack has an 18L capacity suitable for day hikes, and it features 600D ripstop polyester fabric with a polyurethane coating for water-resistance. It is also available in a wide variety of attractive colors for everyone. The hydration pack features adjustable shoulder straps and a waist belt to fit all body types, although some male users have noted that the waist strap does not wear comfortably. On the upside, the backpack is comfortable for day-long excursions with padded shoulder straps and the back panel with air mesh covering. The hydration bladder features a 2-inch wide screw cap opening that allows you to put in ice cubes. It may be as easy to clean as the Osprey bladder with this opening, but it lets you fill water almost to the brim. It comes with a kink-free drinking tube and a pull/push bite valve. Overall, the Teton Sports Oasis hydration combo may be an excellent bargain for a first-time buyer. If you need to upgrade to a 3L bladder, the pack is compatible with hydration bladders from other brands such as Camelbak.
Pros
Combination set of daypack and 2L hydration water bladder,
Multiple pockets and bungee cord system for organization,
Offers customizable straps and waistbelt for comfort to fit all frames,
Features a ripstop 600D coated nylon fabric construction,
Two side elastic water bottle holders
Cons
Larger build men and women might want to check the straps length to see if fitting
The bladder may leak from the screw cap so better to test it before using
Specs
Price: 💲💲💲💲💲 (fewer 💲 = cheaper)
Capacity: 18.5 liters
Weight: 1.87 pounds (0.85 kg)
Size: 17 x 11.8 x 6 inches (43.2 x 30 x 15.2 cm)
Material: High Density Waterproof Nylon
Wheels: No
Water Resistant: Yes
Waterproof: No
If you are looking for a cheap backpack for hiking that will help you carry your laptop and camera, you should consider getting this hiking camera bag by Tarion. The backpack features eight padded and removable dividers that can be reorganized to offer better protection for your equipment, including drones.
The bag is ultra-lightweight and compact and comes with a rain cover that makes it entirely waterproof in wet weather. It features a dedicated 15-inch laptop compartment and the main compartment dividers are also removable to create a spacious compartment. The ventilated shoulder straps are adjustable for flexibility, while the back panel features an air mesh design for breathability and comfort.
Pros
Easy to convert to a day-pack by removing the compartment dividers,
Has thickened protective pads that are shockproof,
Convenient for use on short trips,
Ultra lightweight and compact design,
Features a tripod holder strap at the bottom for convenience
Cons
Stitching on the straps is not up to standard for durability
Verdict
TLDR: Quick summary of our findings as to what can be considered the Best Budget Hiking Backpack is below:
Overall best budget hiking backpack out there: Matein Unisex Travel Backpack
Premium Pick if money is not much of an issue: Sosoon Laptop Backpack
Budget Choice – there's no shame in spending prudently: Gonex Ultralight Hiking Backpack
Our other reviews you may find useful in your research:
Questions and Answers About budget hiking backpacks
What to look for in a budget hiking backpack?
When choosing a budget backpack for hiking, you should look out for the following features
SIZE
The size of the backpack depends with the duration of the hiking trip and the gear you intend to carry along. For instance, if you are going for a day's hike, a small bag will suffice. However, the small bag will not be of much use when going for a week's hike in the mountains.
If possible, get a bag with adjustable features to suit all your needs.
FABRIC
Just because you're shopping for a cheap hiking backpack, it does not mean that you settle for any fabric that you stumble upon. Most backpacks are made from polyester or nylon. Go for the backpack that comes with a denier value of at least 600D to give you long-lasting performance.
ZIPPER QUALITY
Ensure that the zippers of the backpack you intend to purchase are of high-quality. You do not want to end up with zippers that break easily or get stuck when you try to close or open your backpack. Going through customer reviews will help you greatly to know if the zippers of the backpack you want are of top quality.
STITCHING
Whenever possible, choose a hiking backpack that comes with reinforced stitching as it makes the stress points strong enough to support your load.
What is good but cheap material for hiking backpacks?
Nylon and polyester are the popular materials used for making backpacks. Nylon is inexpensive, resilient to dry and wet conditions, and has a longer durability factor than polyester. The fabric is also lightweight, resistant to wear and tear, and easy to wash.
Can I use my everyday backpack for hiking?
The choice to use your everyday backpack for hiking will depend on the duration and what you intend to carry. If you are going for a short hike, and all you need is a water bottle and a few necessities, it might work. However, if you intend to carry all your hiking and camping gear, your day-backpack will not be the best choice.
What are the best budget hiking backpack brands?
Some of the best budget hiking backpack brands include
Sosoon
Gonex
Teton Sports
HIKPRO
Sinotron
Where should I pack my heavier items in a backpack?
Always pack the backpack with the heavier items in the middle of the backpack and close to your back. Also, try to distribute the weight of your pack by packing quick access items in the side and front pockets. The bulky items such as your sleeping bag should be at the bottom of the backpack while your lighter clothes and food items should be at the top.