South East Asia is one of the world's premier backpacking and travel destinations – especially if you're new to globetrotting. The likes of Thailand, Cambodia, and Vietnam all offer tourists something special, with a solid infrastructure that takes it easy on any noobs (read: newbies). As such, these countries represent "the big three" in the region, attracting record visitor numbers to sample the sights, sounds, and tastes you can readily enjoy in this part of the world.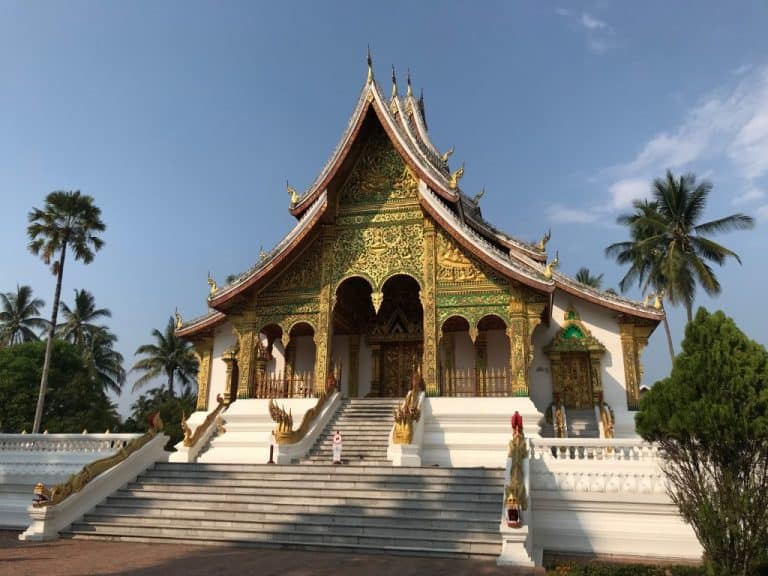 By contrast, their neighbors can often be overlooked, with many travelers not concerned with visiting places like Myanmar or Laos – particularly if they're part of the less-adventurous crowd. Yet this is a great shame, for they offer equally as memorable experiences as their more popular continental cousins, but at a fraction of the cost. With that in mind (and having just returned from a visit to Luang Prabang – the jewel in the Laos crown) here we explore what you can do in the region during a 3-day itinerary. Be warned, however, this isn't a trip for any couch potatoes!
Where is Luang Prabang?
And well you might ask – because it's not exactly a destination that is on everyone's lips… yet. Luang Prabang is situated in northern Laos, a country that is happily somewhat disconnected from the tourist hustle and bustle of more famous Asian holiday hot-spots, (generally speaking). The city itself consists of a number of neighboring villages, around 33 of which make up a UNESCO World Heritage Site.
This ancient region is steeped in history and known for its stunning architecture, notable temples, and beautiful countryside; all located in the idyllic setting of the Mekong and Nam Khan River confluence. It's the former Royal capital of the country, known as "the heart of Laos," and if you're visiting these shores at all, this is where you'll most likely be going. Of course, there are many other little-known places to visit in Laos.
How to Get to Luang Prabang?
As luck would have it, Scoot Airlines have recently begun offering flights direct to Luang Prabang from Singapore. Rather handy considering this is where we were recently holed up and from where we have started our trip.

There are other options to get there, though:
Flights – both domestic and international from LPQ Airport which is conveniently located around 4 km from the city centre
By slow boat on Mekong river- scenic route with plenty of beautiful views, time to read and socialize
By train if you are reading it in or after 2021 (high-speed train between Bangkok and China is coming)
Who Developed This Itinerary for Luang Prabang?
Our hosts upon arrival were to be My Lao Home, a comfortable hotel and spa complex in the heart of the city and that we would come to highly recommend.

Finally, our guides on our quest to explore the best the region has to offer were My Lao Tours, and it is on their program that this particular itinerary is based. You're more than welcome to try something similar on your own steam, but we decided to leave it up to the pros this time – and we weren't disappointed.
Day 1 in Luang Prabang
Kuang Xi Waterfall Trek
Beginning with a transfer to the village of Ban Long Lao, around 18 kilometers south of home base, you'll be in for a treat in the great outdoors. The Kuang Xi waterfalls are up there with the most popular attractions in the region (also confusingly spelled Kuang Si and Ta Kuang Si which might take getting used to). It is, therefore, a very good place to start.

But the journey should be every bit as good as the destination, and the early morning hike will take you through some beautiful Laos scenery and countryside, including paddy fields, dense jungle, and mountain vistas. You're in surroundings that are so synonymous with this part of the world, and yet still a comparatively untouched, ancient way-of-life. We'll return to that thought in a moment, but the waterfalls deserve a special mention unto themselves.
At the start of the hike there's a booth where an entrance fee is collected and a local trek leader assigned (nobody wants you getting lost). The fixed fee for up to 8 people is 50,000 Kip. If you're going on your own, be mindful that the trek leaders are very experienced but rarely speak English.
Turquoise Blue of the Kuang Xi Waterfalls
You might well have seen pictures of this little paradise-on-earth before, and no doubt you'd be in awe of the color of the waters here. It is regarded as the most beautiful spot in the whole country, a series of cascading pools and waterfalls in the jungle that will make you feel like you're in another world.

There's also the thrilling option to swim in certain sections of this natural wonder (make sure you adhere to your guide's advice as to what is allowed), and it's the perfect way to refresh after your energetic hike – especially that the water tends to be very cold.
Note: there are fish that love to feed on your feet. No worries, though, they are too small to take your limb off, but cute enough that it feels like natural fish massage. It's supposedly very good for your skin!
Those not interested in a dip can simply take in the ethereal, tranquil surroundings and be thankful that such a place exists on earth. For an extra treat – don't miss the bear sanctuary just before the entrance/exit, and there are even butterfly gardens if you have the time.
Hmong Villages
Aside from visiting a country's natural wonders, for many people, the human element is also a big draw. It's fascinating to learn about another culture's way of life, and you'll be thrilled to have the opportunity to visit remote and unspoiled Hmong villages on your way back from the waterfalls.

The Hmong make up one of the three main ethnic groups in Laos (the other two being the Khmu and the Lao Lum), but these tribes are spread all over the continent. Many westerners don't get the chance to see these all-but-lost time warps, a fascinating glimpse into the lives of some mysterious people. As ever, accommodating guides will be on hand to provide all the information you could ask for.
Luang Prabang Night Market
If you've still got the energy when you return to your accommodation, we'd heartily recommend visiting the famous night market. Similar attractions are famous all over South East Asia and this one is no exception. It runs from 17.00 to 22.00 every evening and it's an awesome place to sample some delicious street food (available at both ends of the street where the market is located) or pick up a special souvenir – and these are available in big numbers.

Day 2 in Luang Prabang
Nahm Dong Park
Your first port of call will be to head to Nahm Dong Park, for a fun-filled day of a variety of activities. You won't be straying too far outside comfort zones here, however, as it's a family-friendly nature park located a short distance from Luang Prabang itself. It's an oasis from city life just 10 kilometers away.

Don't let its proximity to civilization fool you, though, as you'll still feel like you're in the jungle here among 18 hectares of lush greenery, waterfalls, pools and canopy rope bridges. There are spots to swim and cool off, as well as trekking trails through the thick foliage that will keep you occupied as the day is long. Just don't forget your camera, or GoPro even more so.
Lao Cooking Classes
It's perfectly possible to enjoy learning the delights of the local cuisine back in the city, but why do that there when you can do it in surroundings such as this? Either way, enrolling in a cooking course is a must anywhere in South East Asia, but each country employs its own, individual tricks and techniques for cooking up a storm, and it's always good to increase your knowledge.

One of the best things about traveling is being able to learn how to cook something new from a foreign country and taking it back to impress your friends and family. Here, you'll do just that, taking ingredients fresh from the garden and producing something that any local chef would be proud of. (Hopefully).
Adventure Courses
When you've gorged yourself on your home cooked, sumptuous Asian delicacies, you'll need to work it off. Thankfully, Nahm Dong Park offers plenty of opportunities to do so. Zip lining through the tree canopy is extremely popular, and you can enjoy thrilling views over some 800 meters of courses. Only recommended if you have a head for heights!

The canopy bridges and trails are highly recommended, but in the afternoon we also enjoyed local craft activities. Working with Mulberry paper (a form of handmade paper made from the bark of a Mulberry tree) and bamboo weaving. Then there are obstacle courses, caves to explore and even beekeeping to try. Day two on the itinerary will certainly have challenged all your faculties by the time you turn in for the night!
Temples in Luang Prabang
It is estimated that there are somewhere between 30-40 temples in Luang Prabang, which means you'll have more than enough to keep you occupied if you want to try and see as many of them as you can. They are a delight to visit at sunset, however, so we chose a couple of the best ones and will recommend them.
Wat Visoun and Wat Manorom are two of the oldest in the region – with parts dating back to between the 12th-14th Centuries. It'll be as hard to pick a favorite as it would be to see them all, but make sure you visit at least one during your stay here.
Day 3 in Luang Prabang
The Morning Market in Luang Prabang
Night markets are always interesting and inspiring to travelers and tourists alike, but so too are their morning counterparts. You're going to have to rise with the lark to enjoy it, but it's well worth it to experience the locals buying and selling their fresh fruit, vegetables, and groceries. Also at the crack of dawn, you'll get to see the famous and sacred Laos tradition of giving alms.
If you manage to be awake for it, you'll see the procession of monks collecting offerings of sticky rice – their one meal for the day. It's a fascinating tradition and one that shouldn't be missed at the beginning of your last, jam-packed day.
Cycling Tour
Get on your bike for your next experience, as your guides take you on a cycling tour of the city – one of the finest ways to get around and cram in as much sightseeing as possible. This is where you can really enjoy the delights of the UNESCO World Heritage town – the 33 villages that make up this remarkable, colorful, historic corner of the world.

Xieng Thong temple is covered in beautiful, glass mosaics, while Heuan Chanh is a cultural house and center in the city that houses a museum and promotes the Lao way of life. You can also visit the fabulous Royal Palace Museum, built during the French colonial era and today filled with a treasure trove of Lao history and artifacts. In a few short but busy hours, you're going to have learned quite a lot!
Mount Phousi
Hopefully, you've got plenty of energy left as you climb to the top of Mount Phousi – a popular attraction offering some wonderful, panoramic views of the city below. 328 steps will get you to the "summit" of the highest point in Luang Prabang, which is apparently stunning at sunset. The trade off is that you'll have to endure the crowds, so going sometime in the early evening is ideal.
It translates into English as "Sacred Mountain," and if you haven't seen any temples yet (which you almost certainly should have) then there's one at the top with a golden stupa and Buddha's giant footprint. It's actually little more than a big hill, but you simply haven't been to Luang Prabang unless you've experienced Mount Phousi.
Entrance fee to Mount Phousi is 20,000 Kip.
UXO Center in Luang Prabang
The years between 1959 and 1975 will forever be remembered as a dark period in Laos history. A bloody civil war was fought between the Communist Pathet Lao and the Royal Lao Government. As you might expect, both sides were receiving heavy outside aid from the global superpowers of the time in the early stages of the cold war. Add to that the Vietnamese War, where Laos was treated by US like a bomb dumpster, and you'll see a lot of misfortune befalling otherwise happy nation.

The UXO center is a sobering testament to these conflicts, offering much in the way of information on everything from the beginnings to the weaponry and the infamous, extensive use of land mines. After learning about the latter in particular you might well be in need of a stiff drink. Luckily, it's on the way.
Massage and Sunset Cruise
There quite possibly couldn't be a better way to finish such an adventurous and energetic itinerary than with a relaxing massage, followed by a sunset cruise. Pampering is something they do well in these parts, and a return to our hotel was very welcome indeed. Massages here are every bit as good as in Thailand, so don't miss it.

Finally, to wind it all together and reflect on a whirlwind three days, a sunset sail on the Mekong is an absolute must. Enjoy whatever beverage you like (but a cocktail is happily included) as you take in this gorgeous landscape as the sun shines that special golden glow it only seems to have in Asia. The perfect end to a perfect tour – and for the lovers among you – more than a little romantic.
Note: it's a very slow boat – if you like being busy, you may run out of things to do unless you bring a good book or even greater companion (like Lydia with whom I experienced Luang Prabang tours and attractions).
Accommodation in Luang Prabang
Finding your perfect place to rest and relax is crucial when visiting Luang Prabang. Fortunately, this city has a lot of accommodation options waiting for you. From luxurious 5-star hotels to cozy VRBO and hostels, whatever you prefer. This map below will show you what places are available during your planned trip here.
All Over Too Soon
That's the overwhelming takeaway as we leave our wonderful Luang Prabang Tour Guides and our equally charming hosts My Lao Home. They certainly do manage to cram so much in, well worth it considering all the organization that's involved. Laos – and this region in particular – has been an outstanding experience and we can only hope it's not too long before we return. We simply just haven't seen enough temples…
Have you been to the Luang Prabang in Laos? Let us know your experiences – or anything that we might have missed!