They say that if you're tired of London, you're tired of life, and as one of the most visited cities in on the planet (the second most – to be exact) England's capital has more sights and attractions that you could ever hope to see in one visit. You would actually need an entire lifetime in these ancient streets to experience it all, from the historic Buckingham Palace and Royal Family, to the world-class museums and galleries and everything in between – there's something noteworthy at every turn. Bored – you will never be.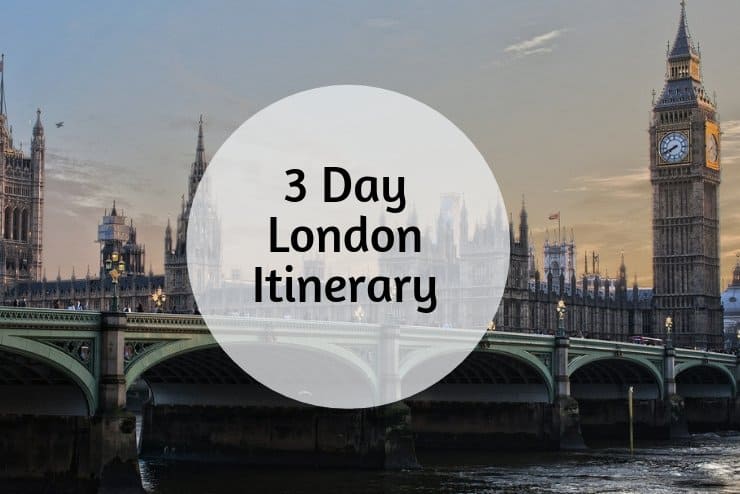 Why Visit London?
London is one of the world cities, and by that we mean one of the premier destinations on the planet. The 'Big Smoke,' to give it its nickname, has significantly shaped global history and culture in so many ways and it continues to do so for better or worse. As such, you'll find an abundance of incredible, world-famous attractions that everyone should see at least once in their lifetime.
London does a lot – and what it does, it does really well. Music, food, entertainment, art, shopping, sport, accommodation…the list goes on and on. You'll feel like you're in a movie as you wander strangely familiar streets and visit the top sights, set against the backdrop of an ever-changing skyline where ancient meets modern. if you can't find it in London – it probably doesn't exist, and if you're struggling to find a reason to visit – you need to get out more.
About this London Travel Itinerary
In our three-day London itinerary, we'll help you take the edge off your visit and see the very best that London has to offer in this handy, bite-sized guide. We'll be covering everything from how to get there, what to see, where to eat and what accommodation would best suit you. Then, in a convenient at-a-glance format, you'll be able to see all the essential facts and information for the top London sights and attractions, including why you should see it, location, opening times, prices, and any other useful, insider knowledge that will help you enjoy your trip.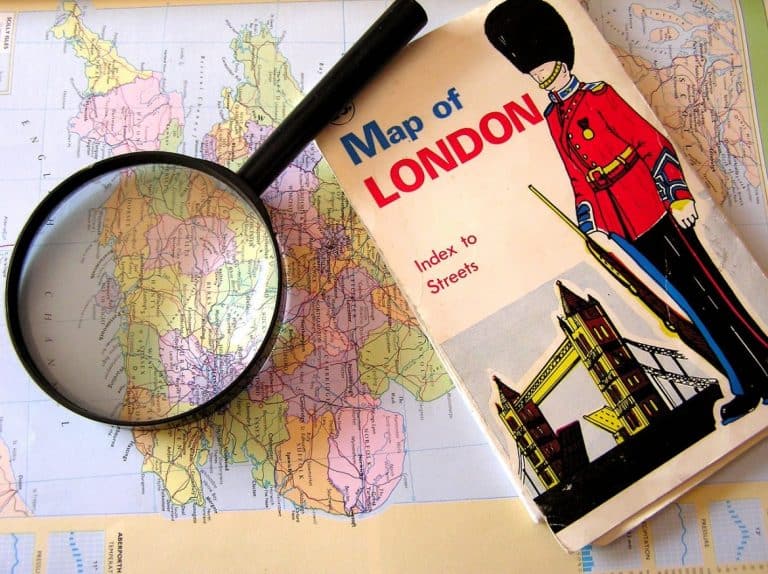 We'll make it super easy for you to plan your days, taking the stress out of organising it yourself, while still ensuring to pick the destinations that matter. You won't find any fluff or filler here – just quality recommendations that make people want to visit London in the first place. Our format is unique in the way it gives it to you straight – just the info you need to make the most of your sightseeing experience, giving you more time to actually see the place, and less time tearing your hair out.
Note: Be aware that this is a guide only and depending on time, traffic, queues, weather and other factors, you may or may not be able to fit in everything suggested on each day. Always head out as early as possible to maximise your sightseeing potential. Adult ticket prices have been quoted at the time of writing and are subject to change. Family tickets are also available for most attractions.
Getting to London
London By Air
As you might expect with being such a cultural melting pot, London is well served with direct flights from all corners of the globe. It has five major airports, and depending where you're coming from, you'll be landing at either Heathrow, Gatwick, Stansted, Luton or London City. We have written a guide about what's the best London airport to fly into. Road and rail links are extensive and well serviced, so you'll be in the city centre in no time.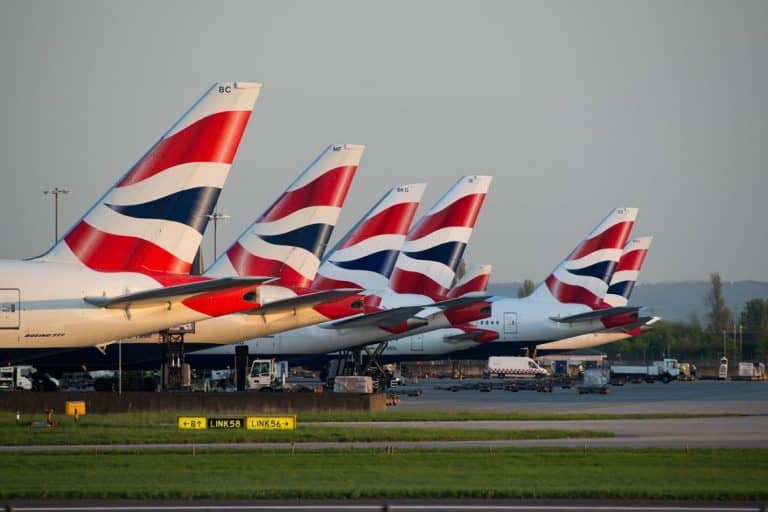 London By Bus
The famous, red double-decker bus is a staple in these parts, one of the iconic images of the city. But for longer distances you'll be wanting something a little more comfortable. Thankfully, London is a transport hub for long distance coaches, and you can reach the capital by four wheels from pretty much anywhere in Europe. Try National Express and Megabus for UK wide connections, and Eurolines for on the continent. Most arrivals will pull into Victoria Coach Station.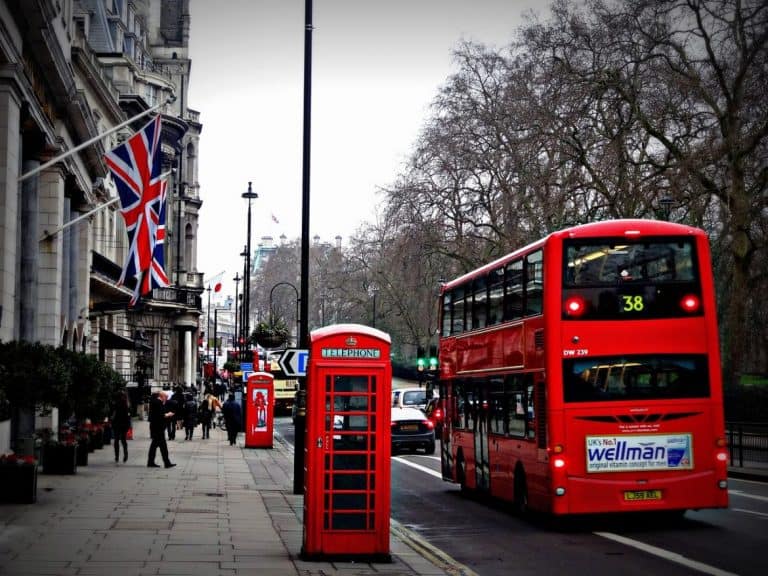 London By Car
Traffic can be a nightmare in London city centre, with parking problems and charges even worse. There is a congestion zone where you have to pay for the privilege to enter. That being said, arriving by car has its merits, and the city is well signposted and served by major road networks. You'll find an abundance of car hire options from Heathrow Airport and the city readily available – but search online for the best deals. Don't forget your valid driving license issued in your home country to drive legally in the UK.
Day One in London
Morning – Sightseeing Bus Tour
We've said it before and we'll say it again, the best way to get your bearings in a new city is to do a sightseeing bus tour. Yes, they might be a bit cliche, but they're very useful indeed. You get to take everything in during a whistle-stop excursion, then decide where you want to go back to later. It's convenient if the weather isn't on your side either, while all tours have an audio guide in several languages. They also offer an evening option, so you can see the lights of London when the sun goes down.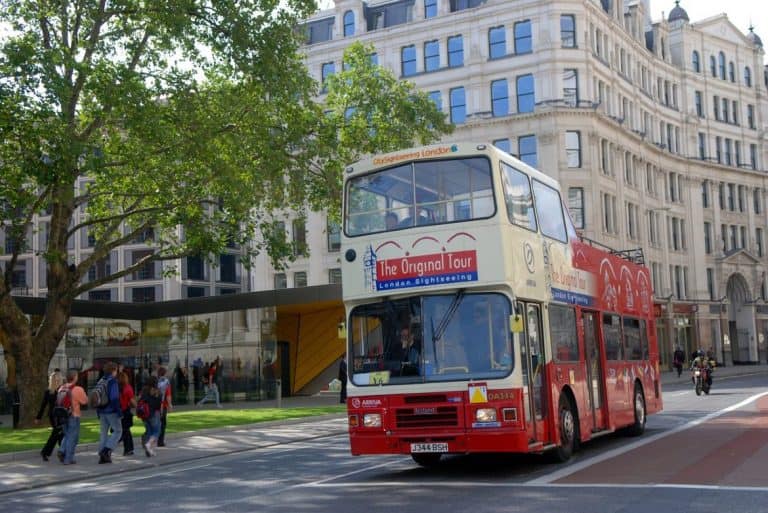 Location: Hop-on, hop-off stops are located all over the city.
Cost: Expect to pay between £25- £35 depending on when your ticket expires.
Opening Hours: Regular departures round the clock from early AM.
Further information and how to book can be found here.
Pro Tip: Tickets can be valid for a 24, 48 or 72-hour time-frame so you can use the service as much or as little as you like within your chosen limit. Start as early as you can.
Afternoon – The Houses of Parliament
One of the most recognizable landmarks in the world is that of the British Houses of Parliament and the iconic tower of Big Ben (which is the name of the bell and not the tower itself – a common misconception). Located in the city of Westminster, it's here that you'll find many of London's most famous tourist attractions, but a visit to the corridors of power is a must while in the capital. It dates back to 1016, and If you're that way inclined, tickets are available to tour the buildings and even watch a government debate.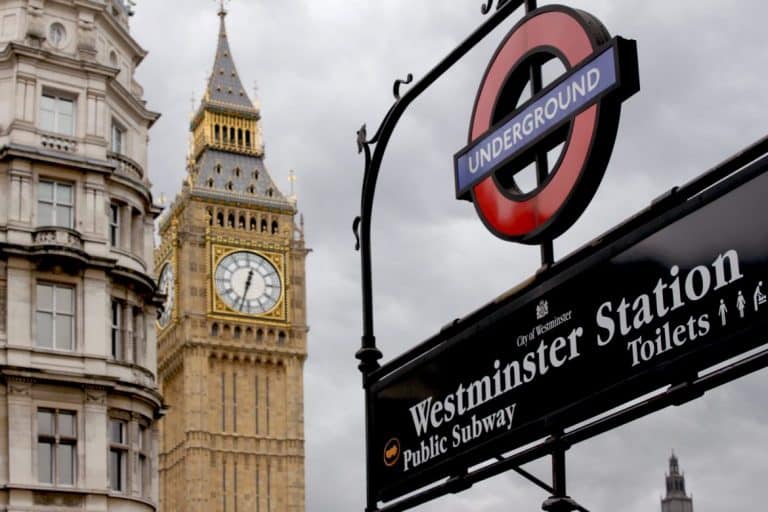 Location: Houses of Parliament, Westminster, SW1A 0AA. The area is well served by public transport. Westminster Station is the nearest underground. Alight at Abingdon Street if you're coming by bus.
Cost: self-guided audio tours are £18.50 for adults. There are discounts for groups and booking online.
Opening Hours: 09.00-17.00 Monday to Friday. Closed Saturdays.
An exclusive tour avoiding the crowds is also available.
Pro Tip: Remember that security is super tight in these parts with metal detectors and bag x-rays. So, if you are planning on doing a tour – leave anything potentially troublesome at home. These guys don't mess about.
Afternoon – Buckingham Palace
One of the most popular tourist draws in London and the UK has to be the Royal Family, and nowhere is more synonymous with the Queen and Co than Buckingham Palace. It first opened back in 1703, and has been the residence of the reigning British monarch since Queen Victoria. The world-famous Changing-of-the-Guard ceremony is witnessed by millions every year, and the palace itself is open to visitors every summer.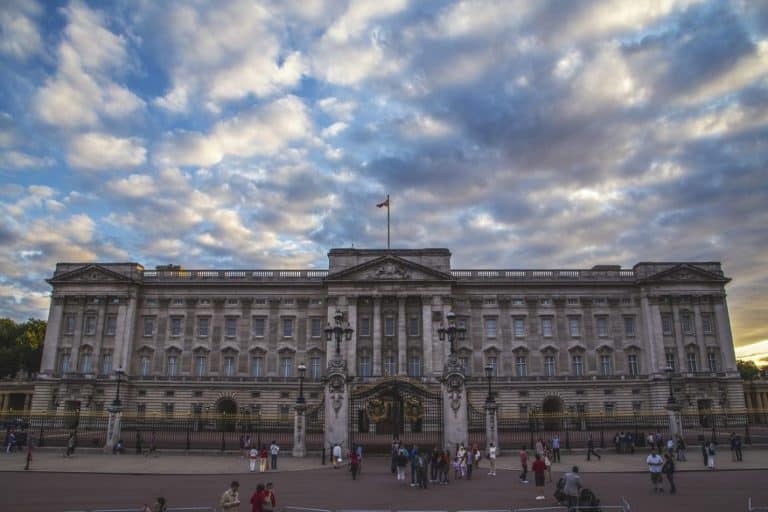 Location: Situated at the end of Buckingham Palace Road, in the City of Westminster. The nearest underground stations are Green Park and St James's Park.
Cost: An adult ticket during the summer costs £24. The Changing-of-the-Guard is free to watch.
Opening Hours: The State Rooms have seasonal admission times. 20th July – 31st August 2019: 09.30-19.30. 1st September – 29th September 2019: 9:30 – 18.30.
The Royal Mews – one of the world's finest working stables are also available to visit.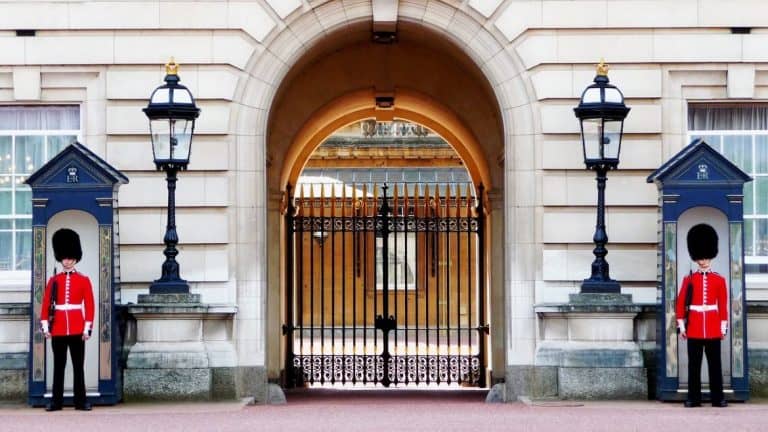 Pro Tip: The Changing-of-the-Guard takes place from 10.45 on Mondays, Wednesdays, Fridays and Sundays (weather permitting). It lasts about half-an-hour, but make sure to arrive early as it will be very crowded.
Afternoon – Westminster Abbey
Walk in the footsteps of the past at this magnificent, gothic abbey in the Westminster district. Site of many a monarch's coronation, as well as Royal weddings and state funerals, you'll find many famous Brits are buried within its grounds, including Charles Darwin, Sir Isaac Newton and Charles Dickens. It's a stunningly beautiful, architectural masterpiece, with some outstanding art and artifacts that will keep any history buff enthralled for hours. It has been standing for over a thousand years after all.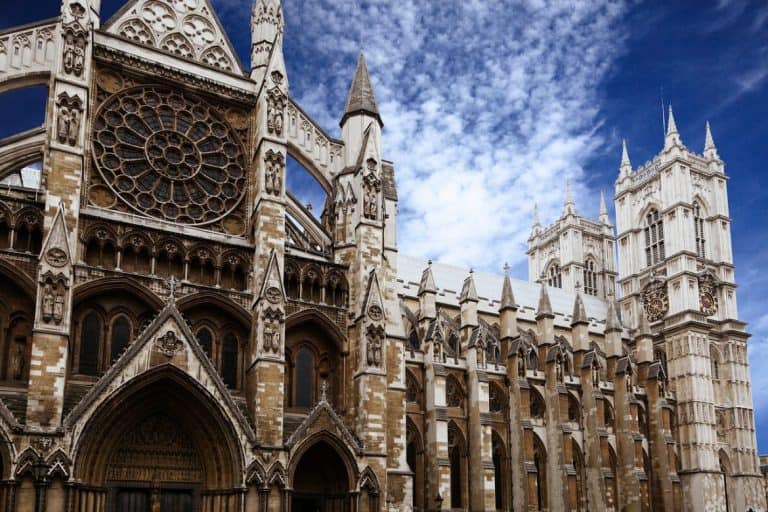 Location: 20 Deans Yard, Westminster, London SW1P 3PA. Located right behind the Houses of Parliament, it's a short walk from the nearest underground station of Westminster.
Cost: An adult ticket costs £20 on the door.
Opening Hours: Monday to Friday 9.30-15.30. Saturdays 9.00-13.00. Closed on Sundays. There is also late admission on Wednesdays where you can visit from 16.30-18.00. Keep an eye out though – an annual program of events might mean the site is closed on any particular day.
You can book in advance to save yourself a few pennies with a self-guided audio tour.
Pro Tip: If you really want to save some money, attending a daily church service is free and you'll experience the fabulous acoustics from the choir and organ.
Dinner at the Red Lion
After you've exhausted yourselves trekking round the Westminster sights, you deserve a pint of golden ale in a traditional British pub. The Red Lion is a historic tavern that dates back to 1434, a stone's throw from Number 10 Downing Street – the home of the British Prime Minister. It's a cosy, welcoming establishment that offers delicious pub grub set amidst fascinating, politically themed décor.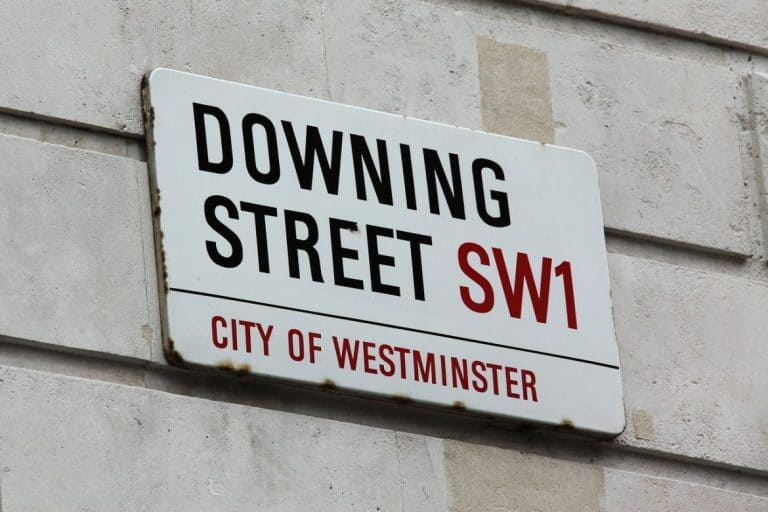 Location: 48 Parliament Street, SW1A 2NH. It's right around the corner from the Westminster underground station.
Cost: While many eateries in the area are high-end with prices to match, The Red Lion offers tasty dishes at affordable prices. Expect to pay in the region of £10- £15.50 for a main course.
Opening Hours: Monday-Friday food is served in the mornings from 08.00-11.00 and in the evenings from 11.30-22.00. Saturday from 09.00-11.00 and 11.30-19.30. Sunday from 09.00-11.00 and 12.00-19.30.
Pro Tip: If you don't try a pie and ale (house specialties) you've missed a trick.
Day Two in London
Morning – The Tower of London
You'll be staying close to the banks of the Thames for your second day in the city, right in very heart of oldest part of London and enjoying the juxtaposition of ancient and modern. The (in)famous Tower of London is an iconic fortress that needs little introduction – particularly if you happened to be one of the traitors incarcerated here. With a bloody and gruesome past, the tower today serves as a secure location for the Royal Crown Jewels and is the oldest fortification of its kind in the world.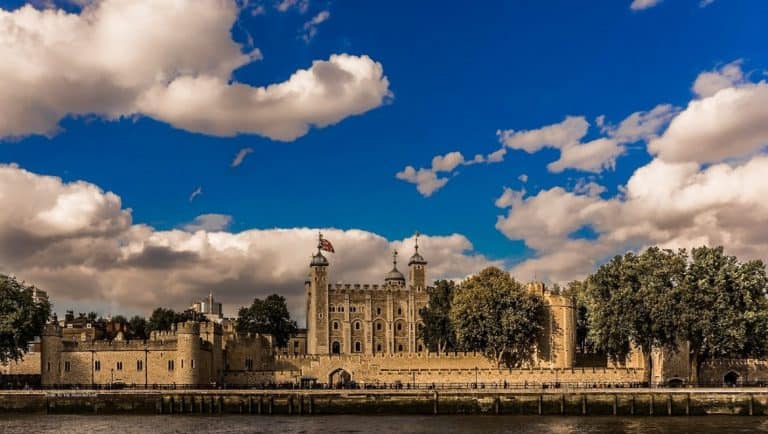 Location: St Katharine's & Wapping, London EC3N 4AB. The nearest underground station is Tower Hill.
Cost: Ticket prices vary depending on the season. From March 1st 2019 they will be £27.50 for a walk-in adult ticket. Online, you'll pay £24.70.
Opening Hours: Monday and Sunday 10.00-16.30. Tuesday-Saturday 09.00-16.30. From the 1st March 2019 the tower remains open an hour later.
Pick up a ticket that gives you access to all the exhibitions including the Crown Jewels.
Pro Tip: Like most London attractions, it can get very busy. Arrive super early in the morning and head straight to the Crown Jewels first. You just might have the place to yourself.
Morning – Tower Bridge
A short walk from the Tower of London is Tower Bridge – and the two are not to be confused. This Victorian engineering marvel is one of the defining symbols of the city and an iconic landmark in the capital. Built in the late 17th century, it's a combined suspension and bascule design and the sight of a boat passing underneath is really quite something to behold. The upper walkway now incorporates a glass floor for a unique view on London life below.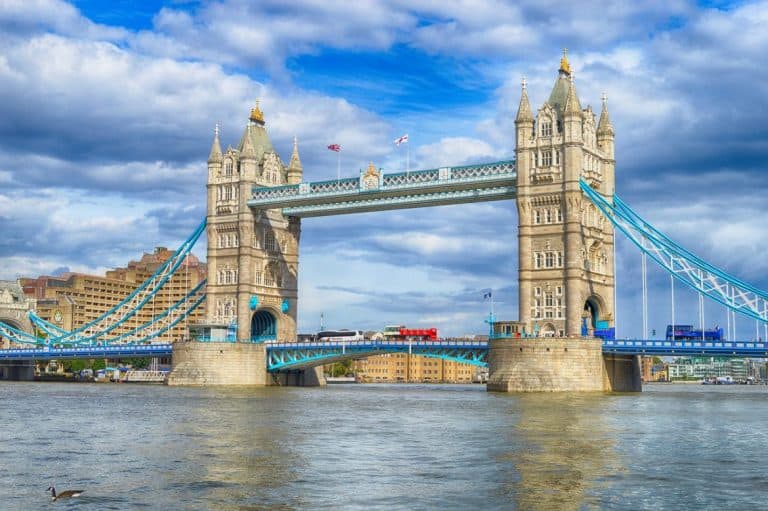 Location: Tower Bridge Road, SE1 2UP. The bridge is served by Tower Hill and London Bridge underground stations, a short walk away.
Cost: An adult ticket to the exhibition and to see the inner workings of the bridge costs £9.80 and £8.70 if you buy online in advance.
Opening Hours: April-September 10.00-17.00. October-March 09.30-17.00.
Book tickets to the exhibition in advance to save money.
Pro Tip: Check out the bridge lifting schedule to capture a great photo opportunity. The best viewpoints are from Butler's Wharf and St Katherine Docks, one on each bank.
Afternoon – Shakespeare's Globe Theatre
"All the world's a stage," quoteth William Shakespeare, and if you want to see what they were like in his time then a visit to the reconstructed Globe Theatre is an absolute must. Although his actual playhouse was destroyed by fire in 1613, this modern retake was constructed using evidence from the original designs. As such, what you see is an extremely accurate and beautiful representation of an Elizabethan theatre. There's an exhibition on Shakespeare's life and times, but the real highlight is to see a play performed in such charming surroundings.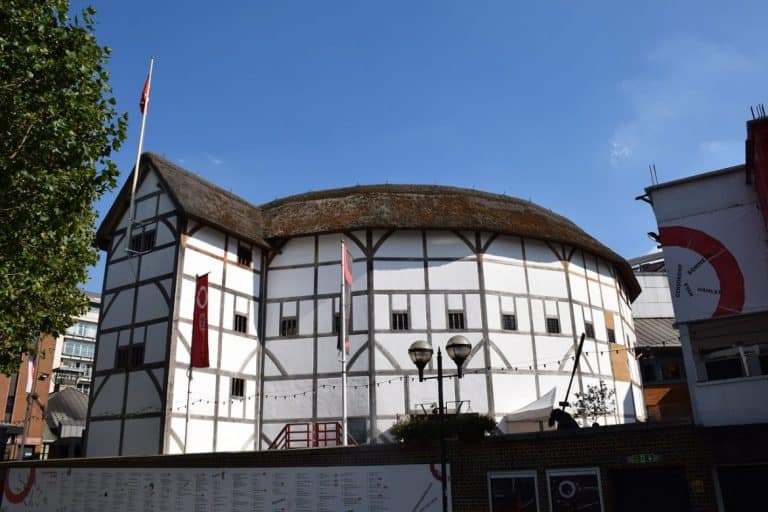 Location: 21 New Globe Walk, SE1 9DT. Situated on the south bank of the River Thames in the Bankside cultural quarter, the nearest underground stations are Blackfriars and Mansion House.
Cost: Adult tickets for the exhibition and theatre tour start at £17.00. Ticket prices to see a performance will vary.
Opening Hours: The exhibition is open daily from 09.30-17.00.
A guided tour of "this wooden 'O'" is one of the best ways to see how actors would have performed back in Elizabethan times.
Pro Tip: If you really want to experience its full potential, you need to see a performance here. Check out the What's On schedule to find out when your favourite play is under the lights. It's not all to do with the Bard either – there's plenty of alternative talks and shows to keep everyone content.
Afternoon/Evening – Tate Modern
It's time to get your art fix on as you visit one of the premier galleries in the world. The Tate Modern is London's national gallery of international modern art, housing a stunning array of works from all corners of the globe. Only the British Museum draws in more visitors annually. The beauty of it is – it's totally free to enter, and only certain exhibitions will ask for an admission fee. Art should be accessible for all and it certainly is at the Tate Modern. Be advised though, as it is one of the largest collections out there, it will take you a long time if you want to see it all.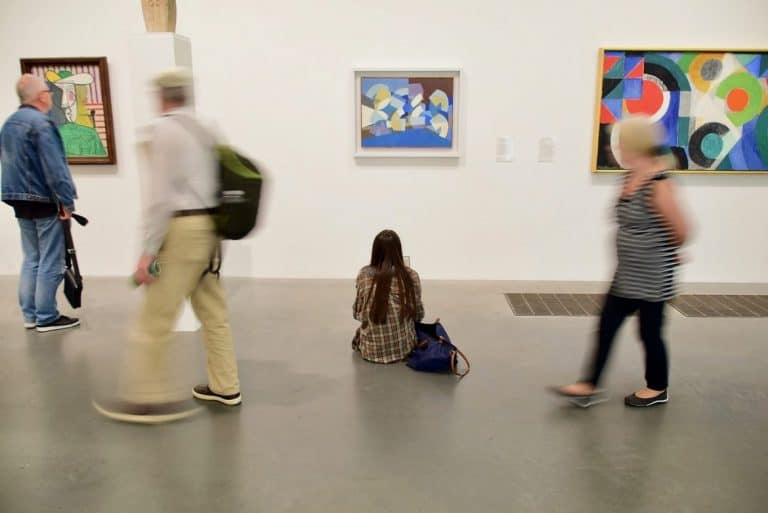 Location: Bankside, SE1 9TG. Southwark and Blackfriars are your underground stations. As well as the usual bus connections, there are boat services running the River Thames to get you there in style.
Cost: Free – but exhibitions vary.
Opening Hours: Sunday to Thursday 10.00–18.00. Friday to Saturday 10.00–22.00.
Pro Tip: Expect the unexpected here – work ranges from incredible masterpieces to something you could find in a dumpster. Go in with an open mind.
Evening – St Paul's Cathedral
Crossing over the Millennium Bridge at twilight is a wonderful experience, and you'll see the lights of St Paul's Cathedral in the distance. The dome of this iconic building is one of the defining images of London, a 17th century baroque masterpiece that famously lasted throughout the dark days of the Blitz in WWII. While it is beautiful to see it lit up a night, be advised in order to enjoy it's wonderous interior, the last admission is a little on the early side at 4 PM.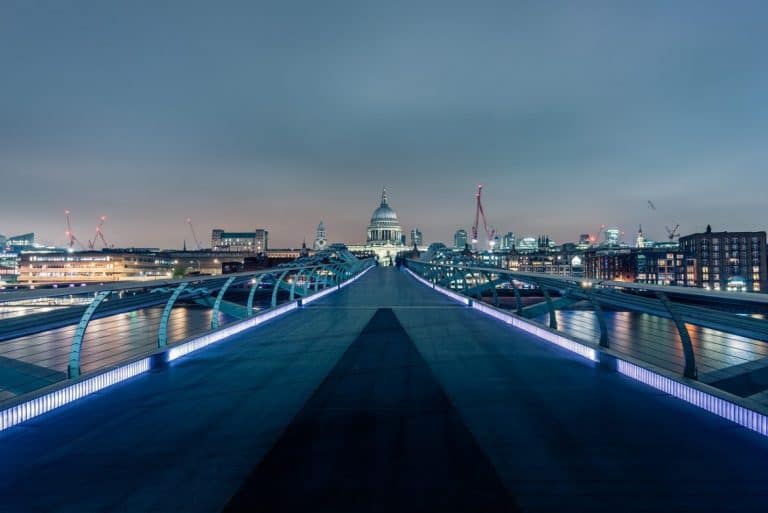 Location: St Paul's Churchyard, EC4M 8AD. Access over the Millennium Bridge is recommended. The nearest tube is St Paul's.
Cost: To marvel at the exterior is free, but unless you're visiting for a service, expect to pay £20.00 for an adult ticket.
Opening Hours: Monday-Saturday 08.30-16.30. Sundays for worship only.
To skip the queue, enjoy a fast track entrance ticket that costs less than a walk-in.
Pro Tip: Don't miss the whispering gallery – where it is said even the slightest sound can be heard everywhere because of the impressive acoustics.
Evening – The Sky Garden
You can't miss the newly built skyscraper on Fenchurch Street – because it looks like a giant walkie-talkie. This, in fact, has become its beloved nickname since construction was completed in 2014. But while it might contain uninteresting offices or businesses you don't want to bother with, you're looking to head to the top floor, where you'll find three stories of 360-degree city views in landscaped gardens. It's a serene, calm environment in an otherwise bustling city and it knocks spots off the 'Shard' skyscraper – because it's free to enter. You get a terrific view of the Shard from here, anyway.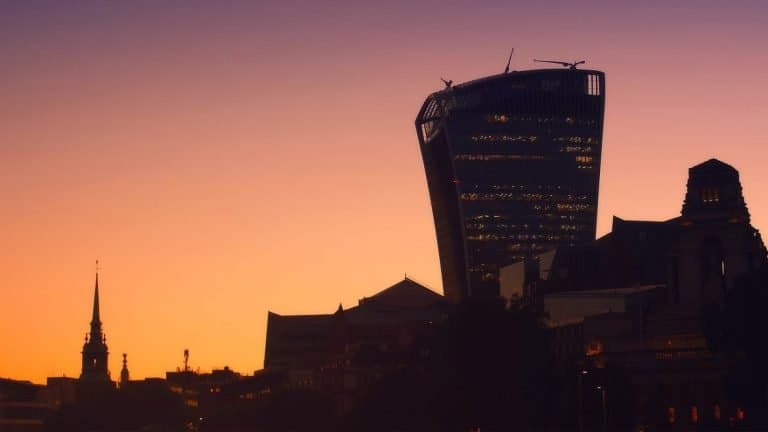 Location: 20 Fenchurch Street, EC3M 8AF. The local tube station is Monument and once you're topside – you won't be able to miss it.
Cost: Free – but you will need to book tickets in advance, so plan ahead.
Opening Hours: Monday 07.00-23.00. Tuesday 07.00-24.00. Wednesday-Friday 07.00-01.00. Saturday 08.00-01.00. Sunday 08.00-23.00.
Pro Tip: Unless you're dining at the restaurant, you'll have one hour of allotted time. Book well in advance – because tickets are like hen's teeth.
Day Three in London
Morning – The British Museum
With some 5.5 million visitors every year, the British Museum attracts record numbers of tourists in the capital. And with a collection this extensive it's little wonder why. The vast majority of its works were obtained during the reign of the British Empire, and you will be astounded just how far and wide it once reached. Ownership of certain exhibits remains the source of much controversy, so you should definitely visit to see what all the fuss is about. But with some 8 million points of interest housed within – you could be here some time.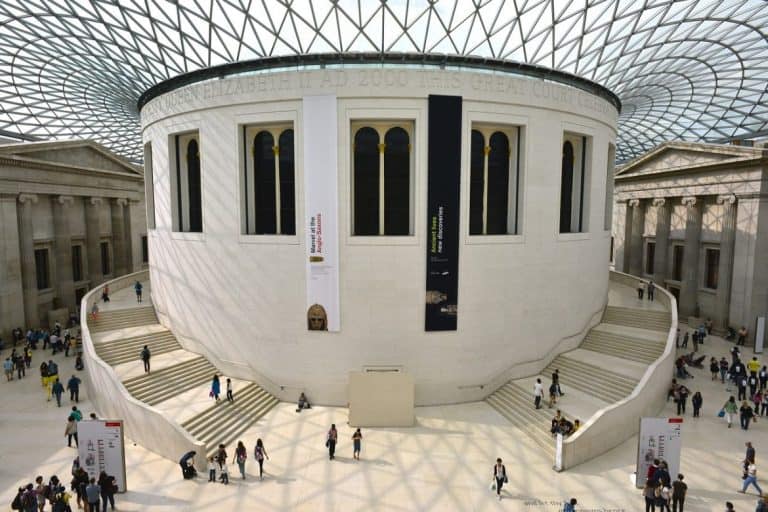 Location: Great Russell Street, WC1B 3DG. The nearest underground stations are Tottenham Court Road and Holborn.
Cost: Free.
Opening Hours: 10.00-17.00 daily. Fridays until 20.30.
Take a guided tour to really get the most out of your visit here.
Pro Tip: A collection this huge can be overwhelming and intimidating. Remember – it's free – so take your time and come back later if you don't manage to see everything at the first go.
Lunch – Ben's Fish and Chips
Arguably the UK's most popular dish is fish and chips, so while you're in the capital you'd be amiss not to try it. It helps that it's delicious, too. Luckily, a stone's throw from your British Museum experience is the highly rated Ben's Traditional Fish and Chips Restaurant. You won't need dinner for a while – it does exactly what it says on the tin.
Location: 200 Shaftesbury Ave, Covent Garden, WC2H 8JL. Tottenham Court Road is serving underground station.
Cost: Cod and Chips will set you back £8.80.
Opening Hours: Monday-Saturday 11.00-23.00. Sunday 10.30-22.00.
Pro Tip: It's the perfect opportunity to check out the beautiful Covent Garden district and piazza at the same time.
Afternoon – Shopping
Since you're in the neighbourhood of some of the finest shopping in the world, it would be rude not to at least take a little peak, right? You're in the heart of London's west end, which has more shops and boutiques than you can possibly fathom, enough to leave your credit card quivering with fear. It costs nothing to look however, so take a stroll along Regent Street, Oxford Street and Bond Street to see where high-end fashions meet bargain buys and everything in between.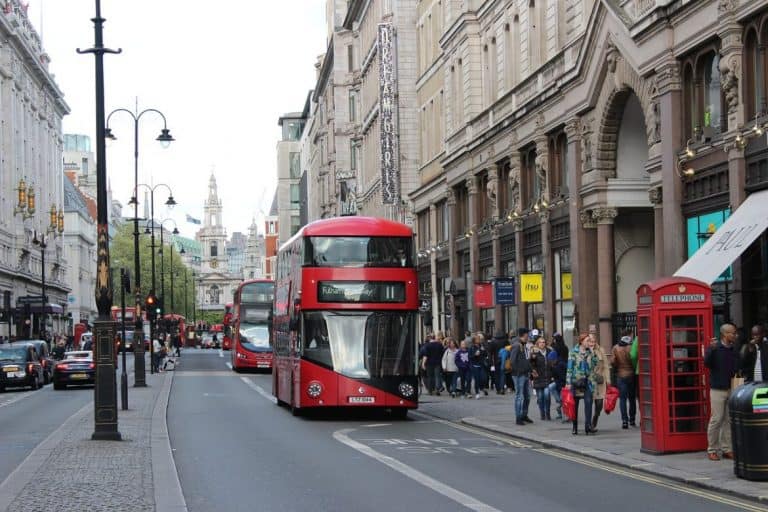 Location: Alight at Oxford Circus underground and you'll be right in amongst it. Never a tube station has a more fitting moniker.
Cost: Free to window shop – your souvenirs are entirely up to you.
Opening Hours: Various hours, but most stores will be open from 09.00-20.00. Late night shopping on Thursdays.
If you'd rather save your feet, why not take a private chauffeur-driven shopping trip?
Pro Tip: Make sure you're holed up somewhere safe before lunch time. It's worse than a stampede of rabid wildebeest.
Afternoon – The London Eye
If you have time, scoot across the water for a ride on the world-famous London Eye. It's the largest observational wheel in Europe (it used to be the tallest in the world) and the most visited paid attraction in the British Isles. Experience unrivalled views of the Houses of Parliament and the Thames below, as well as the immersive 4D mini-movie. There's no better place to enjoy a London sunset.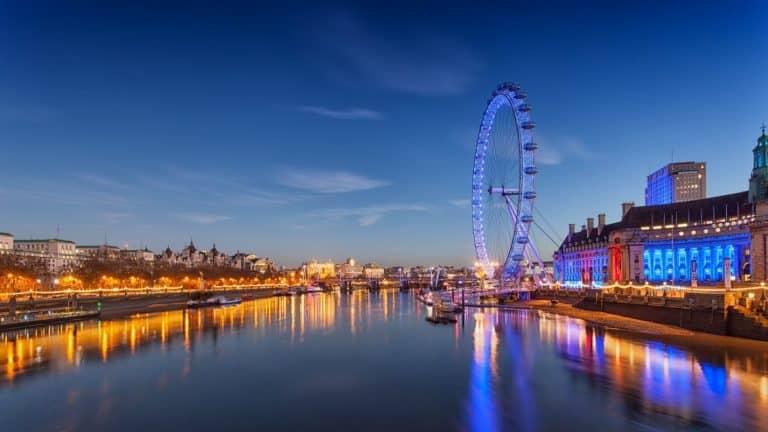 Location: Westminster Bridge Road, SE1 7PB. Waterloo is the nearest underground station, over the Hungerford Bridge.
Cost: Tickets start at £27.00.
Opening Hours: The Eye's hours of operation can vary dramatically throughout the year. Typically, between the hours of 10.00-20.30.
Enjoy fast-track admission if you book online beforehand.
Pro Tip: Take a wander along the Queens Walk and through the Jubilee Gardens for a picturesque stroll before or after your wheel experience.
Evening – It's Show Time!
No visit to London would be complete without taking in at least one show in the famous theatre district. The west end is one of the world's most popular destinations for plays, musicals and other English language performances, with the nearest rival being that of Broadway in New York. Pick up some discounted tickets and see your favorite stars tread the boards, or sing along to every word from hits like Phantom of the Opera, We Will Rock You, the Lion King and Wicked. It's razzmatazz, spectacle and showbiz at its brilliant best.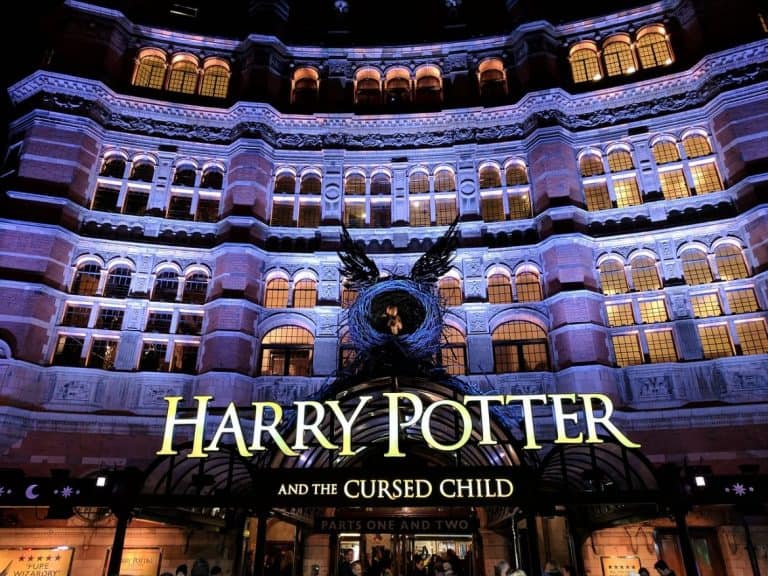 Location: There are over 240 theatres in London. Start at Leicester Square underground and you'll be in the very heart of it.
Cost: Ticket prices vary wildly from show to show. Check listings for details.
Opening Hours: Matinee performances are usually at 14.30. The curtain goes up at 19.30 in the evenings.
Pro Tip: Don't worry about what to wear if you're in your day-trip clothes. Gone are the days of top hat, tails and sequined gowns – nobody cares what your attire is. Go comfy and enjoy.
Accommodation in London
Luxury – The Ritz
It doesn't get much more luxurious than the world-famous Ritz hotel. Favorite of superstars and the mega-rich, you can pretend to be a rock god and throw a TV out the window. It's five stars worth of service that will set you back a pretty penny – but it is one of the finest hotels in the world, bang in the middle of one of the world's finest cities. It doesn't get more decadent than this.
Location: 150 Piccadilly, W1J 9BR. The closest underground station is Green Park.
Cost: Prices start at £425 per night.
Mid-Range – Citizen M
Aimed at a younger cliente, the Citizen M chain of hotels are filled with clean lines, funky colours and modern furnishings. There's nothing worthless here, they've put a lot of effort into designing a trendy, functioning place to sleep without the clutter. The rain showers in each room are a particular highlight, as are the wall to wall windows – quite literally.
Location: There are three Citizen M hotels in the London area. At the Tower of London, in Bankside and in Shoreditch.
Cost: Rooms start at £99.00
Budget – St Christopher's Inn
St Christopher's Inns are something of an institution in London, famous for being budget friendly, friendly accommodations. There are no less than eight locations scattered around the city, which means you'll more than likely find yourself exactly where you want to be. Comfortable sleeping arrangements, a free breakfast and meeting friends for life. Why would you want to stay anywhere else?
Location: The hostels are located at Camden, Greenwich, Hammersmith, Shepherd's Bush, Liverpool Street and x3 at London Bridge.
Cost: Varies depending on location. The cheapest starts at £9.40 for a dorm bed.
Summary
It has been said that London is the capital of the world, and after any visit here you'll be inclined to agree. It really is a one-of-a-kind kinda place. We've tried to touch on the best the city has to offer in our little guide, but in a smorgasbord as diverse and eclectic as this, we're bound to have missed some killer suggestions. We hope you will forgive us. In the meantime, we wish you a present and memorable trip if you're every visiting London. We'll be very jealous indeed.
So, what have we missed? Let us know if we've outrageously overlooked an amazing attraction, or what you would have included in your three-day itinerary of London.