Smart backpacks, just like most of our smart gadgets, are becoming the new norm. As more people become mobile offices, the traditional laptop backpack is no longer sufficient. The urban nomad wants to be digitally connected at every moment, and laptop backpacks are now transitioning to a more stylish and functional design with integrated technology.
Over the last few years, the number of laptop backpack companies has grown. A significant number of these companies are startups producing the best smart backpacks that combine aesthetic business style with technology and mobile-friendly features that keep your gadgets powered wherever you are.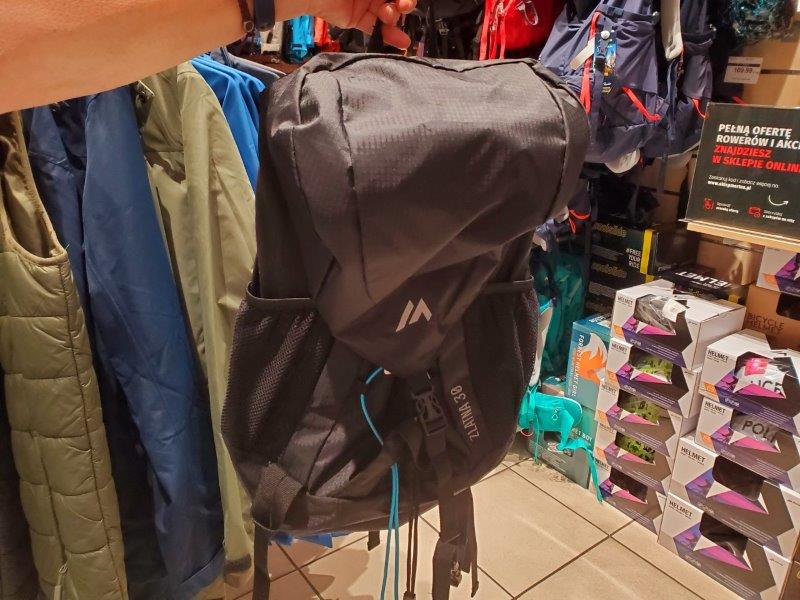 What is the Best Smart Backpack?
We have compiled for you the top 7 Best Smart Backpack in 2023. In this article we go through the products that we have used ourselves, checked what other users thought about them and we ranked them accordingly.
With years of experience with backpacks that are smart and having used several smart backpacks you can trust our review.
Moreover, you can scroll to the end of this review to see our mini buying guide as well as the answers to some of the frequently asked questions about smart backpacks.
Specs
Price: 💲 (fewer 💲 = cheaper)
Weight: 1.87 pounds (0.85 kg)
Size: 17 x 11.6 x 6 inches (43.2 x 29.5 x 15.2 cm)
If you are not a fan of the ordinary backpack design, here is one for you that is fashionably attractive for college and high school students. The backpack's style stands out with its uniquely designed front pockets for small items and elasticized side pockets for your water bottle and umbrella. The main compartment features a laptop pocket and an inner side pocket where you keep your power bank and phone. It features a USB and headphone jack combination that allows you to charge your phone or listen to music discreetly and conveniently. This lightweight backpack features a water-resistant polyester fabric construction with metal zippers, reinforced stress points, and adjustable shoulder straps for comfortable carrying. It offers generous space for your school books and laptop with a few overnight clothes.
Pros
Attractive and fashionable design,
Generous main compartment and external pockets,
Features a USB and headphone port,
Wide main compartment opening
Cons
It is not anti-theft designed,
Adaptor cords included are poor quality
Specs
Price: 💲💲 (fewer 💲 = cheaper)
Capacity: 23 liters
Weight: 1.76 pounds (0.8 kg)
Size: 17.7 x 11.8 x 7.1 inches (45 x 30 x 18 cm)
Material: Nylon
Wheels: No
Water Resistant: Yes
Waterproof: No
The laptop compartment on this Kopak Slim backpack is only accessible when you take it off your back, so it's a safe anti-theft backpack. This backpack will also protect your back and shoulders with an ergonomic back design and S-shaped padded shoulder straps. It is made of anti-scratch material to keep your bag looking sleek and new for a long time.
Pros
Anti-theft, hidden laptop compartment,
Slim build that is lightweight but durable,
Patented dual-layer zipper that is strong enough to resist knife-stabs
Cons
Limited space within the compartments,
Lacking built-in charging capabilities
Specs
Price: 💲💲 (fewer 💲 = cheaper)
Capacity: 35 liters
Size: 20 x 12.2 x 5.7 inches (50.8 x 31 x 14.5 cm)
The front slanted pocket design of this women's smart backpack is what stood out for me. I like how it has a professional aesthetic while at the same time being conventional, making it an excellent mix for work and school. It has a roomy main compartment although it only fits the 15.6-inch laptops. The bottom is also reinforced to ensure that your gadgets won't get damaged if the bag fell.
The backpack features an external USB charging port with a built-in charging cable. The front compartment features multiple pockets to help you organize your work or school stationery and gadgets. It has high-quality construction with metal zippers that come with a combination lock for the main compartment and water-resistant exterior polyester fabric.
Pros
Offers comfortable back and shoulders support,
Features multiple pockets for organization,
Slim and elegant design,
Fast charging USB port
Cons
Poor quality lining inside the bag
Experience technology and comfort with the Oscaurt Anti-theft Backpack. This backpack is skillfully designed to secure your belongings by featuring a completely concealed zipper. A smart approach integrates compartments of different functions: pen slots, pockets for phone or wallet, a laptop sleeve, and side pockets for water bottles or umbrellas. It also includes a hidden back pocket for added security and a luggage pocket for convenience during travel. The thoughtful design maintains the backpack's shape, offering durability even when carrying heavy loads. This feature ensures superb protection for both your back and your laptop. The Oscaurt backpack's design is a holistic approach to carry items that interests me the most; maximum organization and protection blended with comfort and style. But what sets this backpack apart is its external USB port, which provides easy charging access to devices during travel. Convenience and versatility are further enhanced with adjustable padded shoulder straps that ensure comfort. Moreover, its fabric is waterproof, safeguarding valuable electronics from unexpected weather conditions. However, this model may have shortcomings. The laptop sleeve might struggle to accommodate larger models, and a dedicated tablet pocket is notably missing. Despite these, the Oscaurt Anti-Theft backpack remains a veritable option for a convenient, safe, and stylish journey.
Pros
Hidden zipper for enhanced security, Multifunctional compartments for organization, Built-in USB port for on-the-go charging, Waterproof fabric for electronics protection.
Cons
The laptop sleeve may not be equipped for larger models, No pocket tailored to hold a tablet securely.
Specs
Price: 💲💲💲 (fewer 💲 = cheaper)
Weight: 1.98 pounds (0.9 kg)
Size: 17.7 x 11.8 x 5.5 inches (45 x 30 x 14 cm)
Material: Nylon
Wheels: No
Water Resistant: Yes
Waterproof: No
The Kopack Anti-theft Laptop Backpack provides savvy travelers with high-level security and organizational features, perfect for keeping your valuables secure while on the go. The backpack is designed with numerous concealed pockets and high-tech security features, such as a hidden zipper, making it a formidable challenge for potential thieves. Strategically positioned compartments help you conveniently organize your travel essentials for easy accessibility. Incorporating the advantage of a suitcase with a luggage belt, the backpack can be easily and securely fastened to your rolling luggage for the convenience of carrying your backpack on your rolling luggage when on the move. In a world where technology accompanies us wherever we go, the backpack is equipped with an external USB port with an internal built-in cable. This feature allows for on-the-go charging, proving essential for tech-savvy travelers. In addition, a shock support system provides superior protection for your laptop and other electronic devices against accidental bumps and drops. Safe commuting is assured, even at night, with two reflective stripes at the front of the backpack for high visibility.
Pros
High-tech hidden security featuresDetailed organizational compartmentsIntegrated USB port for device chargingReflective stripes ensure visibility at nightLuggage belt for convenient suitcase attachment
Cons
No waist or hip strap for extra security
The main compartment does not lie flat
Specs
Price: 💲💲💲💲 (fewer 💲 = cheaper)
Weight: 2.87 pounds (1.3 kg)
Size: 17.8 x 11.5 x 6.3 inches (45.2 x 29.2 x 16 cm)
Material: Microfiber Leather, Ballistic Nylon
Wheels: No
Water Resistant: Yes
Waterproof: No
The Bopai Smart Business Rucksack artfully merges style, functionality, and versatility. Its chic, slim construction, made from water-resistant microfiber leather, seamlessly fits into both professional scenarios and casual environments. This smart backpack offers impressive space, with an additional 40% capacity upon the activation of an amazing enlarge function. Consequently, it caters perfectly to travel needs as it adheres to carry-on luggage dimensions. The Bopai Rucksack doesn't compromise on organization either. It houses a swift-access, isolated compartment designed to securely fit a 15.6-inch laptop.
In a fascinating fusion of style and versatility, this rucksack morphs into a briefcase. This is achieved simply by detaching its shoulder straps. Perfect for business settings, this transformation provides even more options for usage, maintaining the sleek look while serving a completely different purpose.
Pros
Quick-access isolated laptop space fits 15.6″ devicesHas an enlarging function for 40% extra spaceConverts seamlessly into professional briefcaseWater-resistant microfiber leather material
Cons
Some users might find it too compact for extensive carrying needs
Detachable straps could get misplaced
Specs
Price: 💲 (fewer 💲 = cheaper)
Weight: 1.54 pounds (0.7 kg)
Material: Polyester
Wheels: No
Water Resistant: Yes
Waterproof: No
Introducing the Matein Unisex Travel Backpack, a key player in the smart backpack market. Constructed from high-quality materials, this exceptional backpack ensures optimal organization with a designated laptop pocket, roomy primary compartment, and well-structured front organizer. Its innovative design evenly distributes the load across your shoulders, offering a hassle-free carry experience.
What truly makes this backpack stand out is its intelligent add-ons. Featuring an exterior USB port with a pre-installed charging cable, it simplifies the process of powering up on the move. The backpack comes with side pockets tailored to secure a large water bottle snugly, preventing any accidental slip-outs.
A signature feature of this product is the anti-theft pocket concealed in the back, providing a safe place for valuables. Enhancing travel efficiency, it is equipped with a sturdy luggage strap which seamlessly attaches to rolling luggage, thus, making travel transitions smoother.
Overall, it's a valuable investment offering top-tier security, ease of transport, and smart charging solutions, all on a budget. With an offer of 10% off using the code 'ETRAMPING' on the manufacturer's website, it is one highly recommended travel companion!
Pros
10% discount using 'ETRAMPING' on the manufacturer's siteFoam-padded shoulder straps and top handle for comfortHidden anti-theft back pocket to guard treasures Luggage strap designed for secure attachment to rolling luggageIntegrated USB port for straightforward mobile charging
Cons
Insufficient padding at the bottom
Limited variety in color choices
Verdict
To summarize, we have gone through dozens of smart backpacks and decided that 7 are worth your consideration. Out of these, the absolute Best Smart Backpack is Yalundisi Vintage Backpack which we highly recommend as our overall best.
If money is not an issue, you can consider Oscaurt Anti Theft Backpack as this is our Premium Pick.
Otherwise, there's no shame in spending prudently, Yalundisi Vintage Backpack is the Budget Option.
Our other reviews you may find useful in your research:
What You Should Know Before Buying smart backpacks
Overview
Before we dive into our product comparisons, it is worth iterating over a few points so that we can fully understand what backpack is when we might want to have one, and the different qualities these products tend to have that assist you in your outdoor adventures.
Additional considerations when buying a new backpack
When choosing the right backpack for your needs, you'll want to consider a variety of things. The following are some of those things:
Materials – As we've already discussed, the materials that a backpack is made from can have a big impact on how well it works for your needs. For example, if you're planning on going out into the wilderness for an extended period, you'll want a rugged material that can stand up to a lot of abuse. Design – The design of your backpack is also something to consider because it can have a big impact on how comfortable and convenient it will be for you to use. For example, if you plan on using your backpack to carry books to school, it won't need to have several large internal compartments like you would want for an extended camping trip.
Size – The size of your backpack is also something that you'll want to think about before making a purchase. One of the biggest mistakes that people make when choosing a backpack is getting one that's too small. This can have the effect of straining your back and shoulders as you carry all of your supplies wherever you go. On the other hand, if your pack is too large, it will be much more difficult to move around with because it will be heavy.
Comfort – The comfort of your backpack is very important because you'll be relying on it to hold all of your supplies, which could get heavy at times. For this reason, you'll want to choose a backpack that has padding on the straps as well as a back band for extra support. You might also consider getting one with a waist strap if you'll be carrying a lot of weight in it.
Safety features – Although you don't need to worry too much about this if you're just planning on using your backpack as a school bag, it's definitely something that you should consider when choosing one for outdoor use. The most important safety feature that you'll want to look for is reflective material to help you be seen at night. You should also consider getting a backpack with straps on the bottom of it as this will make it much easier to rescue someone who falls into a body of water while wearing their pack.
Durability – The durability of your backpack is also something to keep in mind because you don't want it to break down too soon after purchasing it. It's not very common for backpacks to suddenly fall apart, but it can happen if the manufacturing process wasn't done correctly or a manufacturing defect was present.
Price – The price of your backpack is also something that you'll want to keep in mind before making a purchase. It should go without saying that you'll need to consider how much money you're willing and able to spend on one, but it's still important for several other reasons. For example, if your budget is limited, you might have to settle for a backpack that's not very high quality. On the other hand, if you have a bit of extra cash to spend, you could upgrade to a much better pack that will last for many years.
Hip belt – The hip belt on a backpack is designed to make it easier to carry your supplies when they become heavy. The hip belt can be particularly helpful when you're going uphill or if any of the weight is shifting around too much in your backpack.
Shoulder straps – The shoulder straps on a backpack are mostly designed to help you distribute the weight more evenly throughout your body with each step that you take. They should also work with the hip belt to keep all of your supplies feeling balanced and secured.
Suspension system – The suspension system that you get with your backpack is designed to help keep the bag off of your back and to make it easier for air to flow between you and the pack. This can be particularly helpful if you'll be walking through some areas that are hot or will experience significant temperature changes throughout the day.
Zippers – The zippers on your backpack are primarily designed to help you get into it very quickly and easily. In general, when the zipper is placed near the top of a pack it's easier to access that when it's closer to the bottom. It also makes a difference whether or not you have side access to the inside of your backpack because this will make it easier to get in and out of your bag.
Pockets – The pockets that you put on your backpack are primarily designed to hold smaller items so that they don't get lost within the main compartment. However, there's often more than one pocket so you can separate various supplies into their own areas or just keep them separated from each other for convenience's sake.
Hydration system – This refers to the area of your pack where you can store a water reservoir. If your backpack has this, it's important to consider the quality of the material that is used as well as how easy it will be for you to fill up and drink from.
Hiking pole attachments – If your backpack has this feature, then you'll want to consider how it is implemented. The best backpacks will allow you to attach your hiking poles easily so that they don't get in the way or poke into you while you're walking.
Internal frame – This refers to a type of construction for your backpack where the frame is inside of it. The internal frame can be made out of metal or plastic, but either way it will help your bag to maintain its shape while you're traveling with supplies in it.
External frame – This refers to a type of construction for your backpack where the frame has been assembled outside and then attached to the bag itself. This type of frame is often much more durable than an internal frame, but it can be somewhat heavier as a result.
Miscellaneous features – There are a number of other details about backpacks that you may want to consider. For example, you may want to be sure that your backpack has a rain cover or some padding in the bottom if you'll be traveling with glass bottles inside of it.
Laptop compartment and pockets
Most backpacks have a designated separate space for laptops and tablets. This special compartment is located close to the back and is well-padded, providing increased protection.
In addition to a compartment that is specifically designed to carry a laptop, sleeves are often included for your devices. They allow you to carry your laptop without sacrificing on space. In order to protect from scratching and other types of damage, most sleeves have a part which is made of neoprene or another type of foam. The inside of the sleeve is lined with shock-absorbing material as well, providing a layer of protection.
For those who carry a lot of accessories or other items with their laptop, additional internal pockets can be found. These are often meant for storing power cables as well as key accessories. However, they might also be used to carry a water bottle or a pair of headphones.
Finally, there are laptop backpacks which come with special outer pockets which are specifically designed to allow you to access your device more easily while on the go. Most airport security checks require you to take out your laptop, hence the easy access is very useful for frequent travelers.
Questions and Answers About smart backpacks
What is a smart backpack?
The smart backpack is like a regular backpack but with added features to make your life easier. The added qualities such as the external USB and headphone ports, charging solar panels, and RFID protected pockets allow you to connect your gadgets to a power source inside the bag using cables without necessarily having the gadgets in your hand. The smart backpacks also feature enhanced security features like anti-theft designs, hidden pockets, and built-in combination locks to keep your gadgets and other gear secure as you move around with your bag.
How do I choose a smart backpack?
It all depends on what you need and how you intend to use the smart backpack. Take time to evaluate your needs and understand some of the essential features of this type of bag. There are two main qualities of this backpack that you should look out for when choosing the best smart backpack. One is the provision to charge your phone, which you can check by ensuring that it has a USB port. The other feature is the security of the contents, which you can get with hidden zippers and combination locks.
What is scan smart backpack?
Scan Smart is a feature in some backpacks that allows you to go through airport security without having to remove your laptop or tablet from the bag. It features an extra zipper closure that separates your laptop from the rest of your bag's contents. It allows you to open the zippered laptop compartment to scan it through airport security without removing your laptop or tablet from the pack.
How does a smart backpack work?
Smart backpacks work by allowing you to charge your phone or laptop on the go. It means that you don't need to remove your phone or laptop from the bag to recharge it because you can easily do it through the bag's USB port. However, you would need to have a power bank since many of the bags don't have a power source.
Why do I need a smart backpack?
If you are a heavy smartphone user and you are constantly away from an electric power source, you will need to have a smart backpack. The bag allows you to charge your devices without removing them from the bag and helps you to carry the power banks that you need to charge your devices.
What to look for in a smart backpack?
There are many features that make a smart backpack more useful for you. These include:
Capacity for the size of your laptop,
Multiple compartments and pockets for organization,
USB and headphone ports,
Water-resistant or waterproof construction,
Comfort with padded back and shoulder straps,
Quality design and construction,
Anti-theft backpack features for security