Riding a motorbike is fun, but storage can be a problem. Especially, if you don't have saddlebags. In this article, I'm going to help you find the best motorcycle backpacks to hold your gear while riding. It's gonna make things easier for you on the road.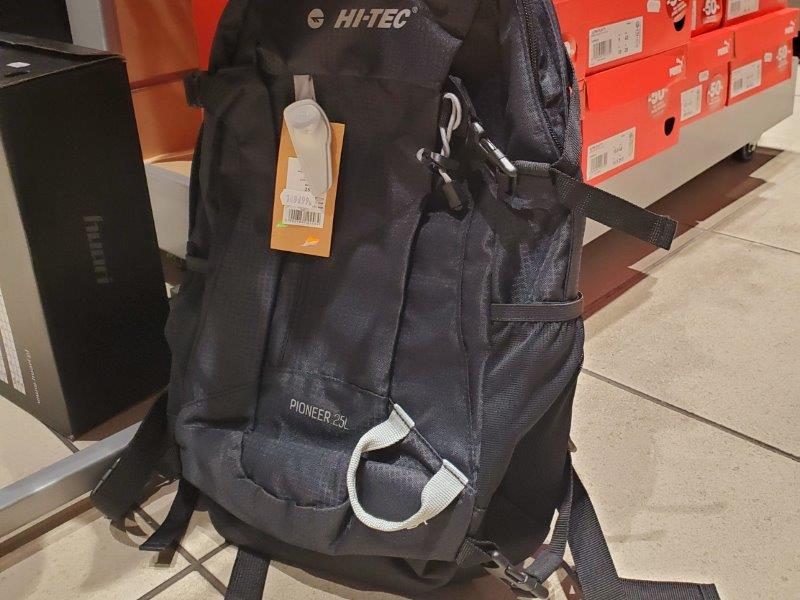 What is the Best Motorcycle Backpack?
We have compiled for you the top 7 Best Motorcycle Backpack in 2023. In this article we go through the products that we have used ourselves, checked what other users thought about them and we ranked them accordingly.
With years of experience with backpacks for motorcycle and having used several motorcycle backpacks you can trust our review.
Moreover, you can scroll to the end of this review to see our mini buying guide as well as the answers to some of the frequently asked questions about motorcycle backpacks.
Specs
Price: 💲💲 (fewer 💲 = cheaper)
Capacity: 28 liters
Size: 18.1 x 10.8 x 8.7 inches (46 x 27.4 x 22.1 cm)
This biking backpack is perfect for riders who need a pack that works well on and off the motorbike. The bag has molle loops to strap on camping or hiking gear ideal for long road trips. You don't need to worry about packing a water bottle, or getting off your bike to drink, with the hydration pouch. You get an outdoorsy rucksack that functions as a lightweight motorcycle bag and water-resistant, making it our top candidate on my list.
Pros
Plenty of space as it holds up to 35 liters,
Designated sleeve for a 17″ laptop or 2.5-liter water bladder,
Made from water-resistant polyester for weather-proofing,
Multi-functional,
Water-resistant,
Lightweight
Specs
Price: 💲💲💲 (fewer 💲 = cheaper)
Capacity: 35 liters
Size: 20 x 12.7 x 2.3 inches (50.8 x 32.3 x 5.8 cm)
This is a waterproof motorcycle backpack made for rides in all conditions. With a large capacity, you can use it for road trips, mountaineering, or sports. You can fit your full-face helmet in the carrier, and the straps adjust to whatever else you want to put in. You will love it for hiking and camping trips with the option to attach optional side packs to the main bag.
Pros
Made with high quality 900D waterproof fabric,
Fits full-face helmet, water bladder, or basketball,
Expandable main compartment,
Large capacity,
Waterproof,
Versatile to use for biking and adventures
Cons
No cushioned compartments for electronics
Specs
Price: 💲💲 (fewer 💲 = cheaper)
Capacity: 35 liters
Weight: 1.88 pounds (0.85 kg)
Size: 19.8 x 13.5 x 4.6 inches (50.3 x 34.3 x 11.7 cm)
There is nothing more frustrating than carrying your helmet in your hand. You will find this motorcycle backpack a big help with the helmet holder to solve this annoying problem. It also has a molle system to use for camping, hiking, and backpacking gear. You can use it with a hydration bladder for backpacking and has a water-resistant nylon design for unexpected rain.
Pros
Molle system to use with equipment,
Expandable helmet carrier,
Two-layer inner pockets on the front and back,
Affordable,
Lightweight,
Expandable
Cons
Works well in light rain but not waterproof
For commuting on your motorbike, this backpack has many pockets to keep items needed for the day, including a large gaming laptop sleeve. I like the rain cover included; that helps when it rains. What's more, it works well for frequent travelers to keep devices charged using the USB port. Furthermore, it transitions comfortably from the back to your hands with a strong handle to carry when needed.
Pros
Fitted with a rain cover,
Variety of functional pockets,
Fits a 17-inch laptop,
Great storage layout,
Lightweight and easy to clean,
Waterproof
Cons
Flaps around in the wind when empty
Specs
Price: 💲 (fewer 💲 = cheaper)
Capacity: 30 liters
Size: 18.9 x 13.6 x 9.3 inches (48 x 34.5 x 23.6 cm)
The Under Armour Hustle 3.0 Backpack is durable and comfortable with an abrasion-resistant bottom panel which allows you to put your bag down without fear of tearing or scratching it. It is designed with shoulder pads to relieve stress on your shoulders and tough materials that are both durable and water-resistant. It has a large, spacious main compartment and a soft-lined laptop sleeve that carries up to a 15-inch laptop. At the bottom, it has a section for shoes with enough space inside for clothes which works well for sports. You have two side pockets to take water bottles – great to have as a hiker. The front has a water-repellent pocket to hold your valuables and to keep them safe.
You can use this verstaile backpack for anything; from a motocycle road trip, commuting to work to going to the gym.
Pros
Water-resistant finish,
Abrasion-resistant bottom panel,
Bottom gusseted laundry/shoe space
Pockets on pockets for your laptop, water bottle, valuables and even your laundry/shoes,
UA Storm technology which delivers an element-battling, highly water-resistant finish,
Side pockets for a water bottle
Cons
Tight-fitting water bottle pocket
This motorbike rucksack is perfect as a commuter bag made for everyday rides with enough space for clothes. You get useful pouches with a dedicated electronic pocket. If you take part in sports, it has shoe storage to help with quick changes. The rucksack has a water-resistant structure for rainy days and holds up well in the wind with the aerodynamic design. What's more, I love the reflective piping making you more visible on the road at night for other motorists to see you.
Pros
Aerodynamic and water-resistant,
Multiple zippered compartments,
Reflective piping,
No drag or shifting while biking,
Decent storage space,
Comfortable on the back
Cons
The exterior of the bag scratches easily
Oakley, globally recognized for their iconic eyewear, also crafts quality products like the "Kitchen Sink" backpack. Specifically designed to cater to day-to-day usage as well as brief adventure trips, this compact tactical backpack fits underneath airplane seats, making it a reliable travel-buddy. Among its versatile storage options, it includes a side-access laptop pouch, a forward-facing zippered organization pocket, and a compression-molded media player pocket complete with headphone port. All compartments come equipped with reinforced clips and lock-compatible zip closures for enhanced security. Crafted from robust nylon, this 34-litre capacity backpack hosts space to accommodate a laptop along with a hard media-player pocket, offering protection against possible impacts. Perfect for professionals and travellers, it also includes a distinct compartment for footwear at its base.
Pros
Abrasion-resistant material
Strong chest belts and waist straps
Integrated front clip mounts and side molle straps
Specialized bottom compartment with drainage for wet items
Cons
Tends to be weighty even when empty
Side-access sleeve for the laptop might feel slightly tight
Verdict
To summarize, we have gone through dozens of motorcycle backpacks and decided that 7 are worth your consideration. Out of these, the absolute Best Motorcycle Backpack is Mardingtop Motorcycle Backpack which we highly recommend as our overall best.
If money is not an issue, you can consider Ogio No Drag MACH 3 as this is our Premium Pick.
Otherwise, there's no shame in spending prudently, Under Armour Hustle 3.0 Backpack is the Budget Option.
Our other reviews you may find useful in your research:
Questions and Answers About motorcycle backpacks
Why do bikers wear backpacks?
Motorcycle panniers are often insufficient for what you want to take with you on the road. Even more so, a motorcycle backpack is better than saddle bags because you can comfortably take it with you on foot too.
Is it safe to ride a motorcycle with a backpack?
As long as you wear the backpack correctly with an evenly distributed weight, the motorcycle rucksack is safe while riding. It only becomes unsafe when it is uncomfortable and takes your concentration off the road.
Do you need a motorcycle backpack?
Yes, it provides you with a place to store essentials items when commuting, long road trips, and casual biking. Your bike backpack will provide you with an additional, easily-accessible, space to carry things.
What to look for in a motorcycle backpack?
When choosing the right pack for biking, there are some factors to consider, as seen here
Adjustable straps and a chest strap help spread the weight evenly,
Quality of the stitching for prolonged use,
Weight of your backpack – you do not want to add more weight on your back,
Waterproof design you never know when it starts to rain.
How do I secure my motorcycle backpack?
The best way to secure your pack to your bike is by using a bungee cord, cargo net, or rok straps. That's, of course, when you do not want to have it on your back when riding.
Can I use a Motorcycle Backpack with a Passenger?
Yes, if the passenger holds onto the rucksack for you to make things easier and safer. When you ride with a passenger, there is not enough room to carry the bag yourself.