For any outdoor enthusiast, a travel backpack is a must, and with many guys enjoying adventures in nature, there is a wide variety of travel backpack for men to choose from. They come with different customizations to suit various needs, with storage compartments for everything, these backpacks help you organize your stuff and make it easier to find what you're looking for inside. Also, some will have extra features like water-resistance to withstand different weather conditions or hipbelt for weight distribution.
What is the Best Travel Backpack For Men?
We could say that we traveled the world to find for you the Best Travel Backpack For Men and it's partially true – we've been on the road since 2011 after all.
More importantly, we have done a very thorough research online and have gone through most of the available men's backpacks for travel that you can buy today. We read the comments left by people who bought and used these travel backpacks for men.
We also wrote a brief travel backpacks for men Buying Guide and FAQ sections to address most questions you may have.
Without further ado, here's the list of top 10 men's backpacks for travel based on their pricing, specs and ratings by real users.
Carry Osprey Porter 46 travel backpack has padded sidewalls, along with straightjacket compression, to make sure that your things stay safe within and allow you to fit more stuff inside. Its rear panel lockable zip sleeve will enable you to access your laptop easily at securities or when traveling generally while you carry it comfortably with the help of padded top and side handles. Thanks to the material and design quality, as well as usefulness in a number of scenarios, this is the best men's backpack for travel.
Pros
Spacious main compartment to pack well for your trip,
D-ring attachments to add a shoulder strap for better weight distribution,
Front pockets for easy access to items,
Comfortable, Available in different capacities 30,46 and 65L,
Stowaway harness and hipbelt
Cons
No side pockets for water bottle storage
The Shrradoo travel laptop backpack is a large anti theft backpack that has lots of storage space and compartments. Its high-density nylon lining keeps the bag tear and water-resistant. There's a foam-padded top handle and adjustable shoulder straps with a comfortable and breathable sponge mesh design.
It also comes with a separate flat compartment at the back to hold your laptops of up to 15.6 inches. The built-in charging port and the luggage strap feature are just icing on the cake.
Pros
Large capacity breathable 20 independent pockets to help you organize,
Comes with an external USB port to charge your electronic devices easily,
Comfortable and breathable shoulder straps for easy carriage,
Water and tear-resistant,
Affordable, Combination lock included
Packed with a tonne of useful features, this backpack by Sosoon might be all you need for your business or hiking trip. It features a spacious main compartment to accommodate your daily necessities, a dedicated 17-inch laptop compartment, and a hidden back pocket for your wallet. The backpack comes with a USB port with an earphone jack to help you charge your phone and also listen to your favorite music while your mobile phone is still in the backpack.
It is made from high-quality polyester fabric, TSA-friendly, and comes with a sturdy molded top handle for easy grab and go. The back panel features breathable mesh padding for back support, while the massage mats on the shoulder straps help to reduce load pressure on your shoulders.
Pros
Comes with a USB port and an audio jack to connect with your electronics,
180 degree unfolding of the laptop compartments gives you easy access,
Practical and easy to use with top handle, luggage belt, and shoulder straps,
Separate, lie-flat laptop compartment so you can get through security checks faster when taking your computer out,
Pocket on the shoulder straps where you can store tickets for easy access,
Features a hidden pocket for your wallet
Cons
Not completely waterproof
With Ospreys men's travel backpack, you can detach your back panel hip belt and harness to transfer your weight from shoulder to hips. It has a mesh at the rear panel that helps improve ventilation and keeps your back sweat-free. Its scratch-free zippered slash pocket, which is heat embossed, is best to store your sunglasses or other items prone to scratch. Two internal compression straps will keep your cargo completely stable when you're moving.
Pros
Large main compartment for better storage,
Convenient wide opening,
Lockable sliders on main compartment zipper,
Available in different sizes,
Light-weight,
Durable construction
YOREPEK comes with 20 independent pockets along with elastic side pockets to hold on to your umbrellas, water bottle, or other gear. The backpack is TSA approved and unfolds quickly, with openings ranging from 90-180 degrees. The shoulder side straps are adjustable and can hang sunglasses and pendants when needed. The built-in charging port and external headphone jack are just icing on the cake for this business travel backpack.
Pros
TSA-friendly laptop compartment that opens up to 180°,
Large capacity with over 20 independent pockets,
Comfortable to wear with U shaped 3d ventilation design,
Comes with an external USB port and headphone jack,
Made from water and scratch resistant materials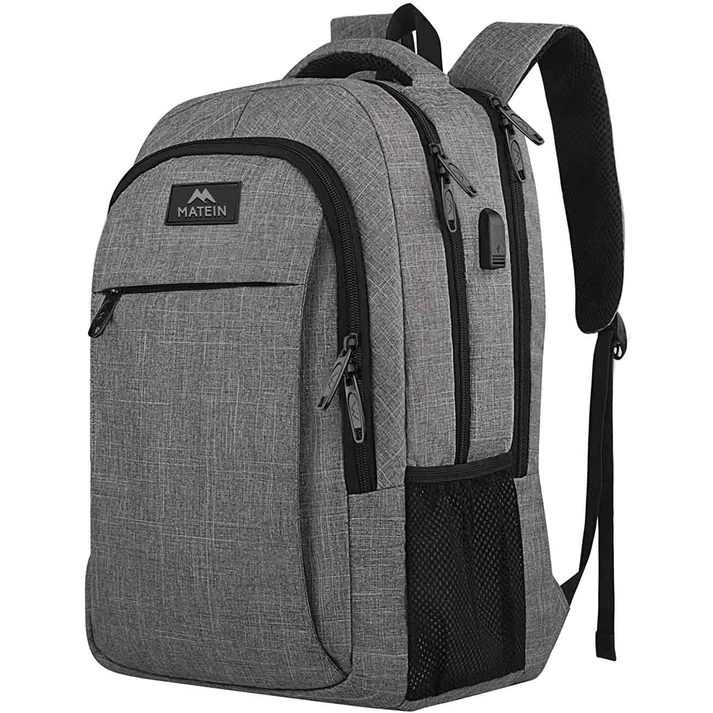 Matein small travel backpack for men comes with a built-in USB charger located outside with a cable within that provides an easy way to charge your electronic devices. You can carry it easily with the help of a luggage strap, which allows it to fit onto your luggage or suitcase. Its polyester fabric ensures that the backpack stays water-resistant and the soft multipanel ventilated padding keeps you comfortable. Its hidden anti-theft pocket in the back will keep your valuables safe.
Pros
Our readers get 10% off with coupon code "ETRAMPING" on the manufacturer's website,
Spacious storage,
Water-resistant,
Nicely padded straps that provide good comfort,
Water-resistant,
Anti-theft pocket,
Built-in in USB charger
Cons
Shoulder straps may pull out
The backpack keeps everything safely in place with the help of large side compression straps and ax/trekking pole loops. Unbuckle the side compression strap to open up the bag for easy access to your gear whenever you need it. Dynamic airflow back panel and light beam single aluminum stay keeps you comfortable during your trips as the dedicated sleeve for the hydration bladder that provides you with easy access to drinking water.
Pros
Perfect Fit suspension for comfort,
Available in four different colors,
U zipper design for easy access to your items,
Single light beam and HDPE frame,
Lightweight,
Hydration sleeve
This 3-day travel backpack from Pans has has a mountaineering hook to hang small things, and the name card in front of velcro that gives makes it easier to recognize yours among others. It can be made more compact by using the side buckles, which makes it easier to pack. The walkie-talkie pouch on the back strap allows you to hold your communication devices.
Pros
Available in lots of different colors,
Expandable, i.e., You can add pouches or velcro on it,
Storage capacity up to 64L,
Sturdy zippers,
Stable load distribution,
Well built
Hynes Eagle travel backpack comes with multiple side compression buckle straps that adjust according to your height and act as a shield to protect your gear from potential damage. It has hideaway shoulder straps, through which you can easily carry the rucksack. It can be fitted easily in most overhead compartments and under-seat storages due to its compact size.
Pros
Excellent quality and durability,
Comes with various handles for carrying,
Compact size that fits everywhere,
Comfortable,
Great design,
Solid stitching
This Kroser tactical laptop backpack is a multifunctional pack for school, work, travel, and outdoors. It is made with high quality and durable ballistic material that also prevents moisture or rain from penetrating the backpack. Another great feature is the RFID protection that prevents your credit card and passport information from being stolen when traveling. It comes with multifunctional and spacious compartments to keep your school or work stuff as well as hiking gear and travel clothes.The side compression straps keep the bag compact for easy handling and carrying. Lastly, the backpack also has a sunglass hard shell zone on the top, convenient to put your sunglasses, cellphone, mini drone, etc. Its airflow back padding system ensures that you stay comfortable on your journey.
Pros
Water repellent ballistic fabric construction,
Built-in USB charging port for your devices,
RFID pockets to prevent identity theft from your cards,
Padded bottom to protect your laptop,
Compression straps to keep it compact
Spacious storage,
Cons
Poor quality zippers
Does not have a dedicated laptop compartment
Verdict
TLDR: Quick summary of our findings as to what can be considered the best travel backpack for men is below:
Overall best travel backpack for men out there: Osprey Porter 46 Backpack
Premium Pick if money is not much of an issue: Osprey Farpoint 55 Travel Backpack
Budget Choice – there's no shame in spending prudently: Sosoon Laptop Backpack
Our other reviews you may find useful in your research:
Questions and Answers About Travel Backpacks For Men
How to choose the best travel backpack for a man?
I recommend you to look for the following features while getting a travel backpack for men
•Storage capacity
•Size and weight
•Durability and quality of the backpack
•Comfort
•Water resistance
•Extra storage pockets
What are good quality backpack brands for men?
The following brands make the best backpacks for men
•Osprey
•Matein
•Kroser