If you're the outdoorsy type like me, you'll appreciate anything that makes your outdoor experience more enjoyable. Backpack coolers are a practical and convenient item to carry and keep your food and drinks cold while you explore the great outdoors. Backpack coolers are also more portable and lighter than typical camping coolers, leaving your hands free so you can carry other necessities with ease. In this article, I'll go through our top picks for backpack coolers based on my own experiences and extensive review. I also have an FAQ to answer some of your top questions about this great camping gear.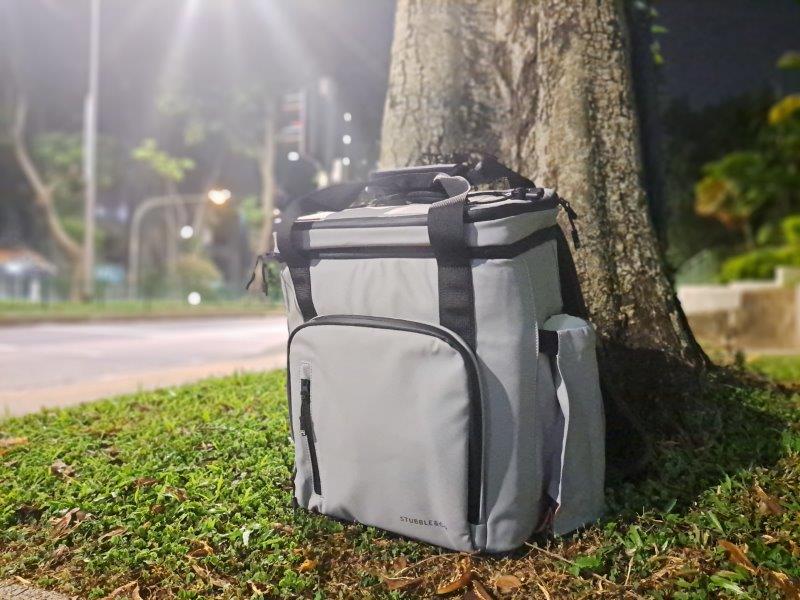 What is the Best Backpack Cooler?
We have compiled for you the top 11 Best Backpack Cooler in 2023. In this article we go through the products that we have used ourselves, checked what other users thought about them and we ranked them accordingly.
With years of experience with backpack refrigerators and having used several backpack coolers you can trust our review.
Moreover, you can scroll to the end of this review to see our mini buying guide as well as the answers to some of the frequently asked questions about backpack coolers.
Specs
Price: 💲 (fewer 💲 = cheaper)
Capacity: 30 liters
Size: 17 x 12 x 8 inches (43.2 x 30.5 x 20.3 cm)
Can Capacity: 30
The FORICH Soft Backpack Cooler is a great option for those wanting something simple and lightweight. The lightweight design of this insulated backpack cooler is a big plus, as the lighter your cooler is, the less it will weigh after you add food and drinks to it! This cooler features an ergonomic design that makes carrying it very comfortable. I also like that it also has accessory compartments to carry snacks and my other stuff. It is our top choice because, for an affordable backpack cooler, it does a great job of keeping your items hot or cold without leaking or condensation. Plus, it's one of the most comfortable options on this list.
Pros
Multiple pockets to carry all your items
Includes a bottle opener
Fashionable and stylish design
Durable construction
High-performance insulation
Lightweight and compact for long hikes
Prevents leaking and condensation
Cons
Needs some support to stay upright
Fabric not fully waterproof
I tried this cooler out myself, and I have to say it's my favorite on the list. If you love picnicking in the great outdoors, it's a great option for you.
This cooler has a double-insulated compartment that kept items cool for a very long time. It has a large capacity at 28.5L so you can fit a good amount of food and beverages inside, perfect for group adventures. It's also pretty sturdy for a soft-sided bag, so it still maintains good shape when filled for easy organization. There are also many different compartments including a plate and utensil pocket so you know exactly where everything is!
Its wide straps and breathable back panel make it extremely comfortable to wear and transport even when full. Plus, its material is water resistant, so you don't have to worry about stains from light spills or items getting wet in a drizzle. Though it is more expensive than other picks, sometimes paying a little more is worth it for a premium experience. The Cooler comes in three colors: All Black, Ember Orange, and Concrete.
Pros
Comfortable to wear even when full
Sturdy, waterproof material and water-resistant zips
Double-insulated compartment
Many different pockets for food, plates, utensils, ice blocks, and other items
Comes in 3 stylish colors
Cons
More expensive than others
Block shape can feel a bit bulky when full
Specs
Price: 💲 (fewer 💲 = cheaper)
Weight: 1.76 pounds (0.8 kg)
Size: 17.7 x 13 x 9.9 inches (45 x 33 x 25.1 cm)
Can Capacity: 30
This budget backpack cooler is a great option to keep your items cool without hurting your wallet. Although it is bulky, it also distributes the weight evenly so that it sits comfortably on your back no matter how much weight is added. I also like that you can use ice instead of ice packs and not worry about leaks. You can also use it as a convenient backpack fridge to keep groceries cold before you get home. Though it is better used with ice packs instead of cubes, it does also come with a bottle opener. For the price, it's hard to beat.
Pros
Padded handle and shoulder straps
Convenient wide opening
Extra storage pockets
Light and comfortable to carry
Comes with a bottle opener
Extremely affordable
Cons
Bulkier than others
Can sometimes leak if you use ice cubes
Specs
Price: 💲💲 (fewer 💲 = cheaper)
Capacity: 28 liters
Size: 15.8 x 13 x 7.5 inches (40.1 x 33 x 19.1 cm)
Can Capacity: 30
If you want a backpack cooler for beer, this one can carry 30 cans in its main compartment and comes with a beer opener if you decide to carry bottles! To protect the inner lining from tearing, you will want to use ice packs, though. This can be frustrating if you want to bring more items, as packs can take up more space than regular ice. On the upside, you won't have to worry about leaking melting ice cubes, and it packs quite a bit with all the extra compartments.
Pros
Light and comfortable for hikes
Multiple outside pockets
Multifunctional aesthetic design
Breathable exterior material
Budget-friendly
Cons
Needs ice packs instead of loose ice
Not as insulated as some coolers
Some reviewers say the zipper can get stuck sometimes
Specs
Price: 💲💲💲💲💲 (fewer 💲 = cheaper)
Size: 15 x 12 x 6.5 inches (38.1 x 30.5 x 16.5 cm)
Can Capacity: 20
This quality cooler backpack has a large carrying capacity and an ergonomic design to help you with the weight. The ColdCell insulation feature is one of the best performing on the market, and it comes with a secure zipper that keeps any melted ice from leaking out. Additionally, if you cool it with ice before use, it will keep your food and drinks cold for much longer than its competitors. It's one of the more expensive choices on the list, but it's easy to see why with so many great features.
Pros
Excellent quality and durability
Comfortable backpack design
Hitch point grid to attach extra accessories
Heavy-duty and durable exterior
Superior cold-holding performance
Generous can carrying capacity
Cons
More expensive than most
Gets pretty heavy when full
Specs
Price: 💲💲 (fewer 💲 = cheaper)
Weight: 2.71 pounds (1.23 kg)
Size: 17 x 11.5 x 9.5 inches (43.2 x 29.2 x 24.1 cm)
Can Capacity: 30
The Columbia PFG Roll Caster Cooler is one of the largest backpack coolers on this list. The one thing you will love about this cooler backpack is the extra storage space and the elasticized gear straps to carry damp towels on your beach holiday
The main compartment has decent space and is made of high-performance insulation with an easy to clean lining. Though it still has a large capacity, some reviewers say a lot of the size is from the insulation, so it doesn't fit as much as it appears to. It is also more suited for ice packs to prevent leaking through the zipper. However, it does still fit 30 cans, which is pretty impressive.
Pros
Multiple exterior pockets
Breathable mesh back panels
Easy to clean materials
Excellent insulation performance
Water-resistant outer material
Adjustable padded shoulder straps
Cons
Large and bulky
Thick insulation contributes to bulky size
Can leak if knocked over
Specs
Price: 💲💲💲 (fewer 💲 = cheaper)
Weight: 4.56 pounds (2.07 kg)
Size: 9.4 x 13.4 x 20.5 inches (24 x 34 x 52.1 cm)
Can Capacity: 35
This backpack chiller is designed without seams or zippers to keep it leakproof on the inside. The outer layer is equally watertight even if it gets submerged in water. I can recommend it for fishing trips or boat rides because you can float it with its contents if you capsize. It's also comfortable with a padded back and strap design, but it is a little short on extra storage.
Pros
Rolls up to half the size
Ergonomic design for easy carry
Watertight outer and inner materials,
Features a double-layered insulation
Keeps ice cold for up to 24 hours Leakproof welded seams and without zippers
Cons
Heavy to carry when fullLow performance on durability
Specs
Price: 💲💲💲 (fewer 💲 = cheaper)
Capacity: 20 liters
Weight: 1.23 pounds (0.56 kg)
Size: 16 x 12 x 7.5 inches (40.6 x 30.5 x 19.1 cm)
Can Capacity: 6
The IceMule backpack cooler is similar to the Buffalo Gear with the air valve that makes it buoyant, and at the same time, allows it to roll up for storage. Unlike the Buffalo Gear, it features a single sling strap instead of shoulder straps and does not come with extra pockets. It offers high performance insulation to keep your food and drinks cold for more than 24 hours. That is a valuable feature to consider if you are going to be on a long trip with frozen food. The roll-top design ensures that nothing leaks and is more reliable than a zipper. However, it is smaller than many other coolers at only a 9 Liter capacity. Though, this could be a pro if you're looking for something for one that is extremely simple.
Pros
Welded seams and roll-top opening
Double padded sling strap
Lightweight, heavy-duty construction
Retains ice coldness for 24 hours
Buoyant and waterproof
Cons
Has a single compartment only
Smaller capacity than other coolers
Specs
Price: 💲💲💲 (fewer 💲 = cheaper)
Weight: 4.14 pounds (1.88 kg)
Size: 22 x 12.8 x 12 inches (55.9 x 32.4 x 30.5 cm)
Can Capacity: 30
This Arctic Zone cooler backpack has Deep Freeze insulation to make this an excellent choice for weekend camping adventures and hikes. It is multi-layered to prevent intense heat from penetrating the inside, which keeps items cold for longer. We love the ergonomic design with lots of padding and accessory pockets to keep all your stuff in the right places. It features a top hatch for easier access into the main compartment without having to open the zipper. Though it is a bit more expensive than others, it makes sense as it retains cold temperatures for longer than others. Some reviewers also say they wish it was a bit more durable, but it still retains good condition if you're careful with it.
Pros
Water-resistant exterior material
Multiple accessory pockets
Padded back and shoulder straps
High-performance insulation
Features a top access flap
Good value
Cons
Not as durable as other choices
Slightly more expensive than others
Specs
Price: 💲 (fewer 💲 = cheaper)
Capacity: 24 liters
Size: 14.6 x 12.2 x 8.5 inches (37.1 x 31 x 21.6 cm)
Can Capacity: 30
This insulated backpack cooler is good for keeping your food chilled and fresh for picnics, hiking, and any outdoor activities. I like that it has a separate insulated pocket outside of the main compartment for snacks, and two side pockets for carrying drinks. It has a solid structure that sits upright, which reduces leakage through the seams and zipper. It also helps with leakage if you use it with ice packs instead of loose ice, as some reviewers said the zips aren't fully leakproof. Overall, it delivers decent performance and durability for its price.
Pros
Nicely padded handle and straps
Generous main compartment
Available in different sizes
Sturdy and durable straps
Lightweight
Extremely affordable
Cons
Can leak through the zipper with ice
Material not fully waterproof
Specs
Price: 💲💲💲💲 (fewer 💲 = cheaper)
Capacity: 33 liters
Size: 18 x 14 x 8 inches (45.7 x 35.6 x 20.3 cm)
Can Capacity: 35
The T.O.M Horizons Backpack Cooler is an extra-large backpack cooler that caters to long hikes. The insulation keeps food cold or warm for up to 18 hours. It is a heavy-duty and rugged backpack that can carry 40lbs of stuff. It has heavy back padding and straps for comfort, and has chest and abdomen straps to secure it well on your back.
We love all the extras that come with this backpack cooler. To mention them briefly, it includes loops for attaching extra stuff, heavy-duty straps underneath to attach mats or blankets, and for survivalists, it comes with a bonus multi-tool. Though not as durable as other coolers, it's hard to beat the convenience of these add-ons for the price.
Pros
Great size for long hikes
Rugged tactical design
Comes with several bonus features
Heavily padded and ergonomic
Generous loading capacity
No leaks or condensation
Comes in two colors
Cons
Not very durable
Can get bulky when full
Needs a cooler insert to retain a firm shape
Verdict
To summarize, we have gone through dozens of backpack coolers and decided that 11 are worth your consideration. Out of these, the absolute Best Backpack Cooler is FORICH Soft Backpack Cooler which we highly recommend as our overall best.
If money is not an issue, you can consider Stubble & Co The Cooler as this is our Premium Pick.
Otherwise, there's no shame in spending prudently, Hap Tim Cooler Backpack is the Budget Option.
Our other reviews you may find useful in your research:
What You Should Know Before Buying backpack coolers
Overview
Every backpack cooler is made differently. You'll want to look carefully at the materials, build, and size of the cooler before making a final choice. Here's some more information about picking a good backpack cooler.
Construction
You want to make sure that the construction of the backpack cooler you choose is solid. Backpack coolers made with cheap materials will be more likely to leak, tear, or have poor insulation. If you want something that will last you a long time and keep your items cool on long days, you'll want to pick one made with quality materials. Always check out the durability of the zippers on the cooler. High-quality coolers will have leak-proof zippers that are resistant to getting stuck. Your cooler should also be made of waterproof or water-resistant materials in case of leaks or spills, for easy cleaning.
Size Needs
There are many different sizes and capacities of backpack coolers. If you're packing a picnic for the whole family, you should opt for a large cooler with around a 30L capacity. If you're only packing for you and maybe one other person, a smaller capacity will work just fine. However, packing for more than one day or with lots of different items (drinks, food, condiments, etc.) may still mean you'll be better off with a larger backpack cooler.
Insulation
Most importantly, you want to make sure your cooler works to keep your food cold! Make sure the insulation on your backpack cooler is thick and truly works well at keeping food cold for several hours. While this may not be as big of a deal for shorter trips, it will matter for all-day hikes or days at the beach. Look for backpack coolers with multiple layers of insulation to help keep the cold in and the heat out.
Questions and Answers About backpack coolers
What is a backpack cooler?
A backpack cooler is a more convenient and versatile type of a portable fridge. Unlike the more commonly known box coolers, backpack coolers are lighter, less bulky, and easier to carry, which makes them the best option for outdoor activities.
What should I look for in a backpack cooler?
It all depends on what you want to use the backpack cooler for, but I recommend that you look out for the following features:
– Size and weight,
– Durability and quality of materials,
– Insulation performance,
– Waterproof and leak proof features,
– Comfort when carrying it,
– Extra storage pockets and attachment loops,
– Extras such as bottle openers
Can backpack coolers hold ice?
Yes, they can because ice is what keeps the food and drinks cold. However, I would recommend using ice packs instead of ice to prevent leaking when the ice melts in due course. Also, the insulation quality will dictate how long your ice will last.
How long will a backpack cooler stay chilled?
It depends on the quality of the insulation of the particular backpack cooler. A high quality backpack cooler can keep your drinks chilled for up to 24 hours.
Can a backpack cooler be used to hold hot food?
Yes, it can. The insulation works to keep the food warm in the same way that it does to keep it cold.
What situations are backpack coolers good for?
Backpack coolers are convenient to carry food for picnics, hikes, and camping. You can also get creative with different ways of using it. I sometimes use mine for carrying tubs of icecream to prevent melting on the way home.
Can you put dry ice in a backpack cooler?
You can use dry ice to keep your food cold or frozen for extended periods because dry ice has a more powerful cooling effect than regular ice.
Are backpack coolers easy to clean?
The backpack cooler will need to be wiped down with a damp cloth and put it somewhere safe to air dry. It will also come with easy cleaning instructions for the cleaning the external part of it depending on the material used to make it.