If you're a fly fisherman, then you know that your backpack is more than just something to carry your gear. It's also an important part of the fishing experience.
The best fishing backpacks are made to be comfortable and practical. They have many pockets for storing your gear and come in a variety of sizes, colors, and shapes. There is no such thing as the perfect backpack but there are some that stand out from the rest. This article will review some of the best fishing backpacks on the market today. We hope you find it helpful!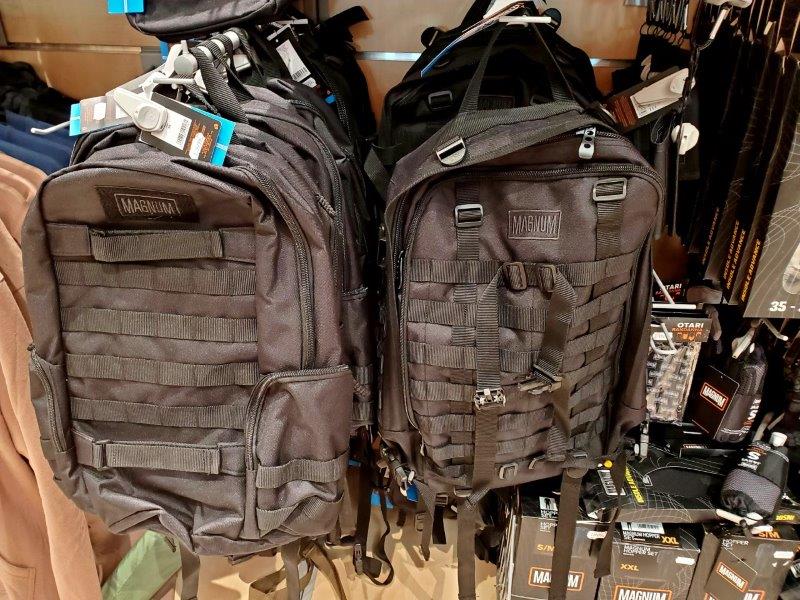 What is the Best Fishing Backpack?
We have compiled for you the top 6 Best Fishing Backpack in 2023. In this article we go through the products that we have used ourselves, checked what other users thought about them and we ranked them accordingly.
With years of experience with backpacks for fishing and having used several fishing backpacks you can trust our review.
Moreover, you can scroll to the end of this review to see our mini buying guide as well as the answers to some of the frequently asked questions about fishing backpacks.
Rodeel Fishing Tackle backpack is great for any fisherman/woman who likes to keep their supplies organized and accessible at all times. The best thing about this fishing backpack is that you can fit many items inside without having them intermingle and become a total mess! The outside pockets are great for placing your smaller belongings like keys or money. Also, there are two strong belts which make carrying your fishing rods super easy! This bag comes with four large tackle trays, so you can keep your tackle neatly organized. It has a good balance between the size (not too small) and weight (not overly heavy). This makes it a very comfortable to carry around even when fully loaded. It is very comfortable to wear thanks to its breathable padding on the back.
The only downside would be its vulnerability to tearing if overstuffed or loaded unevenly
If you're looking for a fishing bag that will hold everything and make it easy to carry items around, this is definitely the one for you!
Pros
Large storage capacity, so you can keep all your fishing supplies well organized and separated,
Two belts in which you can insert your fishing rods,
Warm, breathable padding on the back of the pack to make it more comfortable
Cons
The biggest con is that the bag might tear when it is overloaded,
Some people have also complained about the missing tackle trays in their packages
Specs
Price: 💲💲💲💲 (fewer 💲 = cheaper)
Size: 17.7 x 12.6 x 7.9 inches (45 x 32 x 20.1 cm)
Material: Nylon
Waterproof: Yes
The Piscifun Large Capacity Tackle Backpack has a protective raincover, retractable bottle pocket, hard molded sunglass case, indestructible Kam buckle and double SBS zippers. There is moveable clapboard in the main bag with rubber feet to protect the bag from water seepage. The storage capacity of this tackle backpack provides a lot of options for organizing your fishing gear as it includes internal dividers in pockets which can further separate terminal tackle. Another good thing is that the rod holders on both sides are made out of foam padding material so they won't scratch up your rods. A really nice touch is that there is rod hold (bow) set up in the front outside cover which would allow you to put in your rod and have it ready to fish with.
A folding hard case fits well in the backpack and keeps you sunglasses safe, while the H-frame adjustable dividers allow you to customize each of the tackle storage compartments so that they can best match your needs. The backpack also has two zippered pockets on both left and right side of the bag for other items such as smaller lures or terminal tackle; there is a place to add an ice pack to keep your bait fresh. An internal mesh pocket will hold things like pliers or hook removers securely.
The Piscifun Large Capacity Tackle Backpack comes with four molded trays consisting of three large double sided divided boxes for tackle storage, plus one medium sized double sided divided box for soft baits and lures. The foam padding on the trays works well to keep your lures from shifting in transit, keeping them from damage. The only issue with the tackle boxes is that they are not completely separated into smaller cubbies so you cannot organize your larger terminal tackle effectively.
There is an internal mesh pocket which can be used to store items such as a forceps or other small tool or accessories securely. With all of these stations it allows you to make this backpack uniquely yours by assigning hooks, lures, weights, spinner blades and other terminal tackle to exactly where you want them.
The backpack has a large front pocket which is very handy for storing things such as your gloves or rain coat. It also has an external bottle holder so that you can carry along additional bottles of water with you on the road. A cell phone case can be attached to the bag as well; it clips onto the shoulder strap making it easily accessible. Lastly, there are two small side pockets which cannot hold large items but will hold smaller tools like pliers and hook removers.
With all these features available in one package it makes this backpack ideal for anything from weekend fishing trips, day trips, extended vacations or even sightseeing events where fishing may be involved.
Pros
Comes with 4 tackle trays for easy organization,
Padding makes it comfortable,
Capacity is sufficient for all the equipment and some,
Specifically designed with fishing trips in mind,
Includes hard case suglasses holder and straps for 2 fishing rods
Cons
All tackle boxes are all the same and offer up little variation
This multi-functional fishing bag features rugged construction with water-resistant nylon fabric and high-quality craftsmanship. This fishing tackle bag also features high-quality and durable SBS full-length double zippers and an abrasion-resistant compression strap KAM buckle. The variety of carrying options is another outstanding feature of this Piscifun Fishing Tackle Storage Bag. It comes with a cross-body padded strap with an interchangeable waist strap that keeps the bag secured on your back and is adjustable for shoulder carrying. It also comes with a grab handle for convenient transport. This fishing bag can accommodate three tackle boxes and accessories on its outer pockets. It also features MOLLE webbing for attaching extra gear with D-rings. Other features we like include the internal waterproof lining that helps to keep your stuff dry in extreme wet conditions. It has a reflective lining on the front pocket for nighttime visibility and a breathable back panel.
Pros
Multi-functional and compact design for any outdoor excursion,
Features several storage spaces for organization,
MOLLE webbing enables attachment of additional gear,
Provides a variety of carrying options with adjustable straps,
Rugged and water-resistant construction with high-quality hardware
Cons
Uncomfortable due to minimal padding on the shoulder strap,
Seams may come loose quickly with heavy use
Introducing the GZ XINXING Bug Out Bag, an adventure-ready rucksack curated for the not-so-featherweight fisherman. Ingeniously equipped with two principal chambers, small front compartments, and an integrated molle system, this backpack is a storage workhorse designed to house your three-day essentials including fishing gears conveniently. More than just a voluminous storage, it's also impressively lightweight with substantial back-padding and adjustable straps for the ultimate comfort during long treks or fishing trials.
Crafted using high-density polyester fabric, this bag promises water-resistant and durable protection from unexpected weather changes during your high-stakes adventures. What's more, its structural integrity is reinforced with sturdy seams throughout, ensuring the bag lasts as long as your adventure stories do.
Adding a cherry on top, the bag comes with a bundle of goodies including, 6X D-Rings, a hydration tube clip, a waterproof rain cover, a PVC flag patch, and a water bottle pouch that kicks up your convenience several notches. What's more, you get to enjoy a worry-free purchase backed by a solid 30-days money-back guarantee.
Pros
Crafted with high-density polyester, ensuring durabilitySpacious design with extra compartments for optimal storageComes bundled with practical accessoriesBacked by a 30-days money-back guarantee
Cons
Zippers could be of better quality
It might feel bulky for petite users
Venture out confidently with Tacticon's 24BattlePack Tactical Backpack, your reliable companion for an adventure or everyday carry. This versatile backpack is functionally expandable from a 20L to a 40L capacity, thanks to the adjustable retention straps. Whether you are packing for a weekend trip or hauling your daily essentials, the bag adapts seamlessly to your needs.
The 24BattlePack boasts a multitude of compact and strategically designed compartments. Among these, the padded laptop pocket stands out as a reliable holder for your tech gear. Accompanied by MOLLE straps and additional pockets, organizing your essentials becomes effortless. A waterproof interior lining is a cherry on top, keeping your possessions safe from sudden downpours.
Not to quite forget, the bag includes an insulated compartment specifically designed for hydration bladder. The well-thought-out drink tube access and hanging clips leave no room for dehydration. Bonus features include a concealed carry handgun holster and robust D-rings for easy carabiner attachment.
Pros
Adjustable straps for up to 40L capacityDesigned for carrying up to 100 lbsDurable double-stitched seams throughoutCompatible with various MOLLE pouch accessories Water-resistant lining for added protectionHeavy-duty, waterproof zippers for extra security
Cons
Narrow shoulder straps might strain with heavy load
Waist straps could be longer for added support
For outdoor enthusiasts seeking a versatile backpack, the Hannibal Tactical 36L MOLLE Assault Pack is an excellent choice. It stands out due to its multifunctionality, exuding a rugged, military-style appeal while offering an impressive 36L capacity. This pack smartly caters to your various storage needs with two ample sized main compartments complemented by additional front and back storage spaces.
This assault pack goes the extra mile with a slew of easily accessible smaller pockets, ensuring your gear is always well organized. It also stands out with dual high-quality zipper pulls, facilitating quick and easy access to your essentials. One of the standout features for me remains the molle web dominator – it eliminates nuisance from loose straps, adding an extra layer of convenience.
What sets this backpack apart is the molle webbing adorning the pack's front and side areas. This enables the attachment of a variety of tactical gear, enhancing its utility. An innovative feature of the pack is its padded hydration compartment. It ingeniously doubles as a laptop holder, transitioning smoothly between office and outdoor use.
Pros
Sturdy, durable double zippersTwo main compartments for ample storageVersatile molle webbing for additional equipmentExcellent value for moneyWaterproof lining in main compartmentsPadded shoulder straps for enhanced comfort
Cons
Inconsistent stitching on shoulder straps
Attachment slots tend to be below standard size.
Verdict
To summarize, we have gone through dozens of fishing backpacks and decided that 6 are worth your consideration. Out of these, the absolute Best Fishing Backpack is Rodeel Fishing Tackle Backpack which we highly recommend as our overall best.
If money is not an issue, you can consider Piscifun Large Capacity Tackle Backpack as this is our Premium Pick.
Otherwise, there's no shame in spending prudently, Piscifun Standard Fishing Tackle Storage Bag is the Budget Option.
Our other reviews you may find useful in your research:
What You Should Know Before Buying fishing backpacks
Choosing the right fishing backpack size
A fishing backpack is a bag, usually nylon, that can be carried on the back. It can be used as a fanny pack or for fly fishing. The length of the rod and how you want to use it will determine the size of the backpack. A small backpack will suffice for light use with short rods. Bigger packs are best for all day and heavy duty use with long fishing rods. You should also make sure that your backpack is made from abrasion resistant material like nylon or polyester because when you're carrying heavy weight and swinging in arc your bag might get snagged on something or rub against a tree. For instance, metal zippers would not do well if they rubbed against trees and bushes. When choosing the right size of fishing backpack ensure that it has a lot of pockets for storing your gear so you can organize everything and retrieve them easily before going to your next spot. An integrated rain cover is also needed if you plan on fishing in bad weather or places with dodgy weather like near waterfalls where stormy winds are a common occurrence.
The shoulder straps should be adjustable so you can customize the fit. You don't want your shoulders to hurt when carrying the bag for long periods of time.
Fishing backpack compartments
There are many different kinds of compartments to choose from when you're trying to find a fishing backpack that will meet your needs.
The main compartment is often large enough to carry all the fishing gear but smaller packs may have side pockets for carrying extra items like drinks or water bottles. You should also make sure the backpack has other features like haul loops and rod holders so you can take your equipment with you easily. Considering all these things before purchasing a fishing backpack will ensure that it's right for what you need and that it will last for years. Some more specialized fishing backpacks will have a dedicated compartment for carrying your tackle trays and reels.
Carrying methods
There are different carrying methods for fishing backpacks. The most common is a shoulder strap that goes across the chest and allows you to carry your equipment on your back. You can also choose a waist belt or cross-body design that goes over both shoulders for more comfort while walking long distances. If you plan on using your backpack for fly fishing then a chest pack is better so you can access your gear easily. You might want to choose a larger shoulder bag if you use fly rods that are longer than 9 feet because these require a bigger interior space of the bag.
Tackle bags are also great if you're looking for backpacks that are smaller and more versatile where you only carry some of your fishing gear. These bags can be used as slip cases or sling bags so they're easy to take with you on the go.
Water resistant vs. waterproof
When it comes to selecting the right backpack for your fishing adventure, the terms "water-resistant" and "waterproof" are often thrown around. They may sound similar, but there's a distinct difference between the two that's important to understand. Water-resistant backpacks are designed with the purpose of minimal water penetration. These backpacks are usually made from materials like nylon that naturally repel the absorption of moisture, offering only a degree of protection from water. If your adventure consists of light showers or minor splashes, a water-resistant bag will serve to protect your valuables without the need for any added protection. However, it's crucial to remember that water-resistant backpacks do not offer full protection—prolonged exposure to water could still potentially cause damage.
On the flip side, waterproof backpacks offer a higher level of protection. These bags are specially designed to offer comprehensive protection against water, keeping your gear completely safe from water damage. The construction of waterproof backpacks involves intricate details, like heat-sealed zippers and watertight lining fabrics, preventing any water from seeping through. If you're planning a fishing expedition involving heavier rains or fully immersed conditions, a waterproof bag is your go-to choice.
Remember, knowing what kind of conditions you'll be encountering on your trip will help you decide between a water-resistant or a waterproof backpack. This information is vital to safeguard your gear and ensure a smooth adventure. Happy fishing!
Questions and Answers About fishing backpacks
What makes a fishing backpack different than a regular one?
When you're choosing a fishing backpack instead of a regular one, try to make sure that it will stand up to carrying all the gear you need. You'll need a bag that is designed to withstand the weight and abuse of being on your back all day while fishing. You'll also want to make sure that the backpack has been made from a material like nylon or polyester because these materials are resistant to abrasion and wear. The last thing you want is for your bag to start showing signs of wear and tear when you've only had it for a few months. The other difference between a fishing backpack and regular one is the number of compartments on the inside. When buying a traditional backpack, you're often looking for a bag with a large main compartment that will hold all your gear. However, fishing backpacks usually feature multiple pockets to separate and organize your equipment so you can quickly find what you're looking for without having to dig through everything else.
Can a fishing backpack be used only for fishing?
Some backpacks are designed specifically to be used for fishing. These bags will have specific features like rod holders, haul loops and a larger interior space that is meant to hold all the gear you need for an entire day out on the water. However, a regular backpack can also be used for fishing if it has compartments to separate your gear. It's recommended that you choose a backpack with nylon or polyester fabric because these materials are resistant to wear and tear.
How long does a fishing backpack last?
A fishing backpack will last for a long time as long as it is still in good shape. You need to maintain your backpack by cleaning it regularly, inspecting it for damage and storing items that are not related to fishing inside of the bag. If you buy a high quality backpack then you will be able to use it for many years without any issues.
How to wash a fishing backpack?
Fishing backpacks come with easy care and maintenance instructions to guide you on how to clean the pack. Here are some basic cleaning tips to keep your backpack in great shape after every use.
1. Empty the backpack and use the small attachment of a vacuum cleaner to suck out the dirt and debris inside the bag quickly. 2. Remove any detachable straps and pockets that you can clean separately.
3. Use a soft brush to brush off loose dirt off the outside of the pack. 4. Use a mild detergent solution to spot clean stains using the soft brush. 5. Wipe down the outside and inside pack with a cloth in mild detergent solution and let it air dry completely before storage.
6. Always clean your fishing backpack after every use to prevent a build-up of stains and odors.
What to pack in a fishing backpack?
The first thing you will need to pack is your fishing gear. This might mean rods, reels, lures, nets or any other items that you will use while fishing. You can also include a container of bait if you don't have any on hand when you're on the water. You want to make sure to include enough lines and hooks so that you won't run out while fishing. It's also important to have these items in accessible compartments so they are easy to find when you need them.
Some people like to pack their clothes inside of their backpack so it doesn't get caught up with all their fishing gear. You might want to include a change of clothes so you don't have to worry about getting dirty when you go out fishing.
You can also pack some snacks, water and sunscreen in your backpack so you'll have everything with you while on the water. You want to prevent yourself from being hungry or thirsty because this will just distract you and take away from your fishing time. Also, it's a good idea to pack these items in a container inside of your backpack so they stay protected and organized.
Note: Some experienced anglers like to just open up a backpack cooler filled with ice, beer and snacks when they get to the lake or river so that way they can be ready for any eventuality.
How much should I spend on a fishing backpack?
The simplest and most useful answer is to buy the best quality backpack you can afford. Typically, the more money you spend, the longer your backpack will last. Backpacks range in price from $15 to over $200. The $15 backpack will usually last only one year of use, depending on how much you carry and how well you care for it. A good-quality backpack can easily last 5 years or more, with proper care.