You're reading this because you need a new bag. You've had your current one for years, and now it's time to upgrade. But what do you get? There are so many options out there, and they all seem like they would work just as well. This blog post is going to cover some of the best everyday carry backpacks on the market today in hopes that we can narrow down your search and find something that will work for you!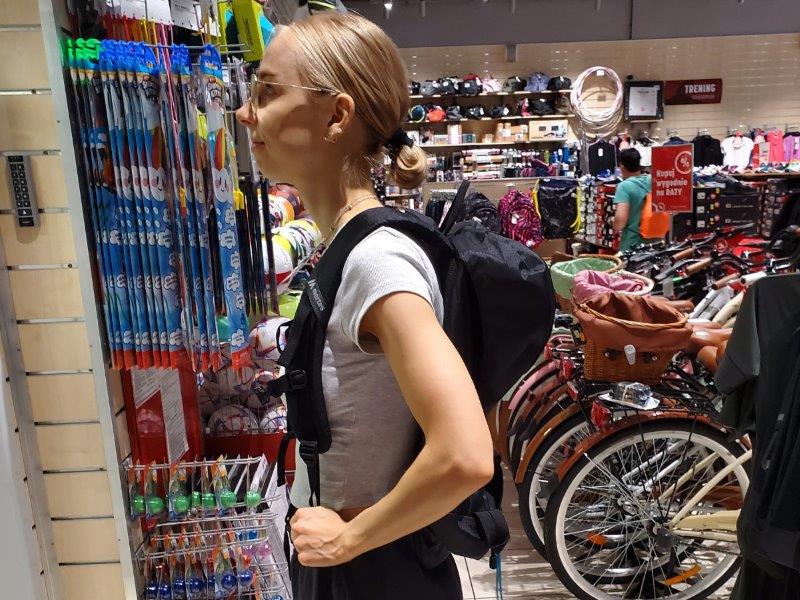 What is the Best EDC Backpack?
We have compiled for you the top 6 Best EDC Backpack in 2023. In this article we go through the products that we have used ourselves, checked what other users thought about them and we ranked them accordingly.
With years of experience with everyday carry backpacks and having used several edc backpacks you can trust our review.
Moreover, you can scroll to the end of this review to see our mini buying guide as well as the answers to some of the frequently asked questions about edc backpacks.
Specs
Price: 💲💲💲 (fewer 💲 = cheaper)
Capacity: 28 liters
Size: 19.8 x 13.3 x 9.8 inches (50.2 x 33.7 x 24.8 cm)
Material: Polyester
The Women's Borealis is one of the more popular women-specific backpacks made by North Face. It is similar in some ways to the Jester backpack that we looked at previously, and it is also perfect for college use. For example, they are both 28L capacity, and both are perfect for school and everyday carry. They both feature the FlexVent suspension system that includes padded back and lumber panels for back support and custom molded shoulder straps to fit women. They also both support 15-inch laptops and have an elastic bungee cord system for external storage. However, the Borealis is a premium backpack with higher quality construction with its nylon ripstop fabric and enhanced organization. It comes with a dedicated laptop compartment, which leaves the main section for books and clothes.
The Borealis has a front organization compartment with a padded tablet sleeve and a zipped pocket. It also features a fleece-lined pocket for small items and two expandable water bottle side pouches. The backpack is durable with excellent ergonomics and weight distribution for a daypack.
Pros
High-quality fabric construction,
Excellent impact protection for your laptop,
Ergonomic fit for women, Features a dedicated laptop compartment
Cons
Small capacity for large books,
Uncomfortable waist belt
Specs
Price: 💲💲💲💲 (fewer 💲 = cheaper)
Capacity: 34 liters
Weight: 4.1 pounds (1.86 kg)
Size: 20 x 14 x 8 inches (50.8 x 35.6 x 20.3 cm)
Oakley is a global brand that is mostly known for its iconic wrap-around sunglasses. The company has widened its product line to include apparel like this Kitchen Sink backpack designed for everyday carry and short excursion trips. This is a small tactical backpack that you can fit conveniently under an airplane seat when traveling. It features versatile storage options such as the side access laptop sleeve, the front zipper organization pocket, and the compression-molded media player pocket with a headphone port. The compartments and pockets feature reinforced clip and zip closures that are compatible with locks to secure the contents.
The nylon structure allows you to carry a laptop, and you get a hard media-player pocket to protect your devices against bumps. The 34-liter capacity provides enough space for essentials on a weekend trip. The backpack serves professionals and travelers with a dedicated shoe compartment found at the bottom.
Pros
Made of abrasion-resistant fabric,
Heavy-duty chest and waist straps,
Front clip mounts and side molle strap attachments,
Compression-molded top pocket for your media players,
Bottom compartment with drainage holes for wet items,
Comfortable padded back and shoulder straps for extended carry,
Padded side-access sleeve for a 17″ laptop
Loads of compartments including side pocket for bottle
Cons
Heavy even when empty
Side-access sleeve laptop openinga bit narrow
Specs
Price: 💲 (fewer 💲 = cheaper)
Capacity: 40 liters
Weight: 2.7 pounds (1.22 kg)
Size: 19 x 13 x 10 inches (48.3 x 33 x 25.4 cm)
The Tacticon Assault 24BattlePack is the best tactical backpack on my list because it features adjustable retention straps that can expand the packs capacity from 20L to 40L capacity. It also features a padded laptop pocket that makes it good for everyday carry, while its molle straps, accessory compartments, and waterproof interior lining make it versatile for an outdoor adventure. The backpack includes an insulated hydration bladder compartment with a drink tube access hole and hanging clips to hold it. Also included are a velcro concealed carry handgun holster and polymer D-rings for carabiner attachment.
Pros
Up to 100lbs of carrying weight,
Double-stitched seams on the entire backpack,
Cross compatible with many accessory Molle pouches,
Water-resistant interior lining keeps your stuff dry,
Adjustable retention straps to adjust the backpack capacity, Heavy-duty waterproof zippers
Cons
Shoulder straps are narrow for carrying heavy loads,
Short waist straps
Specs
Price: 💲💲 (fewer 💲 = cheaper)
Capacity: 25 liters
Weight: 1.9 pounds (0.86 kg)
Size: 19.7 x 11.4 x 7.9 inches (50 x 29 x 20.1 cm)
Material: 210D Nylon
Water Resistant: No
The Pacsafe Venturesafe GII Anti-Theft Daypack is made of 3-line ripstop 210D nylon material with a polyester lining. Although it features high-quality construction, it is also quite heavy at 1.9 pounds for its 25L capacity, compared to the larger 40L G4Free daypack that weighs 0.79 pounds. It is the premium option in my list and also the only dedicated anti-theft daypack reviewed here.This daypack comes with a padded internal sleeve to fit a 15-inch laptop and two external bottle pockets to keep you hydrated. It also features padded shoulder straps, a sternum strap, and an adjustable waist strap to ensure a comfortable and secure fit. The travel daypack fits the carry-on size for most airlines and is ideal for both men and women. It has a professional design that makes it attractive to business travelers and versatile for everyday use.
Pros
It features turn and lock security hooks to prevent snatching,
Wire reinforced straps prevent slash and theft,
It has RFID blocking pockets,
Padded internal sleeve for a laptop
Cons
Straps are too long for women,
Does not distribute its weight evenly
Specs
Price: 💲 (fewer 💲 = cheaper)
Capacity: 15 liters
Weight: 1.85 pounds (0.84 kg)
Size: 14.6 x 11.4 x 5.5 inches (37.1 x 29 x 14 cm)
Sunnybag Explorer+ is a lightweight solar-powered backpack designed for everyday use. It features a padded laptop and tablet compartment in addition to having a couple of other accessory pockets. The 6-watt removable solar panel charges all kinds of USB-devices and can charge your smartphone in under 3 hours. This solar bag is smaller with a capacity of 15 liters, which is just enough for school, office, or a day hike. The quality and durability of the materials used are fantastic. It has an inner lining that adds protection against moisture while the outer layer is water and tear-resistant.
Pros
Detachable solar panel for remote charging,
Compact and lightweight ,
Durable 600D polyester material,
Efficient solar charging panel,
Great value for money,
Good quality construction
The Arc'teryx Mantis Daypack is a versatile backpack that is at home on the trail and in the city. It is large enough to carry plenty of equipment for a standard day hike, yet small enough to be used for your daily commute to the office. For those taking this backpack on the trail, there is a built-in hydration bladder compartment and a clip for the tube that is attached to it. It is lightweight and durable, with padded shoulder straps to ensure comfort when in use for longer periods. For those using this in a more urban setting, the hydration bladder pocket can instead be used as a laptop sleeve, and there is a pocket with a key clip and pen organizers. The clean, minimalist design looks professional both on the trail and on the streets. The backpack is less helpful for those who are going a little deeper into the backcountry, as there are not many places to attach gear such as ice axes, crampons, or climbing equipment to. It is also too small for multi-day hikes. It is an overall good pack for casual hikers and commuters who do not wish to buy two separate backpacks.
Pros
Built-in compartment for a hydration bladder or a laptop.
Large enough for use as a daypack and small enough for everyday urban use. Lightweight and durable design. Multiple compartments to easily organize your gear.
Cons
There are not many options for clipping items to the outside of the pack.
Verdict
To summarize, we have gone through dozens of edc backpacks and decided that 6 are worth your consideration. Out of these, the absolute Best EDC Backpack is North Face Women's Borealis Backpack which we highly recommend as our overall best.
If money is not an issue, you can consider Oakley Kitchen Sink Backpack as this is our Premium Pick.
Otherwise, there's no shame in spending prudently, Tacticon 24BattlePack Tactical Backpack is the Budget Option.
Our other reviews you may find useful in your research:
What You Should Know Before Buying edc backpacks
Fabric
The material used in making the backpack will determine how heavy it will be. If a dense fabric is used in the construction, then it will be heavier. Nylon propylene and polyester are the most common types of fabric used in a lightweight backpack.
The thickness of fabric also matters in determining durability. Manufacturers use deniers to measure this. The higher the deniers, the thicker the fabric. Lightweight backpacks have a lower denier rating of between 100D to 420D.
Balance and Weight
You might have a lot of stuff to carry in your backpack, so you don't need the extra weight from the bag itself. However, it is not all about the fabric and frame. How well the backpack is balanced and comfortable plays a massive part in how heavy it will feel.
Other than that, women sizes backpacks tend to be lighter than men's, so take advantage of this and go for ladies rucksacks to save some pounds. Lightweight backpacks will typically weigh less than four pounds.
How to choose the right size of a backpack
Backpacks typically come in four main sizes – small, medium, large, and extra large.
Small – 12-35 liters: Suitable for a day trip or an overnight hike and would be the smallest of your backpacks.
Medium – 35-55 liters: This is a good size if you're looking to do some weekend backpacking.
Large – 55-80 liters: Perfect for multi-day trips or carrying a lot of gear.
Extra large – 80+ liters: This should be reserved for people who really need to carry a lot of stuff either because they have too much gear or because they plan on carrying a lot of non-essential stuff.
Choosing the size that suits you – If you're not sure which size to get, think about what kind of trips you'll be doing most often and then choose one that fits nicely into that category. If you plan on carrying a lot of heavy gear or have a lot of stuff to bring along, get a large or extra large. If you usually camp for only one night or your gear is already light, consider getting a small or medium-sized backpack instead.
Water resistant vs. waterproof
Water Resistant backpacks Water resistant backpacks are designed to avoid the effects of water and moisture. These backpacks will keep your gear from getting wet without any additional protection, but they are not waterproof. If the backpack is made from a material that does not absorb moisture, like nylon, then you can think of it as water resistant.
Waterproof Backpacks
Waterproof backpacks are designed to protect your gear completely from water damage. These bags are made using heat sealed zippers, special watertight lining fabrics and other waterproofing materials that will keep your gear dry wherever you go.
How to choose the right style of a backpack
Backpack styles have changed over the years but these days, most backpacks are either horizontal or vertical.Horizontal – Most backpacks nowadays fall into this category. These packs have the main compartment on the bottom and then a smaller top pocket with shoulder straps for anyone who wants to use it as a briefcase. Some horizontal backpacks also have side pockets on both sides to hold water bottles or other small items.Vertical – The vertical backpack styles are designed with the main compartment on top and then smaller front pockets that can either be zippered or open. This type of backpack is more common among hikers and is especially popular because it allows the wearer to carry water bottles on the outside of the bag.
How to choose the right color of a backpack
Since they're meant to be carried outdoors most of the time, backpacks are typically made from highly-durable plastics and fabrics. Most backpack companies offer backpacks in the following colors:Black – If you want something durable but low-key, black is a great color choice. Black stands out less against dirt and mud and will still look good even when worn down.Grey – Another low-key choice, grey is another great color for durability and will still look good even when worn down. Choose a darker grey for extra durability.Green – Light green or olive backpacks are popular among campers and people who backpack in forested areas as they blend in well with nature. If you're looking for a more colorful backpack, though, you won't go wrong with green (or blue) as most color combinations look great when paired with this color.Blue – The navy blue color is popular among outdoorsy types who like to make fashion statements while camping or hiking. The color itself is pretty low-key so this is a great choice if you want to stand out from the crowd without being too flashy.Red – For people who really like adventure, red backpacks are a good way to show it. If you're shopping for one or your backpack has red in its design, consider keeping a red pen in the main compartment to make it pop even more.Multicolored – If you're looking for something colorful and unique, you can't go wrong with backpacks that have multiple colors. This is especially true of kids' backpacks which come in all kinds of bright colors.Plaid – Whether you like stripes or not, plaid is another great pattern for backpacks. This is especially true of kids' backpacks as the designs are usually very colorful and fun to look at.
Questions and Answers About edc backpacks
How big should an everyday backpack be?
TLDR: The size of the backpack that is used every day should be large enough to carry all of the items that you need, but not so large that it is uncomfortable to wear.
An everyday backpack should not be too big or too small. Some people think that a school backpack is the right size for an everyday backpack, but it can easily get too heavy. On the other hand, a large hiking pack is much more comfortable to wear because it has a waist belt and padded shoulder straps, but they are usually too big to use as an everyday backpack.