Mount Everest.
The roof of the world.
Since humankind was first conscious, we have endeavored to push the boundaries of our existence, search a vast underwater realm, map uncharted territories, reach for the stars, seek out new discoveries and climb the highest mountain on earth – Mount Everest.
It is in our very nature to explore our planet and beyond, and it has captivated us for centuries. For a great many people, even but a glimpse into the mysterious and previously unreachable void is a dream come true. A dream I realized when I completed the Everest Base Camp Trek on the 30th of May!
Known by the Nepalese as Sagarmatha, Everest itself sits at 8,848 m (29,029 ft) above sea level, and to scale its dizzying heights is surely one of life's greatest accomplishments. Perhaps I'll save that for another day, but even reaching the target of the South Base Camp is at the challenging, nose-bleeding height of 5,364 metres (17,598 ft). We were assisted on this adventure by our friends at Magical Nepal, who put together a thrilling Everest Base Camp Trek itinerary to get the adrenaline pumping on our way to achieving an unparalleled bucket-list entry, on what is undoubtedly one of the best adventure sports holidays worldwide. Everything you need to know about this once-in-a-lifetime experience is coming right up.
How Long Is the Everest Base Camp Trek?
While it will vary from guide to guide and company to company, we experienced a round trip which lasted a total of 12 days. It is possible to do it in less (with 12-14 days being the standard length of time) but we think taking the extra time is well worth it, as you're likely to see that much more and not feel too rushed, and may avoid a very painful altitude sickness episode. The latter being, of course, a vital reason why the trek needs to take this long – you have to be able to acclimatize to the altitude.
As such, you're going to be trekking for around five hours each day, with one or two days pushing the eight hour mark as you get used to being up this high. You'll also spend full days in set waypoints along the route, so you can adjust your system to the altitude gradually. It will help considerably if you're physically fit and in good shape – so keep your eyes peeled for a forthcoming article on preparing for the Everest Base Camp trek and a suggested training schedule.
While Lydia and I are passionate about fitness, it was still a little nerve wracking pouring over our Everest trek itinerary. Without a doubt, it was one of the most challenging things we've ever done. Even if you're in top condition, there is always the risk of not acclimatizing properly and potentially being forced to abandon the ascent and turn back. Read on to discover our itinerary and what's in store if you also decide to experience the thrill of the EBC trek.
Everest Base Camp Trek Itinerary
Day 0: Kathmandu
Sitting at an altitude of 1400 m (4594 ft) is the Nepalese capital of Kathmandu. You'll need more than a day to get to know this insanely vibrant city, a cultural powderkeg where ancient meets the not-as-ancient. However, if you only have 24 hours there, here's an article for you on the best places to visit in Kathmandu.
Here you'll meet your trekking guide, and most likely the rest of your team. Say hi to Dil – our very experienced guide and a good buddy from that day on! And Kubir – our porter – who has done this job for 20 years already, even though he is just 32 years old.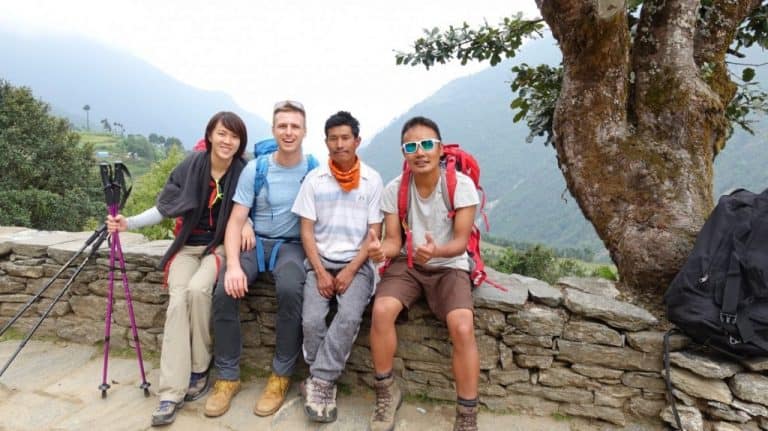 Not sure what to do in Kathmandu? Follow our Kathmandu city guide.
Day 1: Lukla to Phakding
It's from this lofty perch (Kathmandu) that you'll take a short flight to Lukla airport, where you will first set foot on the Everest trek trail with a leisurely three hour hike to Phakding. Just to ease you in, of course.
Note that Lukla's is altitude is 2,860 m and Phakding is lower at 2,610 m, which means that even though you'll be going up and down, you'll end up lower than you started. It's a really good warm up.

You'll explore this charming UNESCO world heritage village nestled in the Khumbu region of the country, there to prepare yourself for the adventure to come in one of the many tea houses that support tourism in these parts. It is, after all, the main thoroughfare for hikers and climbers en route to Mount Everest, so make sure you enjoy some tea and tall stories before departure. From here, it's about to get serious.
Days 2-3: Namche Bazaar
By the end of day two, you'll have climbed to a height of 3440 m (11, 286 ft). The hike from Phakding will take between five to six hours, after which you'll no doubt deserve a well earned rest. It is here in the famed Namche Bazaar that you will discover the gateway to Everest. Most of the heroic Sherpas that regularly make the summit climb and guide visitors are from this region – itself a trading hub set within the backdrop of stunning, dramatic mountains.

If you've left something behind or need anything replaced, now will be the time to pick it up. The market town does a roaring trade in climbing supplies and trekking equipment, and since you'll be spending the day three to acclimatize to the altitude, you'll have plenty of opportunity to grab any last-minute essentials or a funky new sleeping bag (note that you'll probably not need one, but if you didn't take the trekking poles you'll understand why you need them by then).
You can also call in to the Sagarmatha National Park Visitor Center and learn about the flora, fauna and climbing history of the region. There's nowhere quite like Namche Bazaar on earth.
Day 3 will usually be your acclimatization day, which means you'll have to go higher for a bit. You should be visiting nearby villages during this time.

What we did, though, is instead of spending 2 nights in Namche we moved on to Khumjung Village and spent the second night there. Thanks to that we had a shorter distance the next stretch (and risked not acclimatizing well enough to the new altitude).
Day 4: Tengboche
The morning of day five will be spent on the trail, slowly but surely gaining altitude to the village of Tengboche, and maybe even beyond – more on that in a minute. Here you will enjoy spectacular panoramic views of many notable peaks, including your first proper sighting of Mount Everest itself.

Also located in this rural setting is the famous Tengboche Monastery, the largest and most important of its kind in the Khumbu region. It was here that Tenzing Norgay – the Sherpa that conquered the first ascent of Everest with Sir Edmund Hillary – was once enrolled to become a monk. He was born and raised in the area.
For us, instead of staying in Tengboche (or nearby Deboche), we chose to continue for one more hour to Pangboche.
Pangboche is the last place with mobile phone network before you reach the Everest Base Camp – time to make some cool Facebook updates!
Actually, it wasn't our choice – the accommodation we chose closed down for a couple of days to celebrate the end of good season. Instead of spending the time in town looking for an alternative we thought it would be better to find something in the next village.
Days 5-6: Dingboche
If you follow this EBC itinerary, or most of the professional Everest guides, you'll be spending your 5th day trekking all the way to Dingboche. By now you can see the landscape is changing and the air is thinning. You'll most likely have a good understanding of what the altitude sickness is and to make sure you avoid it, you'd have drunk a lot of garlic soup (it helps a lot!).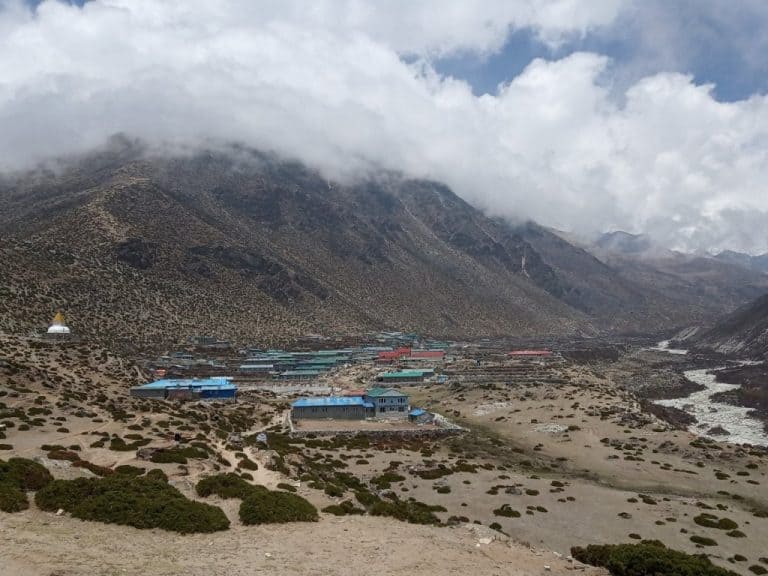 An acclimatization day awaits at the village of Dingboche, 4380 m (14,370 ft) above sea level. It's getting sparse now, and you've most certainly left civilization behind. It is the last village where you can access the internet via satellite and prepaid cards only. However, this little collection of tents, lodges and hotels is also home to one of the highest billiard halls in the world. Challenge some of the local Sherpas to a game if you're feeling confident, but you probably won't win. These guys can do anything.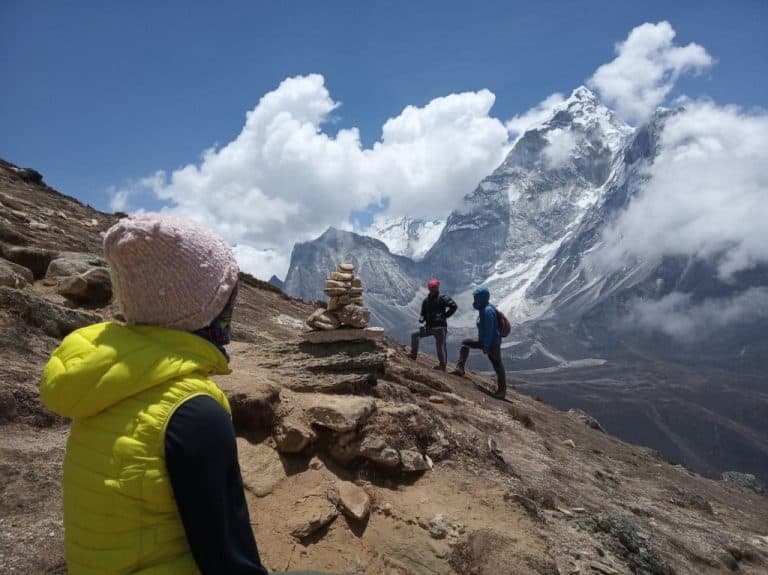 Your acclimatization will consist of climbing a very steep hill (in other parts of the world that would be called a mountain, but not here). Take as little weight with you as you can.
Day 7: Lobuche
The EBC is almost within sight! A four to five hour hike to the tiny settlement of Lobuche awaits you when you rise on the morning of day seven. This is one of the last overnight stops before pushing on to the Everest Base Camp itself – if you're approaching from the South route.
Although small in size, it'll be particularly busy during April, when hundreds of Sherpas pass through in preparation for the beginning of climbing season in May. There are a few cosy tea houses in which you can share your own hiking and climbing stories over a warming, hot brew.

For me, the hike from Dingboche to Lobuche was the toughest as towards the end of the day's trek the altitude sickness was setting in. The moment I sat down in the tea house lobby I felt the excruciating headache and was unable to do anything. Thanks to Lydia's and Dil's (our guide) quick reaction – some water, food, painkillers and altitude sickness pills – it was all over within 30 minutes but it was the kind of pain I don't want ever again in my life.
Day 8: Gorak Shep and Everest Base Camp
The hike to Gorak Shep and the Everest base isn't for the faint of heart, a lung busting six to seven hours over rocky, challenging terrain, climbing to 5160 m (16, 929 ft). It runs alongside the breathtaking Khumbu Glacier (as if your breath hadn't left you already) with stunning views over the famous and spectacular Khumbu icefall.
But little will beat the thrill of achievement when you reach the Everest Base Camp itself.

Don't worry, though, as the final climb to the Everest Base Camp is broken into 2 parts. From Lobuche you'll trek to Gorak Shep where you should leave your backpacks in the tea house, and then continue to the EBC much lighter.
The journey is exhausting, difficult, and painful at time – but that's what we come here for, right? No regrets, you'll be too proud of yourself to remember about those troubles on the way.
Day 9: Kala Patthar
The journey to the highest point on the trek at Kala Patthar (5,550 m) starts at 4 am. You have just experienced your coldest night – maybe in your whole lifetime – and have to wake up before the sun goes up so that you can climb some 500 meters of steep ascent. It's from here that you will take some truly memorable photographs of the world's highest mountain as you wistfully dream of one day emulating Sir Edmund and Tenzing's astonishing 1953 summit. It's also from here that you'll see the Everest Base Camp once again – a small set of tents way below where you're standing!

Days 9-10: Pheriche and descent to Namche
Having witnessed the majesty and grandeur of the Everest and surrounding, gargantuan scenery, it's time for the descent to begin. You'll be heading back down from Gorak Shep to the village of Pheriche, dropping to an altitude of 4371 m (14, 340 Ft). You'll no doubt meet many fellow trekkers and climbers here, as it's a popular spot for some much needed R&R with plenty of tea.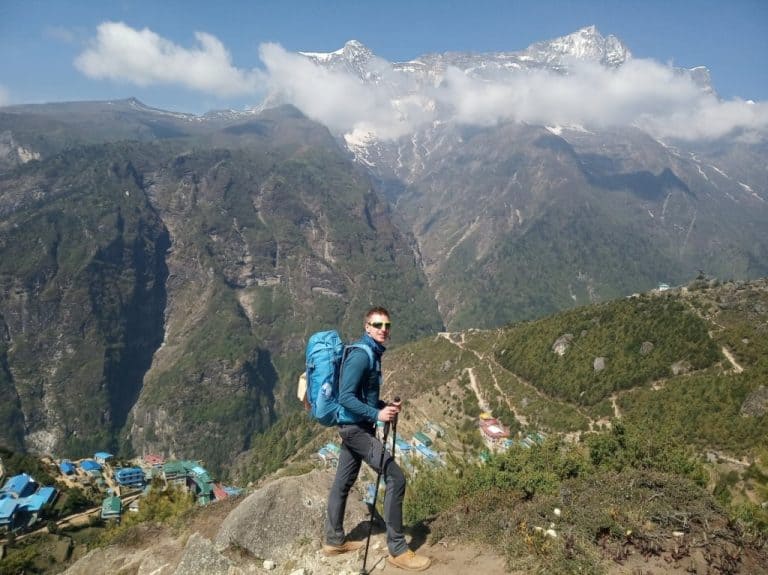 The village is serviced by a vital mountain hospital run by the Himalayan Rescue Association. It is open between the main trekking and climbing seasons of March to May and October to December. Pheriche is an important acclimatization point during the ascent to Everest Base Camp if you're coming up this route. For this particular trek it's all downhill from here, however, as the group returns to Namche on day ten with a six to seven hour hike.
Days 11-12: Lukla to Kathmandu
After a night's stay in the trading post of Namche, it'll be another lengthy, seven hour hike back to Lukla where once again a puddle-jumping aircraft will transfer you back to the capital the following morning. Weather permitting, you'll be taking off from the Tenzing–Hillary Airport (Lukla Airport) and touch down in Kathmandu some 30-minutes later. You'll have a full day to explore the city and hopefully see anything you missed on your arrival. There are plenty of places to visit in Kathmandu. A farewell dinner with your guides and fellow trekkers in arms is the icing on the cake.

Then, that's it! Your Himalayan experience will draw to a close and you will have accomplished what many people only ever dream about. The famous EBC trek, reaching base camp and successfully returning to civilization within 12, mesmerizing and memorable days. You'll depart for your next adventure whenever you're ready, but it might seriously be some time before you top this. You've just experienced the "steps to heaven" after all.
Any questions? Ask in the comments below!