During my travels, there were so many situations when my things were at risk/ got wet or damaged because of water or sand. I don't want to recount them, it hurts. Unfortunately, it feels bad because it can be quite easily avoided. Either by using dry bags or waterproof backpack for travel, of which the latter is just easier to carry around.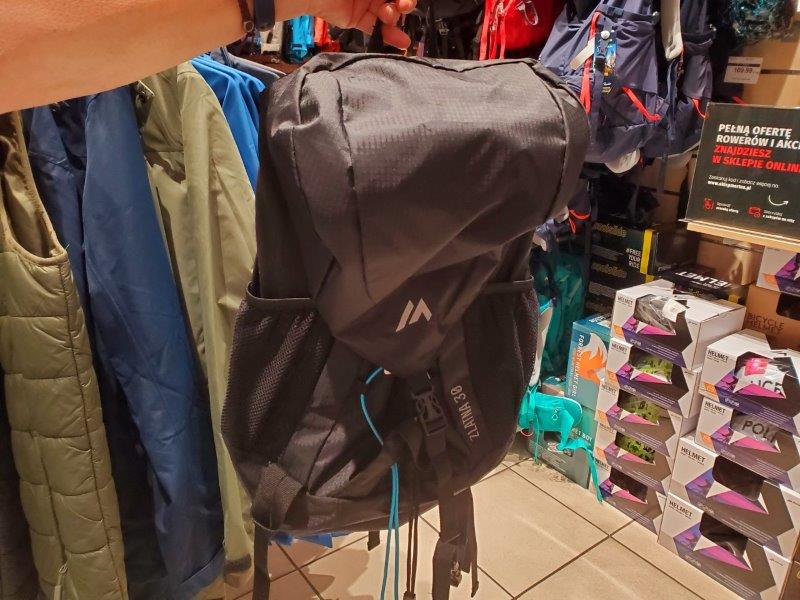 What is the Best Waterproof Backpack for Travel?
We have compiled for you the top 9 Best Waterproof Backpack for Travel in 2023. In this article we go through the products that we have used ourselves, checked what other users thought about them and we ranked them accordingly.
With years of experience with backpacks for travel that are waterproof and having used several waterproof backpacks for travel you can trust our review.
Moreover, you can scroll to the end of this review to see our mini buying guide as well as the answers to some of the frequently asked questions about waterproof backpacks for travel.
Specs
Price: 💲💲💲💲 (fewer 💲 = cheaper)
Capacity: 30 liters
Size: 26.8 x 12.6 x 7.1 inches (68.1 x 32 x 18 cm)
The Vitchelo Floating Storage Bag is a reasonably priced and completely waterproof backpack. The eye-catching and functional design comes complete with plenty of external storage using a similar bungee cord and mesh pocket setup to the FE Active Drypack. The backpack is highly functional, however, it is lacking in comfort and could benefit from some additional padding on the shoulder straps and back and a robust waist strap instead of the flimsy sternum strap provided. Furthermore, the bold design may be a little too bold for some users.
Pros
Complimentary watertight phone pouch,
Comfortable fit and carry,
Large capacity for your gear,
Buoyant even when full,
High-quality construction
Cons
Comes with a heavy chemical smell,
No internal pockets for small items,
Would benefit from a waist strap
One of the outstanding features of waterproof backpacks for travel is that they are available in various sizes, so you can get more than one in different sizes for different functions. The Piscifun backpack features padded straps that are adjustable to fit all body types and allow for comfortable carrying. The pack features 500D PVC construction that is also tear and abrasion-resistant, which gives it durability. The seams are heat welded in addition to the roll-top closure to ensure that no moisture gets into the bag.
Pros
IPX8 certified waterproof phone case,
Durable and quality construction,
Great design and value for money,
Available in different sizes
Cons
Can be a bit stiff,
Poor waterproofing abilities
Specs
Price: 💲💲💲💲 (fewer 💲 = cheaper)
Capacity: 35 liters
Size: 19 x 14 x 9 inches (48.3 x 35.6 x 22.9 cm)
Material: PVC
Wheels: no
Water Resistant: yes
Waterproof: yes
The Earth Pak mens waterproof backpack comes with a generous main compartment with inner and outer pockets for organization. It provides a good fit to the body with an ergonomic padded back panel and contoured shoulder straps as well as a chest and waist strap. The backpack features 500D PVC fabric construction with attention given to the seams and stress points to ensure performance and durability, although the seems may give way after some use. We like the extra features that this pack brings, such as the MOLLE system and convenient D-Rings on the shoulder straps that allow you to attach extra gear and can serve as an anchor point to latch to a bike, boat, or kayak. It also comes with an external waterproof phone case for keeping your phone dry while using it in wet conditions.
Pros
Roll-top closure with single reinforced strip,
D-ring attached shoulder strap,
Molle looping system with attachment points,
Thick fabric to withstand wear and tear,
Small enough as carry-on luggage,
Available in a variety of colors
Cons
No hip belt,
Seams are not very strong,
Heavy with poor weight distribution
This waterproof backpack comes in three sizes, so you can get one depending on how much stuff you have to carry. It is made with 500D fabric that has well-sealed seams to ensure your contents remain dry even when submerged in water for short periods. It is worth noting that if you intend on going on a night time trip, it has a reflective strip that helps you locate the pack in the dark.
Another feature that I like is that it provides an outer compartment for organization. It has a removable inner bag with a zipper closure that you can use to keep small items. The backpack floats, and you can use it as a floatation device if you capsize.
Pros
Comfortable design,
Generous outer mesh compartment,
Great quality and price,
Fully waterproof when submerged
Cons
Uncomfortable shoulder straps for hiking
The Oak Creek Canyon Falls Backpack 30L is an ideal choice for those pursuing outdoor excursions, thanks to its well-thought-out design. This waterproof dry bag draws appeal from its generous 30L main compartment capacity, with additional storage options such as mesh side pockets and a handy zippered front pocket. These provisions ensure you have adequate room for all your outdoor essentials.
At its core, this canyoneering backpack boasts a robust heavy-gauge PVC structure, fortified by completely reinforced seams. This construction maintains the bag's dry interior, effectively protecting your gear from the elements. The addition of padded straps enhances user comfort, allowing you to endure lengthy hikes without taxing your shoulders.
One distinct feature of the Oak Creek Canyon Falls Backpack is the incorporation of a roll-top design. This attribute offers added assurance of dry contents, sealing in your essentials for weather-proof adventures. However, despite its proactive design, this backpack does have slight room for improvement. Its glued seams don't possess the same longevity as welded seams, which might diminish the bag's overall waterproofing abilities over time.
Pros
Ample 30L capacity for gear storage,
Reinforced, heavy-gauge PVC construction,
Comfort-added padded straps,
Roll-top design for extended dryness
Cons
Glued seams might weaken over time,
Waterproof ability could be compromised
Specs
Price: 💲💲💲 (fewer 💲 = cheaper)
Capacity: 30 liters
Size: 27 x 12 x 6 inches (68.6 x 30.5 x 15.2 cm)
This backpack features the most comfortable backpack design of the three IDRYBAGS I've reviewed here. It is perfect for long hikes as well as water sports, which is why it is available in three sizes of 20L, 30L, and 40L to give you a wide range of use for this backpack. The main compartment comes with an inner and outer pocket and an extra 2L pouch for organization.
The backpack is made with 500D waterproof PVC fabric that delivers high performance in waterproofing, durability, and is easy to clean. This backpack's shape is wider across its length, which allows you to pack more gear compared to the slim design of the previous backpack. It also has a better shoulder strap design and a padded back for better comfort.
Pros
Comfortable shoulder strap and back design,
High-performance waterproofing and durability
Available in different sizes and attractive colors
Cons
Weak stitching on the stress points
Specs
Price: 💲 (fewer 💲 = cheaper)
Capacity: 30 liters
Size: 23.8 x 9.8 x 7.1 inches (60.5 x 24.9 x 18 cm)
If you are looking for a smaller sized dry backpack you may want to consider this 20L/30L option. It features a main compartment with internal pockets for small items, a water-resistant and zippered front pocket, and a water bottle side pocket to fit all your things adequately. Like all the IDRYBAG backpacks featured here, it features high-quality construction with 500D vinyl coated woven polyester fabric with welded seams that delivers high-performance waterproofing abilities. It also comes with a 2L pouch for your phone and small items and a reflective strip on the front that makes the pack visible in low light. On the downside, the shoulder straps are not comfortable for long duration carrying. However, I love the stylish design, and variety of colors so you can get the best option for your needs.
Pros
Tight sealed side pockets and seams,
Compact and stylish design,
Suitable for water sports,
Great value for money
Cons
Uncomfortable shoulder straps
This Relentless Recreation backpack is a flexible and multifunctional bag that gives you a very comfortable fit and is perfect for all your outdoor adventures. It features a roll-top closure main compartment with two mesh side pockets for your drinks, a water-resistant phone compartment, and a generous front pocket.
It does a decent job of keeping water out of the bag with its 500D PVC tarpaulin construction and welded seams. The padded shoulder straps are designed too close together, which can be uncomfortable for some people. I love how this pack has a slim design that gives it a stylish look and is also available in different colors.
Pros
It is lightweight with a large capacity
Functional and stylish design
Several compartments for organization
Good quality construction and value for money
If you are looking for a dry backpack for daily use at the office or college, this women's waterproof backpack offers something different. It features a zippered main compartment with a laptop and tablet sleeve, an organizer compartment and two zippered pockets. The outer pockets feature a front zippered pocket, two side mesh pockets, and two rows of daisy chain system at the front. The backpack features high-density TPU material construction with water-resistant zippers and heat-sealed seams. I like the anti-theft design that keeps your contents safe, and the EVA foam padded shoulder pads make it comfortable to wear. The 35L size fits the carry on size for most international airlines and is perfect for business trips and EDC use.
Pros
Elegant and attractive design for daily use,
High waterproofing performance, Suitable for business trips and college,
High-quality construction with durable material,
Multiple pockets for organization
Cons
It is a bit stiff when full
Verdict
To summarize, we have gone through dozens of waterproof backpacks for travel and decided that 9 are worth your consideration. Out of these, the absolute Best Waterproof Backpack for Travel is Vitchelo 30L Waterproof Dry Bag Backpack which we highly recommend as our overall best.
If money is not an issue, you can consider Earth Pak Waterproof Backpack 35L as this is our Premium Pick.
Otherwise, there's no shame in spending prudently, Piscifun Waterproof Dry Bag Backpack is the Budget Option.
Our other reviews you may find useful in your research:
What You Should Know Before Buying waterproof backpacks for travel
Waterproof Backpack Materials
The majority of canyoneering backpacks are built to be as waterproof as possible and are often rated and compared by their waterproofing capabilities. As a result, canyoneering backpacks tend to be made from durable, resistant material that fully repels water, stitched together with specialist seams to ensure that not a single drop of moisture makes its way inside. A common outer material is PVC; a synthetic plastic polymer that is commonly used in making plastic pipes, but can also be made into a flexible membrane to protect your gear.
Waterproofing in Backpack for Canyoneering
Especially for fans of canyoning over canyoneering (the main difference is usually the presence of a river/mountain stream), waterproofing is essential. Furthermore, they have to retain their waterproofing after a fair amount of bashing and scratching against rough surfaces such as canyon walls, for example. The waterproofing is usually done by firstly constructing a backpack with a PVC outer membrane, secondly ensuring that the seams are completely waterproof, and thirdly with a rolling bag opening and closing mechanism at the top, which after enough rolls, will not let water permeate the surface.
Weight
Hardcore waterproofing certainly takes up valuable weight, and as a result, canyoneering backpacks can be a little heavier than standard daypacks and rucksacks. You can expect most packs to weigh somewhere between 2 and 3 lbs (0.9 – 1.4 kg) which, while not much, can still be noticeable while doing extreme sports.
Capacity
While you cannot carry safety equipment for every single possible scenario, and part of the joy of the sport is the ability to play MacGyver, you do need to ensure that your pack is both big enough to carry the essentials and small and portable enough to squeeze through tight gaps with comfort and ease. The common sizes you will find range from 30L to 55L. If you are a seasoned traveller, you may well be able to squeeze all you need to into the 30L without a problem, but when you are starting out and want to ensure you have enough space for all your safety equipment (and all-important go-pro), a medium-sized bag of around 40 – 45L is probably a better option.
Questions and Answers About waterproof backpacks for travel
What is a dry bag?
Dry bag is a rucksack that is specially made in a way that protects its contents from getting wet. It is made using waterproof materials and seams that make it airtight to protect the bag when you use it in wet conditions or for water sports. Most dry bags feature a roll-down type of top enclosure with welded seams that seals the bag entirely to prevent water and moisture from penetrating the interior.
What are waterproof backpacks made of?
Various materials are available, but the primary material used in such bags is nylon. In some cases, the manufacturer may use Thermoplastic polyurethane (TPU), polyvinyl chloride (PVC), polyurethane (PU), or silicone elastomer. Some bags are made using a combination of these materials to ensure that water does not get into the backpack.
What size dry bag do I need?
There are different sizes available from 20L to 45L. The best size to get is one that you are sure will fit everything you need to carry. The average size that most people get is the 30L bag which is convenient for most functions.
How do you use a dry bag?
Most of the bags use a roll-top mechanism, so once you place your items inside, you roll the top down at least three times and buckle it up to create a secure airtight top closure. Some bags have external pockets with a zipper and are usually just water-resistant, and not waterproof. For maximum performance, ensure that the seams are welded and all the stress points are properly reinforced.
How do you clean a waterproof backpack?
Use warm water, mild detergent, and a soft brush or piece of cloth. Apply the detergent on the bag, and some lukewarm water, then scrub gently using the brush or piece of fabric. Repeat this process until the whole backpack is clean, then rinse it using clean water. Some bags can be washed in the machine, so check directions on how to clean them.
Can you sew patches on a backpack without ruining waterproof fabric?
Sewing in itself will poke holes in the material hence running the waterproof feature. To ensure that this does not happen, sew the fabric as you usually would, ensuring that the seams are tight. You will then need to use some sealant or adhesive on the area you poked to ensure that no water will get through.
What to put in a dry bag?
You can put anything you want to ensure will remain dry in this type of bag. Many of these bags come with a separate pouch for your phone, so it doesn't get wet when you are using it in the water. The only thing you need to do is to ensure that the bag is well secured before going in the rain or water to protect your contents.