Ah, Peru! The famous land of the Incas known for the mysterious citadel Machu Picchu, delicious ceviche, fluffy alpacas and pisco sour.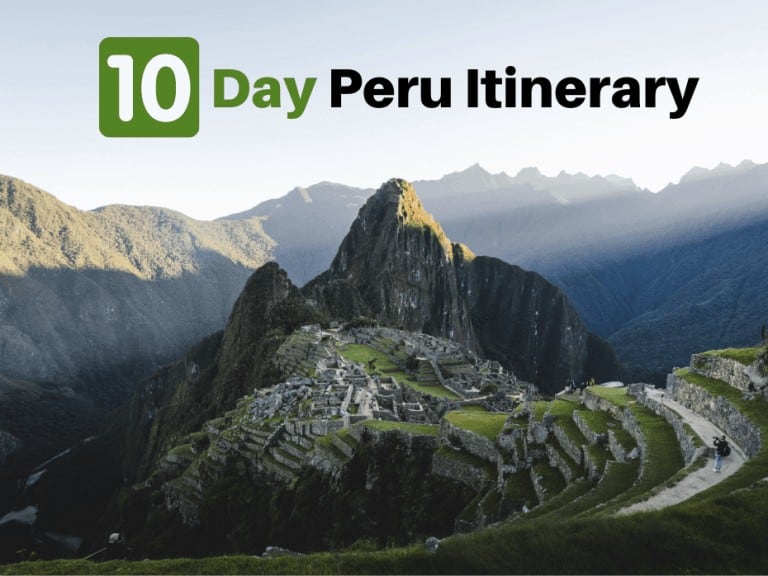 However, there is so much to do in Peru that it is impossible to see everything even if you had one year to travel around. Not only the country is very large, but there is simply too much to see!
So, since it is more likely that you only have a few days to spare and travel in Peru, the Traveling and Living in Peru team have come up with a 10-day itinerary that will cover the highlights and most sought-after locations everyone wants to see.
10-Day Peru Itinerary
This special itinerary we have set up will take you to Lima, Nazca, Machu Picchu, Cusco and Puno and we'll tell you in detail what places you need to visit to get the most from the Peru experience.
Are you ready? Get the dust off your passport and your suitcases because it's time to travel! And not just anywhere, but to one of the most magical and breathtaking locations in the world: Peru!
Day 1: the capital Lima
Your 10-day itinerary in Peru begins in the capital city of Lima. Here you will be able to enjoy a complete day of touring, amazing gastronomy and great shopping.
We recommend you take a look at some of the free tours you can do in this city. This is a concept that is becoming more and more popular in Peru and not only can you find them in Lima, but also in Cusco, Arequipa and other important touristic cities in the country.
The concept of free tours is that you sign up and a guide will take you to see several places. If you feel like tipping your guide you can do so once the tour ends. This is an alternative to the prepaid guided tours and they are not a synonym of a bad-quality tour, they are very entertaining and interesting!
Some free tours might include Lima's historic center and the common meeting point is in the district of Miraflores at 10:00 am or 3:00 pm. You are most likely to be visiting the Rimac river, The Palace of Francisco Pizarro and the Old Train Station in this tour, which can be available in different languages.
You can also choose to do a tour of downtown Lima and Barranco. This full-day tour lasts approximately four hours and ends at Plaza de Armas at 2:00 pm. You will be able to stop at the large Kennedy Park and explore the city center.
At night, you can do some exploring in Barranco, the "bohemian" district of Lima. Here you can check out different bars and party places. Strawberry Tours offers a free option that starts at 7:00 pm and the meeting point is in front of the Museum of Electricity.
Pachacamac ruins
You don't have to wait to get to Machu Picchu to see first hand some Peruvian ruins. Lima has the Pachacamac ruins, located an hour outside of the city. The best way to get here is with private transport and they are worth the visit!
The museum opens Tuesdays – Sundays from 9:00 am to 5:00 pm and the entrance fee is 15 soles for foreigners.
Shopping and eating in Lima
If you still have time and energy left on your first day you can go shopping and eating. The best places to shop for souvenirs and clothing are:
Centro Comercial Larcomar in Miraflores
Mercado Municipal Gran Mariscal Ramon Castillo close to the historical center
Centro Artesanal San Francisco in Cercado de Lima
Plaza San Miguel mall in the San Miguel district
Centro Comercial La Rambla in San Borja
As for where to eat and try the best Peruvian cuisine, you can't miss Central, owned by the award-winning chef Virgilio Martínez. Here, the chef combines pre-Colombian traditions with a modern twist and plates such as Peruvian potatoes garnished with muña (an Andean mint) and alpaca heart shavings are some of the delicacies you will taste.
Astrid & Gastón is another great option in Lima with a menu that will take you across the geography and history of Peru.

And, of course, we cannot let you leave Peru without trying some Nikkei, which is Japanese and Peruvian fusion gastronomy. The place we recommend for you is Maido, led by chef Mitsuharu Tsumura and considered as one of the top 10 restaurants in the world.
Day 2: from Lima to Cusco
On your second day, you can take a flight or bus from Lima to Cusco. After leaving your bags in your hotel you can take a tour around this majestic city. You will also find free tours here or you can book one in advance.
The most beautiful area of this city is around the main square, also known as Plaza de Armas. Sit here and enjoy the view and the action that occurs around you while you have some chicha morada.
You can then go to the Baratillo market if you are looking for used books, hiking equipment, antique textiles, clothing, musical instruments, and much more. However, it is not a touristy place so be careful if you decide to come here.

There are also many museums you can visit: Museum of Pre Columbian Art; The Municipal Museum of Contemporary Art; Museum of Plants; Coca Museum, and Inca Museum just to name the five best.
As for eating in Cusco, chef Virgilio Martinez recommends restaurants Chuncho; Chicha; La calle del medio; La Bodega 138; and The quinta Eulalia.
Visiting archaeological places instead of touring around Cusco
If you are more into getting to know ruins and archaeological places, then you can spend this day traveling 7 kilometers from the city of Cusco to Tambomachay. Here, you can find an archaeological complex that was used in ancient times for distributing water.
You can also travel to Sacsayhuamán, which is two kilometers away from Cusco and is another archaeological complex dating back to the Inca era and was used for ceremonial purposes.
Day 3-4: Machu Picchu
After spending the night in Cusco, the third day of this itinerary will take you to the UNESCO World Heritage site, and also the most-visited place in Peru: Machu Picchu.

This ancient Inca citadel can be visited either in the morning or in the afternoon and you can get there by taking a bus in the town of Aguas Calientes and arrive in just 40 minutes!
Explore this marvelous place and enjoy the breathtaking (literally, since it is so high that there is less oxygen than what most people are used to and this is what coca tea helps with) views at 2,450 meters above sea level. The ruins are part of a complex of temples, water channels and platforms built on the XV century.
Exploring the Sacred Valley
After your tour in Machu Picchu and staying overnight in Cusco, it is time to explore the Sacred Valley. This will be your fourth day in Peru and already you have been in many places and probably smelling, tasting and seeing the best this culture has to offer.
The Sacred Valley is composed of numerous rivers, archaeological monuments and indigenous towns. It was one of the main agricultural spots in the country for its rich lands and it is where the best Peruvian corn is produced.

If you are into adventure tourism, you have arrived at the right place. Rafting in the rivers is one of the popular activities adventurous tourists like to try out. Zip lining is another great option if you like to feel like you are flying.
But if you are in the mood for a more tranquil experience then you can visit Písac, a town famous for its astronomical observatory and where you can enjoy shopping for souvenirs at the local market. Here, you can also go to the largest, known to date, pre Colombian cemetery.
Qenko is another very interesting place to go to for its peculiar zigzagged canals carved in the stones. We also recommend Chinchero, very well-known for its souvenir market. Moray is another place where you can see some old ruins in a circular form that are held together by stone walls.
Oh, and you can forget to go to the Maras salt mines and Ollantaytambo, a large military, religious, administrative and agricultural complex.
Day 5: from Cusco to Puno
After another night in Cusco, it is time to go to the local airport and travel to Juliaca, from where you can then get to the city of Puno (also possible by bus), near Lake Titicaca, the highest navigable body of water in the world and one of the largest lakes in South America.

Puno is a commercial regional nucleus and it is also considered as the "folkloric" capital of Peru because of its traditional festivals with music and dances.
Once you arrive here you can visit some of the iconic sites, such as the Cathedral of Puno and the steamboat from the XIX, Yavarí, which today is a hostel.\
Day 6: Titicaca – the highest navigable lake in the world
Your sixth day in Peru will be spent on the highest navigable lake in the world: Titicaca. Here you can tour the shores and also travel on a boat to the Uros floating islands and the island of Taquile.
This lake is between Bolivia and Peru and located 3,812 meters above sea level. However, its waters are not suitable for drinking or swimming. Nonetheless, it is a very popular place for tourism.
The Uros floating islands are highly visited. These are man-made islands built with totora, a plant that grows on the lake's surface. You can see how people live on these artificial islands and you can also get nice handmade souvenirs for your friends and family back home.
Taquile is another island on Lake Titicaca, but this one is not artificial. It has around 2,200 inhabitants and it still has some archaeological remains that date back to the Incas.
You will spend the night in Puno and prepare for the seventh day of this tour around Peru where you will visit the Chullpas de Sillustani.
Day 7: Sillustani – more amazing ruins and culture
After having recharged your energies and an excellent breakfast it is time to travel to Sillustani to see the amazing Chullpas or graves.
Sillustani is a funerary complex where you can see impressive graves that belong to the Kolla people who lived in this region between 1,200 and 1,450 AD near Puno.
The Chullpas are shaped like an inverted cone, characteristic that makes them so unique. The bodies were mummified and put into a fetal position before being inserted in the grave. With the body, the deceased person's personal belongings were also included in the Chullpa and in some cases, golden and silver objects, ceramics and food too.

This will be a full-day tour, and then you will go back to Puno to gather your belongings and take a plane in Juliaca back to Lima. If you still have energy left, you can go shopping or out to eat. Don't forget to visit Barranco for great craft beer!
Day 8: from Lima to Nazca
After waking up in Lima, it's time to get ready to explore the Nazca lines.
To get there you can book a ticket online and catch a bus at the terminal at 7:30 and arrive in Nazca around 3:00 pm. This day, since it is such a long trip by land, you will have time to rest in a hotel and the exploring will occur on your ninth day in Peru.
Day 9: exploring Nazca
There is a lot to do in Nazca, but the main attraction is the lines. Here, you can book a 30-minute flight to see the thousand-year-old geoglyphs from above. The price is around $100 US dollars per person.
Once you finished this part of the trip you have more activities to choose from. Very close by is the Chauchilla pre-hispanic mummy cemetery. You can get there by land after just a 25-minute ride from Nazca through the desert.

In addition, if you still have time, visit the Cantalloc aqueducts. Here you will see a series of aqueducts with good-to-drink freshwater with peculiar spiral air ducts. Out of the 46 aqueducts found, 32 are still working, and they were built by the Nazca people ages ago!
Finally, end your ninth day by taking a bus from Nazca to Paracas and spend the night here.
Day 10: beach and return home
After waking up in the beach town of Paracas and having your breakfast you will travel to the Paracas National Reserve to enjoy some of the best wildlife that can be found in Peru.
Here you will be able to explore the Ballestas Islands, often referred to as the "Galapagos" of Peru because of its diverse fauna. They are located 24 kilometers from Paracas and it takes about half an hour by sea to arrive there.
Once you are close enough from the islands, you will be able to see the marine life on the rocks. You will not disembark but what you will see from the boat is worth the trip: pelicans, fur seals, bright sea stars, cormorants, dolphins and even penguins if you are lucky. You will cruise around caves, rock faces and arches and watch flocks of sea lions resting on the rocks or swimming around your boat.
After this trip, which lasts around four hours, you will go back to Paracas and then take a bus back to Lima. This means that your 10-day itinerary has come to an end and it is time to go back home.
However, there is much more to see in Peru and you need to come back to explore the Amazon region and cruise a river, perhaps hike to a glacier or see the Misty volcano in Arequipa.