There are a lot of backpacks in the market, and picking the best bug out backpack, from all the varieties available, can be a challenge. The kind of pack you choose is more than its physical aesthetics. It is more about how well it is suited for storing your bug out kit for emergencies.
Statistical data shows that a large percentage of Americans prefer to rely on local government agencies in the event of a disaster, which gives them a false sense of security. In such circumstances, local agencies are usually overwhelmed with utilities broken down or shut off.
You can give yourself a better chance of surviving a disaster by having a well-kitted bug out bag ready to grab and go should the need arise.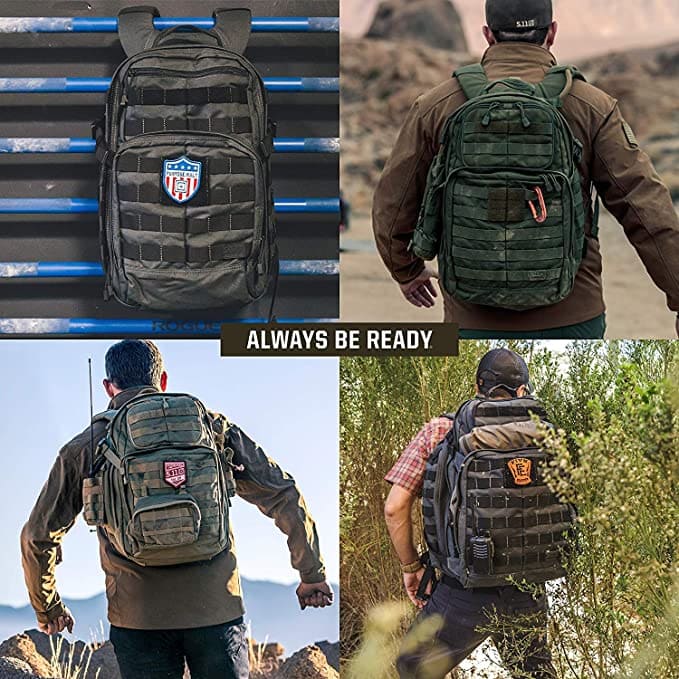 What is the Best Bug Out Backpack?
We could say that we traveled the world to find for you the Best Bug Out Backpack and it's partially true – we've been on the road since 2011 after all.
More importantly, we have done a very thorough research online and have gone through most of the available emergency backpacks that you can buy today and what these bug-out bags need to contain. We read the comments left by people who bought and used these bug out backpacks.
We also wrote a brief bug out backpacks Buying Guide and FAQ sections to address most questions you may have.
Without further ado, here's the list of top 5 emergency backpacks based on their pricing, specs and ratings by real users.
Verdict
To summarize, we have gone through dozens of bug out backpacks and decided that 5 are worth your consideration. Out of these, the absolute Best Bug Out Backpack is Mystery Ranch 2 Day Assault Backpack which we highly recommend as our overall best.
If money is not an issue, you can consider Mystery Ranch 2 Day Assault Backpack as this is our Premium Pick.
Otherwise, there's no shame in spending prudently, Mardingtop Tactical Backpack is the Budget Option.
Our other reviews you may find useful in your research:
What You Should Know Before Buying bug out backpacks
Overview
This buying guide will provide you with all the features and details that matter when choosing the best bug out backpack for your emergency kit. From capacity and durability to material and fit, the guide will help you understand why a tactical pack is better than an ordinary hiking backpack when it comes to choosing a bug out backpack.
Size
When it comes to bug out backpacks, their size will depend on how much survival gear you want to put in. Emergency agencies recommend that you pack at least three days' worth of survival items. However, the backpack should also be as compact as possible for easy portability. You can get a decent-sized backpack in the 30L to 50L range, which gives you enough space for a single person survival kit and a few personal items. It also helps you to blend in better, and it is not heavy to carry on your back. In terms of shape, stick with the basic box and tube shapes that will fit comfortably on your back. Most backpacks will have an internal frame that gives it structure and also helps to distribute the weight evenly.
Materials
The denier of the material is the easiest way to know if a backpack is of good quality. A low-value denier is lightweight and will tear easily, while a higher-value denier provides tear-resistance and durability. Fabric in the 400D – 600D denier range is preferable as it will be tough enough to handle the stress of an emergency evacuation without falling apart while being lightweight for easy portability. Nylon is the most common fabric for backpacks and also the best option because it offers water-resistant properties and is affordable. Polyester is also commonly used for cheap backpacks, but it is lightweight with a low-value denier and therefore not durable. Cordura is a premium quality fabric used in military-grade backpacks because it offers high abrasion and tear-resistance. Ballistic Nylon is also a thick, high-quality fabric that is typically in the 840D -1680D range, which makes it excellent for an emergency bag.
Quality
The price of the bug out backpack you choose will determine its quality, durability, and effectiveness during an emergency. Cheap backpacks will have a low build quality that will fall apart, will have poor-fitting, and little comfort. Premium quality bags will prioritize the material used with double stitching on the seams to handle heavy loads. The zippers and the buckles are also big stress points, and good quality bags will have branded zippers such as YKK zippers that are smooth and solid for frequent use.
Organization
Backpacks with multiple compartments offer better organization for your bug out gear, which helps you keep track of small items that you need quick access to like a flashlight, compass, whistle, knife, or a multi-tool.
The organization setup is where tactical bags excel in features over technical and hiking backpacks, which usually do not have external pockets. Tactical backpacks also come with external attachment points such as MOLLE webbing and velcro.
While these attachment points might be useful, consider how well your bug out backpack will blend in with the people around you. Avoid conspicuous looking packs because it can make you a target for people who did not prepare for the emergency.
Also, avoid backpacks with laptop sleeves and hydration compartments because it is unlikely that you will need your laptop or a hydration bladder in an emergency evacuation. Your bug out gear will include water pouches and water filters, which makes the hydration bladder unnecessary.
What do you really need in a bug-out backpack?
To give you a decent chance of survival, the Federal Emergency Management Agency recommends having the following top 10 items as part of your survival kit in your bug-out backpack: – 3-Day supply of water, including water purification, and food,
– Shelter such as emergency tube tents,
– First Aid Kit,
– Clothing and covering,
– Navigation tools such as compass,
– Communication tools such as your cell phone and radio,
– Lighting with a flashlight or solar lanterns,
– Dust mask to help filter contaminated air,
– Hygiene and sanitary items like bath wipes and toilet paper,
– Survival items like a knife, whistle, and paracord
Questions and Answers About bug out backpacks