Recently, I have written a lot about drones as it becomes one of the most important items people take with them to travel. While there are some very small, even pocket-size, selfie drones and many quadcopters under 250 grams, you still may want to bring them around in drone backpack that is designed for the purpose of carrying the fragile equipment.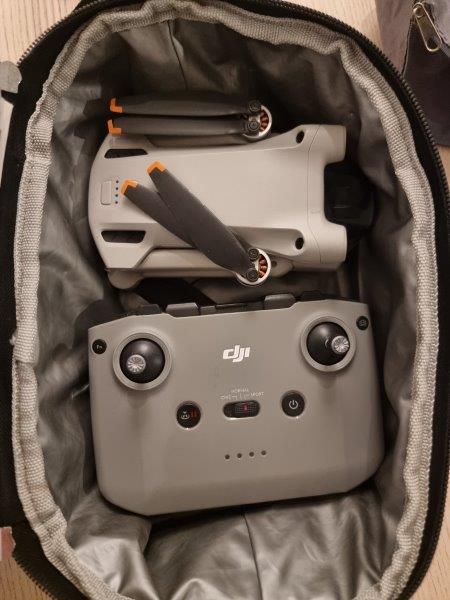 What is the Best Drone Backpack?
We have compiled for you the top 10 Best Drone Backpack in 2023. In this article we go through the products that we have used ourselves, checked what other users thought about them and we ranked them accordingly.
With years of experience with backpacks for drones and having used several drone backpacks you can trust our review.
Moreover, you can scroll to the end of this review to see our mini buying guide as well as the answers to some of the frequently asked questions about drone backpacks.
Specs
Price: 💲 (fewer 💲 = cheaper)
Capacity: 17 liters
Size: 18 x 12 x 7 inches (46 x 30.5 x 18 cm)
Wheels: No
Water Resistant: Yes
Waterproof: Yes
If you'd like your drone carry case to be simple yet functional, then you will enjoy MOSISO Camera Backpack. It has two compartments that come in handy when you want to bring your laptop along, since one part is slim. To keep everything in order, the larger compartment is has a lot of space and partitions.
Pros
Hard case design,
Shock-absorbent,
Multifunctional
Specs
Price: 💲💲 (fewer 💲 = cheaper)
Capacity: 14 liters
Weight: 3.97 pounds (1.8 kg)
Size: 17.3 x 12.6 x 6.7 inches (43.9 x 32 x 17 cm)
Material: Tarpaulin, Nylon Dobby
Wheels: No
Water Resistant: Yes
Waterproof: No
The Bensfoto Small Camera Backpack is a more compact alternative to the Bensfoto Rolltop Camera Backpack, which is the earlier version of this backpack, and both are ideal for carrying your camera gear while hiking. The most notable difference between the two is that the smaller backpack features a full-back opening, while the rolltop pack features both a top opening and the full-back opening. However, both bags feature a water-resistant tarpaulin with nylon dobby construction, YKK zippers, and a rain cover for added protection from the rain. This compact camera backpack is heavily padded, which gives it a bulky structure. However, the bag is not as heavy as it looks due to its unique back panel and carrying harness design that reduces the load on your shoulders when hiking. The pack also comes with two multi-function straps that you can use to tie a yoga mat or longboard at the front or use them as the waist and sternum straps to balance the pack's weight. Like the rolltop version, this backpack comes with a side pocket for quick access to your gear. Another notable feature is the backpack's customizable interior that allows you to organize the padded dividers for your camera equipment. Alternatively, you can remove them to create an open space to pack clothes while you stash your action camera in an internal zippered pocket. One of the reasons I found this outstanding is that it allows you to use the backpack for other activities when not carrying your camera gear. However, its 14L capacity limits you to day hikes in that the pack does not have extra space for personal items once you have put in your camera gear. In contrast, the rolltop bag provides more space for clothes and stuff in the rolltop section while maintaining the bottom section for the camera. Also included is a padded sleeve for a 15-inch laptop, separated from the camera compartment with a mesh divider. Along with the laptop sleeve are two zippered pockets for small items, an external front pocket for notebooks, a side pocket for a water bottle or your tripod, and a convenient top pocket for a GoPro drone or lenses.
Pros
Compact and robust construction,
Harness design reduces shoulder load,
Multiple compartments for organization,
Customizable interior for multipurpose use,
Anti-theft design
Cons
Limited space for personal items
Specs
Price: 💲💲💲💲💲 (fewer 💲 = cheaper)
Capacity: 25 liters
Weight: 4.85 pounds (2.2 kg)
Size: 18.5 x 18.5 x 7.1 inches (47 x 47 x 18 cm)
Material: Canvas
Wheels: No
Water Resistant: Yes
Waterproof: No
Lowepro LP37176 ProTactic Backpack is one of the most loved drone backpacks by its users. If you have a bit more budget to play with, this is the best backpack to go for, hence it's our Premium Choice.
One of the things that immediately stand out is the waist belt that allows you to shift the weight from your shoulders to your legs, as well as get extra storage space, when hiking. For its durability, it can be considered lightweight.
Pros
Large capacity,
Padded straps,
Movable interior
Specs
Price: 💲 (fewer 💲 = cheaper)
Capacity: 8.5 liters
Weight: 1.32 pounds (0.6 kg)
Size: 13.5 x 10.5 x 6.5 inches (34.3 x 26.7 x 16.5 cm)
Wheels: No
Water Resistant: Yes
Waterproof: No
I am a sucker for compact bags since not only do they make my load lighter but also smaller. This drone bag is excellent for carrying all your most important equipment without making it challenging to bear, especially for long treks. It is designed with the straps that offer security for everything you're moving. The lining is weather-resistant, which is excellent if you hike in a little rain. The interior is also padded, which provides shock resistance to ensure that everything is safe.
Pros
Movable dividers,
Wicking material,
Low cost
Specs
Price: 💲💲💲 (fewer 💲 = cheaper)
Capacity: 23 liters
Size: 27.6 x 11 x 6.7 inches (70 x 28 x 17 cm)
Material: Tarpaulin, Nylon Dubby
Wheels: No
Water Resistant: Yes
Waterproof: No
The Besnfoto Camera Backpack features a stylish design suitable for professional photographers. The construction features a water-repellent tarpaulin nylon material with a scratch-resistant and smooth surface that is easy to wipe down when cleaning. The bag has generous padding in all the critical areas to protect your equipment while maintaining decent weight. The pack's design features two compartments that are collapsible into one space. The main compartment at the bottom includes customizable padded dividers for your camera and accessories, while the top section is ideal for extra equipment or personal effects such as clothes. However, the closure design means that the bottom section is only accessible when you offload the top part of the backpack. To counter this problem, the bag's designers have made the bottom section removable through the side of the backpack and use it as a shoulder camera bag with the extra straps provided. Alternatively, you can remove the equipment you need without having to take out the whole section, which is just as convenient. The backpack features lots of interior pockets for stashing small items like camera batteries, memory cards, and personal items. The laptop pocket is sandwiched between the main compartment and the back panel and is accessible through a side zipper opening. The front side of the pack features two gear straps for attaching your skateboard if you are a videographer or extra hiking items such as a sleeping mat. It also comes with a side stash pocket that you can use for your water bottle or tripod, which you can cinch securely with the side straps provided for that.
Pros
Features non-slip and wear-resistant base,
Multiple storage pockets for organization,
Generous padding to protect your equipment,
Good value for money
Cons
The roll-top section is not water-resistant
Specs
Price: 💲 (fewer 💲 = cheaper)
Capacity: 18.5 liters
Weight: 3.53 pounds (1.6 kg)
Size: 16.5 x 11 x 4.7 inches (41.9 x 28 x 11.9 cm)
Material: Pva
Wheels: No
Water Resistant: Yes
Waterproof: Yes
TARION XH is the best drone backpack out there. Designed to let you arrange everything in the bag perfectly with its many compartments. I'm a huge fan of the easy access as I don't particularly appreciate having to look for my equipment in a deep bag. The extendable feature is quite useful too, especially if you have a lot of accessories to place in the bag.
Probably, the most unique part of this drone backpack is the hard case that provides shockproof and weatherproof protection, so that your drone is always safe.
Pros
Ergonomic design
Large 18.5L capacity
Weatherproof
Specs
Price: 💲💲💲 (fewer 💲 = cheaper)
Capacity: 20 liters
Weight: 2.65 pounds (1.2 kg)
Size: 17.7 x 11.4 x 6.7 inches (45 x 29 x 17 cm)
Material: 900D Nylon
Wheels: No
Water Resistant: Yes
Waterproof: No
K&F Concept company specializes in the design and manufacturing of innovative products and accessories for professional photographers. This multifunctional camera bag packs your camera gear in the bottom section, while the roll-down top section gives you extra space for clothes and other stuff. I would not recommend this backpack for travel because it is not well padded, and it has poor weight distribution when fully packed. Like other camera backpacks of this design, the K&F Concept backpack features a convenient side access panel that allows you to grab your camera quickly without unloading the top section. It comes with external accessory pockets for small items, an external tripod or water bottle sleeve with Velcro straps. On the downside, it does not feature any notable internal pockets beyond the 15.6-inch laptop sleeve, which limits organization. It comes with a removable padded slot drawer for a camera with two lenses that may be inadequate for professional work and is loosely held together with a Velcro strap. The notable feature that is lacking is the padded divider to separate the top and bottom sections of the backpack to protect your camera gear. However, the pack has a generous 20L interior space that allows you to pack more camera gear with extra dividers. The bag features minimal padding that makes it lightweight, and its shoulder straps are comfortable for extended wearing. Its padded back panel allows for breathability and keeps your back supported. The bag features a 900D water-resistant nylon material construction and comes with a rain cover for extra protection. Overall, the K&F Concept camera backpack is ideal for photography amateurs and hobbyists with small to medium-sized cameras or if you want to carry your camera for day hikes. However, it is underwhelming for a camera backpack compared to other dedicated camera bags in the same price range.
Pros
Good quality and robust material construction,
Generous interior space for personal gear,
Comfortable shoulder straps and back panel,
Affordably priced
Cons
Small and non-standard camera compartment,
Limited protective padding
Specs
Price: 💲 (fewer 💲 = cheaper)
Capacity: 17 liters
Weight: 3.09 pounds (1.4 kg)
Size: 17.9 x 11.4 x 6.3 inches (45.5 x 29 x 16 cm)
Material: Canvas, Synthetic leather
Wheels: No
Water Resistant: Yes
Waterproof: No
One of the most likable features of this backpack, other than its unique design, is the ability to keep rainwater out. It is made using water-resistant material that is useful in preventing your equipment from getting rained on. The bag is large enough to fit your drone, accessories and tripod. Another lovable feature of this bag is that you don't have to remove it to get your stuff; it has quick access at the side. This is a pocket you can open and get anything you want from the main compartment.
Pros
It is expandable
Great size
Ergonomic design
Specs
Price: 💲💲💲💲 (fewer 💲 = cheaper)
Capacity: 14 liters
Size: 18.1 x 8.9 x 5.9 inches (46 x 22.5 x 15 cm)
Material: Nylon
Wheels: No
Water Resistant: Yes
Waterproof: No
This travel drone backpack is comfortable to carry, and regardless of how much you take it makes the load feel much lighter. This is quite useful for long hikes so that your back wont strain. Of course, it comes with enough space for your quadcopter and accessories. Movable partitions let you keep everything organized and in its place. Additionally, it's padded all-around to keep your stuff safe.
Pros
Large capacity
Interchangeable partitions
Padded
Specs
Price: 💲💲💲💲 (fewer 💲 = cheaper)
Capacity: 26 liters
Weight: 4.19 pounds (1.9 kg)
Size: 22 x 13.4 x 9 inches (56 x 34 x 23 cm)
Material: Nylon, RipStop, Synthetic Fabric
Wheels: No
Water Resistant: Yes
Waterproof: No
Apart from serving as a drone carry-on, it can be your all-around hiking and storage bag. It looks like a regular backpack, but the inside is well made for all your equipment with all the movable compartments and padding. You get easy access from the sides.
Pros
Waist belt,
Movable partitions,
Flexible access
Verdict
To summarize, we have gone through dozens of drone backpacks and decided that 10 are worth your consideration. Out of these, the absolute Best Drone Backpack is MOSISO Camera Hardshell Backpack which we highly recommend as our overall best.
If money is not an issue, you can consider Lowepro ProTactic Backpack as this is our Premium Pick.
Otherwise, there's no shame in spending prudently, USA Gear Compact Drone Travel Backpack is the Budget Option.
Our other reviews you may find useful in your research:
What You Should Know Before Buying drone backpacks
What to look for in a drone backpack?
There are many features you can find in a quadcopter backpack, and each may impact the others. Hence, sometimes it may be challenging to decide what's best. The following are some of the most crucial components in a drone backpack:
Water resistance,
Weight,
Size and ability to expand,
Shock absorption,
Ergonomic design,
Movable partitions,
Easy access.
Questions and Answers About drone backpacks
How do I choose a drone backpack?
Note down what's the most important for you and get the backpack that has the most of what you're looking for. In my case, I prefer lightweight designs that are weatherproof. This ensures that I don't carry a heavy load and don't need to worry about my drone whenever I come across a rain rain.
Should I get a waterproof drone backpack?
Waterproof drone backpack allows you to travel without worrying about your quadcopter, regardless of the weather. If possible, I recommend opting for weatherproof drone backpacks.
How many compartments should be in a drone backpack?
The best drone backpack for travel in the market has two main compartments; one for a laptop while the other is for the various camera accessories. However, it is essential to pay attention to the partitions in the bag. A good number for the dividers is about five or six. This is adequate for keeping all your accessories safe and organized.
How big should a drone bag be?
This depends on how much equipment you want to carry as well as the size of your drone. The most optimal size is about 17 liters.