What's the best survival backpack? The answer is simple: it depends on what you are preparing for. Whether your emergency kit is just a car safety kit, or if you're at home and need to bug out when disaster strikes, there are many factors that will affect your decision. This blog post will explore some of the best survival backpacks currently available.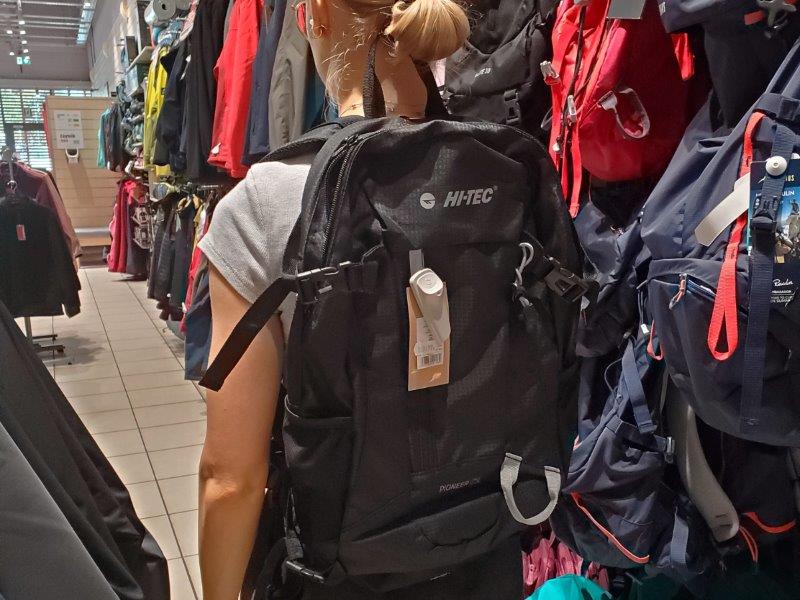 What is the Best Survival Backpack?
We have compiled for you the top 6 Best Survival Backpack in 2023. In this article we go through the products that we have used ourselves, checked what other users thought about them and we ranked them accordingly.
With years of experience with bug-out bag backpack and having used several survival backpacks you can trust our review.
Moreover, you can scroll to the end of this review to see our mini buying guide as well as the answers to some of the frequently asked questions about survival backpacks.
The 5.11 Tactical RUSH24 Military Backpack has a huge variety of useful features and high-quality construction. Easily noticeable as a tactical carry, this versatile gear piece finds its home comfortably in the classification of top-tier survival backpacks too.
Constructed with 1050D nylon popularly known as ballistic nylon, this 5.11 series bag promises durability and tear-resistance, essential traits for any adept survivalist. This unit showcases a robust fabric weave and a smooth texture that's water-resistant, allowing you to brave unpredictable weather without worrying about your gear. Furthermore, its integrated YKK zippers and MOLLE webbing attest to its resistance and readiness, enhancing your carry experience.
Its design incorporates an ample main cavity perfect for storing sizeable emergency supplies and various side, and front pockets tailored for effective gear organization. On the flip side, it's worth noting that when these supplementary pockets expand, they tend to limit the principal compartment space despite the contoured design for compactness. However, an ingenious solution lies in the 5.11 MOLLE and SlickStick compatible webbing, enabling you to secure extra pouches externally, great for mitigating the space constrain. Rounding it all up for comfort during movement, the backpack is outfitted with a cushioned back panel, ergonomic shoulder, and sternum straps designed to balance the pack's weight and optimize load distribution.
Pros
Durable 1050D nylon construction for high tear-resistanceWater-resistant material safeguards gear from the elementsShoulder and sternum strap system promotes comfort during wearAmple storage space with improved internal organization system
Cons
No bottom padding,
Weak seams around the pockets,
Does not include a waist strap
Discover the perfect blend of portability and practicality with the Mystery Ranch 2 Day Assault Backpack. This model stands out from the crowd due to its military-inspired design, compact nature, and an array of convenient storage compartments. Engineered with the brand's signature 3-zip opening, this backpack ensures easy access to the main segment and its subcontainers, including two internal mesh pockets, two pouches, and a padded compartment for hydration or laptop storage which also offers external side access. This unique tri-zip system sets it apart from typical backpacks, allowing users to easily retrieve their belongings. The 2-Day Assault pack boasts adjustable shoulder straps that can accommodate a wide range of body types. While it doesn't carry a waist strap, its design compensates with comfort, even during extended usage when fully loaded. Its astonishing capacity of 27L is contained in a tubular shape, which often surpasses comparable box-shaped backpacks in volume. The backpack features sturdy MOLLE webbing on the front, subtly incorporated into the design, allowing you to blend seamlessly into the crowd. Constructed with 500D Cordura and durable YKK zippers, this pack offers a mix of longevity and an appealing aesthetic.
Pros
Robust construction with excellent comfortability
Accommodating shoulder straps Spacious main compartment and auxiliary pockets Tri-zip system for convenient accessibility Extra lower back padding for enhanced comfort
Cons
Lack of support at the pack's base Absence of a complementary waist strap
Specs
Price: 💲 (fewer 💲 = cheaper)
Size: 22.8 x 13.4 x 7.9 inches (57.9 x 34 x 20.1 cm)
Material: Nylon
Water Resistant: No
When it comes to an all-around survival backpack, the G4Free Daypack certainly captures attention. Boasting a 40L capacity, it offers ample space for survival gear and other essentials, making it ideal for survivors and adventurers. The daypack is crafted from high-resilience materials, resistant to wear and tear, offering long-lasting durability that adventurous spirits would appreciate.
What sets the G4Free Daypack apart is its lightweight design. Weighing just 0.79 pounds, it's surprisingly light for its size and ingenious storage capabilities. In fact, the backpack can be conveniently folded into a compact pouch for hassle-free storage and handling. Now that's a feature definitely worth mentioning!
The layout of the G4Free Daypack is also noteworthy. It features a user-friendly, top-loading design with a swift drawstring closure, facilitating hassle-free packing and unpacking. However, due to this design, the internal organisation might lack a bit of versatility, especially for the meticulous packers. That being said, the top double-sided pouch is a neat addition for those smaller essentials.
Comfort is well considered here; the daypack features breathable, padded shoulder straps designed to reduce strain during extensive treks. As for security, it comes with a chest strap equipped with a lifeguard whistle, a feature that can prove useful in emergencies. The bonus? The versatile design makes it suitable for both men and women and works wonders for trips spanning 3 to 5 days.
Pros
Lightweight, top-loading design for easy packingCapacious 40L size to accommodate substantial gearIntegrated lifeguard whistle for extra safetyDurable, wear-resistant material enhancing longevity
Cons
Limited flexibility in internal organization
Shoulder straps could be more robust
Engineered with the extreme outdoor adventurer in mind, the hefty GZ Xinxing Tactical Bug Out Bag can contain three days worth of essential items. Built with dual main compartments, it optimizes organization while adding capacity with additional minor compartments toward the front. This tactical backpack employs a MOLLE system, known for its modular flexibility, to hang extra gear and a Velcro strap to secure morale patches.
Crafted with high-density polyester fabric combined with additional reinforcement of its seams, this bug out backpack boasts durability and water resistance. This makes it a practical choice for outdoor enthusiasts who brave tough terrains and unpredictable weather conditions—road warriors in search of the best backpack for their next rugged adventure.
An essential aspect of its design is to not compromise on comfort despite the bag's impressive size and hefty capacity. It is structured with well-padded back and shoulder straps with adjustable waist and chest straps for secure wearability, ensuring the bag stays steady during movement.
Included with the bag are a 6X D-Rings, a hydration tube clip, a water bottle pouch, a waterproof rain cover, and a PVC flag patch, making it a value for money purchase. This kind of deal is an adjective for other brands, making it the premier choice for first responders who require substantial and dependable carriage.
Pros
Comes with added extras and a 30-day reimbursement offer,Seams reinforced for prolonged usage,Crafted with high-density, water-resistant polyester,Constructed with durable, high-quality materials,Superior storage capacity,
Cons
Zippers are of subpar quality.
Meet the Mardingtop Tactical Backpack, a budget-friendly must-have for every serious survivalist. Offering a blend of affordability and function, this survival backpack is designed for ready-access and organization of your essentials. It comes in three distinct sizes, with the 35L version deemed optimal for stowing all your critical emergency gear. Made from 600D polyester fabric, the quilt is well-wrought and holds colors faultlessly, transforming it into a stylish survival accessory available in various eye-catching shades. However, potential buyers should note, although the vibrant colors are a plus, the polyester fabric could be susceptible to tears and isn't the best defender against water. Tipping the scales in favor, the bag comes adorned with robust zippers and clasps, paired with sponge padding on the shoulder and waist straps for superior comfort. Enhanced with adjustable sternum straps, you can efficiently distribute the weight and lessen shoulder strain. Moreover, the addition of MOLLE webbing and bottom straps expands your storage options by attaching extra gear.
Pros
Exceptional price-value propositionA rainbow of appealing color optionsMultiple compartments for easy organizationComfort-enhancing sponge padding
Cons
Fabric could be prone to tearing
Insufficient water resistance
Lacks a hydration compartment.
The Condor 3-Day Assault Pack is one of the larger backpacks on my list, and it is a good option if you are assembling a 2-person survival kit because of all the space that it offers. It features a generous main compartment with two mesh pockets and compression straps to secure the contents. With large front and back pockets, side pockets, and a hydration bladder compartment, the backpack provides seven organization spaces, including external MOLLE webbing, for all your gear. I like the padding on the back and shoulder straps that provides comfort while carrying it. It is a heavy bag when full, and the designers included chest and waist straps to help fit comfortably on the back. The pack features good quality construction that uses Cordura Nylon, a premium fabric used in military-grade and premium end backpacks.
Pros
Outstanding weight distribution,Robust construction for durability,Sizeable compartments and pockets,Adjustable harness for universal fit.
Cons
Zipper and flap design could be improved,
Internally lacks structured organization.
Verdict
To summarize, we have gone through dozens of survival backpacks and decided that 6 are worth your consideration. Out of these, the absolute Best Survival Backpack is 5.11 Tactical RUSH24 Military Backpack which we highly recommend as our overall best.
If money is not an issue, you can consider Mystery Ranch 2 Day Assault Backpack as this is our Premium Pick.
Otherwise, there's no shame in spending prudently, G4Free Daypack is the Budget Option.
Our other reviews you may find useful in your research:
What You Should Know Before Buying survival backpacks
Size
Size matters. It's directly influenced by the volume of survival equipment you wish to carry. Experts suggest packing at least three days' worth of crucial items, yet it's also essential to keep your backpack compact for easy maneuverability. A 30L to 50L backpack size range usually offers sufficient space for a single-person survival kit and a few personal items. This size also strikes a balance between capacity and comfort, making it easier to blend in and carry without strain. As for shape, traditional box or tube-shaped backpacks tend to sit comfortably on your back. They usually come with an internal frame that lends integrity to the structure and aids in evenly distributing the load. It's essentially about finding the delicate equilibrium between carrying enough supplies without compromising ease of movement. Remember, a survival situation often requires swift action and mobility. Ensure that your backpack fits comfortably on your back and still allows for effortless movement.
Backpack materials
The material used can greatly affect its durability and usability. Here's a simple guide to understand the different fabrics and their implications:
Nylon and Polyester – Essentially the lifeblood of modern backpack fabric. They're both light and hardy, with the additional benefit of being water-resistant. Nylon is often more robust, while polyester is typically more UV-resistant – an important consideration if you're expecting your backpack to endure long stints under the sun. Canvas – A durable, heavy-duty fabric woven out of cotton and linen fibers. It was contrived for use on army tents during WWII, testament to its tenacity. However, it inherently lacks water resistance, which can be a drawback in harsh weather conditions.
Leather – An old-school, yet chic choice. A whole cowhide leather piece forms a remarkably sturdy backpack, though it may be weighty and expensive. Its durability is second to none, and with care, it ages beautifully. Synthetic Leather – An affordable alternative to genuine leather, synthetic leather is a hybrid of leather and synthetic fibers, often lined with plastic for enhanced water resistance and durability. Metal – Mostly found in the form of aluminum or titanium frames in the backpack world. These are renowned for their strength and lightness, making them ideal if you're planning longer or more strenuous excursions. Plastic – A cost-effective yet resilient choice; however, be wary of overloading as plastic has a propensity to tear under intense strain. Vinyl – It's often merged with other fibers to boost strength, but lags behind other materials in terms of robustness. It's an economical option and boasts commendable water resistance. To sum it up, your choice of backpack material should depend on various factors such as your budget, expected weather conditions, and load requirements.
Organization
When it comes down to organizing your survival gear, a backpack with ample compartmental space is your best bet. Easy access to vital equipment, such as a whistle, knife, compass, or flashlight, is absolutely necessary, and a well-structured backpack will allow for just that.
A prime feature of tactical backpacks lies in their superior organizational set-up as compared to hiking or technical backpacks, typically devoid of external pockets. These tactical models not only come stacked with external attachment points, like MOLLE webbing and Velcro, but also offer a level of adaptability that's hard to surpass. Take a closer look at the best Tactical backpacks our site has to offer to understand better.
However, while these attachments might prove handy, your backpack should not stand out in a crowd, or else it could make you a potential target in emergency situations. Therefore, stealth is a critical factor to consider during selection.
Lastly, find a backpack that is functional for your needs. Steering clear of features such as laptop sleeves and hydration compartments might be a good idea. Given that emergencies won't require your laptop and your survival gear will include water pouches and filters, these additions are relatively redundant. Save that space for essential survival tools instead. You can check out some of our top recommendations for water filters to assist in your preparations.
Backpack care tips
Looking to extend the lifespan of your backpack? Here are some essential care tips. Avoid Aerial Drying – It might be tempting to hang your backpack on a tree branch for a quick dry, but this method can damage both the straps and any electronics inside. It's especially risky in rainy weather.
Clean Softly, Clean Regularly – Stick to gentle soap and water to remove dirt from your backpack's interior. If spot cleaning, use a dry cloth and warm water to avoid inducing mildew growth. Optimal Storage – The best storage spaces for your backpack are cool, dry locations like basements or attics. It's good practice to stow your backpack away after each use, preventing dirt and grime from settling in. Neat and Tidy – Tucked inside a pouch and folded neatly, your backpack won't just maintain its looks, it will also stay protected. If you lack a pouch, ensure your backpack is surrounded by protective items.
Pamper with a Wash – Washing your backpack by hand once a month helps remove water or dirt accumulation. Consider more frequent washes if gearing up for a big trip.
Bust the Dust – Wiping down your backpack's interior, top to bottom, removes dust and grime build-up. Mold: Be Bold – Notice black spots in your backpack? You're looking at mildew growth. Wipe it down with a vinegar-water solution, follow with a warm water rinse, and air-dry outdoors before reusing. Caring for your backpack just takes a bit of routine maintenance. Follow these tips to ensure your backpack remains your trusty travel companion for years to come.
Questions and Answers About survival backpacks
Are survival backpacks necessary?
Survival backpacks are necessary for sure. They are often used by people that live in areas where a lot of things could happen like hurricanes or wildfires. These backpacks are needed for emergencies and they can take up little space in your house.
What items should I have in my survival backpack?
There are a lot of different items that you need to have in your survival backpack. Among the most important are food and water, emergency medical supplies, tools for communicating to others, and things that will help you start a fire.
What is the most important survival item?
The most important survival item is a small fire starter. This is because you can never know when you will need to start a fire and it's very difficult to do in the wild, even when you have some prior experience.
How should I pack my survival gear?
A good way to pack your survival gear is to think about what you will be doing or what the situation is of the area. If you're in a place where there are wildfires or hurricanes, for example, then most of your equipment should have some sort of water-proofing. If you're in a place where there's earthquakes, then you would want to include an extra first aid because you know that people are going to get hurt.
The most basic equipment needed would be a flashlight and some water-proof matches or something similar. A knife is also very important when packing survival gear especially if it has a compass on it. Everyone should have a whistle as well even kids because it will help them signal for help if needed.