What's the best survival backpack? The answer is simple: it depends on what you are preparing for. Whether your emergency kit is just a car safety kit, or if you're at home and need to bug out when disaster strikes, there are many factors that will affect your decision. This blog post will explore some of the best survival backpacks currently available.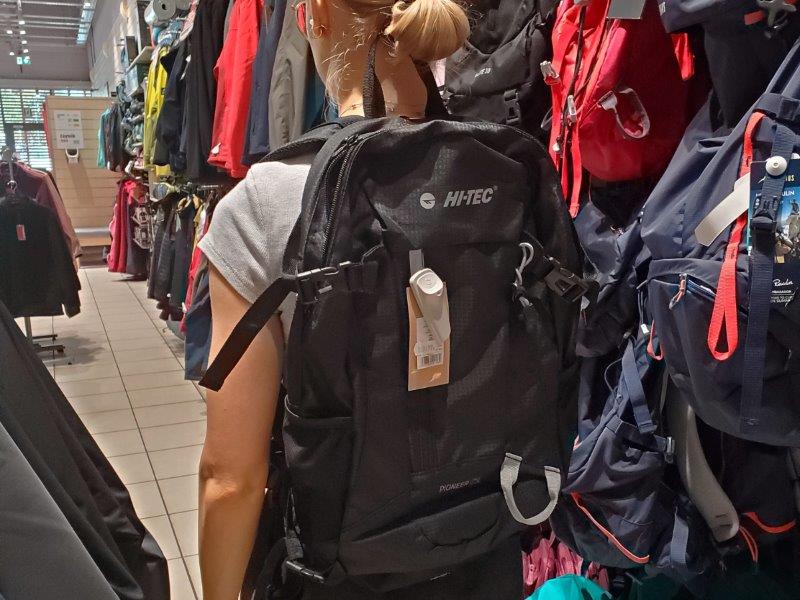 What is the Best Survival Backpack?
We have compiled for you the top 8 Best Survival Backpack in 2023. In this article we go through the products that we have used ourselves, checked what other users thought about them and we ranked them accordingly.
With years of experience with bug-out bag backpack and having used several survival backpacks you can trust our review.
Moreover, you can scroll to the end of this review to see our mini buying guide as well as the answers to some of the frequently asked questions about survival backpacks.
Specs
Price: 💲💲💲 (fewer 💲 = cheaper)
Capacity: 37 liters
Weight: 4.2 pounds (1.91 kg)
Size: 20 x 12.5 x 8 inches (50.8 x 31.8 x 20.3 cm)
The 5.11 Rush-24 is a highly rated tactical backpack and also one of the best bug out bags available in the market. The Rush-24 is the smaller version of the Rush-72 military-grade pack, and it is significantly popular with civilians. The Rush-24 is a multipurpose pack, but its tactical design makes it great for a survival kit carrying. It features a 1050D nylon construction with YKK zippers and MOLLE webbing. 1050D Nylon is also known as Ballistic Nylon and what is great about this fabric is the heavy weave that gives it a high tear-resistance, a slick texture that is water-resistant and makes the rucksack easy to blend in. For a bug out backpack, it comes with a generous main compartment for emergency supplies with multiple side and front pockets for your other gear. On the downside, the pockets expand internally, which constricts the internal space of the main compartment. However, the 5.11 MOLLE and SlickStick compatible webbing allows you to attach compatible pouches to your pack to give you extra space for your gear. For comfort, the backpack comes with a thickly padded back and contoured shoulder straps, as well as a sternum strap and compression straps to keep the pack compact.
Pros
Compatible with the tier system for increased capacity,
Made of water-resistant nylon material,
Comfortable shoulder straps for heavy carrying,
Wrap-around molle webbing and bottom lashing points,
Excellent internal organization compartments, Great weight distribution
Cons
No bottom padding,
Weak seams around the pockets,
Does not include a waist strap
This 2-Day Assault Pack is the smaller civilian version of their hugely successful military-grade 3-DAP, and it is the best bug out backpack on my list. It comes with all the fantastic features of the 3-DAP, such as their signature 3-Zip opening and exceptionally comfortable shoulder straps. This backpack comes with adjustable shoulder straps to fit most body types. Although it does not feature a waist strap to balance the weight, the pack is still exceptionally comfortable to carry when fully loaded. It is generous with space, and though it doesn't have the typical box shape of most bags, its tube shape allows you more capacity at 27L than you would get with a comparable box shape backpack of the same size. The side pockets are bulky, possibly designed to carry large water bottles. On the upside, the pack features compression straps to keep the contents compact to reduce the size of the load.
The most defining feature of this backpack is the signature 3-Zip opening that gives you convenient access to the main compartment. Inside it are two internal mesh pockets, two pouches, and a padded hydration/ laptop compartment with external side access. It comes with MOLLE webbing on the front and is very discreet to help you blend in. Overall, it is an exceptional backpack in regards to design and function. It features 500D Cordura construction with YKK zippers that give it durability and an attractive aesthetic finish.
Pros
Exceptional build quality and comfort,
Adjustable shoulder straps,
Generous main compartment and pockets,
Easily accessible main compartment with a tri-zip system,
Extra padding on the lower back for a comfortable fit
Cons
Compression straps do not secure the bottom,
Does not come with a waist strap
Specs
Price: 💲 (fewer 💲 = cheaper)
Capacity: 40 liters
Weight: 0.9 pounds (0.41 kg)
Size: 22.8 x 13.4 x 7.9 inches (57.9 x 34 x 20.1 cm)
Material: Nylon
Water Resistant: No
The G4 Free Daypack travel daypack has a capacity of 40L that is big enough to store survival kits and other gears. It is made from high-quality wear and tear resistant material to give you long-lasting performance. It is lightweight for a large capacity daypack at only 0.79 pounds, and can be folded into a pouch for easy storage.The G4 Free Daypack has a top double sided pouch to store smaller items, and it features a top-loading design with a drawstring closure that allows you to fit more into the daypack. Although it does provide you with more space to pack for longer trips, this design does not allow much flexibility in organizing your contents in the main compartment for easy access. For comfort, this daypack features padded breathable shoulder straps, and a chest strap with a lifeguard whistle, to secure the backpack on your back. It has a versatile design for both men and women and is suitable for longer trips of between 3-5 days.
Pros
Features a top-loading drawstring closure,
Large side mesh water bottle holder for big bottles,
Bungee elastic ropes for hanging sleeping bags, hammock,
Features padded straps with adjustable chest clip
Cons
Arm straps are a bit weak
Specs
Price: 💲 (fewer 💲 = cheaper)
Capacity: 25 liters
Weight: 0.8 pounds (0.36 kg)
Size: 16.5 x 7.1 x 11.8 inches (41.9 x 18 x 30 cm)
Material: Nylon
Water Resistant: No
The Bago Water Resistant Travel and Hiking Daypack is made of honeycomb polyester fabric which is tear-resistant and lightweight to reduce any strain on your back while on the move. It comes with a generous main compartment with an inner zip pocket for valuables and multiple external pockets. This pack features a 25L capacity which is a small size for travel, but it is excellent as a carry-on bag for excess luggage. It is also suitable for use on day hikes and everyday carry, and you can fold it into a compact pouch storage.Since the fabric protects against moisture, it is great for carrying camping equipment, tactical and survival gear. This is an ideal daypack for both men and women and comes in a variety of colors to choose from.
Pros
It can be folded into a pouch for portability,
The 2-way corded zippers for easy closure,
Multiple pockets for organization,
Made with high-quality water-resistant material
Cons
There is no back padding,
The front mesh wears out quickly
Specs
Price: 💲💲 (fewer 💲 = cheaper)
Capacity: 43 liters
Weight: 3.6 pounds (1.63 kg)
Size: 20 x 13 x 11 inches (50.8 x 33 x 27.9 cm)
This is a large capacity bug out backpack with enough space to accommodate three days of essentials. It has two main compartments with additional smaller compartments on the front, a molle system for hanging extra gear, and a velcro strap for morale patches. Despite its large size, this rucksack has well-padded and comfortable back and shoulder straps with adjustable waist and chest straps to keep the pack secure on your back. It features a high-density polyester fabric construction that is water-resistant, and with reinforced seams throughout the bag for durability. The gift kit includes 6X D-Rings, a hydration tube clip, a water bottle pouch, a waterproof rain cover, and a PVC flag patch.
Pros
Includes a free gift kit and a 30-days money-back guarantee,
Reinforced seams all around the bag,
High-density polyester fabric construction,
Great quality materials and durable construction,
Great value for its size,
Large capacity storage for first responders
The Osprey Stratos-34 is a 34L hiking backpack which I think would make an excellent bug out bag. Although it does not come with tactical features such as MOLLE webbing, the Stratos-34 is a versatile backpack with plenty of storage for your survival kit.
One of the outstanding features that I liked about this backpack is the dual zipper panel access to the main compartment. Like the Mystery Ranch backpack, the panel opening gives you much more convenience compared to a top access backpack. However, its tube frame constricts the interior spaces and does not expand outwards like the Mystery Ranch pack. The Stratos-34 features adjustable shoulder straps and waist strap to help you find the perfect fit. The waist strap also features two zippered pockets where you can keep small items that you need on the go. The pack has a high-quality construction that features 420HD Nylon fabric, which provides a high level of tear resistance and waterproof abilities. Another positive is the well-ventilated mesh back panel and a lightweight air suspension frame that helps to support the weight of the bag and makes it comfortable to carry.
Pros
Easy access panel opening to the main compartment,
Excellent weight distribution and comfort, High-quality construction and design
Cons
Its narrow frame limits the interior spaces,
Expensive for limited use
Specs
Price: 💲💲 (fewer 💲 = cheaper)
Capacity: 28 liters
Weight: 2.1 pounds (0.95 kg)
Size: 17.7 x 11.8 x 7.1 inches (45 x 30 x 18 cm)
Mardingtop is an affordably priced tactical backpack, and it is an excellent option for your bug out gear. The Mardingtop comes in three sizes, and I would go with the 35L pack for emergency preparedness. It features good quality construction and multiple compartments that give you a convenient way to organize your survival gear. The backpack features 600D polyester fabric construction, which for a tactical backpack, is cheap quality. The upside of polyester is that it holds colors well, which is why the Madingtop is available in several attractive colors, but it is also easy to tear and does not resist water at all. In contrast, the zippers and buckles are high quality with sponge padding on the shoulder straps and waist belt. The pack also features adjustable sternum straps to balance the shoulder straps and MOLLE webbing and bottom straps to attach extra storage items.
Pros
Great value for the price, Available in attractive colors,
Features multiple compartments for organization,
Durable sponge padding on the back and straps
Cons
Poor quality construction fabric,
Includes a hydration compartment
Specs
Price: 💲💲💲 (fewer 💲 = cheaper)
Capacity: 50 liters
Weight: 3 pounds (1.36 kg)
Size: 22 x 17 x 11 inches (55.9 x 43.2 x 27.9 cm)
The Condor 3-Day Assault Pack is one of the larger backpacks on my list, and it is a good option if you are assembling a 2-person survival kit because of all the space that it offers. It features a generous main compartment with two mesh pockets and compression straps to secure the contents. With large front and back pockets, side pockets, and a hydration bladder compartment, the backpack provides seven organization spaces, including external MOLLE webbing, for all your gear. I like the padding on the back and shoulder straps that provides comfort while carrying it. It is a heavy bag when full, and the designers included chest and waist straps to help fit comfortably on the back. The pack features good quality construction that uses Cordura Nylon, a premium fabric used in military-grade and premium end backpacks.
Pros
Excellent weight distribution and stability,
Durable with high-quality construction,
Generous compartments and side pockets,
Adjustable harness to fit most body types
Cons
Poor zipper and zipper flaps design,
Poor internal structure
Verdict
To summarize, we have gone through dozens of survival backpacks and decided that 8 are worth your consideration. Out of these, the absolute Best Survival Backpack is 5.11 Tactical RUSH24 Military Backpack which we highly recommend as our overall best.
If money is not an issue, you can consider Mystery Ranch 2 Day Assault Backpack as this is our Premium Pick.
Otherwise, there's no shame in spending prudently, G4Free Daypack is the Budget Option.
Our other reviews you may find useful in your research:
What You Should Know Before Buying survival backpacks
Size
When it comes to bug out backpacks, their size will depend on how much survival gear you want to put in. Emergency agencies recommend that you pack at least three days' worth of survival items. However, the backpack should also be as compact as possible for easy portability. You can get a decent-sized backpack in the 30L to 50L range, which gives you enough space for a single person survival kit and a few personal items. It also helps you to blend in better, and it is not heavy to carry on your back. In terms of shape, stick with the basic box and tube shapes that will fit comfortably on your back. Most backpacks will have an internal frame that gives it structure and also helps to distribute the weight evenly.
Backpack materials
Backpacks come in a wide range of materials and some are better than others. The following are the most common type that you'll find when it comes to backpacks:
Cloth – One of the oldest types of backpack material still in use today, cloth is usually made out of either nylon or polyester. This material is lighter than most other options, but it's not as durable.
Leather – This type of backpack has been in use for thousands of years. It's made from a single piece of cowhide leather and stitched together. They're often very heavy and expensive, but they're usually the most durable type of backpack.
Canvas – This material is one that was developed for use in army tents during World War II. It's made from cotton and linen fibers interwoven to create a heavy duty fabric that's still popular today. In addition to backpacks, canvas is also used for things like sails because of its strength.
Plastic – Also one of the newest types of backpack materials, plastic is cheap to manufacture and fairly strong in some cases. However, it's known for tearing easily if you overload your pack.
Metal – Metal framed backpacks are becoming more popular these days. This is due to how strong they are and the lightweight design that allows them to be an ideal choice for long hikes. They're usually made out of aluminum, but titanium can also be found sometimes.
Synthetic leather – This is a blend of leather and other synthetic fibers that makes for an inexpensive backpack material. It's usually coated with plastic on the inside to protect it from water and add to its strength.
Nylon – Nylon is made out of a combination of vinyl, rayon, or nylon and is often found in backpacks designed for outdoor use. It has many benefits such as being waterproof and lightweight.
In addition, most modern backpacks are made with nylon.
Polyester – This is a material that was developed for use in parachutes during World War II and started to be used by backpack manufacturers soon after it was made available on the market. It's as waterproof as nylon, but not quite as strong.
Vinyl – When this material is used in the manufacturing of backpacks, it's typically blended with other fibers to provide additional strength. It's very cheap to manufacture and is waterproof, but it's not as strong as some of the other materials that are available.
Organization
Backpacks with multiple compartments offer better organization for your bug out gear, which helps you keep track of small items that you need quick access to like a flashlight, compass, whistle, knife, or a multi-tool.
The organization setup is where tactical bags excel in features over technical and hiking backpacks, which usually do not have external pockets. Tactical backpacks also come with external attachment points such as MOLLE webbing and velcro.
While these attachment points might be useful, consider how well your bug out backpack will blend in with the people around you. Avoid conspicuous looking packs because it can make you a target for people who did not prepare for the emergency.
Also, avoid backpacks with laptop sleeves and hydration compartments because it is unlikely that you will need your laptop or a hydration bladder in an emergency evacuation. Your bug out gear will include water pouches and water filters, which makes the hydration bladder unnecessary.
Backpack care tips
If you want to get the most out of your backpack, you should take good care of it. The following are some tips for keeping your pack in tip-top shape:Don't hang it from a tree branch – Never hang your backpack on a tree branch just so that it can dry off faster. Doing so can cause the straps to wear out faster and damage any electronic devices in your pack especially if it's raining.Cleaning is a breeze – Using mild soap and water will remove most grime from the inside of a backpack. If you do get something on your backpack, be sure to rub it with a dry cloth and warm water as rubbing it with a wet cloth can cause mildew to grow.Store in cool, dry place – Storing your backpack in a dry basement or attic is ideal for keeping it in good shape over the long term. You should also put your backpack away when you're done using it so that dirt and grime don't have a chance to stick.Fold it neatly – Storing your backpack in its pouch and folding it neatly is another great way to keep it looking good. If you don't have a pouch, be sure to store it in a closet where the edges of the backpack are protected by other items.Wash your backpack – Hand-washing your backpack once a month is a good way to remove any water or dirt that may have accumulated on it. You should also consider washing it more often if you're getting ready for an excursion.Wipe the inside – Wiping the interior of the main compartment is a great way to clean out your backpack and get rid of dust or grime. Make sure that you wipe the interior from top to bottom so that no dirt can fall into the bottom of the pack.Get rid of mold – If you're seeing black spots on your backpack, then it's likely that mildew has started to grow. To get rid of this problem, make sure that you wipe it down with a vinegar and water solution followed by a rinse in warm water. You should also place your backpack outside to dry off before using it again.
Questions and Answers About survival backpacks
Are survival backpacks necessary?
Survival backpacks are necessary for sure. They are often used by people that live in areas where a lot of things could happen like hurricanes or wildfires. These backpacks are needed for emergencies and they can take up little space in your house.
What items should I have in my survival backpack?
There are a lot of different items that you need to have in your survival backpack. Among the most important are food and water, emergency medical supplies, tools for communicating to others, and things that will help you start a fire.
What is the most important survival item?
The most important survival item is a small fire starter. This is because you can never know when you will need to start a fire and it's very difficult to do in the wild, even when you have some prior experience.
How should I pack my survival gear?
A good way to pack your survival gear is to think about what you will be doing or what the situation is of the area. If you're in a place where there are wildfires or hurricanes, for example, then most of your equipment should have some sort of water-proofing. If you're in a place where there's earthquakes, then you would want to include an extra first aid because you know that people are going to get hurt.
The most basic equipment needed would be a flashlight and some water-proof matches or something similar. A knife is also very important when packing survival gear especially if it has a compass on it. Everyone should have a whistle as well even kids because it will help them signal for help if needed.