Back in 1953, when Sir Edmund Hillary and Tenzing Norgay first scaled the world's highest peak, they were packing wooden handled ice axes, heavy steel crampons and military-style woolen clothing.
By contrast, today's equipment and apparel puts that to shame, with the advancement of some seriously impressive and potentially life-saving technologies.
While we didn't make an attempt to summit Mount Everest when we Trekked to Everest Base Camp (perhaps one for the future), we still needed some top-quality gear to see us through on our dream-come-true Everest Base Camp trek. And if you're considering following in our footsteps – you'll need it too.
Aside from that, this 12-day EBC trek is a tough and challenging ascent to potentially dangerous altitudes, albeit through some of the most stunning scenery on earth.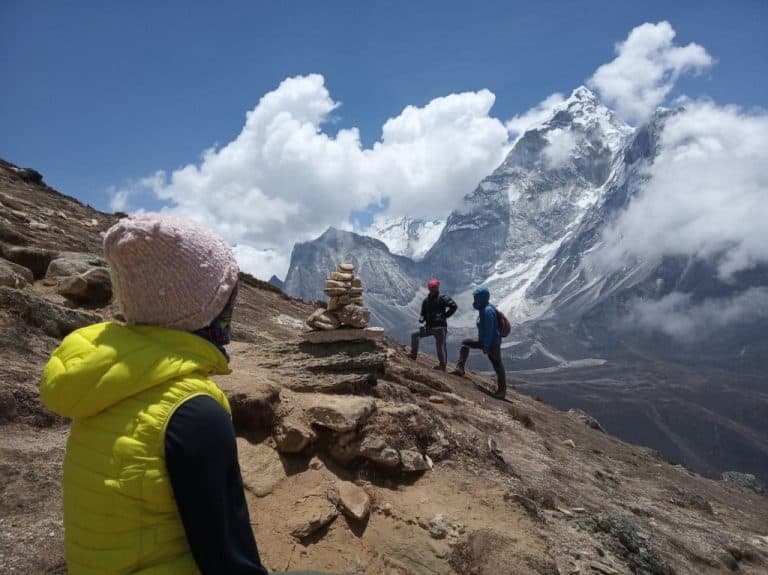 You'll need to be of sound body and mind to attempt it, so in this article we'll explore useful training tips to get you in shape, while outlining all the kit that is essential for making the empowering journey to the steps to heaven.
Also, feel free to check out Lydia's guide to preparing for high altitude trekking in the Himalayas.
Assumptions About Your EBC Trek
What do you immediately think of when you imagine the Everest Base Camp trek?
Is it that you need to be insanely fit to undertake it?
Perhaps that it'll be mind-numbingly freezing every step of the way?
Maybe you've heard horrifying stories of people secumbing to altitude sickness or exposure?
Alternatively, you might be one of those people who thinks it'll be a breeze and you could do it in your sleep (like I did)!
Whatever you know or you think you know, it's always advisable to prepare for the worst case scenario. While it's true you need to be in good shape, you don't need to overdo it.
It's when you're actually attempting the summit that you should be borderline Olympian.
It is going to be cold, but so long as you have the right gear – you'll handle it like a boss. We'll take a look at how to deal with altitude sickness later, as the Everest Base Camp trek is anything but a breeze and still demands respect and detailed preparation. Let's take a look at what you should be packing.
EBC Trek Apparel
Below you'll find essential apparel you'll need to gather before you set off on your Everest Base Camp adventure. Bear in mind that it is possible to buy or rent this equipment once you reach Kathmandu and in Namche Bazaar, but the quality and price can vary. It's handy if you forget something, but even at the expense of traveling light, you probably should bring your own gear with you.
Underwear
You'll no doubt get to know and love the term 'wicking' when you're preparing for your Everest Base Camp trek. All your apparel needs to be breathable and allow moisture away from your skin. Obtaining clothing with this feature is a must – perhaps no more so than with your hiking underwear. Nobody likes chafing. Look to pack 3-5 pairs max. Disposable underwear is a way to go if you want to wear a clean pair every day.
Hiking Socks
Don't, whatever you do, pack cotton socks. You'll be riddled with blisters. Instead, go with something more breathable with added cushioning. Anti-odor socks are a good idea too, and pack a thermal pair for when the temperature really drops just to be comfortable. Around 5-7 pairs will do great.
Base Layer
Wicking is very important when it comes to clothing that is close to the skin, which is exactly what your base layer will be. This will include both a top and bottom, and sets are often available. It's important that airflow is restricted to keep you warm, while you won't be soaking with sweat inside the first ten minutes. All-in-one body suits are also an option if that's what you would prefer.
Trekking Tops
Once again, cotton is a no-no when it comes to choosing your lightweight trekking top. You should be looking to pack around 2-3 of these, making sure that they are breathable. Wicking, as ever, is key.
Hiking Pants
Good quality hiking pants (and possibly shorts) are a must for your Everest Base Camp trek. You could probably do it with one pair, but having a backup can help (if you don't mind carrying the extra weight). Look for something that's versatile, as there are various products targeted at different seasons and conditions. Tactical, multi-pocket apparel is also really useful.
Insulation Layer
Your insulated layer can be made from a variety of different materials, so long as it keeps you warm with good breathability. You can choose from either down, synthetic or fleece, all with their own advantages and disadvantages – which means it will usually just come down to personal preference. Fleece lined, thermal leggings are also a good idea.
Outer Layer
Your final layer should be heavy duty gear, capable of withstanding whatever the elements decide to throw at you. Unfortunately, you'll likely need to spend a little more in this department – especially if you want something that is going to do the job with any longevity. Don't forget you'll need the bottom half, too.
Check the weather forecast for when you're going. In case of my EBC trek – I used this layer only once and would honestly survive without it, but it made a huge difference in weight of the backpack).
Waterproofing
Even more so than your heavier outer layers it's worth having a lightweight rain jacket and pants for emergencies – which will be useful in sudden downpours at lower altitudes or if the temperature is on the warmer side. Same goes for what you carry – go for a waterproof backpack. If you have a porter, and you'd like to make sure the stuff he carries for you stays dry, make sure you give him your things in a waterproof duffel bag.
Trekking Boots
Your new best friend will undoubtedly be your footwear, which should be a mid-to-lightweight hiking boot with excellent support. Make sure they actually fit you correctly before making a purchase just because you like the color. The inability to try before you buy is one of the major downsides of online shopping…
Please make sure your shoes are waterproof – you don't want to get blisters because there was a bit of rain.
Gloves
A pair of good quality gloves will be essential once you start feeling the chill. They should protect you not only from the cold but also the elements (sun, wind, and rain).
Sunglasses
Don't forget the sunglasses. That big ball of fire in the sky can cause all kinds of problems at high altitudes in thin air. The glare off the snow will be blinding – so protecting your peepers is paramount. Invest in good quality products – dollar sunglasses will not be up to the job at these heights.
Hat
While not looking super trendy, a sun hat is a must! It will protect your head and neck from burning and keeping you awake at night. Also, get yourself a beanie or equivalently warm article of headgear to keep the heat from escaping from the top of your bonce.
Knee Guards
Invaluable! There are days when I walk around a city for a bit and my knees start to hurt. What would happen on the EBC trek if I didn't have the knee guards? I don't even want to think about it. If you have a slightest knee problem, or want to make sure you don't develop one, do get yourself a pair of knee guards for this trip.
To get to the Everest Base Camp, you'll be doing around 35,000 steps a day. Make sure to pay attention to your walking so that you don't develop an injury.
Mouth cover
A scarf, face/head/neckband, or balaclava is something I found to be of utmost importance – especially on the dusty Everest trek routes, and when the wind is whipping up at freezing temperatures. Throughout the trek, you should keep your moth covered otherwise you'll sneeze like crazy.
EBC Trekking Gear
There's still so much more you'll need if you're going to complete the Everest Base Camp trek safely and in as much comfort as possible.
Below you'll find a list of extremely useful items that you're also likely to be in need of on your Everest hike. Once again, you will be able to pick most of this gear up in Kathmandu or Namche Bazaar (which is ideal if you want to travel light), but prices will vary and can often be of poorer quality compared to what you will pay.
Water containers
You're not going to get very far if you can't stay hydrated, so a water bottle or pouch is an absolute must. You should have one of these anyway – there's no excuse for buying plastic bottles of water when you can carry a reusable one. Consider looking at a backpack with a hydration bladder if you want to remain on the go.
You should carry containers that can take a minimum of 3 liters of water.
Backpack
Which brings us nicely to whatever you're going to carry all your gear in. The right trekking backpack will be another of your best friends while on the Everest trek – so make sure you invest in something that is durable but lightweight, and that has the capacity to hold all your stuff. Look for something between 35-65 liters – you shouldn't need anything more than that.
A great idea is to bring along a solar backpack. Electricity up there is scarce, and so it would be good for your electronics if you could generate it yourself.
Trekking Poles
Trekking poles are not essential but they can mean the world of a difference, especially if you're a little unsure on your feet. They significantly reduce the stress and pressure on your knees, too – rather handy if you happen to be climbing to the base of the highest mountain in the world. They're a godsend coming back down, too.
Headlamp
This will be essential for your early morning start on the hike to Kala Patthar during the last leg. It'll also be highly useful whenever it's dark – which does happen from time to time. Great as a potential signalling safety device, too.
Sunscreen and Lip Balm
At these altitudes, you're asking for trouble if you don't protect your skin. Make sure you get a high factor (50+) – you're not up here to tan. We have packed too little sunscreen and suffered for this…
Toiletries
Invest in a sturdy, good quality toiletry/wash bag to keep all your usual doings in. And only take the essentials – you're not going to need several bottles of that expensive fragrance.
Showers are a luxury most don't enjoy every day on the trek – and even when you do get a chance – the water is lukewarm at best. So here are the items we recommend in your toiletry bag:
Toiletries Bag Content:
Toothbrush,
toothpaste,
toilet paper,
baby wipes (plenty, that's your shower most of the nights), hand sanitizer,
3 x tiny shampoo and shower gel packets,
(for men) razor if you want a clean shave look at the top, but it will probably take away the image of the difficulties you had to go through to get there,
(for women) feminine wipes, sanitary pads/napkins,
muscle rub (great to use just after washing up in the evening),
and any personal hygiene products you require should be plentiful.
Camera
It's not essential, but you're probably going to want to snap a few photographs of the outstanding scenery you're going to experience on the Everest trek. Group shots with new friends having accomplished the mission are always nice keepsakes for years to come. Something lightweight and compact is all you need – unless you're wanting to take pro shots of course.
Alternatively, you can take a hiking drone. It has an added benefit of taking photos of you and your group from the angles that otherwise would be impossible to capture. However, do not forget to obtain the UAV flying permit as flying a drone without permission is considered a serious crime in Nepal. Visit the official website for more details.
Towel
What gets wet must also get dry. A small trekking towel will come in very handy.
Ziplock Bags
Important documents, passports and cash are very susceptible to extremities. Keep them safely protected in waterproof bags. Useful for electrical items, too.
Medications
Nobody will remember these for you – it's up to you to ensure you pack any important medications you might need along the way. Make sure you pack altitude sickness pills!
Water Purification Tablets
There is a huge problem in Nepal with plastic waste. Don't add to it. Make sure you take enough water purification tablets with you to cover the amount of water you're going to drink. 2 x 50 tablets should do the trick.
An even better idea would be to take along a water bottle with a filter.
Book/Playing Cards
There'll be downtime where you'll want to relax or keep yourself entertained. A good book and a deck of playing cards will do both. However, don't stress about this too much if you don't want to carry these or forgot to pack them. Unlike what you probably think, you want have that much time to relax – you'll be too tired and cold for that.
Energy Bars/Electrolyte Drinks
If you're going on a tour, your guide will be responsible for making sure you're well fed and watered en route, but it certainly doesn't hurt to have some snacks thrown in for good measure. Effervescent tablets or powders are also great to boost your energy levels. At the very least, they'll make the water taste nicer. Pick all this up in Kathmandu or before – it gets expensive the higher you climb.
Ear Plugs and Eye Mask
Sleep is your friend and is never more necessary than when you're putting your body through its paces. Even if you're not a light sleeper, having a bit of extra help to reach the land of nod will be a very wise decision.
Sleeping Accessories for EBC Trek
Now, I'm not talking about an eye mask and ear plugs here (although they have their place). More so what you're actually going to be sleeping in. Hiring options, when it comes to sleeping bags will often have questionable hygiene, so if you 'd much rather sleep in your own cot than someone else's, you will need to carry it all the way up.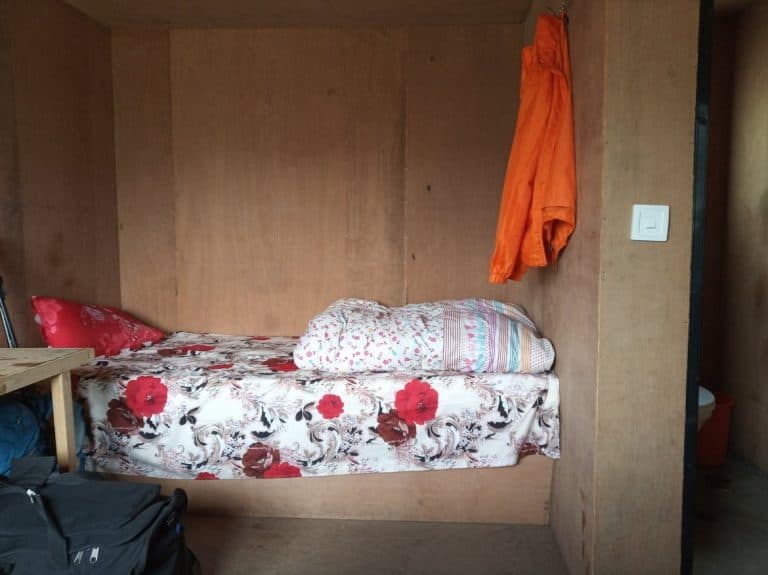 You could always bring a sleeping bag liner for peace of mind and extra warmth, which is something I would recommend. Unless you're going in the peak of the season, most accommodations will be able to provide you with extra covers. However, carrying a sleeping bag that is warm enough for the weather will add several precious kilograms to your weight.
in case you decide to buy your own sleeping bag, Trekking Everest gets cold. Really cold. As such, you'll want to opt for a down-lined sleeping bag. Sure, it's fine to go for synthetics (they are generally easier on the wallet), but you'll be more comfortable and enjoy a better night's sleep if you invest in duck or goose feather. At the very least, it should be rated to 0 degrees Fahrenheit, otherwise, you might find you're missing fingers and toes in the morning, or worse – you've not even slept at all.
EBC Trek Emergency Equipment
Even with the best will in the world, sometimes mishaps and accidents do happen. Unfortunately, undertaking the challenge of the Everest Base Camp trek does bring with it more risk, so it certainly doesn't hurt to come prepared with a few essential items for use in an emergency.
Your tour guide will most likely have a first aid kit, but it's well worth carry a backup just in case. You can get some well stocked travel first aid kits today that won't break the bank or take up too much space. Adding some basic survival tools like a signal mirror and multi-use knife is also a sound idea. You can never be too careful when out trekking in Nepal. Or anywhere for that matter.
A rescue whistle is a wise addition to your kit (often part of a tactical backpack) as it takes up very little space and could easily save lives. If you need to attract attention for whatever reason, having one of these powerful little ear-busters could really make the difference. Also useful for waking up your mate in the morning.
Insurance for Everest Base Camp Trek
It might surprise you (or then again it might not) to discover that obtaining insurance when you're trekking above a certain altitude (3,000 or 4,500 m) is actually not as straightforward as one would hope. Many companies are reluctant to cover such intrepid adventuring as the risk becomes significantly greater. There's no cutting corners here, remember, it is absolutely essential that you're covered before you even strap on a boot.
In my personal experience, World Nomads is the best cover for such an endeavor – as long as you select the Explorer Plan. It covers you then up to 6,000 m. Here's more details on the kind of cover you can expect from them.
There are other options out there worth checking out. Just make sure that you're covered to the height you'll be climbing to, and that helicopter rescue is also included if the worst comes to the worst. Always read the small print, folks – it could save you a fortune and, more importantly, it could save your life.
How to Prepare for the Everest Base Camp Trek
You don't have to be a mountaineer to experience this incredible trek, but as previously mentioned, it helps that you're in good shape and have a decent level of fitness at the very least. Even so, it's not to be taken lightly and deserves time and effort to condition your mind and body in preparation for the challenge. The second you start to play fast and loose with this level of outdoor adventure, is the second you could seriously injure yourself and/or others.
The first thing you're going to want to do is ensure you have all the right gear. You might already have noticed I've made this easy for you with my packing list above. It's very important that you have all the essential equipment and apparel, as doing a half-arsed or lazy job of it could have dangerous repercussions. If you're fully kitted out it will give you peace of mind. If you're anything like me, you'll also get a massive kick out of using your new gear for the first time, which really spurs you on to get started on the trek.
And make sure you've broken your hiking boots in if you haven't already. Starting the trek with brand new shoes is likely to lead you right to blister city.
Education is also key. Read. Lots. Open yourself up to as many accounts of the Everest Base Camp trek as you can possibly get your hands, ears and eyes on. Check out travel blogs from people who have already done it. Watch videos and documentaries on the trek and climb – it'll arm you with useful knowledge and get you excited in equal measure. Make sure you know what to expect on every leg – and you'll be in a great position to deal with anything Nepal throws at you.
Training and Exercises Before EBC Trek
It is entirely possible to do the trek to the base of Everest without lifting a finger beforehand, but I wouldn't recommend it – and nor would 99.9% of hikers, Sherpas and guides that are the real pros at this sort of thing. It's important to get your body ready for the physical exertion you're going to face – and that means a solid training program to get the blood pumping.
Hiking practice is probably the best way to prepare for the base camp journey, because that's exactly what you're going to be doing. When training for any long-distance trek, many hikers will simply fill a backpack with weights and walk around their neighborhood. Obviously, it's much better if you have access to mountains and countryside, so get into the great outdoors as much as possible pre trek. Try to find a local hike that will take you five to six hours to accomplish and is predominately uphill. Replicating the Everest conditions as closely as possible is ideal training for anyone interested in the base camp trek.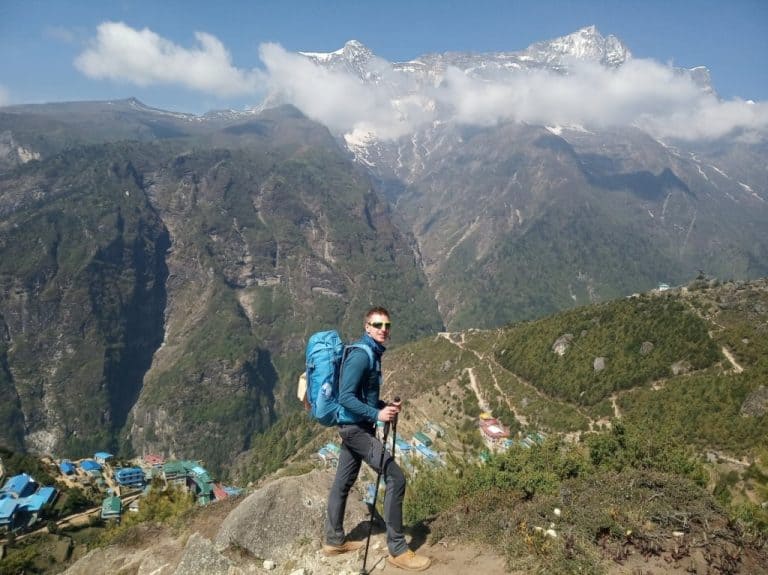 Cardio is key. Set yourself a training program that involves a repetition of sets either swimming, rowing, running or cycling. If you lack the motivation or need an extra kick up the butt – get yourself a personal trainer or partner to yell at you to push further. Start slowly and build to working out for greater distances and longer periods of time. Your 20 minute cycle one week should be up to 30 minutes the next. Just make sure you start all your hard work in plenty of time if you're not already in good shape. Aim for a minimum of three months before you travel to hit the aerobics hard.
Strength training will build your core muscle group and help with endurance and stamina. Both of which you're going to need by the bucket load if you want to succeed on this trek. Check out interval weight training at a local gym – it's easily the best way to focus on and develop the muscles that will push you to the top. Do sets of reps that will pay attention to your legs, arms, torso and shoulders – all of which will be taking a lot of punishment on the hike.
So long as you're maintaining proper technique throughout a regular program, you'll be doing wonders for your physical and mental ability to tackle the challenge ahead. There's a strong chance you'll look great, too!
How to Avoid Altitude Sickness
Perhaps one of the biggest fears for anyone contemplating the Everest Base Camp trek, is the threat of altitude sickness. It occurs when the body hasn't acclimatized properly to high altitudes, and can pose a significant and potentially deadly health risk if not controlled or treated correctly. That being said, prevention is far better than cure, and with the right techniques, education and awareness, it will not be a problem for you. Follow the bullet points below to keep yourself out of harm's way.
Climb at a Slow Pace
There's no need to rush. Don't be afraid to notify your guide if you need to slow down or take regular breaks. There's no shame in it – better to be safe than sorry.
Time to Acclimatize
Similar to the above point, one of the biggest causes of altitude sickness is going too high too fast. Give your body time to adjust on your trek. Any good trekking company will factor this in, but if you need more time, make sure you speak up.
Drink Plenty of Water
Stay as hydrated as possible on your trek at all times.
Drink Garlic Soup Daily
Garlic helps prevent altitude sickness. Hence, you'll find the garlic soup on a menu in every single eatery along the way to the top of the world. Moreover, nearly every dish will have some garlic added to it for a good measure.
If you're not into garlic, try to buy garlic pills in Kathmandu. They'll give you similar results without the taste.
Don't Drink Alcohol
Booze and cigarettes aren't good for you at the best of times. Try to avoid them during your hike to Everest.
Snack Regularly
Pack those extra carbs in – you'll soon be walking them off. Energy bars, fruit, grains, chocolate, veggies…it's all good.
Climb High – Sleep Low
A famous saying in climbing circles. You should climb as high as you can and then head back down before you sleep. And never go to bed if you're feeling ill or the effects of a headache. It's important to leave the thinner air behind before getting some shut-eye.
Don't Push Yourself Too Hard
You see that big mountain? It's been there for thousands of years. It'll be there when you're healthy and ready to conquer it. Don't ever push yourself to exhaustion. Know your limits, and if you're not feeling well, don't be too proud to say you can't make it. Save it for another day – it's not going anywhere.