If you are constantly on the go, whether hiking, cycling, or enjoying long walks, stopping now and then to sip on some water may slow you down or even frustrate you. The hydration bladder for backpacking can be a useful companion in such times to keep you refreshed effortlessly on the go.
Hydration bladders go hand in hand with compatible backpacks that feature an insulated sleeve or pocket for the reservoir. I hope this article provides you with all the necessary information to help you get one for your next adventure.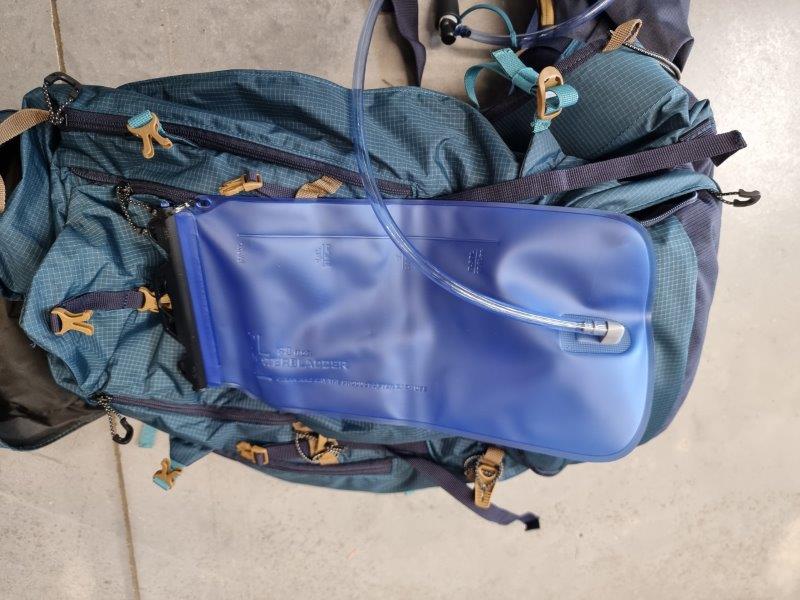 What is the Best Hydration Bladder for Backpacking?
We have compiled for you the top 5 Best Hydration Bladder for Backpacking in 2023. In this article we go through the products that we have used ourselves, checked what other users thought about them and we ranked them accordingly.
With years of experience with backpacking water bladders and having used several hydration bladders for backpacking you can trust our review.
Moreover, you can scroll to the end of this review to see our mini buying guide as well as the answers to some of the frequently asked questions about hydration bladders for backpacking.
Verdict
To summarize, we have gone through dozens of hydration bladders for backpacking and decided that 5 are worth your consideration. Out of these, the absolute Best Hydration Bladder for Backpacking is Hydrapak Shape-Shift Reservoir which we highly recommend as our overall best.
If money is not an issue, you can consider Hydrapak Force Ultra Hydration Bladder as this is our Premium Pick.
Otherwise, there's no shame in spending prudently, Unigear Hydration Bladder Reservoir is the Budget Option.
Our other reviews you may find useful in your research:
What You Should Know Before Buying hydration bladders for backpacking
Weight and Compatibility
If you are an ultralight hiker, then you would know that every ounce counts. Water bladders weigh differently depending on their construction, and it is not uncommon to find a 2L unit that weighs more than a 3L one. Water reservoirs that weigh below 250g may be a good bet because they can deliver a decent balance between weight and quality.
Hole Opening
It is important to note that the ease of filling or even cleaning a hydration bladder will depend on the type and size of the hole opening. I recommend the fold top design as it is the most convenient. It is a wide opening that allows you to fill in the bladder quickly, and you can also easily clean it by flipping it inside out. Zip top bladders are also popular but may give you a more challenging time cleaning since they cannot flip inside out. The snap cap closure is also a typical design, but it also does not allow for easy cleaning.
Ability to Replace Components
As you buy your reservoir, ensure that the components are readily available in the market. Also, consider if the manufacturer provides accessories such as cleaning kits and tube insulators for cold weather. It will ensure that you can easily replace the parts and maintain your unit.
What are the key benefits of hydration bladders over water bottles?
With a hydration bladder, you can access water easily without having to stop or slow down like you would when using a water bottle.
Space: Unlike water bottles, hydration bladders mold into any space and reduce in size as they empty thus saving space in your hiking backpack. Alternatively, you can consider a collapsible water bottle.
Weight: Hydration bladders tend to be lighter than water bottles of the same capacity.
Questions and Answers About hydration bladders for backpacking
What is the best capacity hydration bladder for backpacking?
Depending on how long you are on the move, I recommend that you get a bladder with sufficient capacity to sustain you until the next time you can refill. However, the 3L reservoir gives you most versatility because you can fill it halfway for short hikes or to full capacity when you need more water.
Can you put ice in a hydration bladder?
If the hole opening is large enough, you can add ice cubes to your hydration bladder. However, adding too much ice may cause your bladder to freeze, so I recommend just filling it halfway with ice. If the hole opening is too small, you can opt to toss your reservoir in the freezer, but make sure to remove it before it gets frozen.
How do I clean my hydration bladder?
Bacteria and mold can easily grow in your hydration bladder and proper cleaning is therefore vital. Wash your hydration pack with warm water and soap or baking soda. For complete cleaning, you may leave the cleaning solution in the bladder for about 30 minutes. The brushes included in cleaning kits are great for cleaning out the tubes. You might want to go a step further and use a sterilising solution on your reservoir and tubes. It is extremely important that you allow your hydration bladder to dry sufficiently as moisture provides the perfect breeding environment for bacteria and mold.
How do I get the plastic taste out of my hydration bladder?
Cleaning agents such as soap and baking soda may help get the plastic taste out if you soak for a few hours or overnight. Another popular method is to use a combination of baking soda and lemon or lime juice. In this method, use two tablespoons of baking soda and two cups of lemon juice for every liter of water until the hydration bladder is full. Let the mixture sit for at least a few hours or overnight for maximum effect.