Have you ever been scared to take off your shoes around people because you don't know if doing so will clear the room with the odor from your shoe? Are your feet constantly sweaty and uncomfortable? A simple solution is to buy any of the socks for sweaty feet available today.
What are the Best Socks for Sweaty Feet?
We could say that we traveled the world to find for you the Best Socks for Sweaty Feet and it's partially true – we've been on the road since 2011 after all.
More importantly, we have done a very thorough research online and have gone through most of the available anti odor socks that you can buy today. We read the comments left by people who bought and used these socks for sweaty feet.
We also wrote a brief socks for sweaty feet Buying Guide and FAQ sections to address most questions you may have.
Without further ado, here's the list of top 8 anti odor socks based on their pricing, specs and ratings by real users.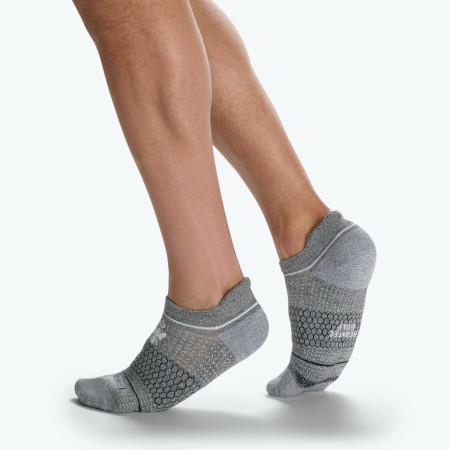 Getting Bombas Men's Merino Wool Golf Ankle Socks might probably be the best thing you can do for your feet, especially if you're struggling with keeping them dry.
Designed with majority merino wool, which has natural moisture-wicking properties, and with "stay-up technology" Bombas socks allow you to not worry about your feet getting sweaty and/or the socks slipping down your ankles.
The biggest downside to these is the extra care you need to devote to the socks' maintenance. They should be hand washed.
The reason why we place Bombas socks at the very top of our list is that they donate a pair of socks to the homeless for every pair that is purchased. This is something we so strongly support here at Etramping that we can't emphasise this enough.
Pros
For each pair purchased, another one is donated to homeless people,
The breathable design combined with merino wool combats the problem of sweaty feet,
Very comfortable to wear and not slip down your ankles,
Blister-proof for extra comfort when wearing for a long time
Cons
Must be hand washed for the best durability
Paka's socks feature a cozy triple sole padding, compression arch, and ventilation mesh. The comfortable design and superior thermal-regulating and moisture-wicking qualities of alpaca fiber make these cuddly socks a snug treat for your feet.
The socks natural thermoregulating technology comes from tiny air pockets in the alpaca fiber that trap heat and strengthen the pair's breathability – keeping you warm when chilly and cool when balmy.
Most importantly, the socks' precise craftsmanship and alpaca fiber's natural properties don't allow bacteria to build up. You can go for days wearing them without foot odor. Afterward, put them in a washer on cold to protect the natural fiber.
Paka Apparel's Alpaca Socks are perfect for a lazy lounge or an adventure day out.
Pros
Moisture wicking,
Soft and light,
Odor resistant,
Five pastel colors
Cons
No small variant for 5-8 shoe size,
Attracts lint in washer and dryer
Perfect for athletic sessions and activewear, the Saucony Bolt Performance Socks are high-performance socks with moisture-wicking properties that keep your feet dry and fresh all day long. They are made from ultra-wicking fibers that transport moisture from your feet while the mesh ventilation areas increase the flow of air and to keep your feet dry and cool in any condition. They are engineered with arc compression to keep your feet stable and secure during activities. The arch support also prevents bunching and slipping of socks. It has a light cushion that keeps your feet supported and reduces friction, thereby protecting your feet from blisters without the bulk. Looking for the best budget buy? The Saucony Bolt Performance Socks fits the bill and you get 6 pairs for each buy.
Pros
Ankle support for comfort,
Air-mesh ventilation for improved airflow to keep your feet cool,
Arc support for fit, preventing bunching and slipping,
Moisture-wicking to reduce blisters
The Dickies Men's Dri-tech Moisture Control Quarter Socks Multipack come in a pack of 10 pairs and they are thick enough to keep your feet warm while not allowing to get sweaty with moisture control fibers.
The sole is heavily cushioned to provide added support to your feet and keep you feeling relaxed. The socks have a reinforced heel and toe for durability and ribbed cuffs that prevent bunching. It is infused with spandex for a stretchy feel. It is great for sweaty feet as it wicks moisture. It is also ideal for active use as they keep your feet comfortable for long. However, as most wicking socks, they may shrink after a few warm washes.
Pros
Keeps feet dry with moisture control fibers,
Cushioned heel for comfort,
Infused with elastic for stretch and a snug fit,
Breathable with ventilation zones to keep your feet dry,
Has reinforced heel and toe for support during activewear,
Thick enough to provide warmth in a cold environment
Cons
It may shrink after a few washes,
Actual sizing may differ from displayed size
The Under Armour Adult Charged Cotton 2.0 Crew Socks are great for activewear and will hold up during your fitness sessions. The socks have a soft feel and are strategically cushioned to provide comfort and be flexible without extra bulk.
Each sock has moisture-wicking properties that move moisture from your feet and is quick drying. It also has an anti-odor technology that prevents your feet from smelling after a long day of activewear.
It has a precise heel pocket for improved fit and the dynamic arc support helps to reduce friction and foot fatigue during wear. It comes with an elastic ribbed cuff that keeps the sock from bunching and piling.
Pros
Leaves no elastic marks on the legs,
Do not shrink after washing,
Soft cotton feel for extra comfort,
Nicely-fitting across all sizes,
Very light, thus fit for summer and daily use,
Long enough to protect from abrasion by boots, Retain brightness after wash cycles,
Arch support reduces pressure on the toes
Cons
Feels tight for those with wide feet,
Less padding can make them uncomfortable
Most wicking socks tend to be a little tight for those with wide feet due to the extra padding in them. However, despite the heavy cushioning, Enerwear Low Cut Socks comfortably fit wide feet without making the shoes feel tight. So if an XL from Enerwear still feels tight, you can get a pack from Dickies Dri-Tech Mens Socks instead. The fabric Enerwear uses is highly breathable and thick at the same time, making them ideal for both warm and hot seasons. They are also reinforced on the heel and toe to offer extra support during long hours of trekking. The fabric features a blend of cotton and polyester that could be more durable than other materials. If you want extra cushioning on the heel and toe, Enerwear does it very well.
Pros
Comfortable for wide feet,
Well cushioned and soft to the touch,
Reinforced heel and toe for durability,
Low-cut design for hiking sneakers, Retains size after several wash cycles,
Highly breathable while warm at the same time,
Affordable pack of 10 pairs
Cons
Hot wash and high temperature drying may shrink them,
The spandex may be too tight around the ankle area,
White socks lose elasticity with bleach
The Saucony Anti-Sweat Socks are perfectly knitted with soft ultra-wicking fibers to manage moisture. These fibers perform the task of moisture control by moving sweat away from your feet, keeping your feet fresh after a long day. The socks also have air mesh vent constructions on the top that allow for the maximum circulation of air. These keep your feet dry and cool in any condition. The arch compression feature engineered into the socks keeps your feet stable and secure, preventing bunching and slippage. For cushioning, the socks use a light cushion that protects against impact and friction without taking up a lot of space inside your shoes. This also helps to prevent blisters and athlete's feet.
Pros
Made from ultra-wicking, odor-resistant fibers for superior comfort,
Airmesh ventilation areas for breathability,
Padding bottom and thin top keeps you comfortable,
They are no-show socks,
Lightweight and do not take up room in the shoe
Cons
It may be a bit tight around the toes
The Copper Infused Athletic Ankle Quarter Socks is one of the best anti-odor socks available today. As its name suggests, the socks are infused with copper ions to naturally protect against sweat and keep your feet fresh. This also helps to wick moisture and prevent smelly feet.
The socks have a soft and comfortable feel that is smooth on the feet. It maintains a balance between thinness and thickness, making it ideal to wear in any situation. For breathability, these socks come with a mesh venting blend for improved airflow, keeping your feet cool. The total coverage of the foot loop also improves foot performance and makes it easy to stay on your feet for long.
Pros
Copper ion-infused to eliminate sweat and keep your feet dry,
Anti-odor to keep your feet fresh,
Foot loop completely covers the feet to prevent friction,
Perfect for all-season wear as they are not too thin or too thick
Cons
The toe area wears out after some use,
It has a smaller amount of cushioning
Verdict
TLDR: Quick summary of our findings as to what can be considered the Best Socks for Sweaty Feet is below:
Overall best pair of socks for sweaty feet out there: Bombas Men's Merino Wool Golf Ankle Socks
Premium Pick if money is not much of an issue: PAKA Apparel Alpaca x Bamboo Socks
Budget Choice – there's no shame in spending prudently: Saucony Bolt Performance Socks
Our other reviews you may find useful in your research:
What You Should Know Before Buying socks for sweaty feet
What to look for in socks for sweaty feet
If you struggle with sweaty feet, the major thing to look out for is the sock material. This is because the moisture-wicking performance of materials varies and some materials make you sweat more than others.
For example, socks made from cotton, nylon, or polyester fabrics are not typically breathable, do not wick moisture very well, and often retain heat. This provides a breeding ground for bacteria and odor. Additionally, you can look out for socks with some support and arch compression. This is important if you use socks for work or you are an athlete because the extra cushion keeps your feet safe while the compression prevents bunching.
What is the best material for socks to prevent stinky feet
The best socks for stinky feet are made from materials with source fibers that draw moisture from the skin surface and allow it to evaporate. This keeps your feet dry, fresh, and comfortable. The best material for socks to prevent stinky feet is Merino wool. It is made from soft fibers that are lightweight and have antimicrobial properties that fight odor-causing bacteria. It is also a natural alternative and it has stood the test of time.
Merino wool also has insulating properties that help to keep your feet warm in cold environments and cold in hot areas. It is breathable as it allows an increased flow of air. Also, it absorbs up to 30% of moisture without feeling soggy or uncomfortable.
What is the best height for socks to prevent the sweaty odor
The best height for anti-odor socks depends on what you need. If you are often in areas with debris, getting a higher pair of socks is advised as they shield your lower leg from debris while getting low-cut socks may be best if you are in a hot climate.
Questions and Answers About socks for sweaty feet
What causes smelly feet?
Smelly feet are primarily caused by the build-up of sweat, resulting in the growth of bacteria on the skin of the feet. Fungal infections like athlete's foot can also cause the buildup of odor.
How do I stop my feet from sweating in shoes?
To prevent your feet from sweating in shoes, make sure to keep your feet dry, neat and clean at all times by washing them daily with an antibacterial soap. You can also apply solutions like cornstarch or using an antibacterial cream before wearing moisture-wicking socks. I recommend changing your shoes daily to allow complete drying between wears.
Do certain socks make feet stink?
Yes, socks made from materials that are not breathable or moisture-wicking make your feet stink. Such materials include cotton and synthetic fibers like nylon, plastic, and polyester.