Cozumel is the jewel of the Riviera Maya. This teardrop-shaped island sits only 12-miles off the coast of Playa Del Carmen, but it feels like you are worlds away.
Gone is the hustle and bustle of a busy Mexican city, and, in its place, you'll find a taste of the Caribbean and some of the best diving in the world.
We're sharing our best four-day / three-night itinerary for this tropical paradise.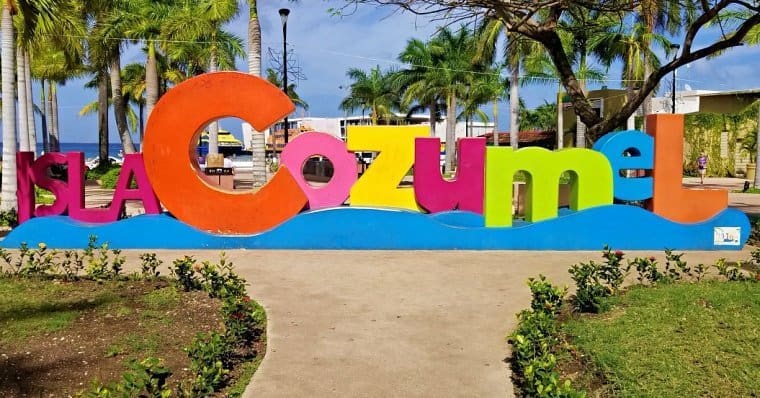 Why Dive in Cozumel
Cozumel is a world-class dive destination off the coast of Mexico's Yucatan Peninsula. It's a 30-mile long, teardrop-shaped island that sits in a massive ocean current, which forms enormous coral reefs (the 2nd largest in the world) and pumps crystal clear water up to the surface.
You'll get long drift dives that carry you along towering coral walls with 100+ feet of visibility. Sometimes, you float out over the void and see the ocean floor drop out beneath you. Other times, you can swim through caves and structures on the coral reef. The dive sites are in a protected sanctuary, so the fish are large and plentiful. If you have your buoyancy dialed in, you're going to love diving in Cozumel.
How to Get to Cozumel?
You can fly directly into Cozumel from the international airport on the north end of the island. Flights into Cozumel are reasonable from the US, often in the $400 price range.
If you're looking for a more extensive Riviera Maya adventure, consider flying into Cancun. Tickets there will be about $50-$100 less than Cozumel, often with direct flights. You can easily take the Ado bus from the airport to Playa Del Carmen for about 200 pesos, and the ferry from Playa to Cozumel for about $22. Both legs are comfortable and take about an hour.
Whether you fly into Cozumel or fly into Cancun, then take the bus and ferry, you end up spending about the same amount of money. It's only worth it if you're extending your trip on the Yucatan Peninsula. Even then, you might look into flying into Cozumel and departing from Cancun.
However, there are other more local transport options into Cozumel if you'd like to save money. We also wrote a guide on transport option between nearby cities.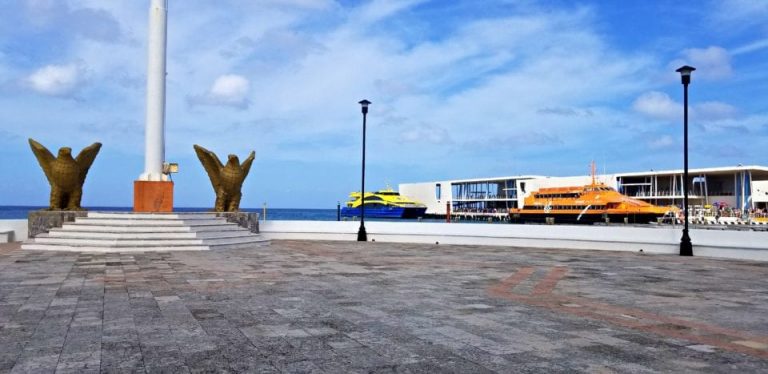 How Do You Get Around Cozumel?
You can rent a car from the Cozumel airport, which isn't a bad option. Kayak offers rentals starting at $5/ day, but they are going to ask you for an insurance package. It is possible to use your credit card to provide car insurance, which is a benefit some cards offer.
If you're taking a taxi, the charges start to add up quickly. Taxi rates in Cozumel are first calculated by group size, where a party of 1-4 people pays the same price, and it goes up from there. They also charge separately every time they cross through downtown. You usually pay about $10-$15 traveling from one end of the tourist zone into the city center, and about that much again if you go to the other side of the island — all the more reason to get a rental car.
Where Should Divers Stay in Cozumel?
There are a couple of considerations for divers staying in Cozumel. Does the dive shop you work with operate out of a particular hotel, or stop at the hotel pier? Also, is there shore diving available from your hotel?
In the map below you can quickly check out available accommodation options in Cozumel.
Shore diving in Cozumel took a beating with recent hurricanes, so let's focus on where dive companies can pick you up. We loved diving with Scuba Life Cozumel. Not only are they friendly and professional, they also have top quality gear. It's no wonder they are ranked #1 on TripAdvisor with over 800 five-star ratings! What's more, they pick up at the top dive hotels in Cozumel.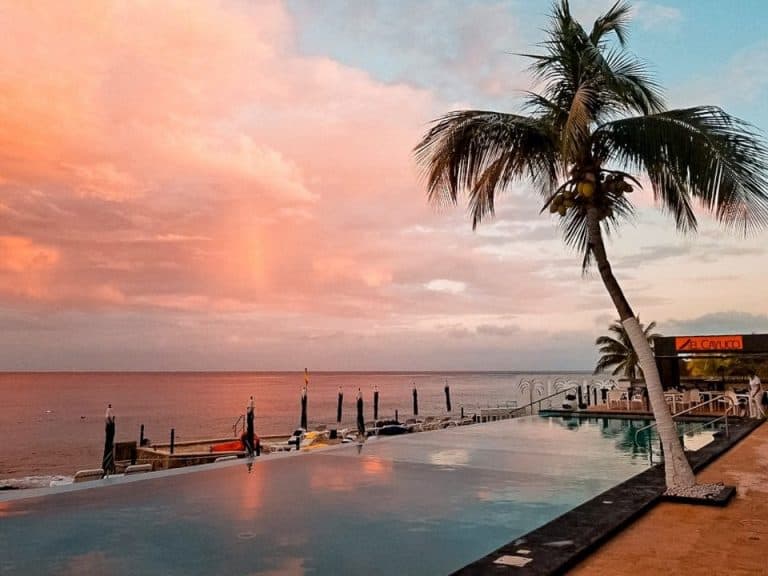 Day 1 – Relax at Your Beachfront Hotel
You've flown into the Cozumel International Airport and navigated to your beachfront hotel. Now it's time to relax and enjoy the amenities, responsibly. Remember, dehydration and too much alcohol don't mix well with diving. You'll burn through more air, get cramps easier, enjoy the boat ride less, and be at higher risk for gas toxicity. While you're at it, maybe you'd want to try an Italian meal for the first night if your stomach gets bubbly.
The first day of a dive trip is also the time for you to brush up on your scuba skills. If it's been a year or more since you last dove, or are just feeling uneasy, many of these resorts have on-site scuba centers. They'll happily take you on a refresher course to get you in top form. Maybe check out the spa to get the kinks out from flying or chill by the pool trying to remember why babies with rabies are fierce (your pre dive buddy check pneumonic).
Night 2 – Enjoy the Cozumel Sunset
There is nothing quite like a Cozumel sunset. Almost every hotel is located on the western edge of the island. Pick your favorite location from your hotel's private beach to a recliner by the pool and wait for nature's masterpiece.
Mexico humidity allows for more than blazing orange sunsets. If the day is just right, you might witness a green flash. These usually occur when the surface is warmer than the overlying air. The warm air forms a prism, which refracts a green globe above the disc of the setting sun. If nothing else, take this moment of peace and calm with you as you dive. You might just get a minute or two more bottom time.

Day 2 – Dive Palancar Reef and La Francesca Reef
There are more than 35 Cozumel dive sites. However, most divers frequent Arrecifes de Cozumel National Park (Cozumel Reef National Park), located on the south-west edge of the island. La Francesca Reef and Palancar Reef sit closer to the hotels.
La Francesca, named in honor of Jacques Cousteau, is a shallower reef suitable for open water divers or a second tank dive. Cozumel owes a great debt to Mr. Cousteau for introducing the world to its dive sites and laying the foundation for dive tourism and reef protection.
Palancar is deeper than La Francesca and, like many of the reefs in Cozumel, requires an advanced certification or higher. If you don't have an advanced certification, you should seriously consider taking your advanced certification class on your Cozumel dive vacation. You'll see some incredible sites, and it's so much more fun than your open water class because there are fewer instructions and more diving.
Whether you're in class or not, you will be working on two skills on your first dive day, trim and drift diving. To stay trim while diving, adjust your tank height, and use trim weights. Your goal is to stay level without kicking or sculling, which is extremely important in drift diving since you rarely if ever, will be kicking. Once you're trim, you adjust the speed you travel down the reef by changing your height in the water column.
You'll start to notice the current slows down behind coral outcroppings. Hang out there with the schools of French Grunts to keep up with your group. If you try to kick against the current, you'll burn through all your air and have to surface sooner than you want.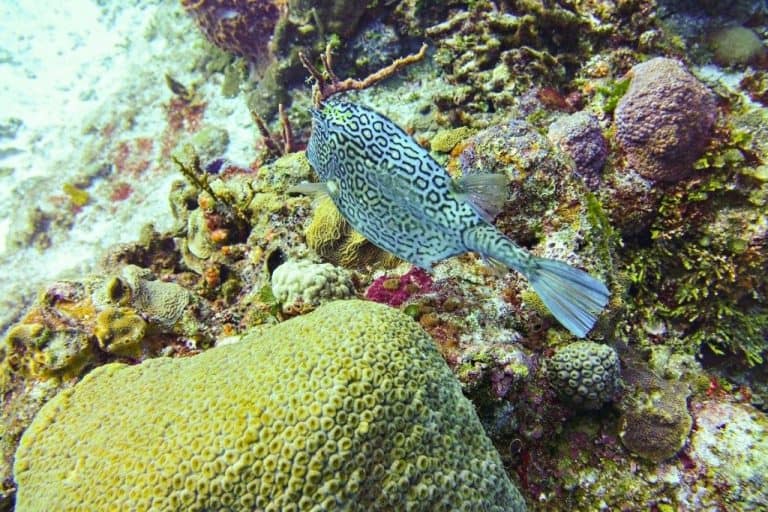 Night 2 – Explore San Miguel de Cozumel
San Miguel de Cozumel is the main city on the island of Cozumel. There are two hubs of activity, the ferry dock, and the cruise ship pier. With how touristy the cruise ship pier is, you might as well stay at your hotel. You're heading into town searching for a more authentic experience, so set your sights on the Centro district.
It feels like the city spreads out from Parque Benito Juarez, a beautiful little park with a Cozumel sign and an illuminated fountain. Explore the area, looking for treasures and treats. Some of our favorites were the frozen drinks at Wet Wendy's and the incredible tacos at Machete.
There's no right or wrong way to discover San Miguel de Cozumel. Just make sure you take the time to soak in the ambiance. I would recommend coming in during daylight and staying until it gets dark to observe the light playing on the buildings and how the energy changes. Notice how many Mexican families are out walking together instead of staying home watching TV.

Day 3 – Dive Columbia Reef or Punta Sur
If you're flying out on day 4, you will want to start this dive day nice and early so you can clear your 24-hour no-fly hold. Are you ready for the challenge of Columbia Reef or Punta Sur? That's the question you and your divemaster will be asking after the first dive day. Did you get trim set and float effortlessly, or were you sucking air like a Hoover vac?
If you demonstrate extraordinary skills and the seas are cooperating, you might attempt the most notorious dive on Cozumel – the Devil's Throat on Punta Sur. It's a massive coral swim through that starts at 80′ down. You continue at a 45-degree angle until you exit at 130′ depth. With those depths and that length of swim through, there is little room for error.
Perhaps you'll be more comfortable on the Columbia Deep site. It's a classic drift dive at 100′ down with a couple of much smaller swim-throughs. Another option is to stay on Palancar Reef and attempt the Palancar Caves, which have magnificent structure but are only 90′ down. Trust your DM, your instincts, and your training and error on the side of caution. You can always come back to Cozumel, take more classes, or plan an extended trip to get your drift diving skills on point.
After completing a deep dive at 90'+, your second dive might be one of the stunning bays on the south end of the island like El Cielo. You'll find lighter current and the most beautiful blue shade of water you can imagine. It's an incredible place to blow bubbles and look for starfish.

Night 3 – Partake in Cozumel NightLife
For the last couple of nights, you've been good. You've stayed hydrated and only drank in moderation. Since you're not diving tomorrow, all bets are off. I'm not saying you should go full Animal House, but you can enjoy yourself.
Your first option would be to plan your hotel based on the nightlife, whatever that means to you. If you're at an all-inclusive, look to see if they have a restaurant that requires a reservation and get that reservation as soon as you check-in. The Occidental has a nightclub, and the Landmark has the Monkey Bar.
If you want to hit the town, Cozumel has those options too. It's not raging like Cancun or Playa, but you can still party till the wee hours of the morning. Favorites include salsa dancing at La Rumba or live music at Dick's Dive, Woody's, or Wet Wendy's. There's no 'one-party', but more like a rolling wave of activity across town. You can bar hop and follow the music across various venues, depending on your personal taste and the day of the week. I would check with your hotel concierge for the live and local take.

Day 4 – Explore the Interior of Cozumel
You want an afternoon flight home so you can get your nitrogen loading down, and I'm presuming that you're up and moving from whatever happened last night. Not that I'm judging. What happens in Mexico…
Let's assume you're bright-eyed and bushy-tailed and ready to do something other than diving. There are a couple of adventures that introduce you to the interior of the island.
An easy option is exploring the San Gervasio Ruins. Ancient Mayans took pilgrimages to Cozumel to worship Ix Chel, the goddess of fertility. The San Gervasio Ruins have a unique history, but they don't rival the magnitude of major sites like Chichen Itza. If these are the only Mayan ruins you're going to see, or you collect obscure Mayan sites like baseball cards, you absolutely have to go.
If you're looking for more adventure, consider an ATV trek through the jungle to Jade Caverns. It's one of the largest cenotes in all of Mexico. You'll swim in the cenote, travel through El Cedral Village, and see the Coral Cove cave system all on one exciting trip.
The Cozumel inland adventures complete your 4-day / 3-night Cozumel dive itinerary. You're ready to fly home with a suitcase full of souvenirs and memory stick full of photos that will make all your diving friends jealous.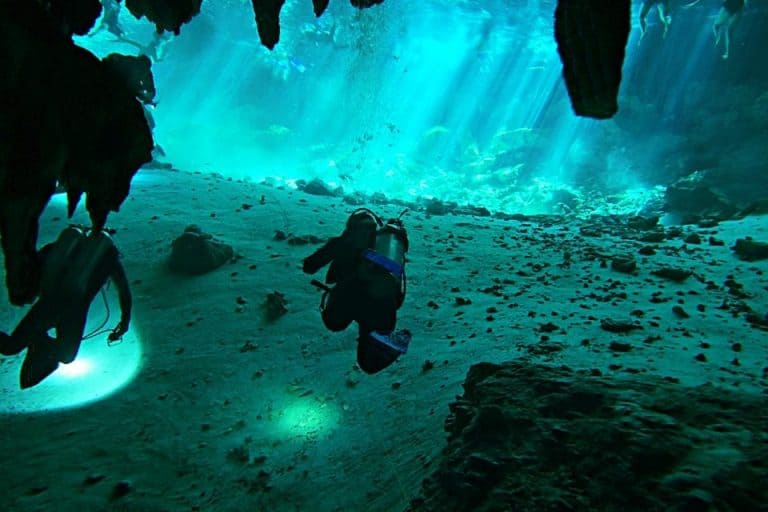 What Would You Do With an Extra Day in Cozumel?
What should you do if you want to extend your Cozumel literary? Many divers would say you should just dive an extra day on Cozumel. A lot of people come down and dive for an entire week. That's a great option, but we wanted to throw one more out there, take the fast ferry across to Playa Del Carmen and dive on the mainland.
Here's the low down on the ferries, Winjet and Ultimar both run ferries between Cozumel and Playa del Carmen. Depending on the schedule of the day, you might get a faster or slower boat. It's about a 20-minute difference in travel time, so you'll be better off taking the first available boat. There's also a car ferry run by Transcaribe out of a different pier that's much slower, infrequent, and costs more than twice as much. Just take the passenger ferry, and you'll arrive in the heart of Playa.
There are several unique diving experiences you can take from Playa, cenote diving, and shark diving. We loved diving with Blue Life Diving. They are a short walk from the ferry terminal with top-notch gear and instructors. They offer small group bull shark dives without chumming and cenote trips that depart from the shop. Be aware of your nitrogen loading if this is your final day. Some dives, like Dos Ojos Cenote, are very shallow. Other dives, like Angelita Cenote or shark diving, are much deeper. Communicate your travel needs with the scuba pros at Blue Life to see what they can work out for you. They do offer Nitrox diving, which should decrease your nitrogen load.
Going to Playa offers much more than just another diving experience, you get to enjoy Quinta Avenida. It's 2.5 miles of shopping, bars, and restaurants only accessible by walking. Honestly, after the first mile, it all starts to look alike. You should definitely check it out, but don't feel obliged to see the whole thing. If you like fresh fish, tangy guacamole, or tacos al pastor, you'll love Quinta Avenida. You could easily get your fill of Quinta Avenida on your 15-minute walk from the dock to Blue Life Scuba.

Wrapping Up the Ultimate Cozumel Dive Itinerary
We hope you find your way to the island soon. Between the convenient flights and outstanding visibility, a dive trip to Cozumel should be near the top of your bucket list. When you're out of the water, you'll find Mayan ruins, jungle tours, and that unique Mexican Caribbean vibe. Be sure to drop us a line and let us know if this guide was helpful for you.