Having just come down from the dizzying heights and history of Montserrat, it appeared that driving up a mountain wasn't enough, and so we had to climb up one.
Epic Road Trip companion and adventure blogger Lydia is something of a fan of rock climbing. Some might say 'fan' other people might say obsessed! Lydia does her best to climb as many times a week as she possibly can, so as she was on this road trip with me, she was obviously getting withdrawal symptoms.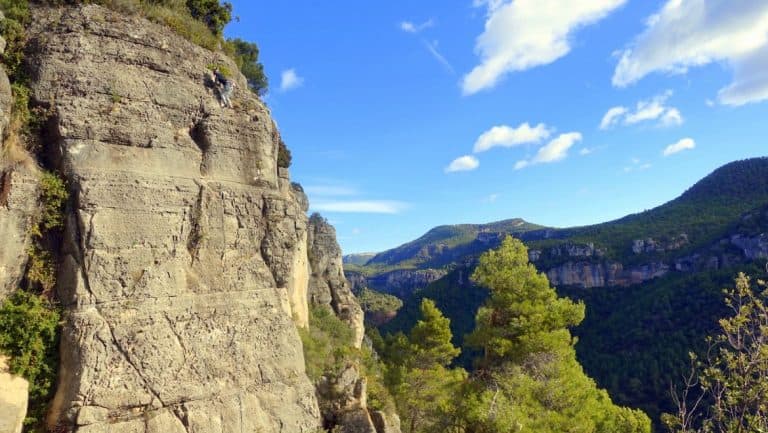 But it just so happened that our next destination is one of the premier rock climbing hot-spots on the planet. Siurana, Catalonia. It would be rude not to give the popular sport a go here. There was only one small problem – I'm terrified of heights!
Where or what is Siurana?
First of all, it might help to explain a little bit about where we were, set the tone and provide you with some background. Siurana is a blink-and-you'll-miss-it village on top of a cliff located in the Cornudella de Montsant municipality.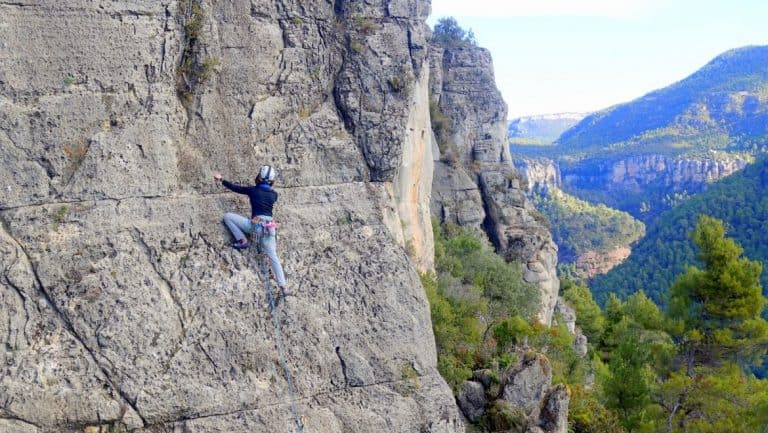 Located just over two hours and 142 kilometres drive east of Barcelona – you have to know it's there otherwise you'll scoot on straight past it! Its uniquely picturesque location and excellent geological and meteorological conditions has seen it blossom into a focal point for climbers – a sort of Mecca for those who like to shimmy up sheer rock faces. We were lucky enough to have the very experienced and knowledgeable team at Climbing Siurana to guide us in our venture and provide accommodation over the course of the experience. Not that Lydia needed a guide – but I could use all the help I could get!
Speaking of guides
Our chaperones for the day were partners Dicha and Marten, who relocated here to follow their passion for the sport and establish their climbing school and accommodation here.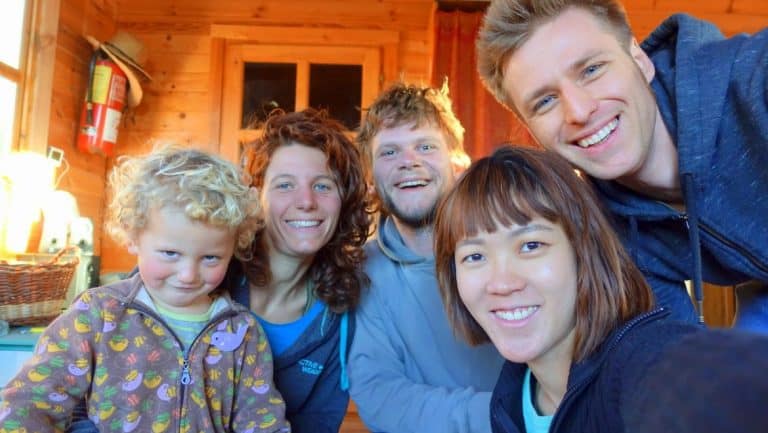 They're both expert climbers (which I was particularly happy about) and we were in their safe hands – and their hospitable home – for the duration of the experience.
What's so special about it?
Apart from the beautiful setting of Siurana village, the limestone rocks, crags and gorges have been cut away into the landscape over time, so much so that the jagged terrain makes for the perfect place to climb. There's an amazing variety of routes to be had too (estimated to be over 2000 in fact), for beginners like me, to more seasoned pros like Lydia – and plenty of challenging ascents that keep climbers from all over the world coming back for more.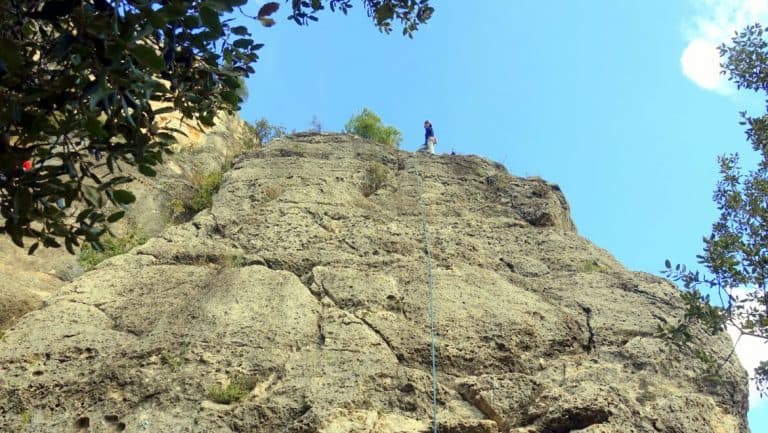 Added to that, the area is a region of astounding natural beauty, and who doesn't want to view the stunning colors of a sunset on this semi-arid landscape – especially when you're perched precariously up the side of a cliff?!
Climbing speak
Before I continue I should share some of my newly acquired knowledge when it comes to rock climbing. For those more familiar with the sport – please feel free to skip this section (but you'll be off my Christmas card list). There are many rock-climbing grades in the climbing world – and much of it can be very confusing.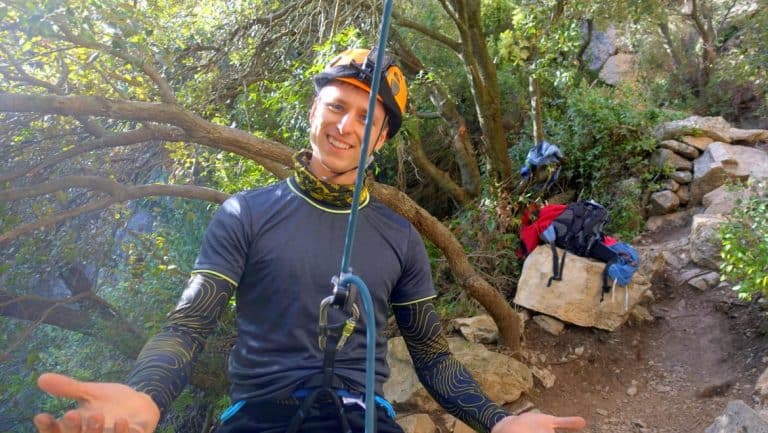 However, we were using the internationally recognised French system, which is quite straightforward and even I could understand it. Grades start at 1 (very easy) and ascend, depending on difficulty. A letter is added for further detail, for example, 4, 4a, 5, 5b, and so on. So, you can get climbs rated 7b and 7c and 3a etcetera, etcetera. Sometimes, a '+' is added to further increase difficulty – but I was hoping we weren't going to be needing that!
If you find it a challenge to keep up outdoor rock climbing daily due to various external circumstances, you can always keep up the regime and your climbing training by using a portable hangboard at home.
No turning back!
There comes a time in a man's life when he genuinely wonders what on earth he's doing, and walking up to the first climb of the day was one of those moments. Not since my bungee jump in New Zealand had I felt so nervous, with my heart trying to escape my chest and run off down the mountainside – with me in hot pursuit.
But there was no turning back – especially because I wanted to conquer this challenge and show how much of a brave boy I am to Lydia – who was already raring to go. We began on a 4a route (look at me using the correct terminology) and we were off. I just had to keep telling myself – don't look down!
Adrenaline rush
Lydia was on point with the lead climb while I dipped my toe in the experience with a top-rope, which means I'm securely fastened to a rope and I climb up through an anchor system. While it was all incredibly safe there was still that irrational fear I was going to fall, and although it was a beginner's route, we were still ridiculously high up.
The thing is though – I thrive off this rush, which makes me enjoy the experience even more. It's an incredible feeling pushing your body and mind to its limit – better than any drug you could take – and you'll never forget these moments. That's what it's all about.
Growing in confidence
We continued to climb throughout the day, tackling a few more routes with varying degrees of difficulty. I even managed to do my first ever lead-climb, which was a powerful and exhilarating moment. At least until I became paralysed by fear about ¾ of the way up!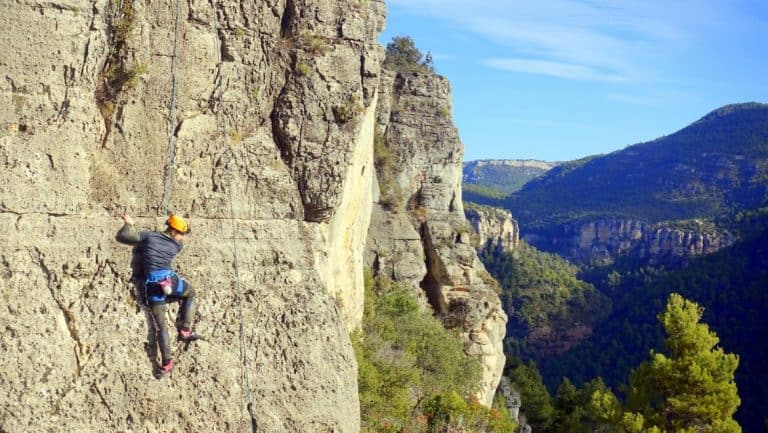 If you fall on a lead climb, you're dropping 1-2 metres instead of 10 cm on a top-rope – so it's not to be treated lightly! I was proud of myself for giving it a shot but gutted I didn't make it this time. My companions were very supportive in the wake of my disappointment – but I'm not done with you yet, rock! Apparently – I was quite good at belaying though! There's hope for me yet.
Tall climbing tales
We scaled more of the limestone crags until sunset when the descending darkness forced our hands and we turned for home. During our evening meal, we discovered more about the remarkable lives of our hosts. Dicha is from the Netherlands and Marten is from Germany and they fell in love over their mutual passion for rock climbing – actually meeting in Siurana some years ago. They have a young child, and they decided to move back to this area to start their climbing school – with both of them already working as instructors.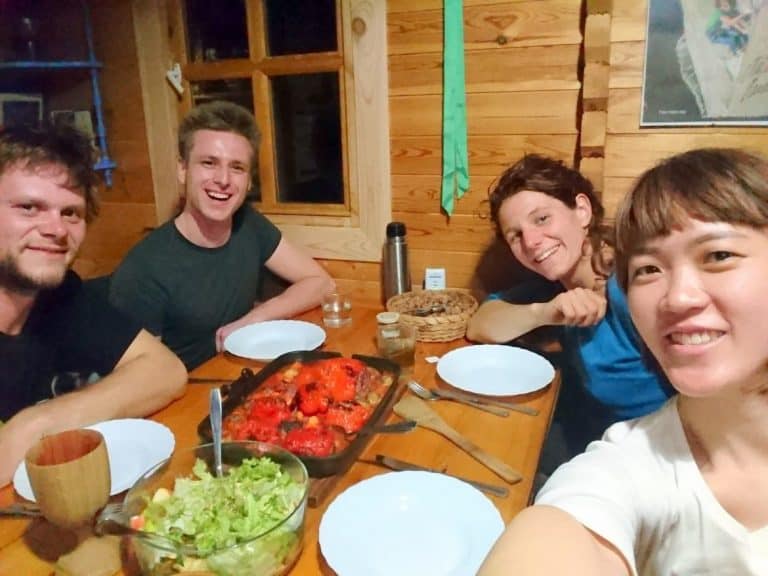 Aside from that, they are aiming to make their home totally self-sustaining, with growing their own produce, collecting rainwater for all their needs, generating electricity with solar panels and installing a dry toilet. With Marten inheriting his climbing addiction from his father – he was scaling rocks from the age of five – they are certainly an inspiring family. We felt more than welcome in their amazing, environmentally friendly home. Oh, and did I tell you about the delicious baked meat-filled peppers we were served the first evening? Marten prepared them, and they were real finger-licking good!
Exploring the Village
With a little time left before departure, we explored the precariously positioned village of Siurana. As you can probably tell from the photographs – it is in a really unique location! Bus tours regularly come in to visit the region – with tourists only staying to see the village and not experience the climbing – but we think that's madness and they're missing out!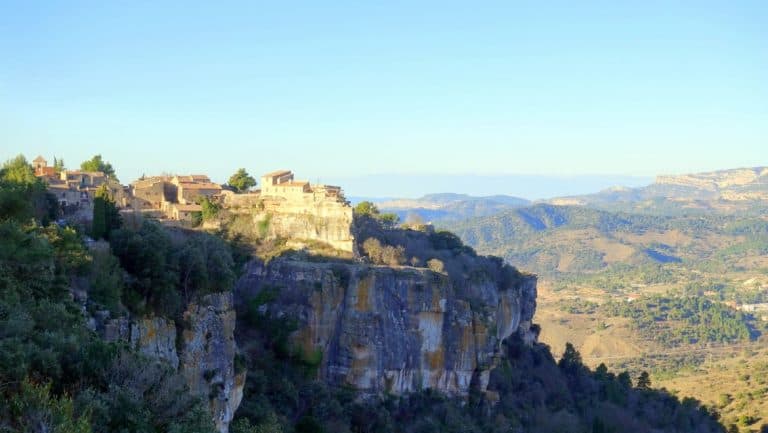 While the village is very beautiful – especially in that late morning sun – the real attraction here is the climbing, and it's certainly an experience that we will never forget.
Rock and road
The 5th of January came all too soon and we had to bid Marten and Dicha fond farewells. Their Climbing Siurana school definitely has the etramping seal of approval – and we'd heartily recommend anyone interested in climbing to pay them a visit.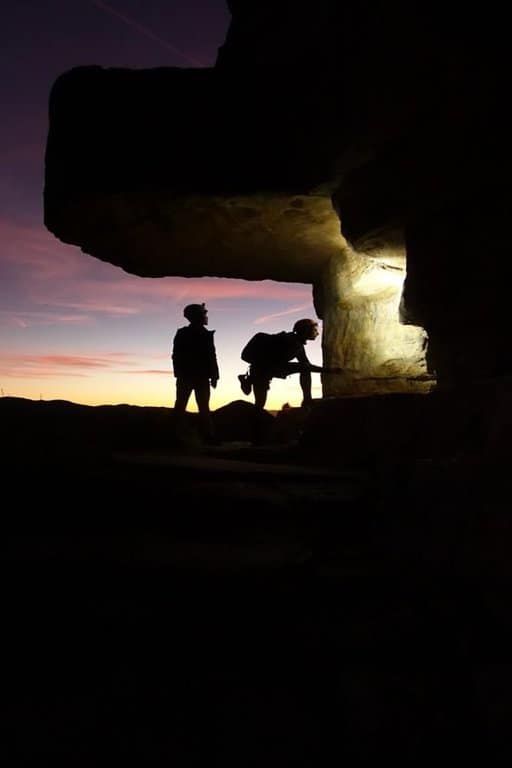 But the Spanish capital was calling, and the lure of the road is strong. We wished our hosts the very best in their quest for such an epic, dream lifestyle – one that they are already well on the way to fulfilling. Madrid awaits, and you'll have to tune in next time for the continuing adventures of the Epic Road Trip series. As for myself, you can bet your bottom dollar I'm going to be back here one day to beat that rock (7c route)!
Rock climbing was an incredible and memorable experience – tell us some of your tales of climbing around the world!