Towering panoramas and ancient stone abbeys await the pilgrim who makes the easy journey to sleepy Montserrat, the cultural center of Catalonia in Northern Spain, only 30 miles away from Barcelona.
Montserrat, which means 'saw-mountain' in the local language, offers a fantastic road-trip stop, tour or a day trip escape from the sunny shores of Mediterranean. Visitors can indulge in local history, towering hikes with impressive views and experience sleepy rural villages. Highlights include an 11th-century abbey and the world's oldest printing press hidden among the rocky pinnacles.
Whilst the greater region certainly deserves your time, those with some spirit in their step can the tick it off Montserrat in just a day.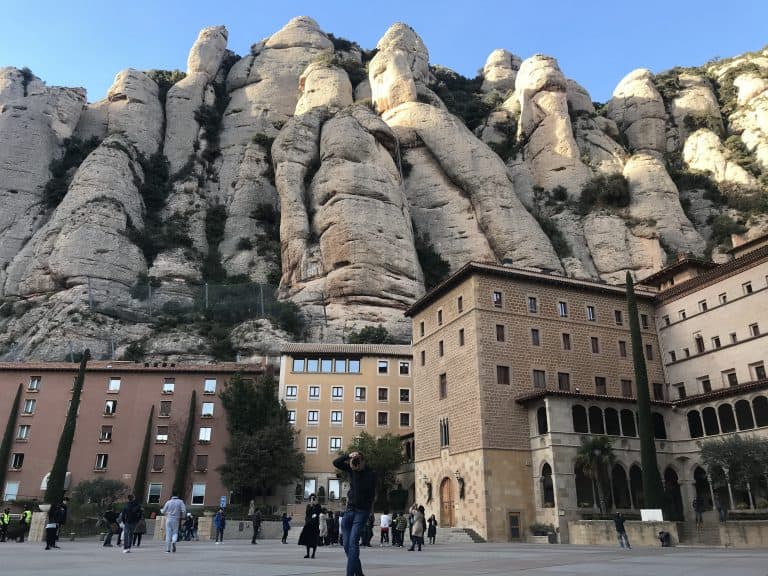 How to get to Montserrat
Traveling by car offers a unique way to get to Montserrat compared to the train. It is only 30 miles and you can wind your own way up the mountain, stopping at different lookouts. If you don't have a car but want the freedom that it brings, then you can look at hiring one here.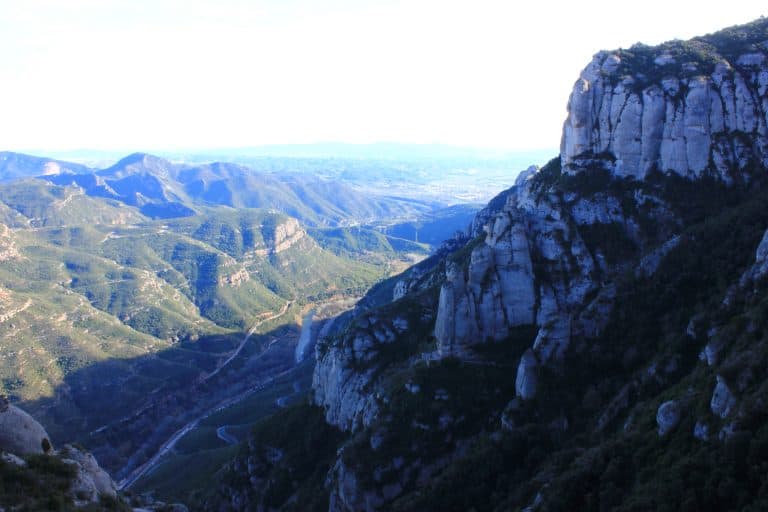 Which Train Goes to Montserrat
The next option is to take a train from Barcelona and then either a cable car or funicular train to get up the physical mountain. This will take around an hour but I think the views are well worth it.
Watch out! You have to decide in Barcelona if you want the cable car or the funicular before getting on the train. You can also buy a combi-ticket that comes with both, allowing you up one and down the other. This is the best option for hikers or those who want to see the whole mountain range in a day (read below!).
Book a ticket on the Ferrocarrils de la Generalitat (R5 Line) train via Plaça d'Espanya to the destination Montserrat-Aeri for the cable car. Head one more stop along the railway line to Monistrol de Montserrat for the funicular railway.
Bus Trips to Montserrat
Another way is to book a guided tour heading to the mountain that can include hotel pickup in Barcelona and save you some money on the cable car fees.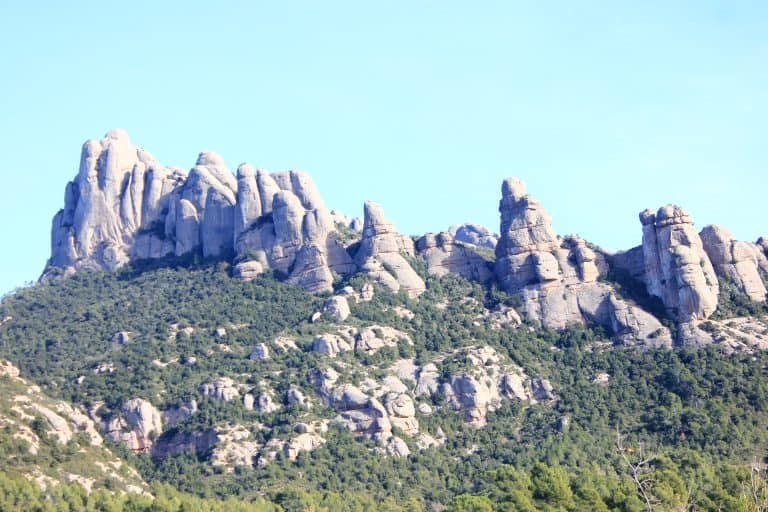 Best Plan to See Montserrat in a Day
Once you are up in the clouds, you are spoiled for choice with what to see and do first. Take these recommendations as a 'choose your own adventure' style guide.
First, be sure to pause and take in the views. On a clear day, you may be able to see the way to the island of Majorca which is pretty unreal. I did find it a little vertigo-inducing but it was still worth the trip.
Santa Maria De Montserrat
Next, hit up the ancient abbey of Santa Maria de Montserrat. It is famous for its 'Virgin of Montserrat' or known as the 'black madonna' statue, carved out of wood back in ancient Jerusalem and brought over to Spain centuries ago.
Apparently, the statue is so fragile that the abbey of Montserrat was built around it when it was first moved here, giving the abbey a somewhat 'carved' out design in the shadow of the mountain.
The queues can be a bit long in the summer months and on weekends (around an hour if you arrive right at the peak) thus come early if you want to see it.
Rumor has it that the monastery contains other secrets like the resting place of the holy grail and was the inspiration for the naming of Caribbean Montserrat. A must-visit for anyone seeing the sights of Christendom.
You can read my other guide on Montserrat and its sought after history here.
Museum of Montserrat
Once you have reached spiritual enlightenment, I suggest you head over to the nearby exhibition hall and museum to check out its Picasso and Dali works hanging in the lobby.
This visit won't take you too long, but witnessing the oldest printing press still in working condition (from 15th-century no less) was pretty cool in my book (pun intended).
Next up, lunch!
What to Eat in Montserrat
The only disappointing thing that I found in Montserrat was the lack of food options. It makes sense that you are on a mountain and there would hardly be room nor need for a supermarket. There are a few restaurants around, although not many.
Pack your own food if you are going hiking (see the next section for the trails!) or be prepared to eat at the cafeteria-style eatery at the abbey.
Mountain Climbing in Montserrat
From here, it is time to go up up and away. Climbing one of several peaks in Montserrat is essential for an adventure bucket list. If your starting at the abbey then it is not too exerting to climb up to the highest point: Sant Jeroni.
You will need to put aside 2-3 hours for a return trip to the peak with the trail starting opposite the cable car in the monastery. Be sure to take plenty of water and sun protection as it can be a bit exposed.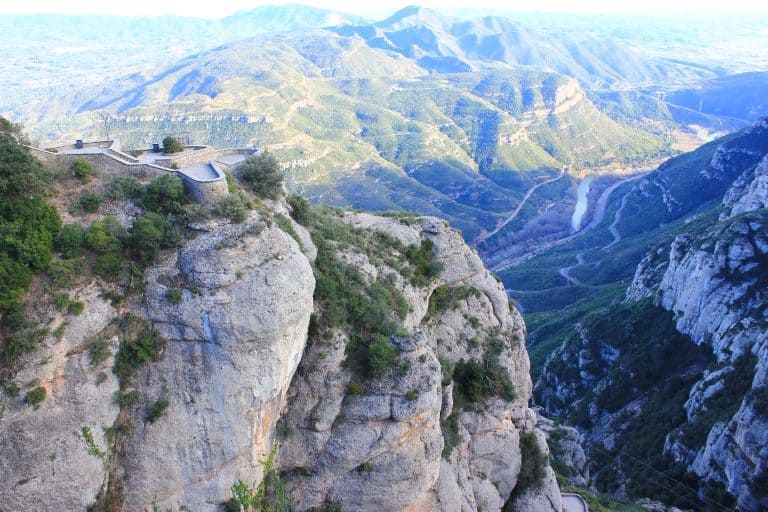 The trail runs for around 5.5 miles (9 kilometers) and rises another 1640 feet (500 meters) over the starting point, so you will need to carefully judge if you can do it.
But boy, I'm not kidding that the views are totally insane, with nearly 360 degrees of miles upon miles of Catalonia countryside at your feet. Perfect for mountain conquerors and Instagram enthusiasts alike.
Easy Hikes in Montserrat
There are also smaller hikes too, to Sant Joan (with its own funicular train) and Sant Miquel, taking around an hour and 90 minutes respectively.
Those who want to do all three can do them on the blue trail in the order presented in this list, slowly winding their way back around Montserrat's ridges and taking in the sunset views along the way.
Challenging Hike in Montserrat
Keen hikers can climb up the mountain range itself from the train station, but keep in mind that your destination is 4,055 ft (1,236 meters) over the valley floor and should only be attempted by those hardy few.
Getting Down from Montserrat
If you don't fancy climbing down the mountain in darkness (and we don't recommend it as the trails off the mountain itself are not as maintained as the ones on the peak) then you will need to know last transport times.
As of March 2020, the Aeri de Montserrat cable car operates from 09:40 to 17:00 (18:00 on weekdays) and takes approx five minutes to make the journey.
The funicular train takes 15 minutes and operates from 08:36 AM to 18:15 PM on most days. You should expect to pay around €20-30 for a return trip to Barcelona.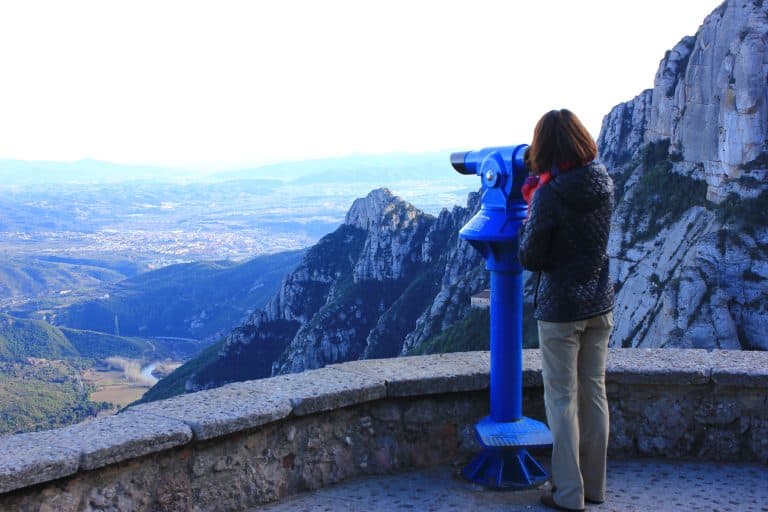 Staying Overnight in Montserrat
Those with a little more time could stay overnight in Montserrat. A local tradition is climbing the mountain for sunrise, something all Catalans (and visitors) are recommended to do at least once.
There are a few options that put you right in the heart of it all:
Hotel Abat Cisneros. Fantastic location and views right across from the abbey.
Hostel Alberg Abat Oliba. Located around 600 meters away from the cable car, an option for those who just need simple accommodation. It has a range of private rooms and shared dorms.
Plan Your Trip to Montserrat
The easiest way to book a Montserrat tour, hitting everything I listed above without having to deal with expensive fees or trying to book individual tickets.
The bottom line, the mountains, the culture, and the views of Montserrat make any trip worth it and will be a highlight of your Iberian adventure.
Have you been to Montserrat? What was your favorite site? Let us know in the comments