Madeira is a Portuguese Island closer to the coast of Africa, 700 km East, than mainland Europe itself. Portugal can be found 1,000 km away. Due to its location, Madeira enjoys year-round warm weather with temperatures averaging low to mid 20 Celsius.
Note. It snows in the mountains over winter, so check the weather before your trip if travelling out of season and want to explore.
Madeira is also famous as the birthplace of the world-famous football (soccer) star – Christian Ronaldo and is known as the floating garden of the Atlantic Ocean because of the vibrant flora and fauna that lives there.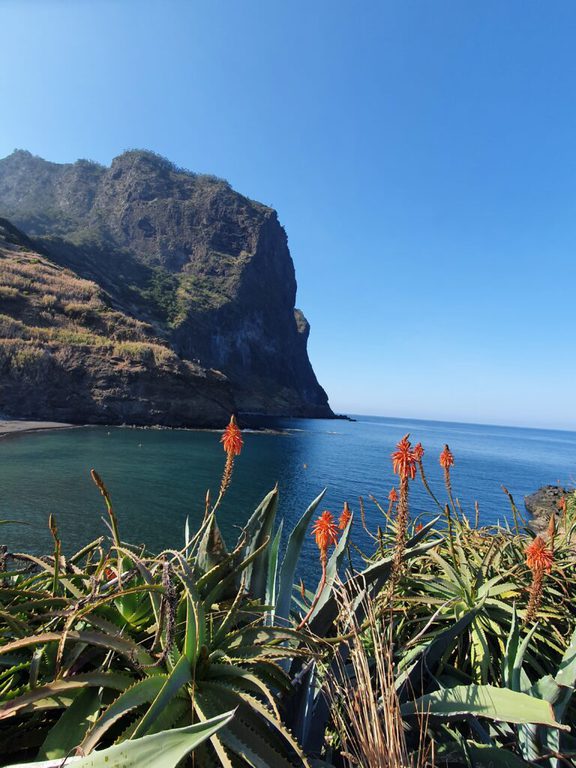 Why Visit Madeira
Madeira attracts those seeking all year tropical sunshine, relaxed island life and a love for nature fuelled activities. The breath-taking landscapes throughout the island will have you planning your next trip before you have even left the island. I know I did.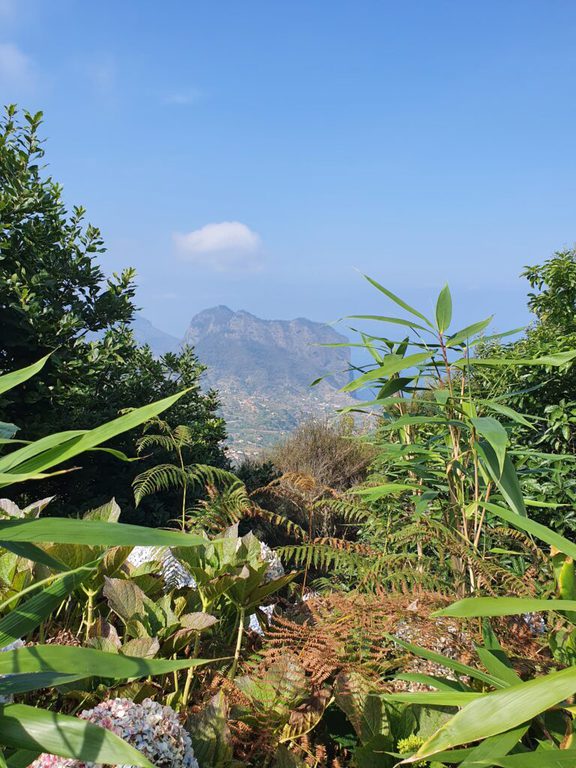 How to travel to Madeira
As you might expect Maderia is well served from the UK and throughout Europe. There is one airport on the island that serves the main airlines. From the UK frequent flights are available, so get exploring your nearest airport departure board.
Note. You know Maderia is an island you will remember for a long time when the plane descends onto the airport strip perched above the ocean on concrete stilts. Make sure you bag a window seat to capture this fascinating airport – your eyes will be wide open.
Getting Around the Island
On paper, Madeira is small in distance but don't be fooled by viewing the drive time between destinations on Google maps. The mountainous landscape makes driving slow, as most roads wind through mountain ranges.
Hire Car
Rental cars are widely available from the airport or the capital, Funchal, and will enable you to freely discover the wonders of this Island on your terms.
Note. Keep in mind, this mountainous island will require a confident driver due to the sheer scale of the landscape with steep hills and tunnels built through rock.
Public Transport
There is an extensive bus network that supports travel around the island. The main bus operators are below:
Horários do Funchal – details here
Tickets can be bought from the driver, so no need to stress before a trip.
Day Trips
Viator and local travel agencies provide a wide range of trips ranging from half to full-day trips. They even have some multi-day trips to cater for all your adventure, culture and nature needs.
Funchal Tour Bus
A tourist hop on/off bus allows you to explore the main tourist sites of the city, Funchal, where you are dropped off right outside the attraction and after you are done, you can jump onto the next bus.
From the Airport to the capital, Funchal
Taxis are readily available as you leave the Arrivals Exit or
Aerobus will transport you into Funchal city centre or the hotel zone. This frequent service will drop you at a bus stop near your accommodation. Cost: $5 one way or $8 return. Tickets can be purchased on the bus from the driver. Duration: 30 mins – 45 mins depending on the bus stop.
About this Madeira Travel Itinerary
This ten-day Madeira itinerary will help you with ideas to plan your visit and see the very best that Madeira offers. It will cover everything from how to get there, what to see, and where to eat.
Although Madeira is a small island on paper, it is jam-packed with experiences waiting for you.
You'll be able to see all the essential facts and information for the top Madeira sights, including why you should see it, location, opening times, prices, and any other useful insider knowledge that will help you enjoy your trip. Enjoy your trip to Madeira, it is amazing.
Useful Information
They use the Euro currency on the island with ATMs available throughout.
Free Wifi is available at some areas in the capital, Funchal.
The primary language spoken is Portuguese, with English also widely spoken.
Power plugs and sockets are of type F
Day One – Chill Day
Regardless of where you have travelled from, I would recommend you enjoy your first day slowly easing into island life. This will allow you to firm up your itinerary. Here are some suggestions to enjoy a chilled first day. Make sure you treat yourself to gelato from the many cafes lining the streets of Funchal.
By the hotel pool
A whole area is known as the hotel zone because of the sheer abundance of accommodation options available. Most will have pools overlooking the Atlantic Ocean allowing you to daydream, enjoy that holiday read you have packed or planned out the next few days.
Some options are (you can search for them in the map above):
Royal Savoy Ocean Resort Savoy Signature – 5 star looks out towards the ocean with a stunning pool area.
Hotel Alto Lido – 4 star hotel situated a little further out from Funchal center with indoor and outdoor pool
Hotel Vila Bela – 4 star enjoys the benefits of a ocean perched pool accessed via a lift from the upper hotel where there is also a pool.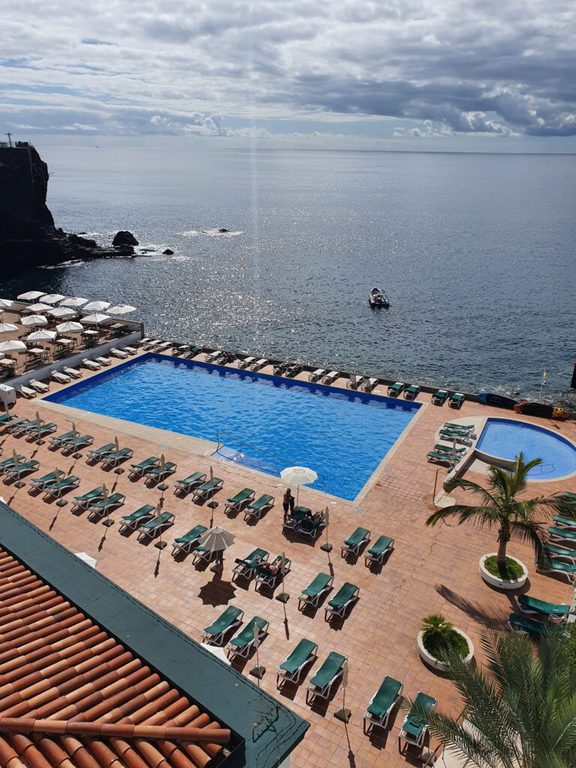 At the Lido (with the locals)
If your accommodation doesn't have a pool, don't worry, there is a Lido swimming pool complex in Funchal. Alongside a large and a small seawater pool, there is direct access to the sea for an ocean swim. There are sunbeds, parasols, changing rooms, lockers, and a snack bar perfect for a full day of relaxing.
At the Beach
Formosa beach is just west of Funchal city centre and is the nearest one you can walk to if you're staying in the city.
Machico beach is one of the two beaches with golden sand in Madeira. Interestingly, the sand has been imported from Morocco. This sandy spot is a 45 minute bus ride away.
Day Two – Explore Funchal
Cristiano Ronaldo Museum – CR7 Museum
This museum is fully dedicated to the Madeiran football player Cristiano Ronaldo. Outside the museum entrance, you will find a replica statue of the football legend, ready for a cheeky photo. There is also a café that sits facing out to the Atlantic Ocean for a refreshment.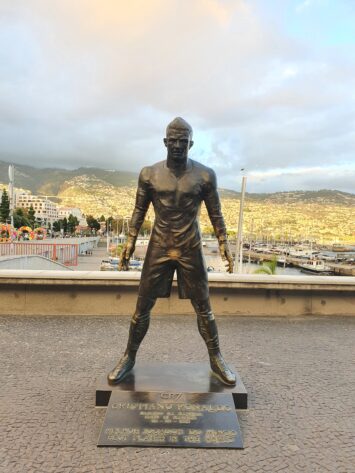 Opening hours: Monday to Friday – 10 am to 5 pm.
Cost: Admission fee.
Nelson Mandela Monument
As you stroll along the promenade, enjoying the breeze from the Atlantic Ocean, make sure you check out the memorial to Nelson Mandela, former President of South Africa. Take this time to enjoy the bustling activity around the promenade, where you will likely spot local men fishing.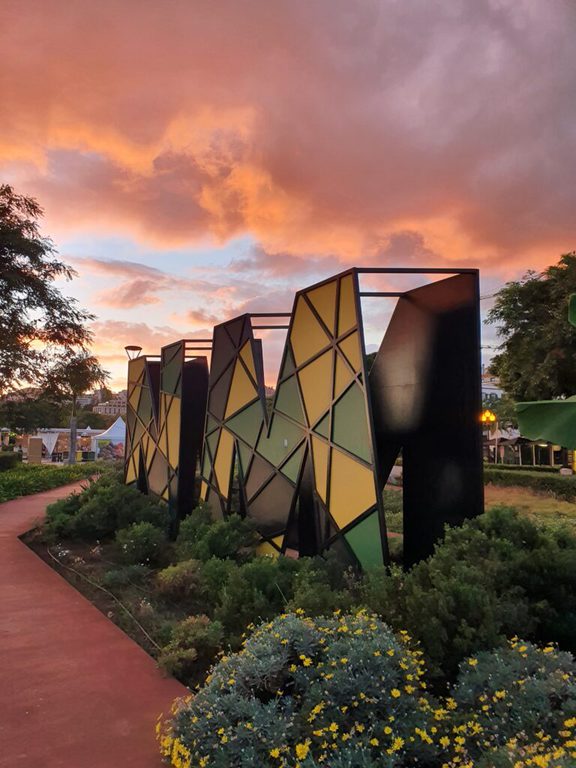 Colonial Architecture
From the promenade head onto Avenida Zarco, one of the busiest streets in Funchal, to capture photos of the stunning colonial architecture. In particular, look for Pico Fortress, São Lourenço Palace, Sé Cathedral, Municipal Theatre Baltazar Dias, Funchal's Town Hall and São Pedro's Church.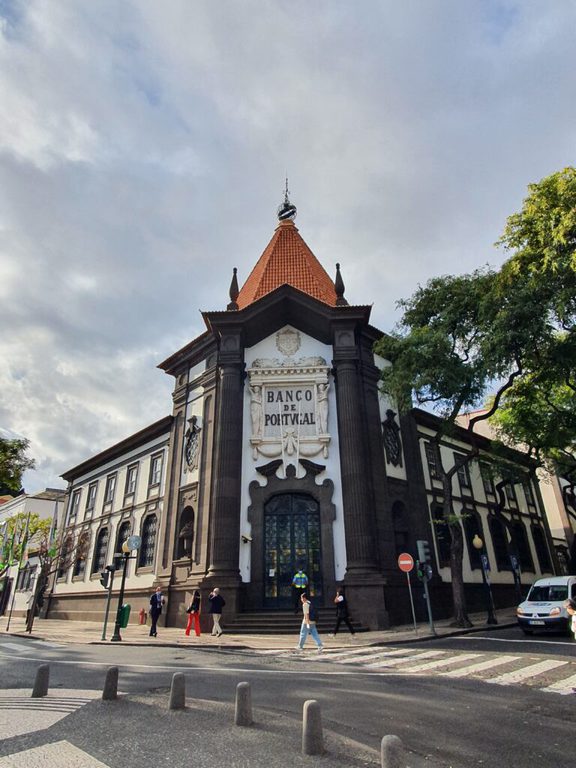 Mercado dos Lavradores (Farmers' Market)
The Farmers' Market sells all kinds of products but mainly acts as a fruit, vegetable and flower market. From here you can buy some of the more exotic fruits only found in this area of the world. During the year, there are also pop-up stalls offering handmade gifts and creative delights ready to take home with you.
This is also the perfect spot to eat like a local and try the Bolo de Caco (Madeiran round bread traditionally cooked on a caco, a basalt stone slab) served warm with lashings of garlic butter and your choice of filling.
Old Town Street Art
The Old Town (Zona Velha) is one of the most popular tourist attractions in Funchal. The combination of quaint cobble streets, architecture and splashes of creativity will have your camera busy.
Following an initiative led by local artists, the area is now home to some amazing art. The "The Art of Open Doors" project has created a vibrant and fun tourist activity – enjoy spotting the art on the buildings and doors.
Note. The best time to visit is when the businesses are closed to get full access to the creative pieces, but it is also a nice area to explore to enjoy the daytime alfresco dining vibrancy.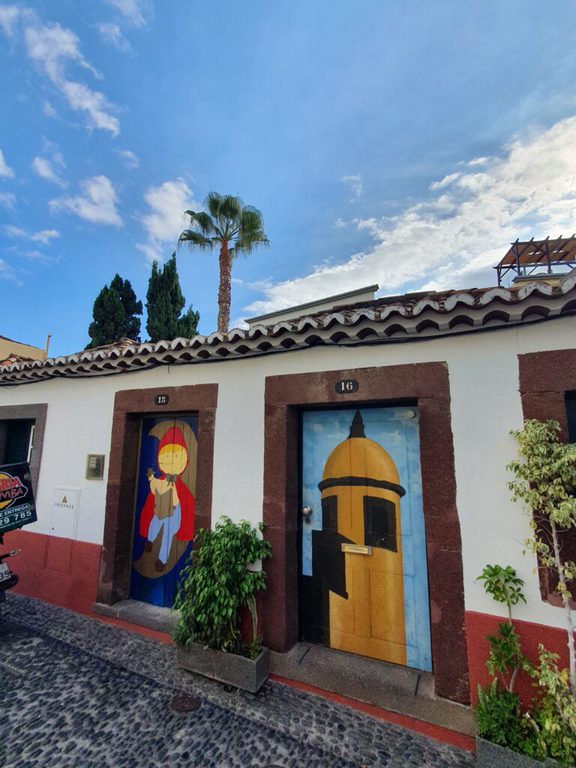 Fortress Dipping
At the end of the day head to Fort of São Tiago ( Fort of Saint James) a stand out landmark along the seafront with eye-catching yellow coloured walls. It will surprise you to find the locals using the space in front of the Fort as a place for sunbathing. join them and enjoy the ocean views as the sun goes down.
Note. There is a cool local cafe where you can enjoy a refreshment to the backdrop to some lively tunes.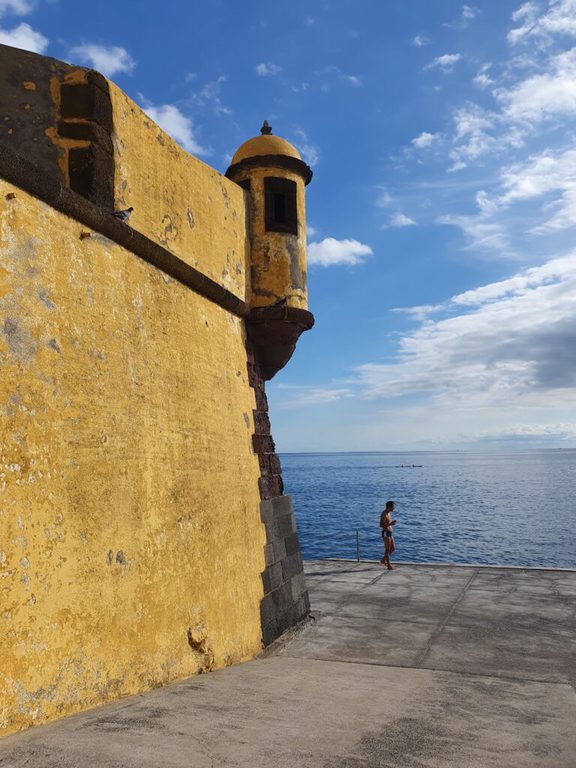 Day Three – Monte & Botanic
Morning: Caravel Art Center and Art Food Corner (Café)
Enjoy the start of your day with good coffee and a selection of healthy foods. This café is part of the Caravel Art Center where the café is housed in a colourful vibrant building that also acts as an art museum and gift shop. There are exhibitions in the upstairs space with events also held so keep a lookout for any events advertised. More details are found here.
Opening Times: 9 am to 5 pm.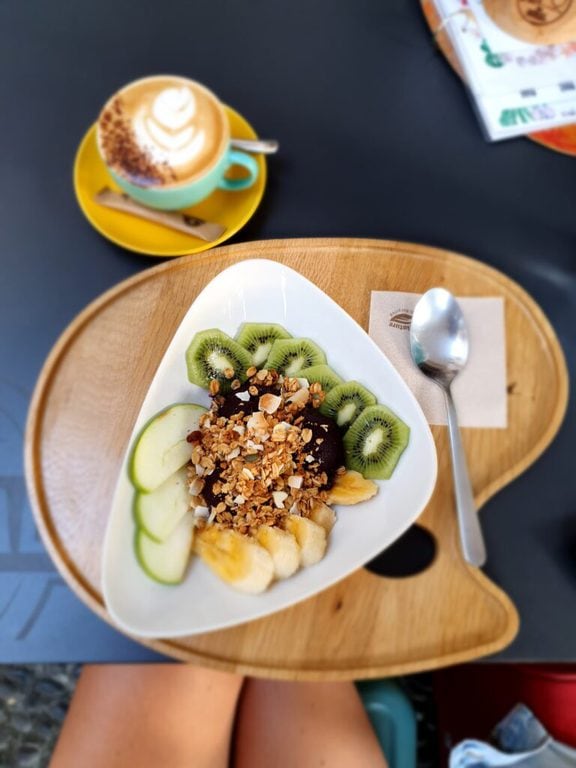 Afternoon: Monte & Botanic Gardens Half Day Trip
Monte
High above Funchal, accessed by a cable car, the neighbourhood of Monte is one of the most popular trips from the Funchal promenade. The top sights in Monte are:
Igreja da Nossa Senhora – Gothic Church. Free entry.
Monte Palace Tropical Gardens – Admission fee
Wicker toboggan ride down to Livramento. It is a sight to witness, make sure you capture a video, and even experience in person. Admission fee.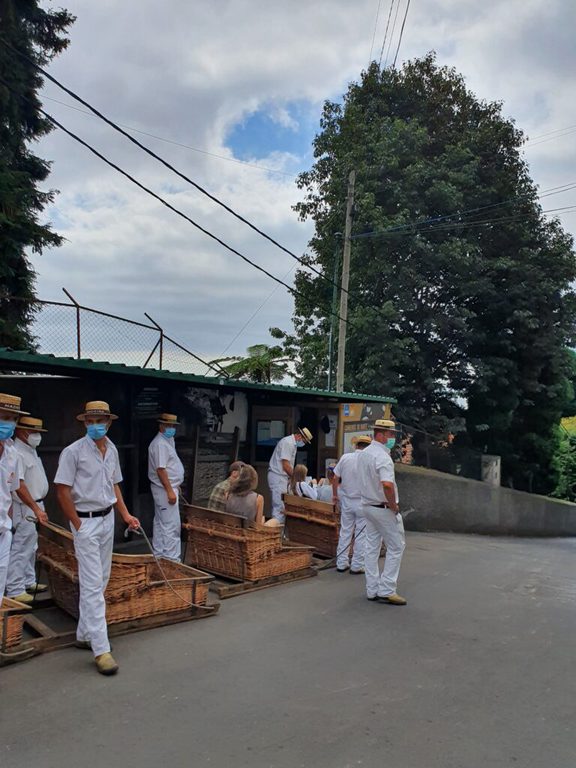 Botanic Gardens
Alongside visiting Monte, most tourists also combine this with one of the island's top tourist attractions, the Madeira famous botanical gardens. This is also accessed by a Cable Car, but a different one, this time from Monte. The gardens extend over 80,000 sq metres with the stunning Funchal coastline as your backdrop.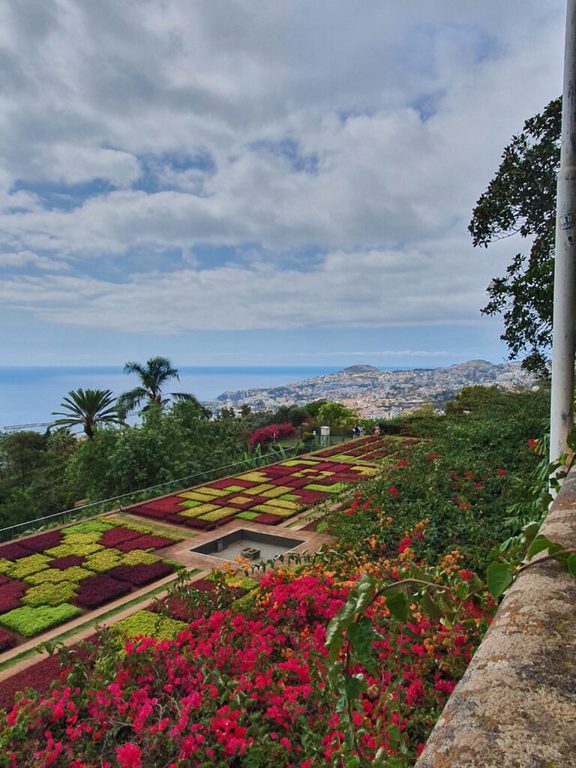 Patio Das Babosas Cafe
After you have enjoyed the Botanic Gardens and made your way back to Monte, there is a café that sits perched on the way back towards Monte village from the Cable Car Exit with the most stunning view.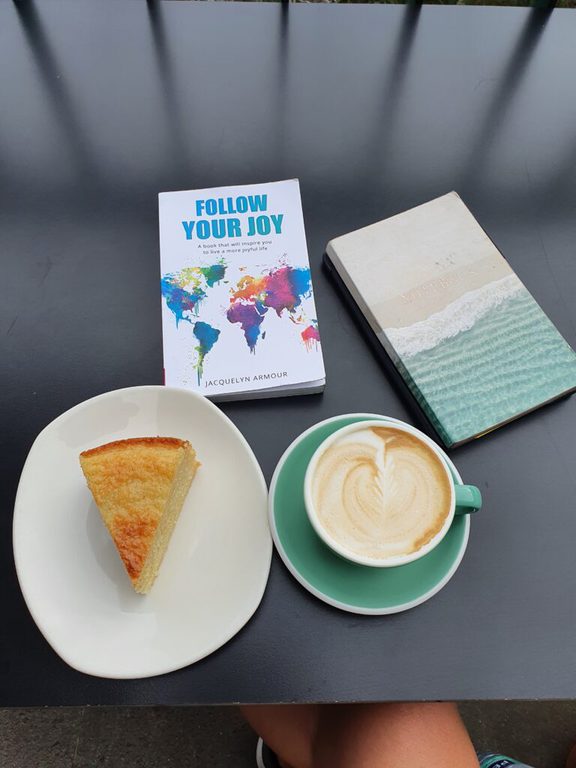 Transport & Cost
There is a cable car and Botanic Gardens Ticket Combo which provides:
Monte Cable Car Return Ticket plus Botanic Gardens Cable Car Return Ticket plus Botanic Gardens Admission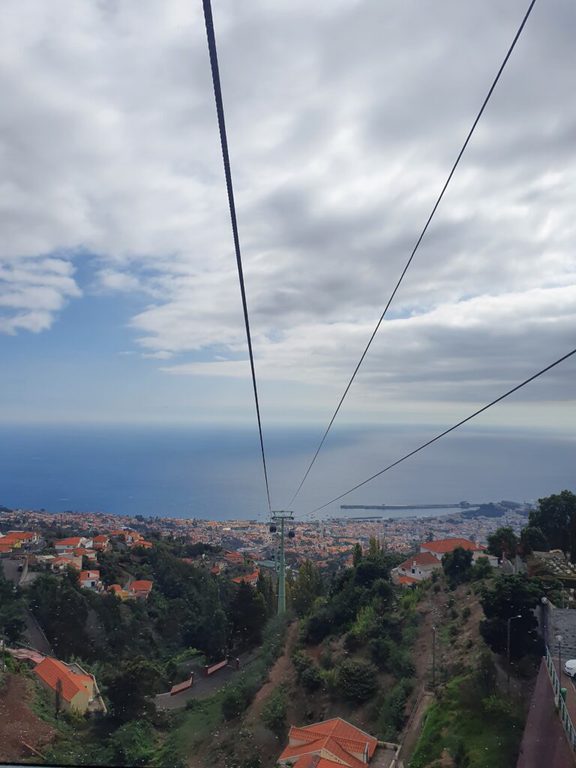 There is also the option to take the cable car from the promenade up to Monte to see the sights then return by toboggan and bus.
Evening
At night enjoy dinner in Cuban Restaurant Madcuba to add a Latin twist to your trip. It sits at the end of a vibrant street with other bars and restaurants.
Day Four – East Coast
The Go East tour is a popular trip to enjoy the stunning and varied landscapes, with an abundance of Madeira's culture, history, and traditions. Tours are available online or from the many tour agencies based in Madeira. Highlights of the tour include:
Ribeiro Frio. This is the heart of the Laurissilva Forest (Laurel Forest), classified by UNESCO as a World Natural Heritage site due to the diversity of rare fauna and flora. It is truly remarkable and blows your mind a little when you realise it is over 20 million years old.
At this stop, you can also visit the famous trout farm, where the trout grows in the freshwater that comes from the Levada.
Santana. Santana is home to the traditional triangular thatched roofed houses, which catch your attention with their vibrancy of colour. The government now own these homes, used as quirky small boutique shops and museums.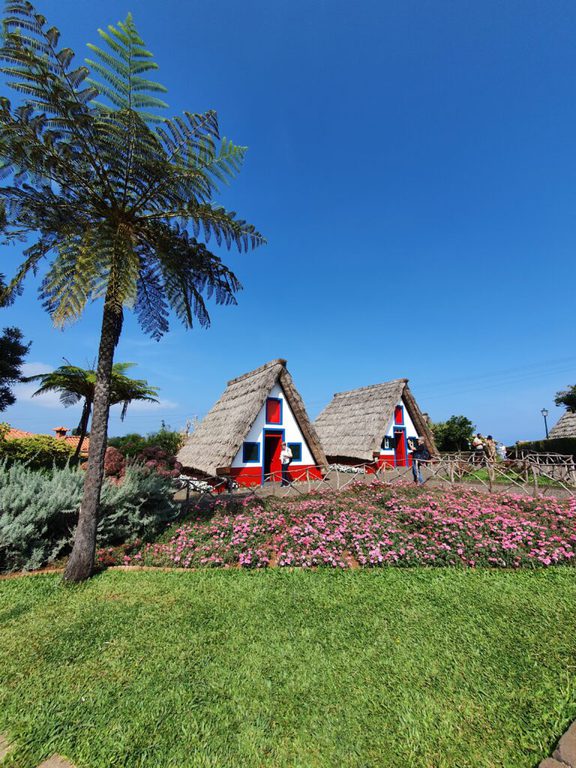 The viewpoint of Ponta do Rosto. A must is to experience the North and South coasts of the Island. Ponta de São Lourenço is a peninsula where the landscape is completely different from the rest of the Island. The climate and exposure to North winds have sculpted the land. The views will leave you standing open-mouthed.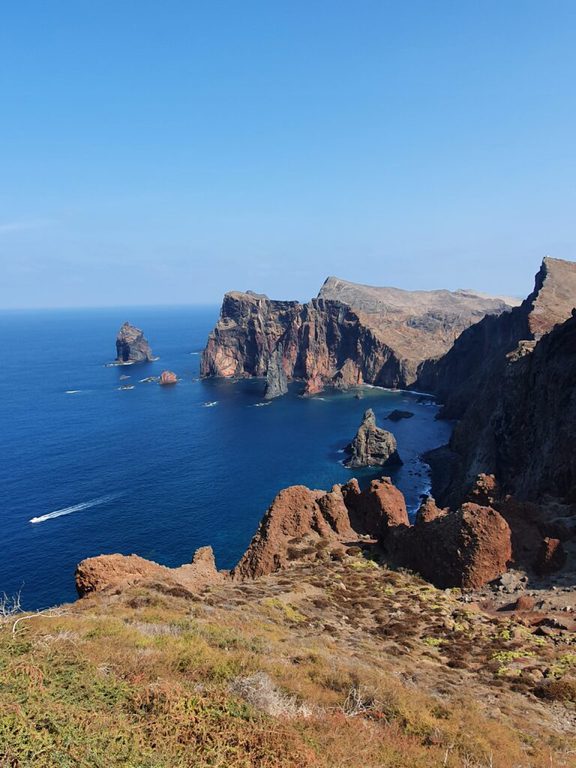 Machico. Machico was where the Portuguese founders disembarked in 1419 when they discovered Madeira. The Historical city is home to a stunning bay with a cute promenade to stroll along. In the bay, you will find a small yellow sand beach that was imported from Morocco.
Day Five – Pico do Areeiro to Pico Ruivo Hike
This stunning 11km return trek starts at Pico do Areeiro, the island's third-highest peak at 1,818 meters, home to the military receptor.
Note. There are stunning views from the lookout here, so spend time before your trek taking in the scenery.
After meandering along a challenging terrain you reach the Pico Ruivo Summit at 1,862 meters above sea level. The route winds along narrow pathways, with epic ridge views, up and down challenging staircases, and through dark tunnels built through the mountain range. With steep inclines, you will definitely feel like you have completed a trek workout by the end, but the views are worth it.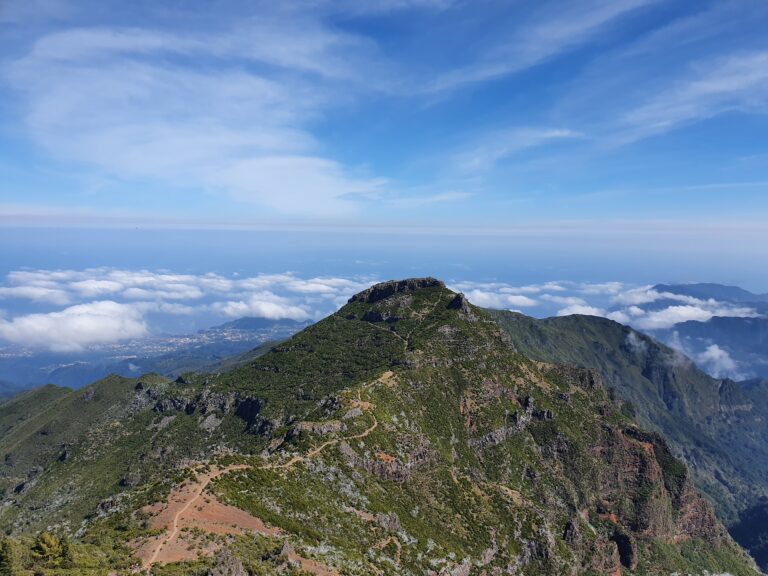 Although this is graded a difficult trek, the track is well-maintained with hand-rails to provide support. A torch is advised for the dark tunnels. For a regular hiker, you will find it safe but a challenge – nothing too wild though. If it is your first hike in a while, prepare to feel your calves burn.
Transport
If you have a hire car you can park at the Pico do Areeiro car park and enjoy the return hike.
There are tours that start at Pico do Areeiro and finish at a car park beyond the Pico Ruivo where you are collected by the minibus.
Evening
At night treat yourself and enjoy dinner at the iconic Restaurante Do Forte. The São Tiago Fortress is the backdrop to an architecture and gastronomy experience you will remember for a lifetime.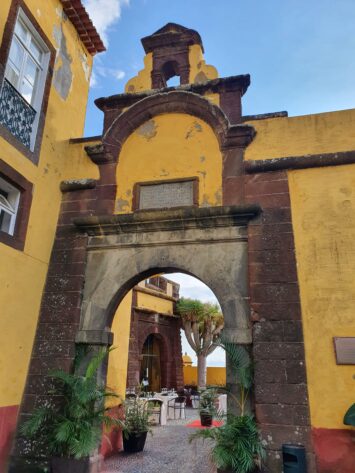 Day Six – Levada das 25 Fontes Walk
No trip to Madeira is complete without enjoying a Levada walk day trip to experience the agricultural water channels blended into the island forest and used to transport water around the island. It is truly intriguing. Each leveda walk has its own character and charm.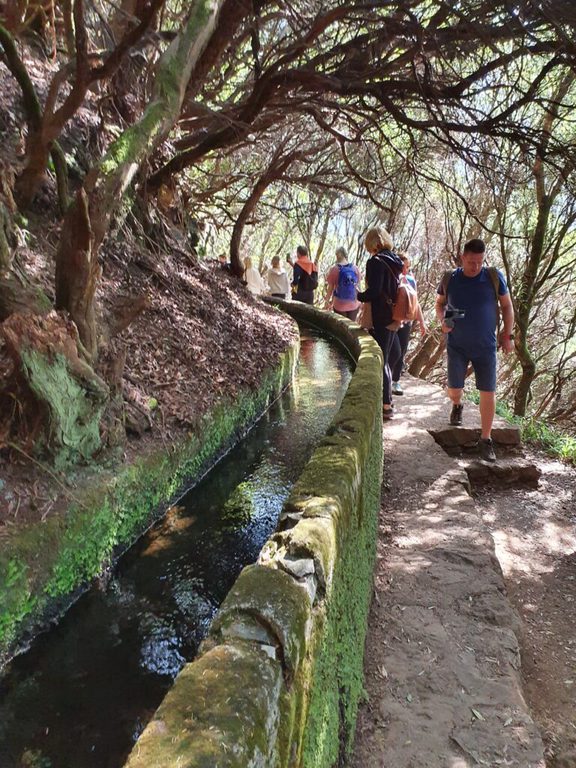 The Levada das 25 Fontes hike is very famous levada walk on Madeira. The hike starts in Rabaçal and decends, via the valley, into the forest where you'll pass many waterfalls along the way. The Risco waterfall is truly impressive due to its height.
Along the way, you can explore a wide variety of different species of the flora and fauna of the region. The highlight is the 25 waterfalls that fall into the refreshing pool where you can swim or enjoy your lunch.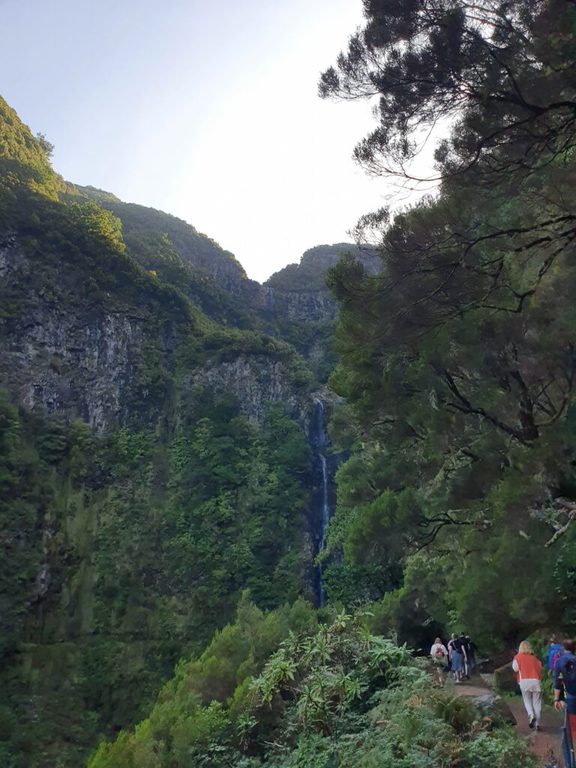 Some other popular levada walks are:
Levada Do Rei – Kings Walk – Easy 10km with the sweeping views of the valley.
Levada Do Caldeirao Verde – Easy 8km – This hike is quite unique as the many waterfalls are joined with beautiful lush green jungle surroundings.
Day Seven – Porto Da Cruz
Porto Da Cruz is a small rural village located on the North Coast which sits in the shadow of Eagles Rock. The black volcanic sand and surf waves are perfect for beginners. The village is surrounded by the Atlantic Ocean, banana plantations and vineyards. In the area, there are several restaurants where you can taste the regional gastronomy with a focus on fresh fish and seafood.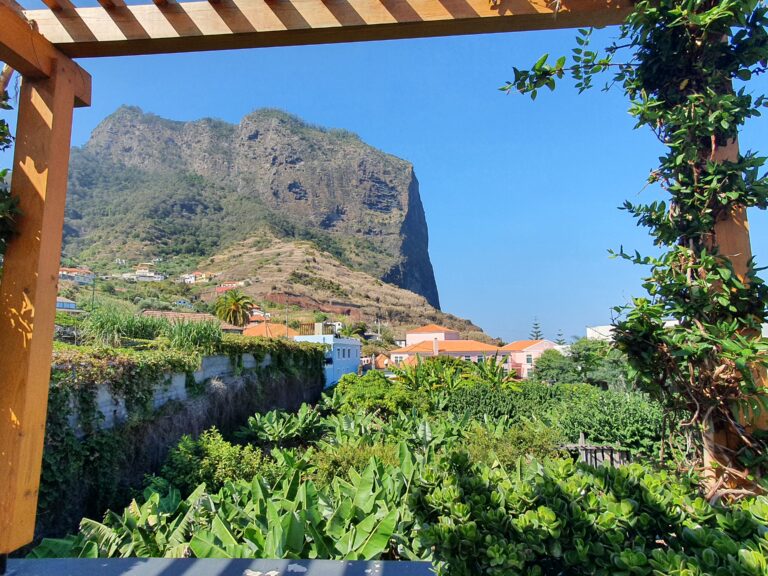 Activities
1. Beginners Surf School
Lessons can be arranged from the main surf schools below where wetsuits and boards are provided alongside tailored lessons. Wetsuit and board hire only is also possible.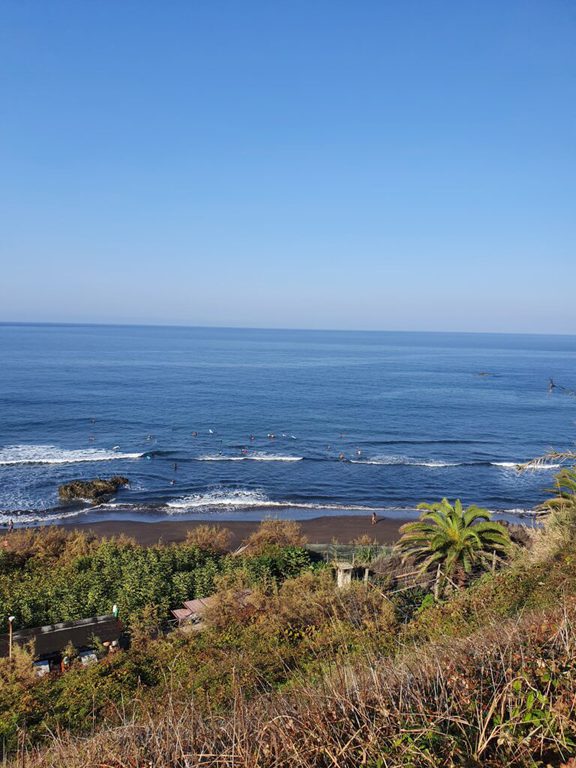 2. North Mills Distillery
Situated next to the small beach of Praia Da Alagoa is a museum dedicated to rum making. A nearby tall red brick chimney is a feature of the building where the museum showcases engines, copper vats, barrels and other brewing utensils with information boards providing helpful details about the distilling process.
There is also a shop and cafe in the next-door building. Admission is free.
Accommodation
Madeira Surf Camp GuestHouse is in the heart of the village. It was renovated in 2020 and is perfect for those looking for a surf base.
Hotel Vila Bela is a small hotel that sits on a small promenade with cute sea view rooms, perfect for sunrise.
Note. There is a small shop in the village which sells basic food items and also bakery items.
How to Get there: SAM bus #53 and #208 have a relatively frequent service – check the timetable though. Duration: 1 hour.

Day Eight – Eagle Nest Hike
The Penha de Águia hike is the perfect activity to break a sweat while in Porto Da Cruz. The trek is slightly wild and will provide you with some breathtaking scenery!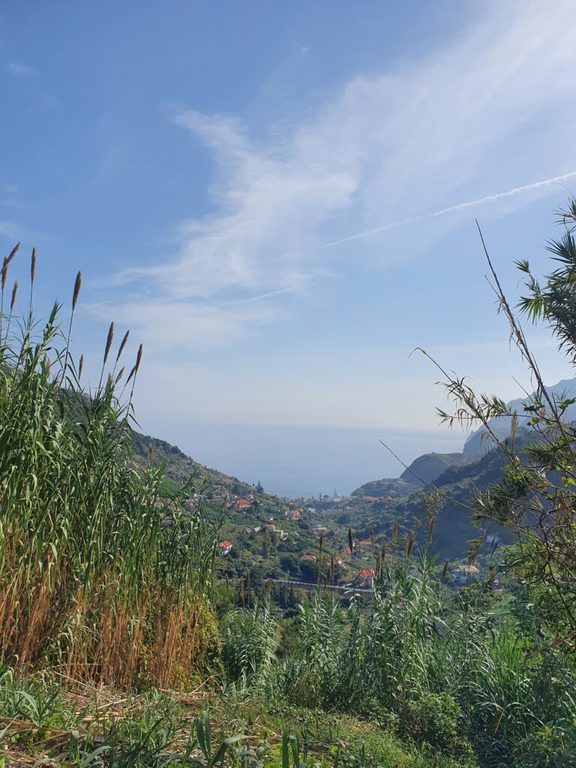 There are a couple of options for the hike.
You can hike straight up to the viewpoint on the Porto Da Cruz side then return the same way
Or you can go up, across the rock, and down into the Faial side. In Faial you either walk back to complete the loop or catch a bus/taxi.
Hike details: The total loop distance is 8 kilometres. The up and back is 3.4km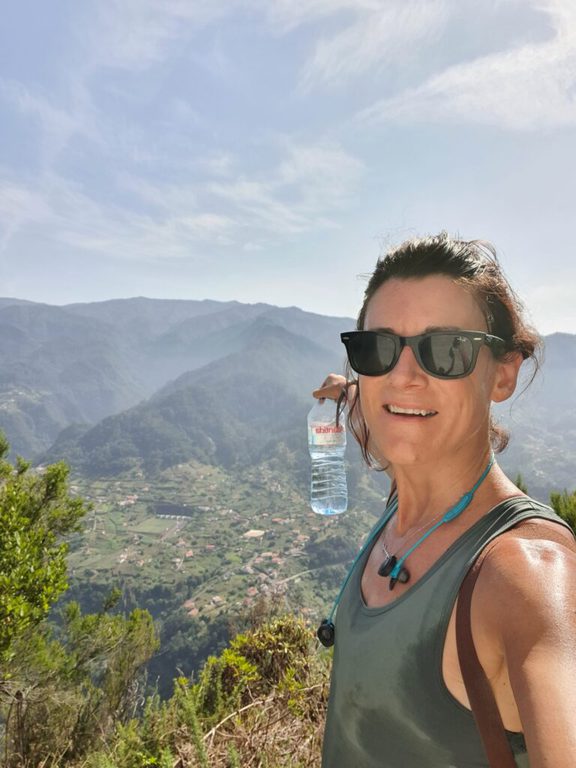 The full trail route is accessible using the app maps.me.
You will need to manage some rocks, tree roots, and uneven surfaces to reach the top of the rock. There is always a defined path but it can be overgrown so don't worry. The trail leads you along the levada and through a banana plantation (with some rowdy hens) until you see a wooden sign that says Penha de Águia and leads you up the dirt path to the summit.
Dinner – Sunset
Enjoy a sunset dinner at Hotel Vila Bela where there is seating facing the ocean for a dreamy meal.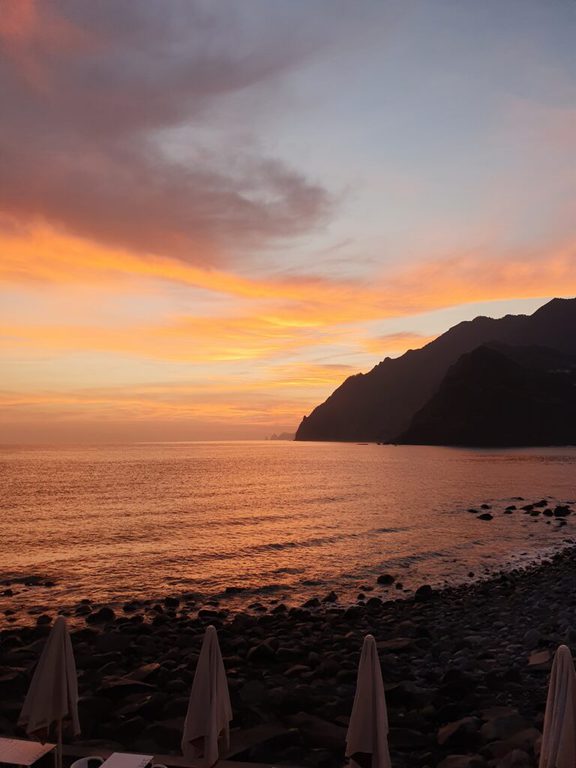 Day Nine – Water Activity
Back in Funchal, there is a number of water-based activities that should be added to your itinerary for a fun experience.
For something a little extra why not try a paddleboard tour. The Madeira SUP tours allow access to the local beauty and vibrant landscape, usually limited to other vessels.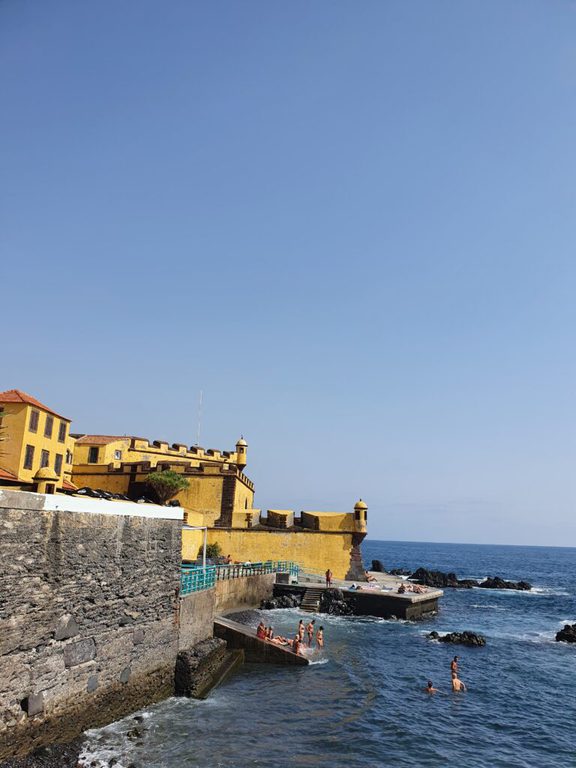 For scuba diving courses Azul Diving Center based at Quinta Da Penha De França hotel provides a 3 hour beginner course where your practice in the hotel pool before you head out into the ocean.
Evening
Pick any local bar in Funchal to taste the traditional Madeiran drink of Poncha. Made with aguardente de cana, honey, sugar, and either orange juice or lemon juice. Some varieties include other fruit juices like Passionfruit. It definitely packs a punch.
Day Ten – Catamaran & Afternoon Tea
A Catamaran tour is the most popular activity to explore the sea in search for dolphins and whales. The boat tour takes 3 hours and goes out twice a day, every day – Mornings ( 10h30 – 13h30 ) and Afternoons ( 15h00 – 18h00 ).
You will experience the highest sea cliff in Europe, Cabo Girão, for a swim and a chance to do some snorkelling. The Catamarans have a covered area and have refreshments and toilets onboard.
Reid Hotel Afternoon Tea
After a morning catamaran trip treat yourself to Afternoon Tea in the majestic surroundings of the Reid Hotel. The hotel has more British connections as Winston Churchill came to write his memoirs. Afternoon tea is enjoyed in the verdant gardens overlooking the Atlantic Ocean.
Summary
Madeira is a one-of-a-kind exotic island that feels like Europe with a twist.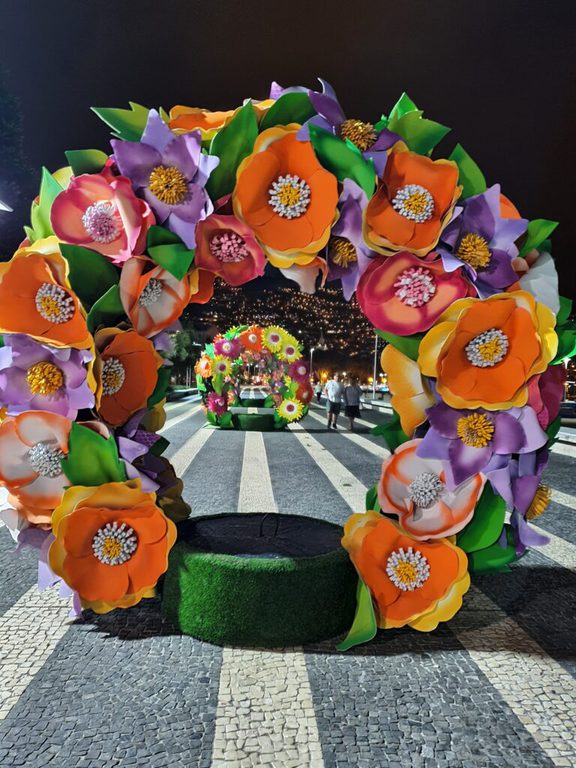 I have provided a varied guide to allow you to enjoy the best of this island but this is just the tip of the iceberg. Madeira has an abundance of activities and sights waiting for you – see below for some extras that may pique your interest.
I hope this guide inspires you to make the leap and visit Madeira. The adventures and experiences awaiting are endless.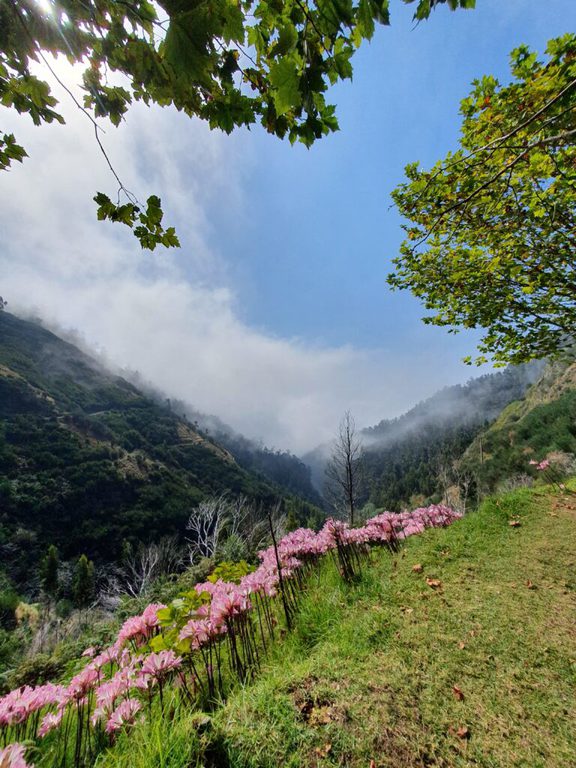 Extras
West Coast Tour – The West Coast of Madeira is full of outstanding lookouts, traditional fishing villages, and awe-inspiring natural wonders.
Sky Walk – a 2-minute walk from the village of Cabo Girão. The skywalk is an exhilarating attraction where you will stand over the tallest cliffs in Europe with incredible views of the Madeira coast including Funchal. The attraction is free.
Peninsula Sao Lourenco Walk – A 9km rugged walk with a dreamy landscape where you will have the sea on both sides. You can jump in the ocean at the end to refresh for the return walk back. The start of the hike is accessed via public transport.
Porto Santo Island – explore the second inhabited Island of the Maderian archipelago. Porto Santo is perfect for bike rides and beach time, reachable by ferry from Funchal port.
Flower Festival – Hosted after Easter the city becomes a vibrant flowery wonderland with flower wall and carpet displays made by locals.
Wine Festival – a folk festival held in early September when the grape harvest begins.
New Year Celebrations – the Funchal promenade lights up with an epic fireworks display.
Would you add Madeira to your bucket list now? Share your thoughts with us in the comments!