Perth, one of the most isolated city in the world. This 3 Day Perth Itinerary allows you to fully experience the capital city of Western Australia. Perth is an oasis surrounded by the Indian Ocean on one side and the vast Australian outback on the other.
Perth is one of the coolest travel destinations in Australia. I have put together this day to day itinerary for all travelers. You won't miss a thing in Perth and will be able to enjoy the city to its fullest.
Getting to Perth
Getting to Perth by Train
Most of the trains arrive at the East Perth train station. You can get from the train station to the city center by city bus, metro or taxi. It only takes about 15 to 20 minutes to get to the heart of Perth.
Getting to Perth by Car
Perth is easily reached from the Northern or Southern coastline or the Eastern outback. The road quality in the city is excellent. However, parking your car in Perth is expensive, and costs up to $40 a day.
If you're coming by car, you can use airport parking Perth and take a bus or taxi downtown, and save money this way.
From the Airport to Perth
Most common way of getting to Perth is by Air. The city is served by two airports: Perth Airport (PER) and Jandakot Airport (JAD), both very well maintained.
There are two ways of getting from the airport to the city, by public bus or by taxi. Buses from the airport leave frequently and have separate luggage racks. They are cheap and convenient.
The airport taxi service is reliable, but it's possible to have to wait a while at off-peak times. A taxi from the airport should take no longer than 25 to 30 minutes.
Getting around Perth
The weather in Perth is pretty good all year long. This means you can walk or bike around the city. Hence, there are several free walking tours of Perth to choose from. A great way to explore the city in an active way and on a budget.
Public transport
You can get around Perth with ease using public transport. There are trains, buses, and ferries available. I recommend buying a Transperth SmartRider Card. This is a local public transport card which is very convenient. Save yourself the hassle of buying tickets all the time.
Make sure to check the timetables, as public transport isn't widely available at night. You don't want to be stuck on the other side of the city.
Taxi's and Ride-Hailing Apps
There are plenty of taxi's around Perth. In general, they are always available, but you might have to wait a while during peak periods. The ride-hailing app Uber is also available in Perth and is a lot cheaper than a regular taxi.
Day One – The Swan River
Elizabeth Quay
Elizabeth Quay is the center of the city. It's a charming walk with interesting pieces of architecture. You can walk around the Quay for 1.5 hours. If you enjoy observation decks, head over to the bell tower for some great views.
A few blocks away from Elizabeth Quay lies the Perth Mint. An old government money-making facility. Even if you're not that into gold, coins, and other precious metals, the tour guides and staff are friendly and fun.
The Print Hall
For lunch, head over to the Print Hall. The restaurant is housed in a former print house and serves various dishes to share with each other. They always have a lunch deal going on. Make sure to go before lunch hours or after to avoid the crowds.
King's Park
King's Park is one of the biggest city parks in the world. Grab some snacks and a drink from a convenience store and head out to explore the gardens. The highlight is the botanical garden with thousands of different species of plants.
There are various memorials scattered around King's Park. But don't tire yourself too much by checking them all off your list. The most interesting one is the State War Memorial, as it boasts the best view of the city at the same time. If you have a (rental) car, avoid parking it near the park as only a few spots are available, and car theft does happen.
Evening River Cruise
One of the best ways to enjoy the twilight skyline is by Swan River cruise. It's a pretty fun way to learn more about the city, enjoy a drink at the bar and soak in the skyline. If you're a photographer, then this is definitely an excellent way to shoot some fantastic shots.
Feeling hungry after the cruise? Finish your day in Perth at Balthazar, just around the corner from Port of Perth. It's located in a restored building and offers modern Australian cuisine paired with some excellent wines.
Speaking of delicious cuisine. Western Australia Gourmet Escape, an extraordinary festival of food and wine, is happening nearby and it's worth checking out if you're around in November 2020.
Day Two – Eccentric Markets and Notorious Prisoners
Fremantle is Southwest of the center of Perth. A beautiful part of the city and known for its markets, beaches, and culture. The easiest way to get to Fremantle is by train from Perth Central Station and takes about half an hour.
Fremantle Market
On Friday, Saturday and Sunday, the Fremantle Market opens up. You can find different kinds of food, souvenirs, and artwork. The stalls differ from week to week, so you will never know what you will find there.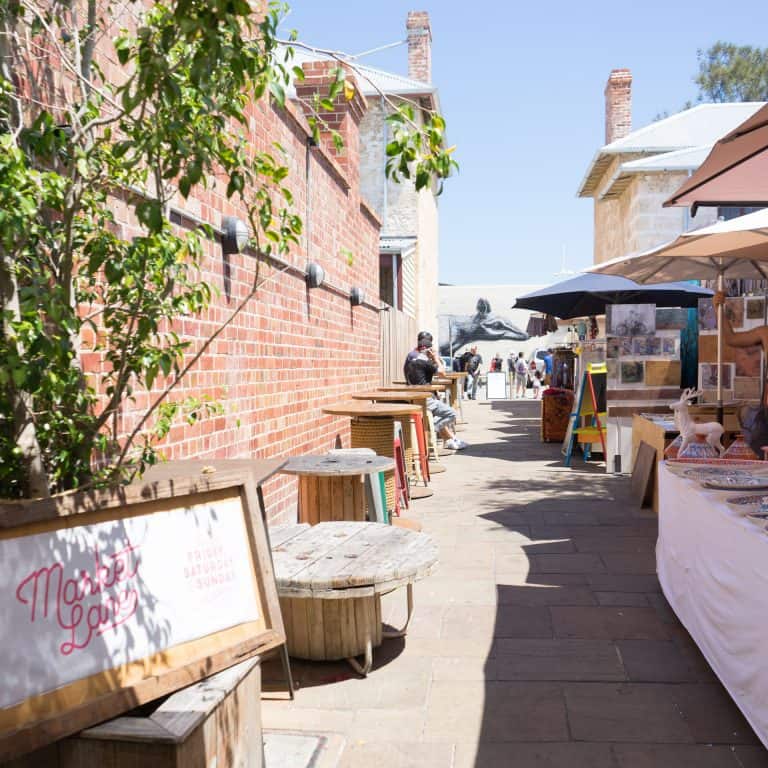 Cappuccino Strip
On other days, the market isn't open. But don't worry, there's plenty of boutique stores to shop around selling all kinds of goods. Along the road, you will find all types of street art. Grab a coffee down at Cappuccino Strip, famous for the coffee shops selling… Cappuccino!
Fremantle Prison
Fremantle Prison is a former maximum-security prison turned into a museum. Get a tour and explore this old jail, built by prisoners themselves. The prison does get busy during weekends, especially in the morning. Avoid the peak hours and the crowds for a better experience.
If you are feeling adventurous, do the tunnel tour at the prison. This tour explores the tunnel network under the jail and sometimes gives you the chills. Skip the Convict Cafe at the prison, as it's nothing special and overpriced. Instead, head down to the beach.
Bathers Beach
Take a stroll along the Roundhouse towards Bathers Beach past different kinds of sculptures. Enjoy the sunset and dip your feet in the water. Or have a seat at Bathers Beach House and enjoy a craft beer.
Fish and Chips
Before heading back to the train, walk around the harbor next to Bathers Beach and enjoy some fresh fish & chips. Eateries such as Kailis Fish Market Cafe and Joe's Fish Shack are well priced, and the quality of the food is good. You can order anything from traditional fish & chips to seafood platters.
Day Three – Explore Rottnest Island
You have probably heard of the Quokka. They are native to Rottnest Island and one of the reasons to visit it. But Rottnest Island is also known for its beaches and trails. The island is located off the coast, and you can visit the entire island in one day.
Ferry to Rottnest
The easiest way to get to Rottnest Island is by ferry. Boats leave from both Fremantle Harbour and the city center of Perth. Buying tickets on the day itself can get pricey, so I recommend buying them online. It saves you time and money! The journey to the island takes about 30 minutes, and you get to enjoy the scenery.
Cycling on Rottnest Island
You won't find any cars on the island. But there is a regular shuttle bus schedule to get around the island. Another way to get around Rottnest Island is by bicycle. A full loop of the island is 25 kilometers, ideal for cycling.
Quokka Trial
Once you arrive on Rottnest Island, start with the trials before it gets hot. The trails are generally short walks between 30 to 60 minutes and have different themes. Along the way, you might get an opportunity to spot some Quokkas, the native marsupials. They look cute and are not afraid of humans. But keep in mind, these are wild animals, and you should not feed or touch them.
Rottnest Beach
There are a couple of beaches on the island. Marjorie Bay is one of the more secluded beaches and a perfect getaway from the crowds. If you want to go snorkeling, head down to Salmon Bay or The Basin. Both have plenty of marine life and clear water.
The last ferry departs from Rottnest Island around 6:30PM, so be sure to be back at the port on time and check the timetable upfront.
Where to Stay in Perth
Budget Accommodation
Hostels are a little pricier than in most other cities around the world. A budget choice is Billabong Backpackers Resort. The hostel is in the city center, which is great as you're near all the bars and restaurants. The best part, it has a pool and air-conditioned rooms.
Modern Mid-range Hotels
There are many hotels in Perth, and most of them are located around Elizabeth Quay. The Melbourne Hotel is a mid-range choice right in the city center. This hotel is close to the King's Park, ferry, and train station. A good location for your Perth itinerary.
Luxury Suites
You won't have any problems splurging on high-end accommodation in Perth. If you are looking to spend your nights in a luxury suite then The Westin Perth is an option. This high rise hotel is located right in the heart of the city, and has some good views from the rooftop pool.
To find somewhere to stay in Perth you can use the map below. The icon on the bottom right will show you a heat map of areas with shopping, nightlife and transit lines in the city so you can make sure you're located in the best area.
How to Prepare for a Trip to Perth
Have a Valid Visa Ready Before Arrival
Whether you are going to Perth for a holiday or to work in Australia, make sure you have a valid visa. You can arrange a tourist visa for Australia online.
Install a VPN
Virtual Private Network, aka VPN, allows you to connect to the internet securely regardless of where you are, so you can connect to airport and other public WiFi without worrying that your sensitive data will be compromised.
You'll also be able to use websites and services as if you were in another country, like your home country. Especially helpful if you want to use a streaming platform or local television that are only available in some locations (like some YouTube videos). And, if you're looking for cheap flights, searching from a poorer country will give you lower prices.
Get Insured
Australia is a relatively safe country but it's not an excuse to not get insured. Accident may happen anywhere in the world and medical bills or replacing list/stolen items is way more expensive then planning ahead and getting insured, just in case. Check this affordable medical travel insurance out.
And yeah, consider getting an anti theft backpack. It's good everywhere you go.
Bring a Power Adapter
Australia uses a Type I power outlet, which differs from most other countries. Get a Universal Power Adapter to keep your electronics charged during your trip. Make sure to get a Power Adapter with overload protection to safeguard your devices.
Get a Portable Wi-Fi Hotspot
Stay connected to the internet while in Perth with a Portable Wi-Fi Hotspot. You can carry the hotspot everywhere you go and keep in touch with friends, or navigate your way through the city.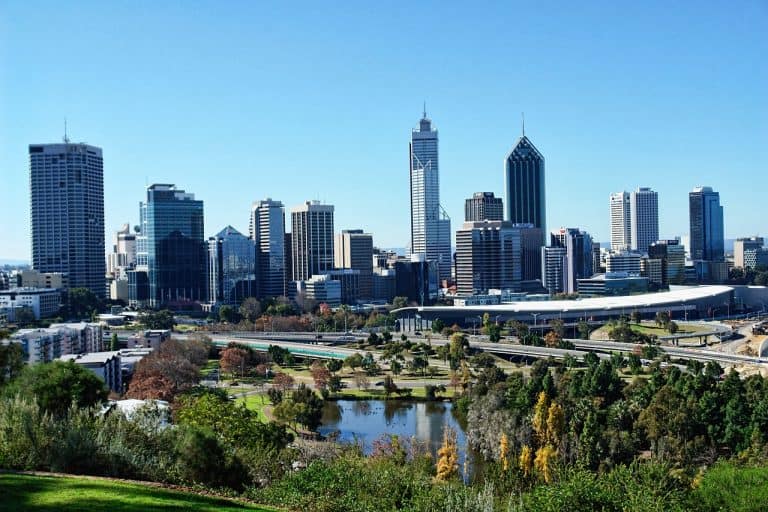 Get a Guide Book
Do you enjoy preparing for your trip by reading a guide book? Then get one! Lonely Planet West Coast Australia is full of information about Perth, and you can even navigate around the city using a good old map.
Stay Safe in Perth
Sunburn and Dehydration
Perth is a pretty safe city. The biggest dangers are sunburn and dehydration.
Especially during the summer months, temperatures will rise. Be sure to apply sunscreen before going outdoors, and always carry a bottle of water. You can bring your own bottle with filter to save environment, which you can fill up anywhere with tap water (safe to drink).
ATM Skimming
Be wary of using ATMs. It does happen that devices are attached to ATMs to skim your credit card. If you need cash, make sure to check if the ATM has been tampered with. Alternatively, you can get some money from inside a bank, which is safer in general.
Where to Go Next?
There are plenty of travel destinations in Australia and New Zealand to choose from.
Did you enjoy Perth and want to visit another city such as Sydney or Melbourne? Check the latest flight prices from Perth airport and you may find it's cheaper than you think.
Another option is to rent a car (you can also rent a car from a private person – something like VRBO for cars), take the highway north, and explore the West coast of Australia. There are various itineraries different in length. But do make sure you have a valid international drivers license on you.
Pin It For Later