New Zealand is a country with so much to offer visitors. Its diverse landscapes create an endless list of things to do and see – especially when it comes to the outdoors! One of the most popular things to do in New Zealand is hiking, or as the Kiwis call it – "tramping."
During my year-long working holiday in New Zealand, I was determined to do as much hiking as possible and that meant in the winter too. Without any winter alpine experience, I embarked on my first ever winter alpine hike while in New Zealand. While it was daunting and strong winds made my experience somewhat dangerous, it was thrilling and beautiful – and I can't wait to do it again.
This is my story about my first ever winter alpine hiking experience including some information in case it inspires you to have a go for yourself one day!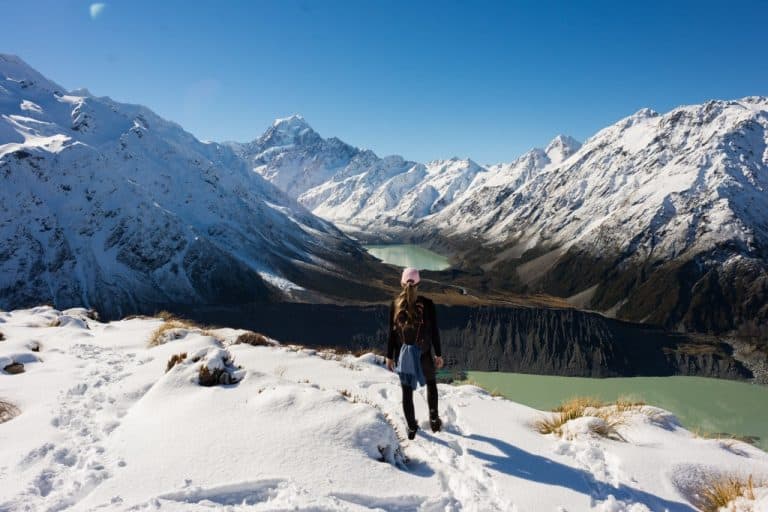 Winter Conditions in New Zealand
People come from all over the world to hike some of New Zealand's snow-covered peaks. Many visitors have tons of winter alpine hiking experience in different countries such as Europe or Canada, which they think qualifies them as fit for hiking in New Zealand. This is a mistake as the unique landscapes and temperatures in New Zealand make it one of the most dangerous places to hike in the winter.
Every year people die from attempting winter alpine hikes. Avalanches are a huge concern, rock slides, poorly marked and maintained trails, as well as freezing temperatures that can change at moment's notice all play a factor.
The danger level is so high that many of the most famous trails are closed during the winter months. The trails that do remain open are still risky and it is important to know the weather reports and trail conditions before leaving.
Winter Alpine Hiking in New Zealand – A Worthy Risk
Hiking in New Zealand in winter can be risky, but it is beautiful. Some of the most gorgeous views involve snow covered mountains and the views just aren't the same in the summer. These views are what make people take on the challenging task of winter hiking.
For me, it wasn't just the views I was after though, I wanted to challenge myself and experience what it was like to attempt an alpine hike in the middle of winter. The idea of hiking with crampons and an ice axe in hand sounded pretty cool, so that was enough for me to make my mind up.
Choosing the Hike
Daniel (my boyfriend) and I knew that we wanted to do a proper winter hike in New Zealand but we had to choose the right one. Of the hikes that are open and considered safe enough to do, we had to also consider the weather as well as the length of the hike for our fitness level.
There are literally an endless amount of winter alpine hikes to choose from in New Zealand, but some of the most popular are:
Ben Lomond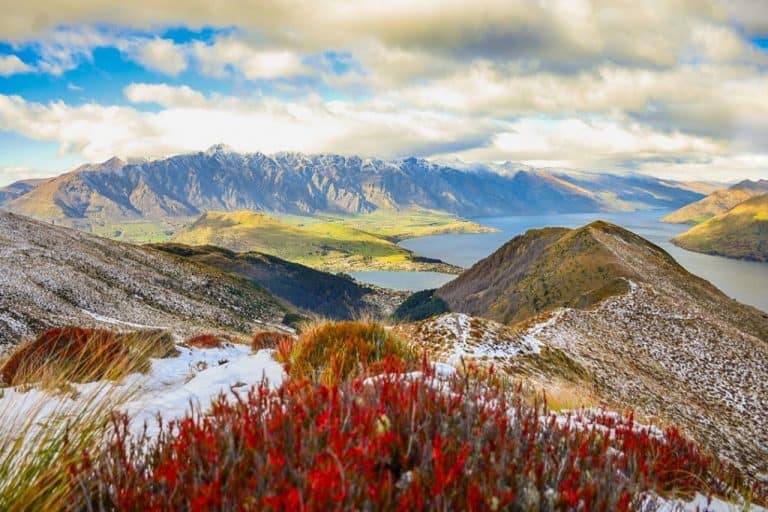 Ben Lomond is not only one of the most popular winter alpine hikes in New Zealand, it is probably one of the most popular hikes in all of New Zealand, period. The reason for this is that it is a fairly easy hike in the sense that it can be done in one day that offers insane views.
The hike to the top of Ben Lomond begins in from the tourist town of Queenstown. The first half of the hike is fairly easy and shaded from trees. Once you pass the tree line the views are incredible making it one of the best free things to do in Queenstown.
The hike to the top of Ben Lomond and back down will take over 8 hours (probably closer to 10 in the winter when it is icy.) Depending on the conditions you may need crampons for the last part of the hike from the saddle to the summit.
Lake Alta
Lake Alta is another hike near Queenstown. To reach Lake Alta you must first drive up to the Remarkables ski field. From here, it is a climb up in the snow to reach the lake.
Lake Alta is considered one of the easier winter alpine hikes in New Zealand. In fact, if you were to do a winter alpine hiking course as a beginner, this is likely where you would start! For people who have never used crampons or hiked in the snow before, joining a course to Lake Alta is a great idea in order to gain skills and experience.
The hike to Lake Alta and back can be completed in under two hours.
Routeburn Track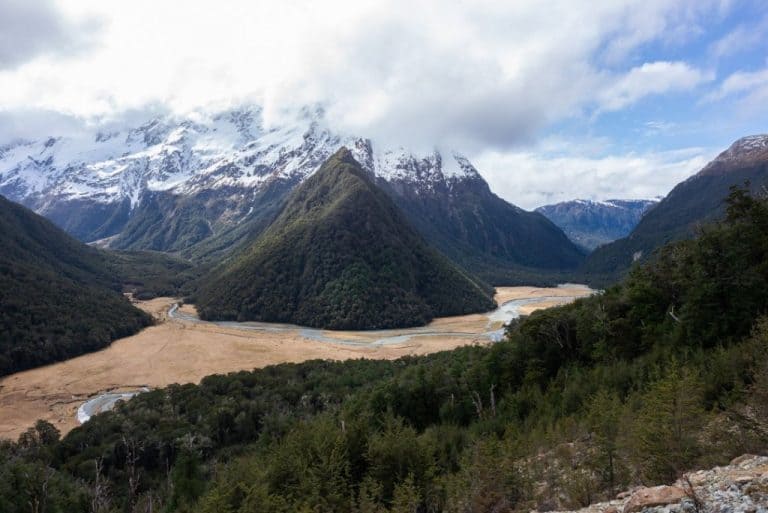 The Routeburn Track is one of those hikes that is so much more beautiful in the winter than the summer. Unfortunately, most people only hike the Routeburn Track in the summer missing out on my favorite time to be on this trail.
The catch to hiking the Routeburn in winter is that it can be dangerous and there is a risk of avalanches. It is crucial that you check in with the visitor center in Queenstown before you go, and get the latest updates on weather and avalanches.
In the summer, the entire Routeburn Trail is usually hiked in 2-3 days. However, in the winter you should plan to hike up and back in one day or stay at the Routeburn Falls Hut for one night. There is no ranger at this hut in the winter but it is still open. Passes to stay overnight should be bought in advance from the visitor center in Queenstown.
Roys Peak
Roys Peak is one of my absolute favorite hikes in New Zealand! In the summer, this hike is infamous for being extremely busy, but in the winter you could have the trail all to yourself making it the perfect time to go!
The first half of the trail in the winter will be fairly easy with little to no snow. However, as you climb higher there will be much more snow and it could get a little bit slippery requiring crampons especially on the last section to reach the summit.
Hiking to the top of Roys Peak does require a fair bit of fitness as the trail climbs 1400m in elevation over 8 kilometers. Make sure you dress warm for this one as it'll be cold up there!
Mueller Hut
The hike to the Mueller Hut is a gorgeous trail up in the mountains in Mount Cook National Park. The hike climbs over 1,000 meters and at the top, you are presented with views of Mount Cook (New Zealand's tallest mountain) and the Hooker Valley. It is nothing short of breathtaking and one of the most beautiful places in New Zealand.
One of the special things about this hike is that it ends at the Mueller Hut where you can spend the night. This hut has mattresses and beds for hikers to use, a kitchen area, and a pit toilet. Spending the night in the hut is the best way to break up this rather challenging hike and seeing the sunset from up there is a worthwhile experience.
There are avalanche risks when hiking to the Mueller Hut as well, but they are often predictable and if you check in with the visitor center in Mount Cook Village before you go, they will tell you how safe the conditions are.
Crampons and an ice axe are required to hike to the Mueller Hut in winter. It is also recommended that you have some experience, go in a group, and register your plans at the visitor center before you leave.
Our Choice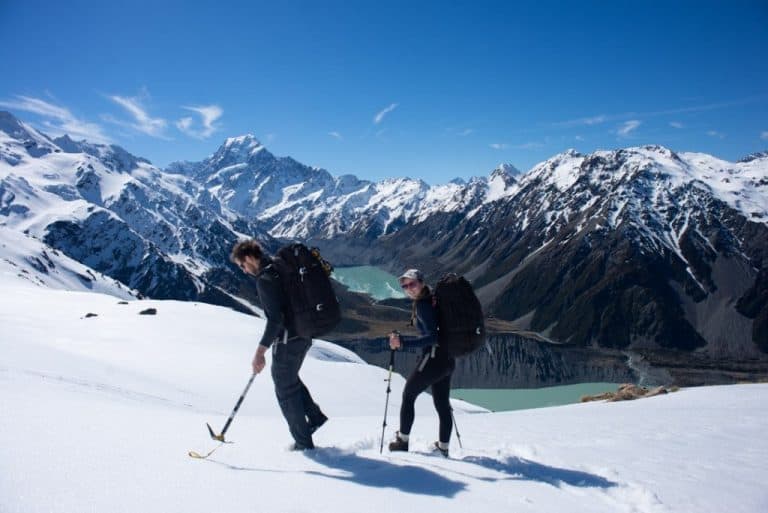 To us, the hike to the Mueller Hut seemed like the best adventure – I mean, we would get to spend the night in the hut – how cool is that! Also, the photos we saw of the views from up there were amazing and we just had to see it all for ourselves.
My Experience Winter Alpine Hiking in New Zealand
So it was decided. We were hiking to the Mueller Hut. Daniel, myself, and a friend of ours set our plan to head to Mount Cook National Park on the weekend in hopes the weather would cooperate with us enough that it would be safe to accomplish the hike.
Out of the three of us, nobody had winter alpine hiking experience. I mean, we all had plenty of just general hiking experience, but the idea of hiking high up in the mountains in the snow was a whole new concept. We asked some friends of ours with experience what to expect and if it was a good idea, and they assured us we would be fine.
Even with the reassurance, I was nervous. I kept thinking that we should hire a guide or go with a some people with more experience.
The Weather
The weather affects alpine hiking in New Zealand tremendously. High winds make hiking on icy grounds very dangerous, falling snow affects visibility, temperature changes can create avalanche risks, and new snowfall ruins any chance of finding the trail. This is why it is extremely important to pay close attention to weather forecasts and ask the experts before leaving.
We spoke to the Department of Conservation (DOC) at the visitor center once we arrived to find out the current weather conditions. They assured us that the avalanche risk was low.
They also told us the sun was out and it would be a warm day meaning not much ice and the snow would be soft.
It looked like it was going to perfect, so we got a good night sleep before heading off early the next morning.
Gearing Up
Besides checking the weather, there was quite a lot of preparation that went into this hiking experience.
First of all, we had to rent crampons and ice axes. In winter, having these items with you is necessary just in case it gets icy or windy. The DOC told us this and essentially told us they weren't optional. For those who don't know, crampons are spikes that you put on the bottom of your hiking boots. They give you grip on icy hard snow and are essential for walking on ridgelines.
Ice axes help you in case you fall. You throw the ice axe into the snow or ice to prevent you from gaining too much speed and falling too far. We rented these items the morning of from a shop in the national park, it cost about $20 NZD each for the 24-hour rental.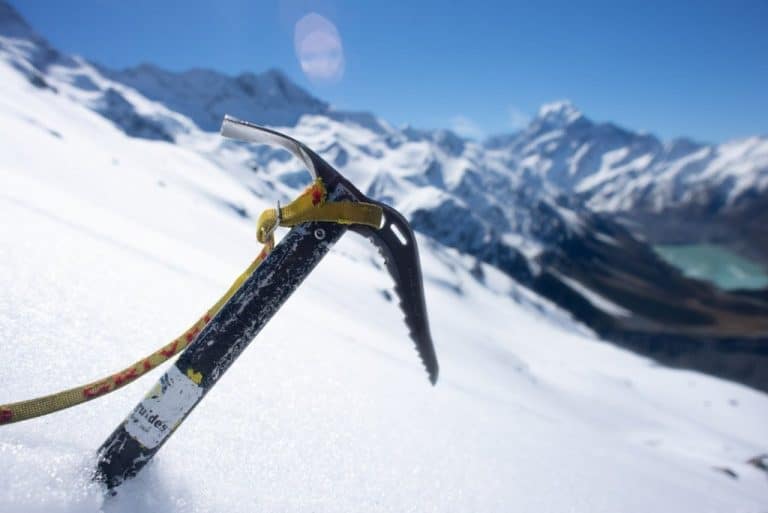 What to Pack
We also needed to pack our food and cooking utensils. At the hut, they have a kitchen bench, tables, and sinks, but we needed to bring our own gas cooker, gas pots, dishes, and food, possibly in a backpack cooler. For hiking in the winter or summer, the same rules always apply; bring easy to cook hearty food – and lots of it! We always bring pasta, chocolate, nuts, and then oatmeal for breakfast.
For winter hiking we needed to make sure we had warm clothing. I wore lots of layers and brought plenty of extra clothes that I could wear in the hut that would be dry. Extra pairs of hiking socks are essential as the snow means your feet will get wet and socks likely won't dry overnight. Waterproof gear is also a good idea. Good gloves and a hiking hat are also a must!
Checking in with the DOC (Department of Conservation)
With all of our gear and food, we were all set and ready to go! We purchased our hut passes from the visitor center for $36 NZD each. We also registered our plans which meant we wrote down our names and that we were planning on staying in the Mueller Hut that night. This is the DOC's way of keeping track of people and trying to keep everyone safe.
The DOC also warned us that although the weather looked good for the day we were leaving, on the day we would be hiking down high winds were predicted to set in at about lunchtime. They told us to make sure we left early the next morning to make sure we were off the ridgeline before the winds got strong.
With that in mind, we were off!
Day 1 – Hiking up to the Hut
The first day was a bit of a challenge. The weather was warmer than normal so the snow was all melting which meant it was soft. Every step we took meant we would sink into the snow up to our knees. As if hiking up the side of a mountain didn't require enough effort already, having to lift our legs out of deep snow with every step was exhausting.
The sun was out though and it was a beautiful day. We didn't need our crampons or ice axes simply because the snow was that soft.
The first half of the hike involved climbing over 2,000 stairs (which turned out to be the easy part!) After the stairs ended is where the snow began. We continued to climb up with footprints in the snow as our only indication we were going the right way.
Arriving at the Hut
After about 5 hours of climbing we finally reached the Mueller Hut! The views were extraordinary! We got settled in the hut and relaxed for a couple of hours before we ventured out again to take some photos at sunset.
We put on our crampons as we explored at sunset just to try them out. Since we had such good weather we hadn't needed to use them and we thought they were fun – little did we know that these crampons were going to be absolutely essential the next day….
Day 2 – A Windy Morning
That night was cold and even in the hut everyone froze. It is safe to say that I didn't get the best sleep.
In the early hours of the morning the sound of strong winds beating against the huts walls startled me. It was so loud and hard to ignore – I wondered if these strong winds we were told about came earlier than predicted.
Daniel got up to go check out the sunrise. Within minutes he returned to the hut and told me to get up and pack. The winds were that strong already that we needed to make a move down the mountain ASAP.
There were a handful of other hikers also staying in the hut. The general consensus between everyone was to get moving as soon as possible.
Without even eating breakfast, we geared up and headed out of the hut as the sun was still rising. The other small groups of hikers were all nearby and we had a false sense of security in the fact that we were not alone.
Putting our Crampons to Use
This morning we had to strap on our crampons. It was so cold outside and because of the warm temperatures the day before, the melted snow turned to ice. We weren't falling through the snow anymore; we were sliding around on the top of it which meant crampons were 100% required.
The first few minutes of hiking from the hut were on the top of the mountain and the winds were strong at around 70 km/hr. I was having trouble staying on my feet and fell over multiple times because of the wind.
I'd dug my ice axe into the ice every time I fell to prevent me from falling down the side of the mountain. Daniel often had to grab me to keep me stable. It was a struggle and I was scared. I didn't want to get blown off the edge of the mountain.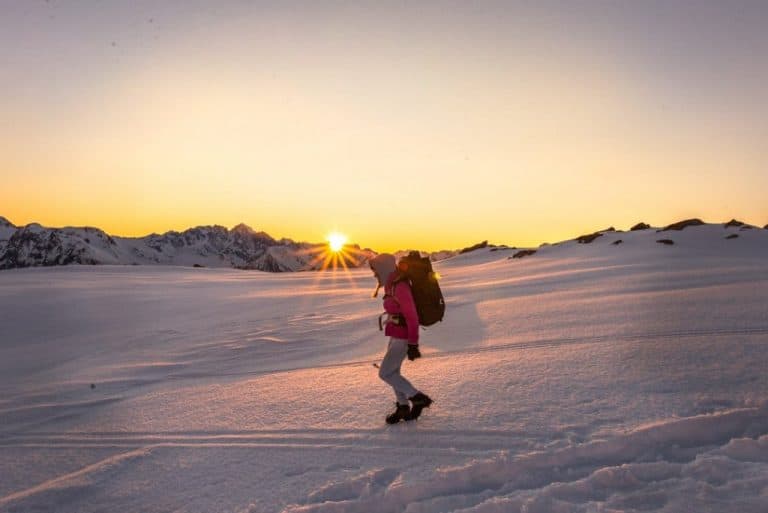 The Steepest Section
Finally, I reached the side of the mountain where I was somewhat guarded from the wind. This section was very steep and the icy snow made it very difficult to walk down. We had to descend in a very shallow zig-zag pattern just to be able to stay on our feet.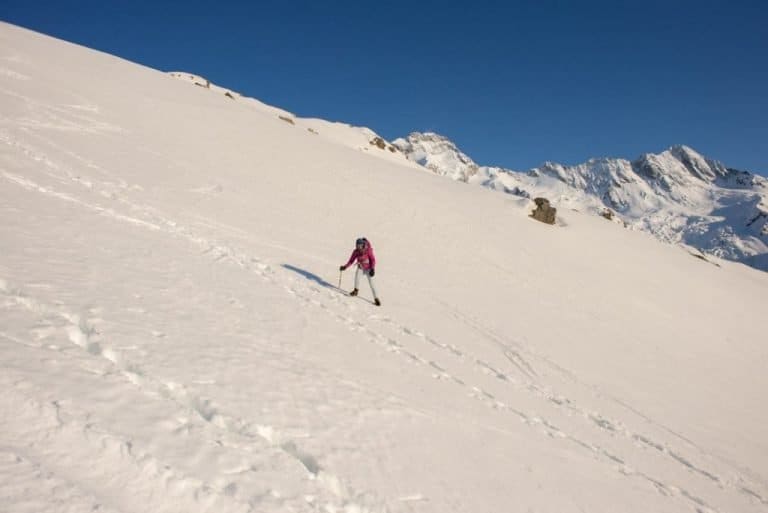 At one stage, our friend slipped and started to slide down the mountain, he went with it for a little while hoping it would be a quicker and "fun" way to get down. But within moments he started to pick up too much speed and was sliding out of control. He dug his ice axe and crampons in and was (luckily) able to stop.
None of us were going to attempt that method again and we accepted our slow fate of hiking down the mountain.
Feeling a Sense of Relief
After a couple of hours, we reached the stairs and there was no more snow. We were far enough down the mountain that the winds were manageable and I was relieved. I sat down, took off my crampons, and I hate to admit it, but I let out a few tears.
It sounds a bit silly now when I say it, but the truth is that the hike down was scary. Falling over and struggling to stay in control on the ice was stressful. After being stressed for a few hours straight, reaching a point of safety was such relief my body just let out a couple tears of relief.
When we finally reached the bottom of the mountain, we went out for breakfast and all spoke about how crazy the hike down was, how we were lucky nobody got hurt or worse. But, the general opinion was that it was an awesome experience.
Literally, all we spoke about for days afterward was this hike.
A Memorable Adventure
My first winter alpine hiking experience in New Zealand wasn't an easy one. It probably could have gone smoother, but that being said the challenge and craziness of it all made it that much more exciting.
Looking back, this adventure was one of the best I had in New Zealand. The views were amazing, the challenge was rewarding, and the memory will stay with me for a lifetime.
Now, I just need to plan my next winter alpine hiking adventure!
Would you go winter alpine hiking in New Zealand up to the Mueller Hut?