When you speak to fellow travelers, it's remarkable how different their "bucket list" destination lists can be. We're all looking for something different from our travels, and it's wonderful that there are so many "must see" places. However, one destination that keeps cropping up in everyone's wish list is the Galapagos Islands.
Is it their remoteness (they lie almost 600 miles off the Ecuadorian coast)? Or their historic role in the discovery of evolution? Or primarily their abundance of unique wildlife and habitats that can be found nowhere else? Most likely it's all of these! But whatever your motivation for visiting, experiencing the Galapagos islands is probably on your list, too.
Straddling the equator and dedicated as a National Park by the Ecuadorian government in 1959, the ecosystems of the Galapagos Islands and their surrounding waters are heavily protected. The uniqueness and fragility of their natural history were further recognized in 1978 when they were designated a UNESCO World Heritage site.
Millions of Years in the Making
Formed by undersea volcanoes over millions of years, the islands are a mix of rugged and barren lava "lunar landscapes" seen on the younger islands in the archipelago, and older, lush forested tropical lands teeming with life and stunning white sand beaches.
Thanks to their isolation, the Galapagos is home to many iconic species that you just can't see anywhere else on Earth. From the majestic Giant Tortoises that roam the lowlands of the forested islands to the blue-footed boobies that are famous not only for their remarkably colored feet but also their beautifully comical mating dances.
The jagged cooled lava that meets the ocean teems with marine iguanas basking in the sun or on their way into the sea to feed. The world's only aquatic lizards, these prehistoric-looking wonders can grow up to 4.5ft long, and they sneeze out the salt that they ingest from their seaweed diet.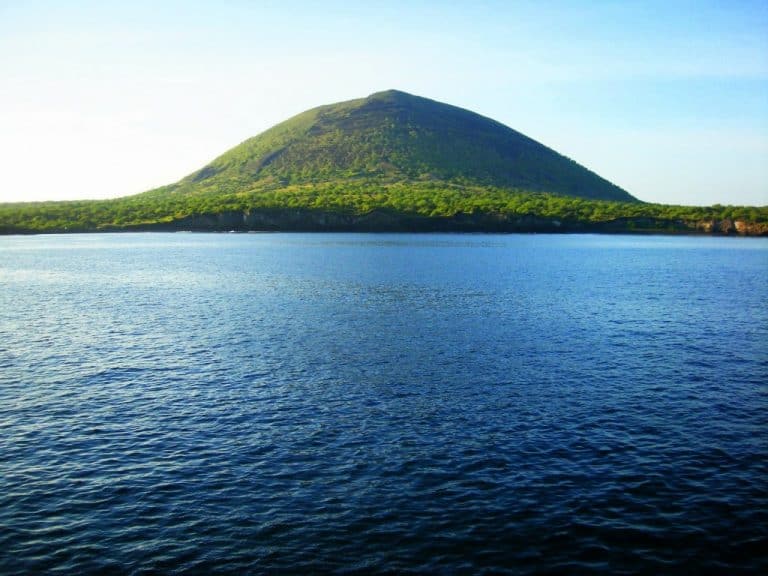 Galapagos penguins will swim playfully with you as you snorkel in the shallows. These cheeky birds are the most northerly penguin species in the world. In fact, one small colony on the north tip of the island of Isabela have set up home north of the equator – so penguins do live in the northern hemisphere, despite what you learned at school!
A Unique Role in Natural History
There are many more endemic species to discover including flightless cormorants, waved albatrosses, land iguanas, and more, but perhaps the most famous inhabitants are also the least striking – the several species of finches known collectively as Darwin's Finches. It was the subtle differences between these birds across the islands, developing in isolation, that solidified Darwin's theories on the origin of species during his stay on the islands as the naturalist aboard HMS Beagle in 1835.
Humans first began to settle in Galapagos in the early part of the 20th century, and the invasive species they brought with them (cats, goats, other livestock) wrought vast amounts of damage to the islands' habitats. Today, the National Park educates visitors on the active work that still continues to preserve and restore the islands as a jewel in the crown of world heritage.
Planning Your Visit – Land or Sea?
With visitor numbers restricted, and only a select few islands and sites open to tourists, you need to choose the best way of experiencing the true Galapagos in the short time you will be able to stay in the National Park. There are two ways to plan a Galapagos exploration. The first is to choose a hotel, B&B or lodge as a base and then make day trips to nearby islands. There are a growing number of accommodation choices, from traditional hotel options in the main population centers of Puerto Ayora on Santa Cruz and Puerto Baquerizo Moreno on San Cristobal.
There's also a growing market in eco-lodges, boutique B&Bs, and other alternative accommodation options. This is probably the least expensive way to visit Galapagos, but it restricts how much of the 3,000 square miles of islands you can actually experience in one trip – and how many of the unique animals and habitats you can discover. You'll be restricted to exploring one island, or taking small, fast boats to do daily "island hopping" to only one or two of the other nearby islands where visitors are allowed to land.
A Galapagos Cruise – Best of All Worlds?
A more expensive, but much more immersive option is to take a guided naturalist cruise around the archipelago. The National Park authorities license a restricted number of vessels to bring visitors to the islands with tight controls on numbers and the ecological impact they are allowed to make.
Because you must be accompanied by a certified guide who may supervise a maximum of 16 visitors, you receive a very intimate and personal introduction to the Galapagos. Many of the boats in the Galapagos cruise fleet therefore only take 16 passengers, although there are a handful of larger ships, including two or three that can accommodate up to 100.
With plenty of boats to choose from at a range of price of options, each offering at least two different itineraries, it can be challenging to find the right one for you. Luckily there are tools you can use to help you find the right Galapagos cruise.
Galapagos cruises are available as 4-day, 8-day or 15-day options. Given everything that there is to experience here unless you really don't have any other choice a 4-day Galapagos cruise really won't give you more than a quick flavor of the islands.
Significant advantages to taking a Galapagos cruise include the ability to get close to those islands where landings are still forbidden, to snorkel from the boat and swim with the amazing marine life, and to share your trip with a small group of like-minded travelers.
The guides who must accompany you are all highly qualified and absolute Galapagos enthusiasts. They really help to make the islands come alive for you and their daily briefings will give you a real appreciation for the geography, geology and conservation work that goes on to protect the Galapagos.
Just Do It!
Whether you choose a hotel-based stay or you take a Galapagos cruise you'll come home with unique memories – so just do it! Take the best camera you can get and plenty of sunscreens, and visit at any time of the year. As an equatorial archipelago, there's no wrong time to visit, and the islands are full of activity all year round.
For nature lovers, this is a destination that you need to visit. Because they have no fear of people, you can get closer to truly wild animals here than anywhere else. When you add to this the fact that many of the species you'll encounter are endangered and can't be seen anywhere else, even in zoos and wildlife parks, then it all adds up to a remarkable experience that really should be on everyone's bucket list.