It obviously wasn't enough that we'd been climbing all morning in the Solius region of Costa Brava, as we travelled the short distance to the coast to experience our next adventure. And when I say 'we,' I mean the regular eTramping duo of myself and Cez, together with fellow wanderluster (and rock climbing addict) Lydia. Our excursion in northern Catalonia already had us kayaking and biking in Banyoles, as well as climbing, but now we were going to try something that we'd never even heard of before!
Accompanying us on this pursuit was our wonderful guide Francesc, who had already assisted us with the rock climb this morning, and now turned his attention to see us safely through the Via Ferrata. "But what on earth is that?" we hear you cry! Well, read on friends and we shall reveal all!
The Iron Path
A Via Ferrata is a man-made, protected climbing route that is usually found in the Alps, but also in several other locations around the world too. It translates from the Italian as "the iron path" which it is aptly called, as it usually consists of iron bars fixed into the rock face like a ladder, as well as steel cables which run along the route. With the correct kit, climbers can attach themselves to the cable and (for the most part) enjoy a less strenuous climb than usual.
This type of climbing can be perfect for the younger members of the family or beginners (like me). However, a Via Ferrata can vary wildly in difficulty and you should be aware of your limitations on certain routes. This particular course has an easy/medium to difficult rating, and while it's free to use, you need to have the right equipment. We erred on the side of caution in having our guides and it's a good idea to bring gloves too!
The Vista on the Via Ferrata
Once you've managed to control your nerves, the scenery and surroundings are stunning. You can imagine that this route – being the only one of its kind on the coast – is particularly popular, and you can definitely see why! The course is about 500 metres long at an average height of 10 metres above the azure sea below. For me, it was a white-knuckle experience in places, but breathtakingly beautiful and exhilarating nonetheless!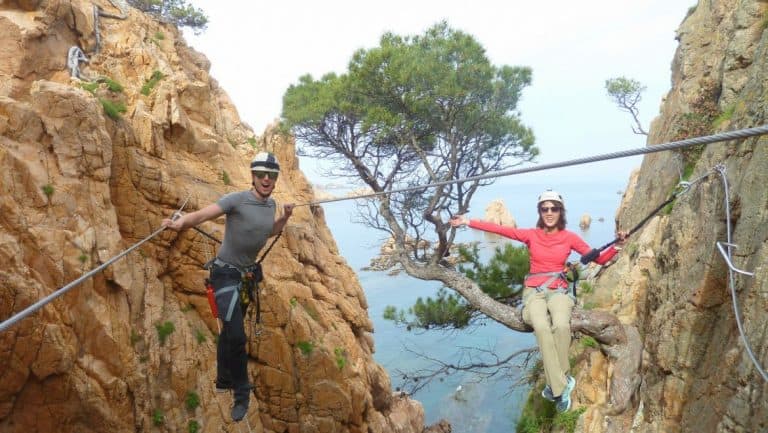 The waters below were brilliantly clear, the view was amazing (when calm enough to enjoy it) and we were often kept company by some noisy locals – the seagulls.
It was well worth it for the scenery alone, but it must have done wonders for our fitness levels too!
The Ultimate Workout!
Traversing a Via Ferrata is a great way to keep fit for both body and mind, as you're constantly engaging your muscles and concentrating on keeping your handholds and footing. You need to move both vertically and horizontally through the course, hold tight and stay focused. It's not going to be the activity for you if you're scared of heights that's for sure!
To be perfectly honest, I managed about 30 minutes on the course before the nerves began to kick in. My palms were sweaty and I struggled to maintain my balance and hold on, and while I've got the fitness and flexibility required to tackle the course, I decided to let the more experienced climbers take on the harder parts for me!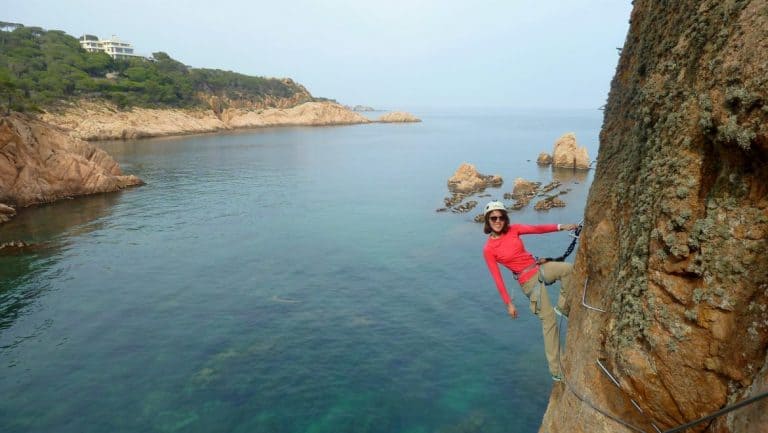 You need to be in good, physical condition to do the route, but you also need to be pretty brave too!
Taking a Breather
While I decided to sit out the more challenging parts on the safety of solid (and flat) land, Lydia and Cez took it all in their stride and finished the whole route. I joined them again where I could, wherever the difficulty level eased a little bit, but ultimately, I left the really demanding stretches to the pros. As you might expect, with all her climbing experience, Lydia found this a breeze, with Cez trying his best not to look down the whole time!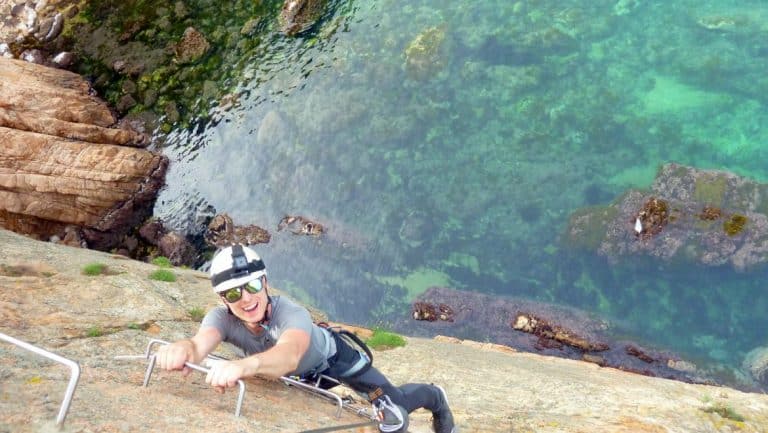 Meanwhile, I was perfectly happy taking in the scenery from the comfort of my safe haven, thank you very much! I'll enjoy the wonderful pictures they took afterwards!
All Climbed Out
The hour drew nigh when it was time to return to our accommodation in Girona, tired, but still buzzing with adrenaline. Being introduced to our first Via Ferrata was a fascinating and challenging experience, but it really does take it out of you and there's a strong chance we'll be asleep before our heads hit the pillow! But we weren't quite done for the day yet!
The Festival of St George
The 23rd of April is St Georges Day, and he's not just the patron saint of England. He's held in high regard in Catalonia too, where the festival is also known as "El Dia de la Rosa" or "The Day of the Rose."
People flood the streets selling books and roses, and we mingled with the masses in the early evening upon our return to Girona.
As memorable as today turned out to be, it was still the warm-up act for the main event to come. Following a much-needed day of rest, we will be ticking off a huge bucket-list-box very soon. So, tune in next time to see us throw ourselves out of a plane. Hopefully with a parachute!
Have you ever experienced a Via Ferrata? Tell us your stories!