When you hear talking about Hiroshima, the first thing that might come to your mind is the world's first atomic bomb attack in 1945. Today Hiroshima is a modern cosmopolitan city with a lot to offer, even though signs of that horrid history are still visible in some areas so as not to forget the past and to remember the victims.
Everybody knows that travel in Japan isn't cheap, in fact it's the most expensive country we've been so far, there are ways though to make it more financially accessible to people like us that travel on a budget.
We are more than happy to share some tips on how we enjoyed staying in Hiroshima without breaking the bank and still had an enjoyable time.
Where To Sleep
Even the cheaper accommodations in Hiroshima were quite out of our daily budget with rates starting from 2400 Japanese Yen ($24) for a bed in a dorm.
We opted for Couchsurfing instead not only to save some money, but mainly to stay with someone from Hiroshima. In this way we got to to know the local community, got tips on best places to go that aren't the usual tourist traps and experienced the local life from a culinary point of view and that's just the top of the list of reasons..
We've been lucky enough to stay with a great guy that lives in a typical tiny Japanese flat (it couldn't get any more local than that :) ). He was hosting other surfers at that time, we got to meet more travelers and share some stories, it felt almost like being in a hostel. We loved it!
What To Eat And Drink
Hiroshima is very famous for its very unique style of okonomiyaki also know as "Japanese pizza" or "Japanese pancake" made with eggs, cabbage, soba noodles (our favourite) and meat or seafood. Because okonomiyaki is cooked freshly as you order it, it's possible to add more ingredients if you wish or ask for a vegetarian version of it.
The most affordable and reasonable okonomiyaki can be bought from a minimum of 600 – 900 Japanese Yen ($5.95 – $8.90). Some of them are very big and filling for the amount of ingredients in them so it can be shared between two people depending on the appetite.
We especially loved watching the spectacle that was the whole preparation and cooking which was done in front our eyes.
Another cheap option for us was eating at Sukiya a very popular Japanese restaurant chain that serves gyūdon for as little as 350 Japanese Yen ($3.50) per bowl.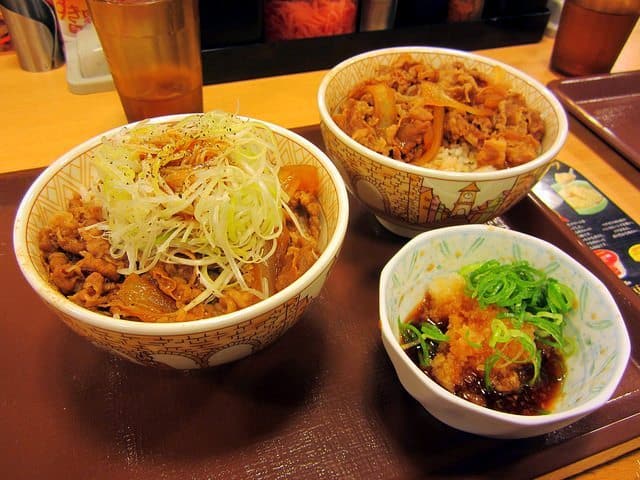 We (especially Dale) abused any and all of the drink vending machines that offer many kinds of beverage such as cold & hot coffee and tea, energy drinks, juices and soy drinks for a minimum of 100 to 150 Japanese Yen ( $1 – $1.50). We tried many unusual drinks that we didn't even know existed.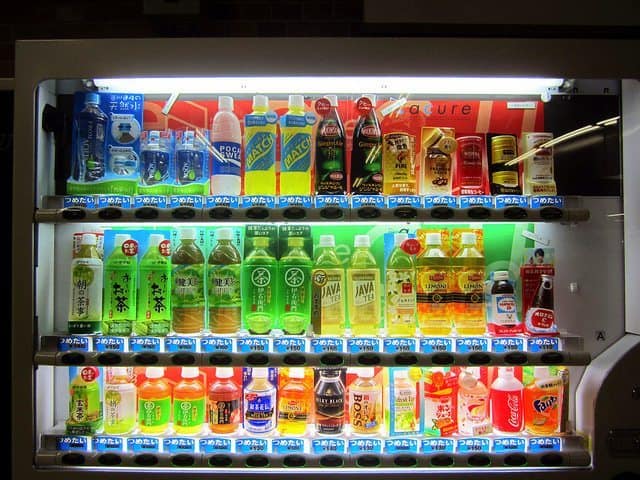 What To Do And See
We stayed only 4 days in Hiroshima of which 2 we used for day trips, in the remaining time we selected what to do.
We walked through and around the Peace Memorial Park. It's where all the memorials linked to the atomic bomb are. From here we could see what it's left of the A-Bomb Dome, the T-shaped bridge which was supposed to be the target of the bomb (but was missed) and the various monuments to those lost in the atrocity.
Wondering around the park area is free of charge apart from the very small entry fee of 50 Japanese Yen ($ 0.50) for the Peace Memorial Museum which we strongly recommend going to if you want to learn more about what happen in the 1945 and how Hiroshima was reconstructed afterwards. We thought it was important educating ourselves about such an important piece of history despite being quite upsetting.
Being art lovers we went to the Hiroshima Museum of Contemporary Art that has both permanent and temporary exhibitions. We also enjoyed chilling in the open-air area surrounded by sculptures. The entry fee is very cheap, only 360 Japanese Yen for adults ($3.50).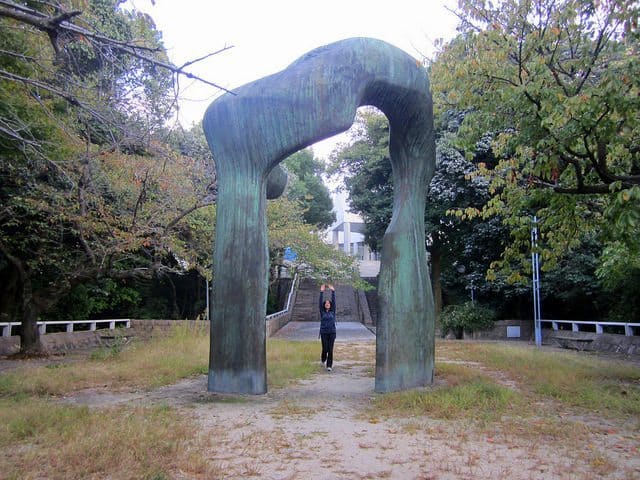 While in Hiroshima we went for a day trip to Miyajima famous for its floating torrii. To get there we took a JR train to Miyajimaguchi and then a JR Ferry to the island all for only 570 Japanese Yen one way for a total of 1040 Japanese Yen return ($11.25).
We hiked to the top of the mountain instead of taking the cable car, in this way not only we saved some $ but we also enjoyed the incredible nature of the red, orange and yellowing leaves around the path – not forgetting the stunning view.
Our Couchsurfing host took a day off work to take us to another great day trip that we are more than glad we did despite the transport being slightly more costly than some of the other activities we did, however, knowing how much we'd saved due to our other choices we thought we could pay a little more this one time.
He took us to the stunning Sandankyo Gorge which is a 16 km long ravine along Shiwaki river. We loved the immersed track right amongst the magnificent nature, watching the waterfalls, the river, the flora and fauna. It was during the autumn season which means the scenery was even more pretty with the leaves changing color.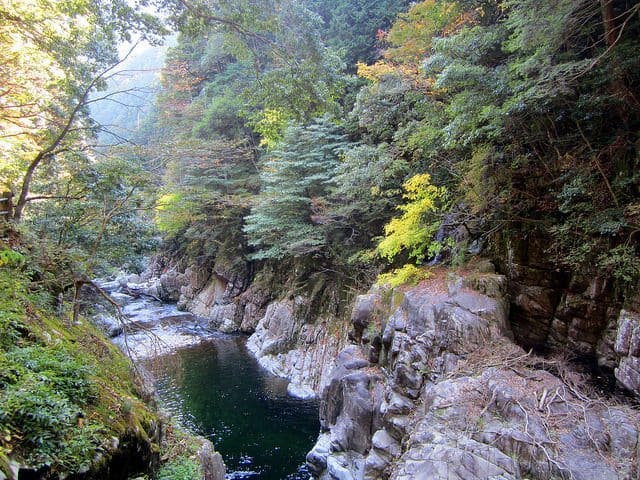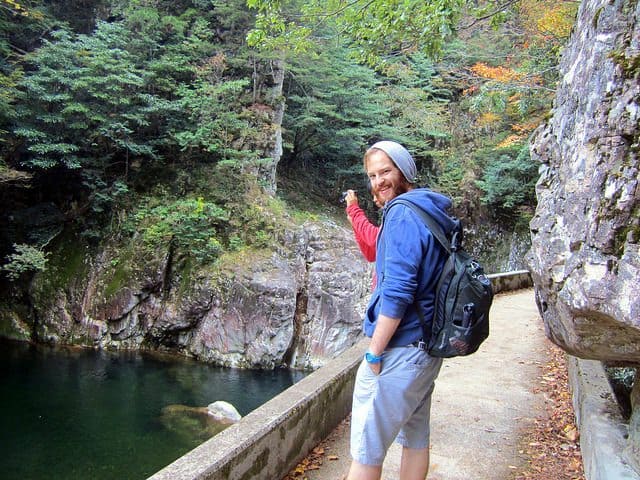 It cost us 2560 Japanese Yen ($25) for the journey to go there and back included a JR train to Kabe station and from there a local bus to the gorge. We had a packed lunch with us that our host kindly made so we didn't need to buy any food, we recommend to do the same not only to keep costs down, but to enjoy a nice picnic break on the rocks by the river.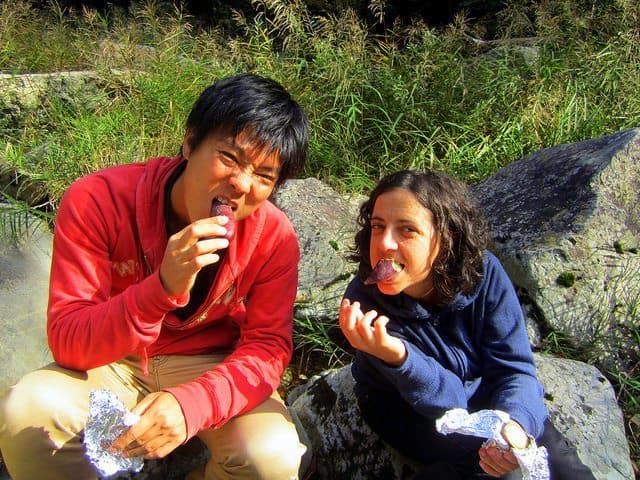 There are probably more things we could have done in Hiroshima if we stayed longer, maybe one day if we ever make it back there.
Do you have any suggestions on things to do on a budget in Hiroshima?
About the Author
Franca, an Italian female who, after having dreamed about traveling for years, has finally left her job, comfort zone and sold everything she owned to set off on the journey of a life time. Since June 2012, Franca has been traveling full-time in search of the best Architecture, Art, Design & Music the world has to offer, sharing everything he finds along with her partner & co-blogger, Dale Davies. You can follow her and Dave's adventure on their Twitter.