The Indochinese Peninsula of Southeast Asia conjures up a lot of images when you think of it, from the rain-soaked jungles of Cambodia to the delicious street food of Thailand. The mystical pagodas of Myanmar and the intricate waterways of Vietnam. Multicultural Malaysia and the forgotten charm of Laos. But if there's one HUGE thing they all share in common (apart from arguably the finest cuisine in the world) is that they're home to those gentlest of giants – elephants.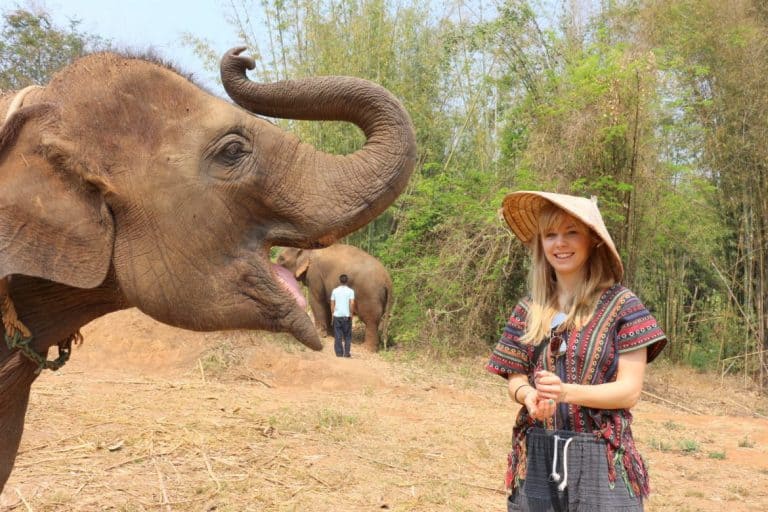 Many visitors to the region come from countries where the only way to see one of these majestic beasts is in a zoo, and that makes elephant sanctuaries a big tourist pull in these parts. We'd even go so far as to say a visit to these shores is simply not complete without hugging a Heffalump, and that is exactly what we were lucky enough to do upon our visit to Chiang Mai Elephant Legend in Thailand. However, before we regale you with our exciting experience, we must exercise a word of caution.
Choosing a Sanctuary
For many years, animal "sanctuaries" have been all the rage on the continent, attracting millions of visitors each year. Now, this is all very well and good, providing you enjoy the day out at a legitimate centre. Riding elephants is extremely frowned upon, as is taking photographs with drugged up tigers just to see how many Instagram likes you can get. And whatever you do, if you're attending some animal performance routine – you're doing it wrong!
Take some time to dig up solid information on the sanctuary you want to visit. They should be all about love, care and respect for these animals, in a safe and comfortable environment. Food, shelter and support are paramount, and you should use your common sense in choosing an ethical sanctuary. If in doubt, ask at your hostel or hotel, or read more articles like this one! Word-of-mouth reviews are great for sorting the nice from the nasty!
Early to Rise
Our day began on the early side, with our host Pamela arriving at our apartment to pick us up at 8:00 – 8:30 am. As the experience lasts a money-worthy 7 hours, go easy on the partying the night before! We were joined on this adventure by regular travel companion Lydia and Agness's colleague Remco, who had given up the day-job for four months to bounce around this amazing corner of the world. That's what we like to hear!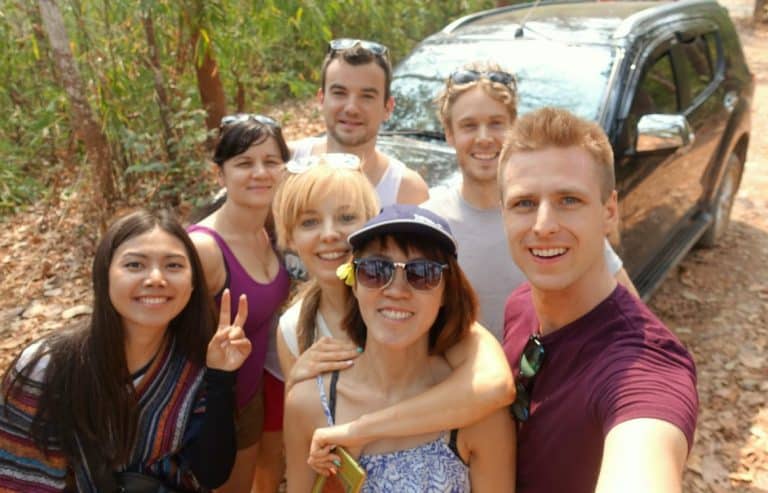 We'd opted for Chiang Mai Elephant Legend as our animal sanctuary of choice, a relative newcomer on the scene having only been open around four months. For 1,900 Thai Baht (just under $60) you'll have a day you will never forget with the beautiful Elephas maximus – the Asian species of elephant. And with the sanctuary being family owned and run, you'll have a personal, attentive experience you might not find in the larger shelters.
Trunks! Trunks Everywhere!
There's a moment of pure joy that happens to most travelers sardined into the back of a minivan when they first catch sight of a trunk. That's the elephant appendage and not the back of an American car. Craning necks to have the first glimpse of our pachyderm companions for the day, there's an audible squeal of excitement when we spot them – and that was just from Lydia!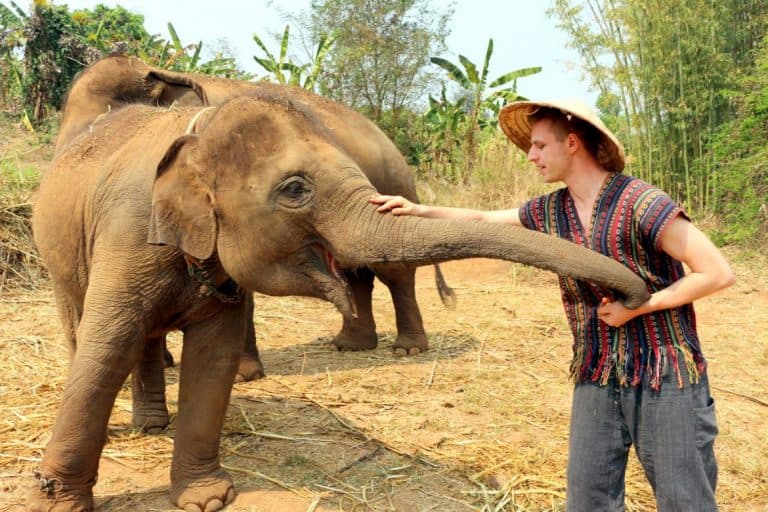 Arriving at the centre, we were met by a mother and her baby elephant – who were both extremely happy to greet us. That might have had something to do with the fact that they knew feeding time was near! An adult elephant can eat an astonishing 300 kgs of food a day and spend up to 18 hours doing so. Cez had finally met his match!
Hand Feeding an Elephant
As part of the tour, guests learn how to make a vitamin ball for the mama elephant. The vitamin ball is usually used for detoxifying old elephants' stomach, especially when they have some issues with it. So we messily mash the banana-based concoction together and then hand-fed their greedy mouths while grinning from ear to ear.
And it seems no matter how much vitamin ball you give to the mama elephant, it keeps on coming back for more and although the baby elephant shouldn't be eating this food, it still craves the same food her mama enjoys.
You really haven't lived until you've hand-fed an elephant though, as there is something insanely giddying about it and you won't stop laughing. There's this look of delight in their eyes too while you're loading them up with tasty grub, and you cannot help but burst with love for them. Why would anyone want to harm such an extraordinary creature?!
Bath Time!
As if feeding wasn't enough of a highlight, you'll then escort the elephants to their favourite mud-bath and get as mucky as you like before helping to wash them off in the river. It's arguably one of the most fun and unique spa experiences you'll ever have in your life! How many people can say they've helped exfoliate an elephant?!
You're going to get soaked through, so be warned – these guys take no prisoners! You can tell they're in their element here instead of lumbering heavy tourists around in scorching conditions. You'd certainly never get this opportunity in a zoo!
The Mae Wang Waterfall
In the afternoon the tour takes you to the Mae Wang waterfall to spend some time enjoying the beautiful Thai countryside. It's possible to swim there as well, but after all that elephant feeding and swimming action our own hunger kicked in.
Pamela and her team laid on a delicious lunch of beef pad Thai, dried bananas and watermelon. They even catered for Angess' no-rice diet and made her a veggie omelette. They're lucky that elephants are not as fussy!
Totally Shattered
By the time the day drew to a close we were exhausted, but it was easily one of the most memorable experiences we've ever had in this country – or anywhere for that matter. Our whole crew thoroughly enjoyed themselves (read Lydia's review here) and will forever look back on this day and smile. Trust us – it is well worth it!
And to cap it all – is just how much love Pamela and family have for these animals. It'll bring a tear to your eye and melt even the hardest heart. Most importantly, it is their welfare that is the priority, and it's an incredible feeling having a day such as this while supporting a wonderful cause.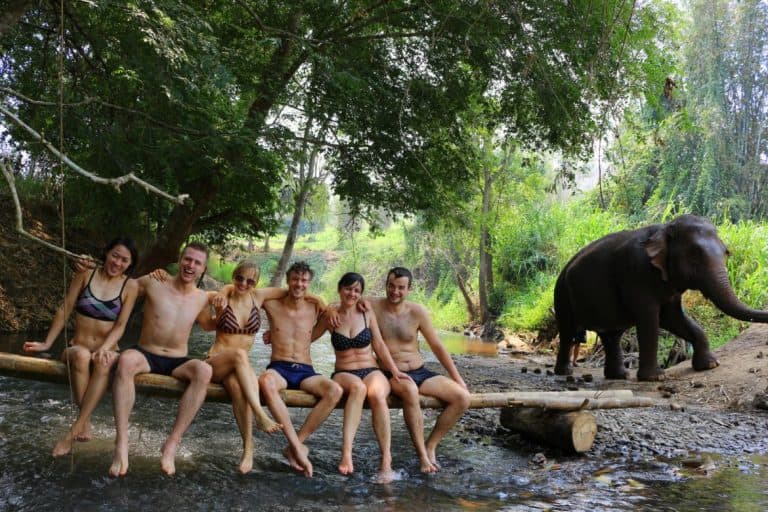 So, don't delay – hug an elephant today!
Your mission is to help raise awareness for legitimate animal sanctuaries around the world – and tell us your experiences!