Sometimes, we believe that some places aren't safe for tourism. We've never been to them or met people who have lived there, but for some reason, we just believe that they are dangerous. Visiting these places, however, can be a great way to open your mind to the world around you and learn more about cultures that are (in some cases) incredibly different from your own.
Of course, taking a trip to these places can be thrilling for some, yet travelers should always exercise caution, especially when there have been warnings put in place. Here's a couple of places you can visit which maybe aren't as dangerous as you think they are, and a few which probably are.
#1 Not Dangerous: North Korea
North Korea gets a lot of bad press as being a dangerous place to visit. With stories about how foreign visitors have been jailed whilst in the country in the past, it's no wonder a lot of visitors tend to try to stay away.
However, North Korean tourism is actually relatively safe for anyone looking to explore this 'dangerous travel destination'. There are, in fact, a huge number of reasons for you to give North Korea a chance. It's not just that this destination offers a unique traveling experience, it's also relatively unknown. This means that there's a lot to learn about North Korea and what it's like inside.
It's relatively easy to get in as well. Just make sure you sign on with one of the many available North Korean Tours from different tour operators.
Pick which one stands out the most for you and you're set to experience an incredibly safe, yet 'dangerous' destination.
#2 Not so Dangerous: Georgia
Georgia is an incredibly beautiful country, especially for those who enjoy hiking. It's covered with vineyards and old churches, whilst clear rivers cut through the landscape and disappear into snowcapped mountains.
Despite its beauty, you'll find that most foreign countries and consulates will advise completely against traveling to South Ossetia and Abkhazia in Georgia. As long as you stay away from these places and stick to populated areas, many have found Georgia to be a nice and friendly place to visit.
If you do decide to head into the countryside, make sure to go with a respectable and friendly guide. This not only helps you to avoid dangerous areas but also ensures you don't get lost!
#3 Not Dangerous: Tibet
With its strict border controls and ever-tightening restrictions on outsiders visiting the area, it can sometimes feel like there's something incredibly dangerous about heading to Tibet, especially for tourism. Well, overall, Tibet is a very safe place.
The locals are interested in new arrivals and extremely friendly. You're also not going to see much large crime rings operating here. In fact, you're more likely to be physically hurt by altitude sickness than by a person.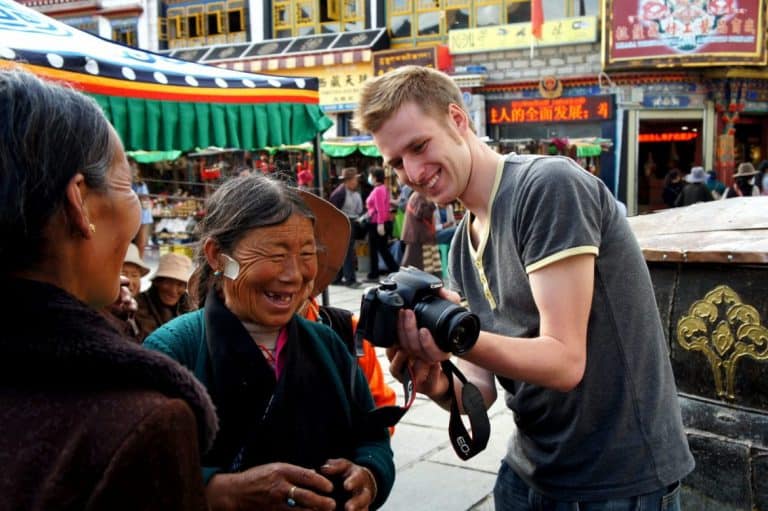 However, there are a lot of pickpockets, especially in Lhasa. Make sure that your valuables are zipped up, preferably in an anti theft backpack, or locked up. Keeping things on display or in easy reach of mobile hands is never a good idea.
If you're going to head out into the wilderness, make sure to hire a guide or stick to clearly labeled paths. There's always a chance of getting lost without any phone signal. If this happens, you're going to be in a bit of trouble. Hiring a guide is just safer and avoids this.
#4 Dangerous: Rio de Janeiro, Brazil
With the most recent Olympics having taken place in Rio De Janeiro, there has been a lot of press surrounding Brazil and its favelas. The Olympics unsettled a lot of the population around the country's capital city, so much so that riots and protests broke out.
Yet in the built-up, downtown area of Rio, you're unlikely to find any dangers. It's really only if you decide to head into the Favelas. These slums, built by and housing some of the country's poorest and migrants who were unable to otherwise find housing, can be dangerous. If you're thinking of heading here, make sure to travel with others and hire a guide to take you through. These limits and risks they might otherwise pose.
#5 Dangerous: Thailand
Known for its great parties and unbelievable island-hopping tourism opportunities, some have been saying that the destination isn't as safe as you might think. This is especially true in big cities like Bangkok, where you should make sure to watch out and ensure you're not traveling on your own.
Head into Bangkok and you'll find that organized crime is rampant. Tourists are easy pickings for those looking to make a quick buck by picking pockets. Make sure that whilst you're here, you always know where your passport is, or at least have a suitable backup just in case something happens.
#6 Depends on Where You Go: Mexico
Food, people, sun, sand, the occasional cactus. There are too many reasons to list why you should book up a visit to Mexico. The country is a brilliant place to relax and get in a festive mood, especially if you want to eat a couple of classic burritos or tacos.
Yet Mexico does require caution. Some areas are dangerous. Take Acapulco for example. This city is rated the third most dangerous city in the world, with crime and threats of violence routinely reported by both locals and tourists. Whilst the city is still one of Mexico's primary tourism destinations, it does require dash care.
On the other hand, Mexico also offers some incredibly safe areas. Head to Mexico City and you're unlikely to run into any problems. Whilst it's quite crowded and you might get pushed around trying to get from one place to another, it's nothing that will leave a mark. If you would prefer to see Mexico's water views, head to Huatulco or Cancun, safe and relaxing areas.
Which of these destinations have you been to and what was your experience?