With our memorable experience climbing the gorges of Siurana behind us, we ventured forth on the longest leg of the Epic Road Trip to date – a journey that would take us to Madrid – the passionate Spanish capital. As ever, I was accompanied by my companion Lydia, herself a nomadic spirit and travel blogger – and rock climbing addict. 520 kilometres and around 6 hours later we arrived at our destination where we would spend the next few days – and we desperately needed it.
Perhaps our recent cavorting at high, windy altitudes had finally caught up with us, as we were both feeling under the weather. But It takes more than a dose of man flu to keep me down and it wasn't going to stop us enjoying the delights of Madrid, and sharing them with you in a handy walking guide! Plus – we'd eaten such an incredible seafood Paella on arrival it was sure to cure all ills! Here then is our guide to the best sights in Madrid city centre – in the daytime at least!
Retiro Park
350 acres of green space await you when you visit the Retiro Park – one of the most popular locations in the city for visitors and locals alike. Originally built for the monarchy, it became available for public enjoyment in the 19th century. Here you'll find fountains, lakes, glasshouses, monuments and more, as well as extensive gardens and the oldest tree in Madrid. No visit to the city is complete without the Retiro.
Prado Museum and the Art Triangle
Walk a short distance from the park and you'll be in Madrid's famous and coveted "Golden Art Triangle," which includes three of the most iconic and popular museums in the city. You have the Prado Museum which is the main Spanish art gallery and considerable rival to the Louvre in Paris.
The Queen Sofía Museum which is dedicated to 20th-century art and the Thyssen-Bornemisza Museum which apparently bridges the gap between the other two. Expect to find anyone who has ever painted represented here.
Gran Via
You can't visit Madrid without a stroll down its premier street and tourist hot-spot – the Gran Via. It's a must as part of your walking tour to admire the fabulous architecture lining this historic boulevard.
Completed in 1910, it's a who's who of building styles and design, with a particularly high-end shopping quarter to match. At night, it's where most people will come out to play – as it's one of the busiest bar and club spots in all of Europe.
Temple of Debod
If you come out of the Gran Via at the north-west end, with a little bit of a walk you can visit the Temple of Debod, an intriguing reconstruction of an Egyptian temple. It was relocated here from Aswan in Upper Egypt, dedicated to the goddess Isis. Particularly nice at sunset.
Royal Palace
The official residence of the Spanish Monarchy is next on your wander back towards the city centre and an incredible showpiece in its own right.
The Royal Palace is a stunning construction of 18th-century design – to rival that of Versailles. It's absolutely huge too, and will set you back 11 Euro should you want to explore the many rooms open to the public.
Plaza Mayor
Continuing onwards and you must visit the popular Plaza Mayor, one of Madrid's busiest spots for locals and tourists. It's a 423 ft × 308 ft square, with a bronze statue of King Phillip III at its centre.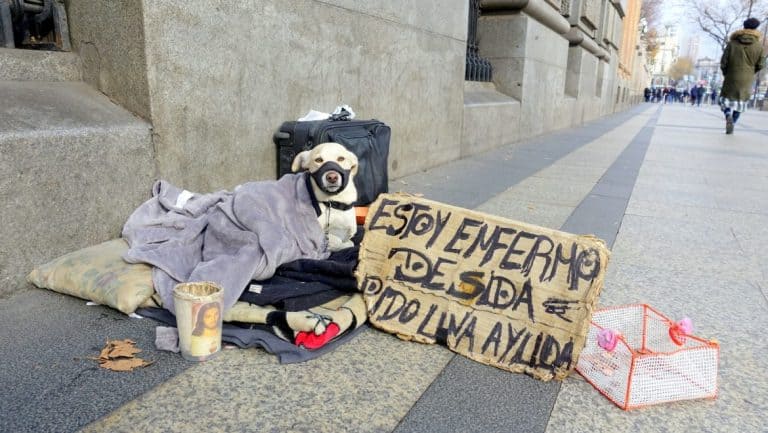 It's bustling with activity almost every day, with architectural masterpieces and a vibrant café-culture to enjoy.
Descalzas Reales Monastery
Turning north through some more charming side streets and squares you'll eventually stumble upon the Descalzas Reales Monastery – the interior of which is not to be missed and the reason it was included in this itinerary. Most people will pass on by, but pay 6 euro to see its sumptuous Renaissance decoration and artwork – including its beautiful grand staircase centrepiece. It's a must.
Puerta de la Sol
Translated as "the Gate of the Sun," this is the most famous square in Madrid, and you've not been here unless you've visited it!
Conveniently a short walk from the Plaza Mayor via the monastery, this is the very heart of this vibrant city – and you'll soon understand why. It's also the centre point of all Spanish roads at Km 0 and contains some of the city's most well-known landmarks.
Fuente de Cibeles
Created in 1782 this fountain has become a symbol of the Spanish capital. At the centre is the Anatolian goddess Cybele – known as the "Great Mother" in Roman mythology.
It's a stunning sculpture surrounded my equally stunning palaces and landmarks – and the focal point for every time Real Madrid or the Spanish national football team win anything significant.
Puerta de Alcalá
Bringing you full circle at the north-west corner of Retiro and you'll discover this neo-classical monument and triumph arch.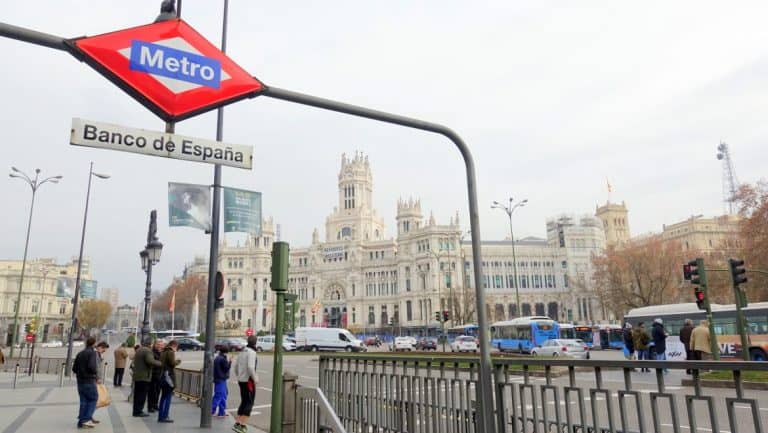 It's older than that of the Arc de Triomphe in Paris and the Brandenburg Gate in Berlin. Dating back to around 1774, this historic gate has seen its fair share of events down the years and makes it a perfect place to wind up your tour.
Under Cloudy Skies
Unfortunately, our time in Madrid was marred by us both having caught the snivels, overcast grey skies, and the fact that the heater didn't work in our accommodation.
Hopefully, you'll have a much better experience when following this walking tour – but perhaps it's better to do it when the sun's out. Spain without sun doesn't feel like Spain after all! Next, we're going to Segovia, so join us there.
Have you been to Madrid? Is there anything important we missed? Let us know!