Swapping the mountainous, coastal landscape of South West Europe for the altogether more tropical South East Asia, I had once again found myself sharing the road with the regular companion and fellow travel blogger Lydia – not too long after we finished our Epic Road Trip. Today, I'm interrupting the series to bring to you the breaking news from Myanmar.
We had left Agness in Chiang Mai, Thailand, and boarded a Myanmar National Airlines flight to Yangon, connecting onwards to Bagan. While my company remained the same as during the road trip, the environment was decidedly different, and together we were now exploring the jungle topography of Burma– otherwise known as Myanmar.
On arrival, however, we made an unfortunate discovery.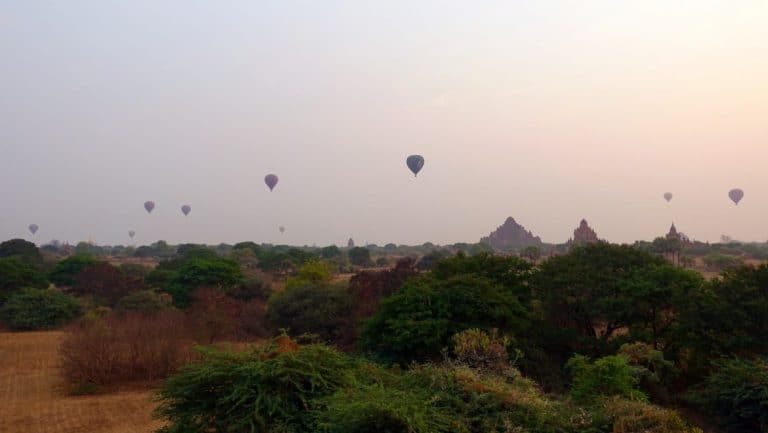 Bagan is an ancient city most notable for its numerous, stunning pagoda temples – of which there are hundreds. Tourists flock here every year to enjoy the practice of temple climbing – taking beautiful aerial shots of sumptuous sunsets and the famous hot air balloons from a unique vantage point.
That practice was now at an end and Bagan temple climbing has been banned. So, what's going on?
Damaged Buildings
Much like the ruins of Angkor Wat close by in Cambodia or Machu Picchu further afield in Peru, authorities say that the amount of foot traffic is seriously damaging the pagodas themselves – which date back to between the 10th and 14th centuries.
Myanmar's Ministry of Culture is admirably concerned with the condition of the holy structures, which are highly regarded in this predominantly Buddhist country. They say they're also concerned for people's safety and claim that some temples could collapse at any moment.
While this might well be true, it is thought that there are other reasons why the powers that be have decided to stop this practice altogether.
UNESCO World Heritage Bid
Many people are convinced that Bagan's bid to become a UNESCO World Heritage site is behind the temple climbing ban.
It's interesting to note that in spite of its obvious pedigree, Bagan is only on the organisation's tentative list, which contains a number of potential inclusions under the coveted UNESCO umbrella, but certain criteria have yet to be met.
And the authorities are correct – the condition of some of these buildings leaves a lot to be desired – particularly when it comes to the damage earthquakes can do – which the region is also infamous for.
But they're also destroyed over time in no small part by tourists climbing on them, and they say that limiting the chance of wear and tear as well as heavy investment into restoration is the only chance they have of achieving the prestigious world heritage status.
Unhappy Tourists
The tourist backlash has been expected – and indeed nothing new. Authorities tried once before to ban temple climbing in 2016 – but they were met with such hostility from travel agents and tour companies that they were forced to back down and reconsider.
Those in the travel business believed that the damaged caused by low visitor numbers would be even worse than the damage to the pagodas themselves. However, since then a destructive earthquake has forced the ministry's hand, and they have no choice but to shut down the practice completely. It's going to leave a great many people angry and disappointed, especially when it comes to trying to capture that iconic hot air balloon shot as the craft rise over the temples at dawn or dusk.
Hot Air Balloons
When I first visited these shores – not too long ago in the winter of 2016 – I enjoyed this experience along with hundreds of fellow travelers – climbing temples and delighting at the incredible views from such lofty pearches.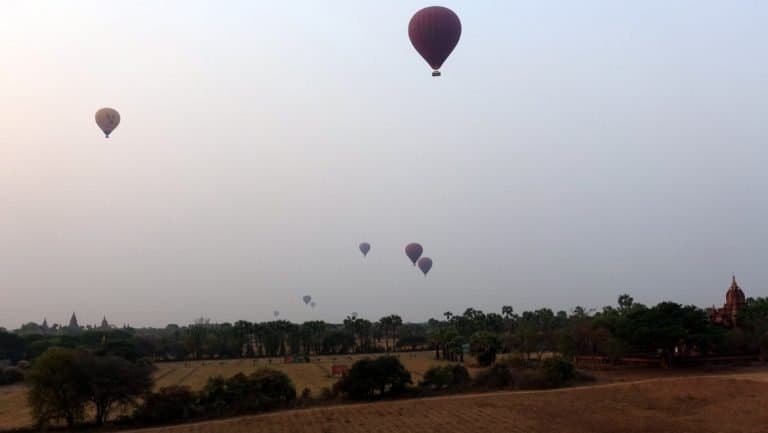 The region shares a fame with that of Marrakesh in Morocco and Cappadocia in Turkey as being one of the world's premier hot air balloon sites – most notably because of the perfect conditions in which to fly, and the incredible landscape you can view from the balloon baskets.
It's not cheap, however, setting you back a hefty $400 for the privilege, so many visitors – particularly those on a budget – opt to view the spectacle by climbing the pagodas instead.
At sunrise and at sunset, hundreds of tourists would gather to enjoy the incredible experience. It looks like they'll now have to find an alternative.
What's Next?
The ministry has been quick to offer visitors other options, but they're unlikely to be ready in time for this season.
One alternative tabled has been to construct special, man-made viewing platforms from which visitors could ascend instead of the pagodas. Another interesting suggestion is to use a tethered helium balloon – offering similar views at a fraction of the cost of the regular flights.
Drones are banned too – so that option is out, not that everybody is packing one anyway.
Regardless of how feasible or successful these alternatives may be, many people are understandably disappointed that this Myanmar tradition won't continue – as it is regarded as an essential highlight when visiting the country.
A Clandestine Approach – Our Recent Experience
At sunrise on the morning of the 24th March, we decided to test the waters of the new ban and see if it was still possible to climb one of the pagodas to get a couple of shots at the very least. In near dark, we were approached by a local man who told us it was illegal to climb but to follow him to a spot where it was still possible – for free.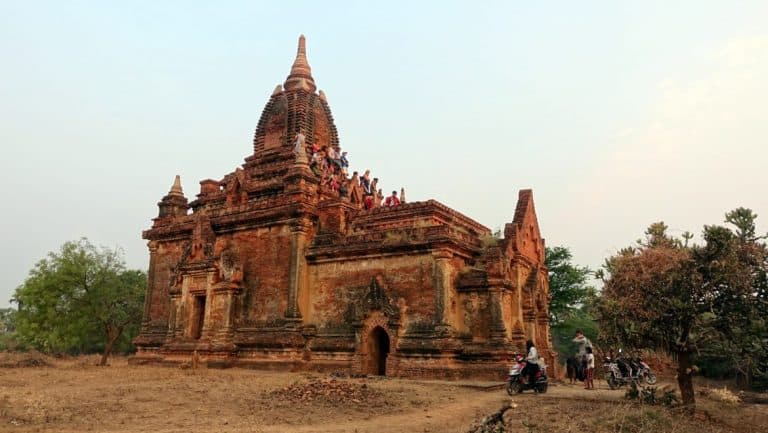 We were sceptical, but after trying several options (with the man reappearing each time) we decided to trust him and he led us to a 10-metre-tall pagoda, peppered with a throng of tourists – some of whom were already sitting on the top. We were more than happy to join them!
How to Get There
We were unsure of the name of the temple where you could still climb, but we've included our location in a screenshotted map below to help you locate it.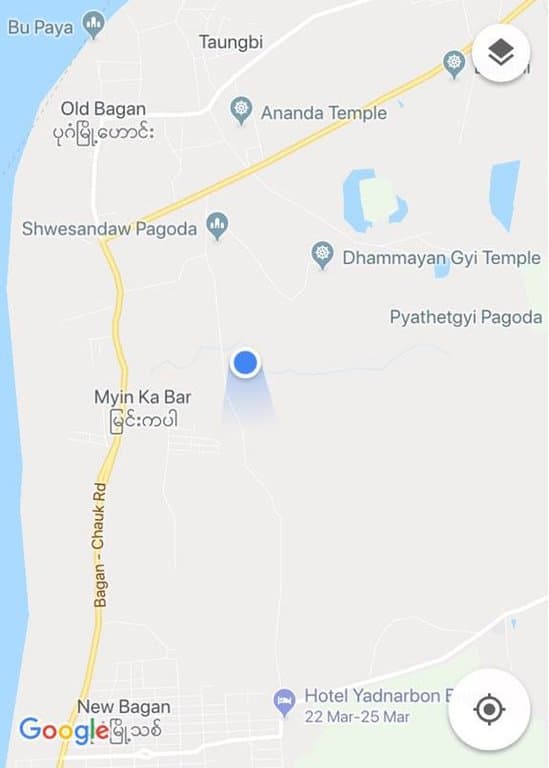 While some argue the preservation and safeguarding of our ancient heritage is more important than the chance to snap the same photograph as thousands of other people have done already, others think the ban will cause serious deficit on the countries tourist economy.
Wherever you stand on the matter – ethically or morally, it's interesting to note that the locals clearly see the need to preserve the temples AND granting tourists the access they want. Perhaps allowing for the erosion of one temple, the others can be saved.
To quote Spock in Star Trek – "the needs of the many outweigh the needs of the few." But one thing's for sure – the government must put its money where its mouth is and restore the crumbling temples before tourist pressure forces feet to climb them once again.
The great debate! Is the ban a good thing – or should the lucrative tourist attraction be allowed to continue? Let us know your thoughts!