With Madrid in our rear-view mirror, we turned north onto the A-6 and headed in the direction of Segovia – a lesser known jewel in the crown of the Iberian Peninsula. Lydia (my travel companion while Agness was still on a different continent) and I were slowly getting over our recent bout of flu – no thanks to our last accommodation which for some reason didn't have any heating in the dead of winter. We were now on leg 9 of the Epic Road Trip, our destination being just over an hour from the Spanish capital.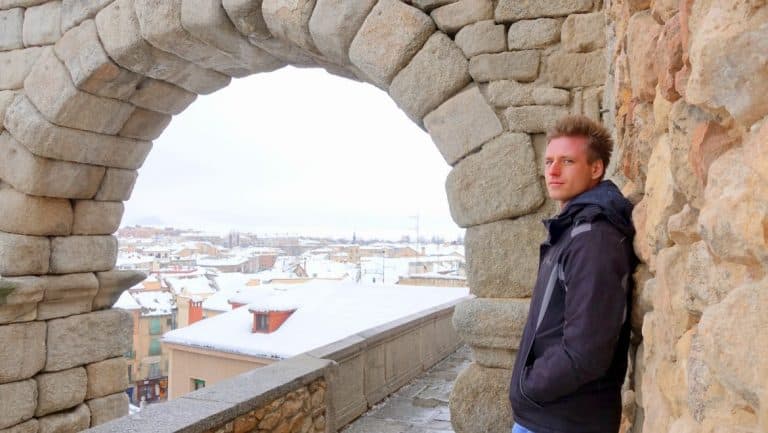 Segovia is a historical and cultural revelation. This walled city is relatively small (only around 55,000 population) but packs a big punch when it comes to sights and attractions. With its abundance of ancient architectural wonders and fully deserved UNESCO world heritage status. It's also steeped in myth and legend, reputed to have been founded by a descendant of Noah in 1076 BC. What is true though, is the beauty you will experience on our little walking tour – in a city that really shouldn't be overlooked when taking holidays in Spain.
The Aqueduct
If there's only one thing you see when you visit Segovia – you'd better make it the famous Roman aqueduct. It's a symbol of the city (displayed on the coat of arms) and rightly so, arguably the most impressive and well-preserved construction of its kind in the world.
And it truly is breath-taking – the pictures on a cloudy day don't do it justice! Built way back in AD 50, it has two tiers of a colossal 167 arches and runs for 894 metres. It is still standing strong like it was built yesterday (it has actually been restored down the years). Even more astonishing is that it was constructed without any cement from over 20,000 granite blocks. Some of the best views of this marvel are to be had from the old town.
The Old Town
Look no further for your fix of ancient city charm than the narrow winding streets and corridors of Segovia's old town. Make your way through from the aqueduct and get lost in a maze of delightful architecture and public squares. You will be surprised at every turn.
Don't miss the Casa De Los Picos – a unique 15th-century building with an interesting façade. The Plaza Medina del Campo with its beautiful fountains, monuments and medieval architecture. The Museum of Contemporary Art is close by if you fancy pausing your tour of the streets. And there are some fantastic bars and eateries for you to take a load off in the afternoon and people watch. We didn't do that though – it's probably best in the summer!
Plaza Mayor
Continuing up through the old town and you'll eventually reach the Plaza Mayor, which, as you might expect, is the main town square. It's a beautiful example of focal elegance, where you're likely to find many people wiling away an afternoon.
Don't miss the charming town hall with colorful flags, the surrounding arcades, coffee shops, and the central bandstand. The flagstone square is the hub of the old town, but perhaps most notable for its view of and proximity to Segovia Cathedral. Which is one of the reasons you came here in the first place!
The Cathedral
One of the last true Gothic cathedrals, this enormous structure sits at the highest point in Segovia's old town. It was constructed over 50 years from 1525 but it used to be located elsewhere. And was moved to this location when it was destroyed by the Comuneros during the revolts against the rule of Charles V.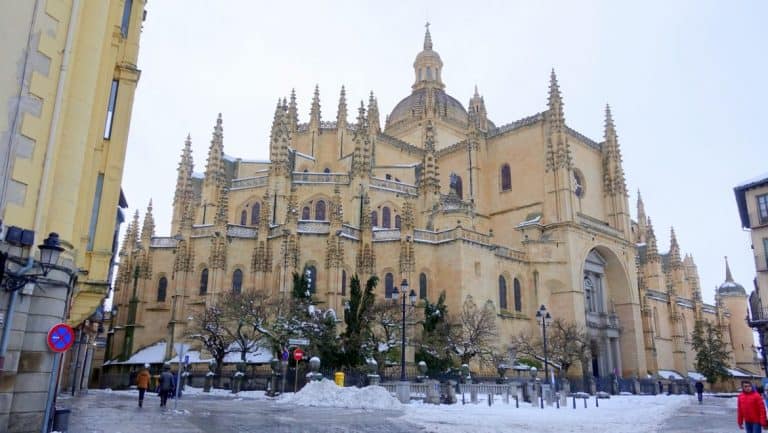 Segovia Cathedral is an architectural masterpiece designed by Juan Gil del Anatanon and it boasts breath-taking internal and external views. Especially if you're willing to climb the 100 metre tower for an unparalleled vista of the town. Its stained-glass windows are also a highlight – as is the decadently carved, ornate altarpiece. It's particularly beautiful when visited at night.
Door of San Andres
A visit to a walled city isn't complete without a visit to the walls themselves – and the Door of San Andres provides a unique and alternative view – what it's like to actually be inside them!
Restored in the 16th-century this town gate is the access to the Jewish Quarter of the city. You can visit guard's rooms within the walls and climb to the ramparts for some more stunning views over this medieval delight.
Casa del Sol – Museum of Segovia
Another one for the history buffs is the Museum of Segovia, which dates back to 1842. It's a wonderful collection of archaeology and fine arts, with some fascinating artefacts and paintings. They provide an educational insight into the city and its surround.
It has an extensive collection of Roman and Visigothic remains, as well as religious exhibits and art. It's a small museum in a blink-and-you'll-miss its location. But many visitors cite it as being a highlight of their visit here. If you can't afford the fantastic 1-euro entry fee – it's free on Saturdays.
The Alcazar
As if we hadn't quite had our fill of castles on this trip, our final destination – and yours too – is the famous Alcazar of Segovia. It's a dominating castle-palace with a fairy-tale exterior. Yet another one that claims it was the inspiration for Walt Disney's Sleeping Beauty castle.
And like the other examples making the bold claim – it's got a decent case. An ancient fortress of the Spanish kings, it dominates the landscape perched high on a rocky crag. It's not too dissimilar from Edinburgh Castle – interestingly a city which Segovia is twinned with. It dates back to the 12th-century and for 9.50-euro general admission, you can gain access to many of its stately rooms.
The Giant Bauble
With our visit coming on the back of Christmas, there was a giant bauble sitting in front of the aqueduct, which made for an interesting photo opportunity.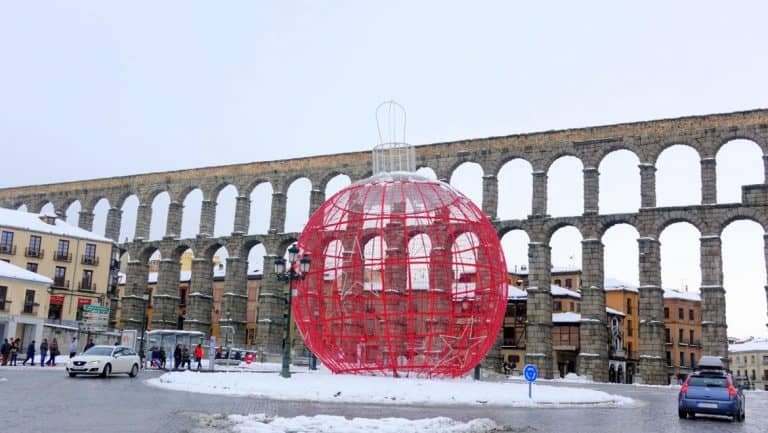 But this is one city that has an abundance of picture-postcard moments, so make sure your camera is fully charged. As for us – the Epic Road Trip continues, so watch this space to find out where we're visiting next. A little hint – there's probably going to be more historic stuff.
Have you visited Segovia? Is there anything we missed that should be on our walking tour?