Warsaw (in polish: Warszawa) is a vibrant city where different cultures mix. It is the capital of Poland that experienced so much, it's even hard to describe. Historical buildings contrast with modern skyscrapers to create the skyline of the city, that's how Warszaw will welcome its visitors no matter how long they decide to stay here.
This place has a lot to offer, starting with countless historical monuments, wonderful museums, climatic cafés, countless parks, and various kinds of restaurants. Whether it is summer or winter, you can be sure that Warsaw is a great choice for a short escape as well as for a longer stay.
Also, it is a perfect destination for lone travelers who want to experience a different culture and enjoy the nightlife, families with kids who search for activities big and small, and couples who are looking for a picturesque city with romantic spots.
As I'm a huge fan of Warsaw, let me be your guide for today and show you around this magnificent spot. Let's explore this city together! Let's do the best things you can possibly imagine doing to fully experience it like a local, even if your budget for Warsaw is quite limited.
Where to Stay in Warsaw
Just in case you need help finding the right accommodation, I have prepared a quick help for you. You can browse the map below to find somewhere to stay, either a hotel or VRBO, if you haven't booked anything yet.
With that out of the way, let's see what the city has in store for you!
Walk Through the Old Town
To start off, let's do some walking to warm up. Where should you walk? Through the Old Town, obviously!
You can join a free walking tour of Warsaw and hear all the history from the guide but I'll give you an overview here too.
Warsaw's Old Town is fully reconstructed. The Polish capital was 80% destroyed during the Second World War and the buildings you can see today are an effect of the reconstruction that lasted till 1962. There is no doubt it deserves its UNESCO heritage status.
The Old Square was a commercial center of Warsaw's life. Nearby, a royal castle is located. If you have some extra time, visit it inside with a tour guide to hear about its 700-year history, including the demolition by the Swedes in the 17th century and the Germans during the Second World War. Inside you can also see paintings of the great masters, such as Rembrandt, or van Dyck.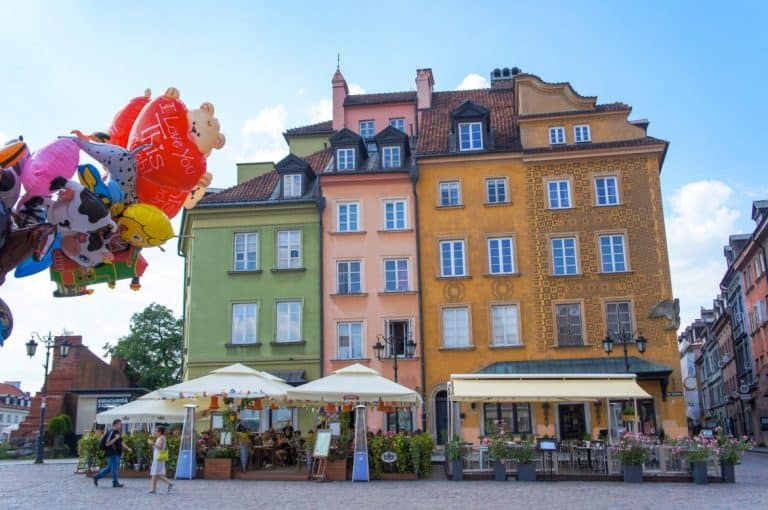 What gives this place a unique charm are the old, colorful properties in the Renaissance and Baroque styles. In the past, they were merchants' houses, and nowadays, they have been turned mostly into residential buildings with restaurants or VRBOs.
Have a History Lesson in POLIN Museum of the History of the Polish Jews
Next, it's time to learn some stuff about Polish history. There is no better place to get a glimpse of that than POLIN Museum.
POLIN is located in a modern building on the edge of a former Warsaw ghetto. In eight galleries you can see artifacts, such as a prayer book from the 13th century, and reconstructions. A big part of the museum is interactive, so you can immerse yourself in the long-lasting history of Polish Jews.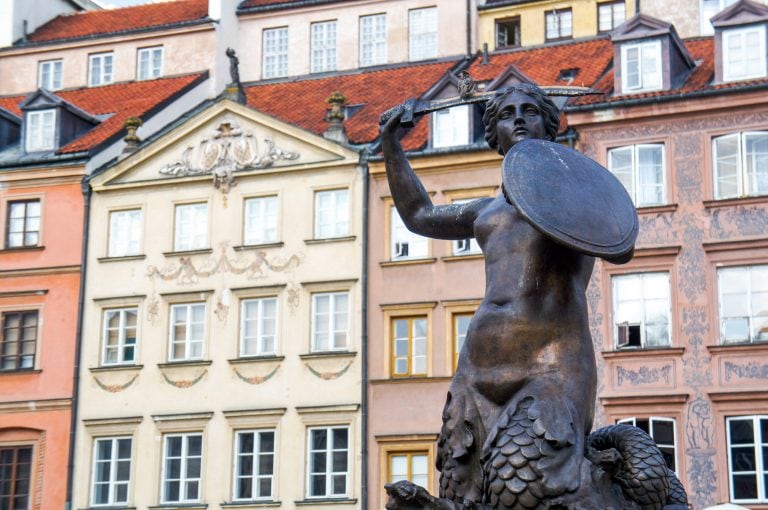 This museum is a perfect place to understand how Poland became a home for the biggest Jewish community, but also learn more about the terrifying history of the Holocaust.
There's also a free walking tour of Jewish Warsaw that you can join.
Ticket: 27 PLN.
Opening Hours: Thursday and Friday 10 a.m. – 4 p.m., Saturday and Sunday 10 a.m. – 6 p.m., Monday-Wednesday closed.
Address: Mordechaja Anielewicza 6.
Discover Secrets of the Universe at the Copernicus Science Centre
If you liked the last stop, you will love this one as well!
The Copernicus Science Centre is ideal for everyone: kids, adults, and everyone in between. The museum is totally interactive, with over 400 exhibits. Create your own chemical experiment or experience an earthquake. If you love nature, you can observe a live stream from a falcon's nest at the Palace of Culture and Science.
Whatever is your passion, you can be sure that you will find something for yourself. Who knows, maybe you will even discover a new hobby or hidden talents? The most important thing there is: don't forget that you have an inner child inside you, and believe that science can be fun!
Address: Wybrzeże Kościuszkowskie 20.
Pro tip: You can book your tickets in advance to avoid disappointment as they are usually sold out very quickly.
Learn Polish History in Warsaw Uprising Museum
At this point in your trip, you know quite a lot about Polish history so why not learn a bit more?

The Warsaw Uprising was one of the most important events in Polish history. It lasted from August to October 1944. The interactive museum is located in the old tram power station.
When you enter the building, you can pick up an old phone and listen to the memories of people who participated in the uprising. Inside you can see footage from the uprising and pictures that show the city before and after German aggression. Thanks to multimedia, a visit to this museum brings the experience of the uprising very close to visitors.
Tickets: 25 PLN.
Address: ul. Grzybowska 79.
Feel Romantic Vibes at Łazienki Park
Next on our must-see places is this unique park that used to be a summer property of the last Polish king, Stanisław August Poniatowski. Even though he is known as the worst king in Polish history, he surely had good taste when it came to art and architecture, and Łazienki is the best proof.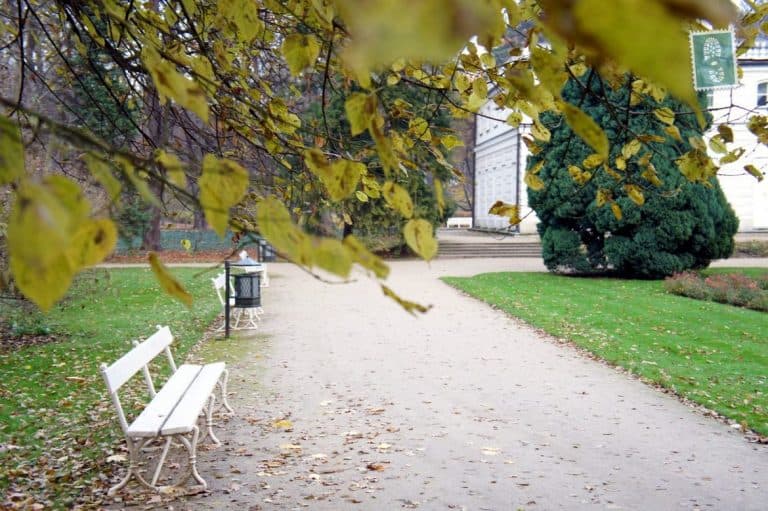 You can admire the classicist architecture and wonderful garden designs there. Stroll around the romantic paths, observe peacocks, or rest on a bench in one of the secluded corners.
If you like art, remember to see the glyptotek and gallery of paintings. In the park you can find a statue of Frederic Chopin, next to which classical music concerts are organized between May and September, so if you are visiting Warsaw at that time, check them out.
Admire Warsaw from the Top of the Palace of Culture and Science
We've finally arrived here, at the highlight of Warsaw, the world's famous Palace of Culture and Science.
It is one of the most controversial buildings in the capital, or even the whole of Poland. It was supposed to be "a gift" from the Soviet Union to Poland, during the communist regime. Whether you like it or not, it is unarguably the emblematic building of the city.
The building has 42 floors and is 237 meters high. It includes a cinema, two theaters, private company offices, four theaters, and much more.
The top of this art deco skyscraper is the best place to admire a panorama of Warsaw. So even if you are not a big fan of raw, monumental architecture, visit this place and enjoy the view.
Ticket: 20 PLN.
Opening Hours: Every day 10 a.m. – 8 p.m.
Address: Plac Defilad 1.
Immerse in Nature in Warsaw University Library Garden
Have you ever dreamed of studying in a place that could give you immediate access to nature? The Library of Warsaw University gives access to the biggest roof garden in the whole of Europe!
You can admire blossoming flowers, lush green plants, and immerse in the sounds of the stream and fountain there. The landscape of this garden includes the library's skylight. Iron constructions of greenhouses give this place a unique, industrial vibe that you won't find anywhere else. You can peak through them to see a modern library interior with students learning for their exams.
From here you have an amazing view of the National Stadium, Vistula River, and the Copernicus Center.
Address: Aleje Ujazdowskie 4.
Tickets: 12 PLN.
Opening hours: Every day in May-August 10 a.m. – 8 p.m., in September 10 a.m. – 6 p.m, in October 10 a.m. – 5 p.m
Relax in Stara Praga Kawiarnia i Antykwariusze
As you've walked so much, now it's time to get some rest.
Would you like to drink coffee surrounded by beautiful old furniture? Stara Praga Kawiarnia i Antykwariusze is a perfect choice. It is a unique place that connects an art gallery and antiquity shop with a café.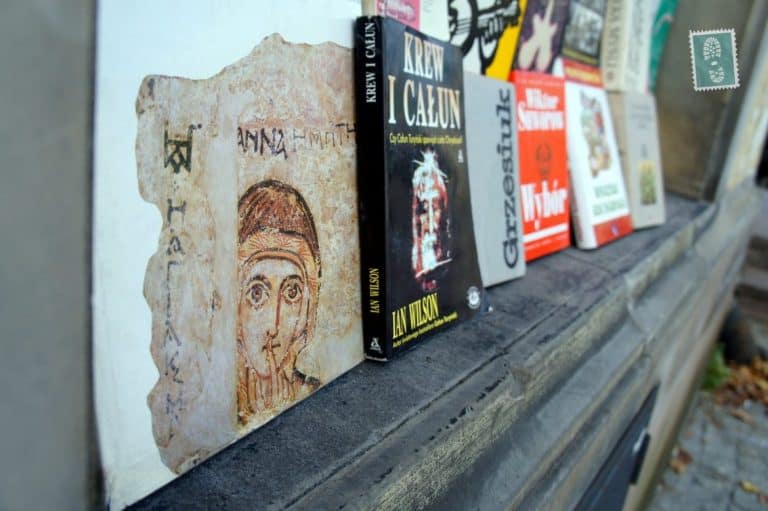 Just relax in one of the deep armchairs, sip a drink, listen to old music, and eat some delicious cake.
Address: Ząbkowska 4.
Opening Hours: Monday-Thursday 10 a.m. – 8 p.m, Friday-Sunday 10 a.m. – 10p.m.
Try Simple Polish Cuisine in Pyzy, Flaki Gorące
If you're a real foodie like me, this would be one of your favorite moments of the trip – tasting some delicious Polish food. If you need to choose just one spot for a delicious meal, it would need to be Pyzy, Flaki Gorące.
The name of this restaurant includes two typical Polish dishes, flaki (spicy soup made from intestines), and pyzy (a kind of yeast bun boiled in steam). You can also try other dishes such as pierogi (dumplings), uszka (another kind of dumplings), or kopytka (well, another type of dumplings?! ;) there.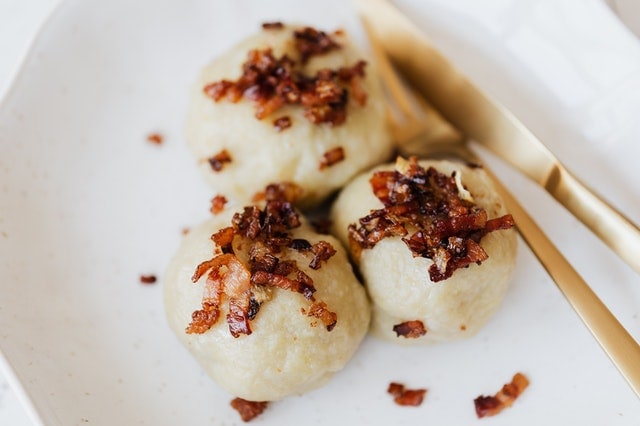 In the menu, you can also find soups such as żurek (sour soup) and barszcz (delicious beetroot soup). There are also dishes created with herring, a fish that Poles love, especially as a snack with vodka. The place has a very nice, local vibe, and the prices are great.
Address: Brzeska 29/31.
Opening Hours: Monday to Saturday noon – 10 p.m., Sundays noon – 9 p.m.
To summarize, when you visit Poland, you can't skip its vibrant capital city. Warsaw has enough to offer for even a week of stay, but if your time is limited, try to visit all the mentioned places to see the most important places in this city!
Which of the mentioned spots you would like to visit the most and why? Let us know if you have ever been to Warsaw and if so, what your impression was. Maybe you want to share some interesting spots that we didn't mention? :)