Today's post is contributed to Etramping by an awesome duo Tina & Hemmo from A Couple of Countries blog. Let's see what budget tips they are sharing with us today to explore the Philippine Island Siquijor for less than $25 a day-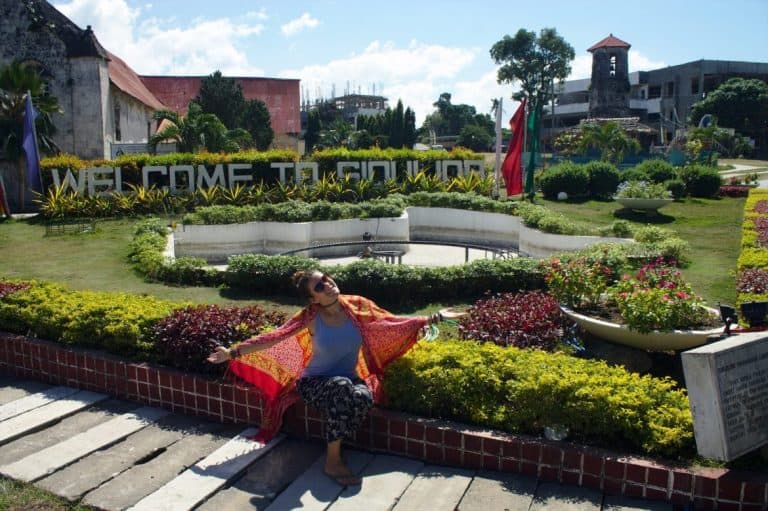 From all the plenty islands (Cebu, Bohol, Dumaguete) that we traveled in the Philippines, there is one that captured our wild travel hearts the most:
Siquijor (pronounced sicky whore), also known as the Island of Fire. Siquijor is the third smallest province of the Philippines and an island, that has it all.
Why Siquijor?
To get wild – Lonesome beaches, waterfalls, mysterious caves. Exploring the wilderness on this island goes along with a big adventure.
To save money – Siquijor is backpacker-friendly. Cheap accommodation and fair motorbike rentals are ideal circumstances for the frugal traveler. We traveled Siquijor on under $15 per day, including accommodation, motorbike rent, food and entrances.
To get mystic – the Filipinos believe that Siquijor is haunted by dark powers and evil energies. Out of fear the locals from the neighbour islands stay away from this bewitched place. Bloggers with a Philippine background encourage their own people to become more open-minded and let the old legends behind. Siquijor is called the island of Fire. Early discoverers saw a glowing from far away. They remembered the mysterious stories about the island and were convinced that they are related to the glowing. The truth behind the ring of fire however were hoards of fireflies buzzing in the floating mangrove trees, which grow at the shores. Siquijor remains still relatively unexplored. It's a quiet, relaxing place where you can still find large stretches of beach completely devoid of people and resorts.
How to get in?
We took a ferry from Bohol (Tagbilaran) to Siquijor (Larena) and paid 235 PHP per person.
How to get around?
The only way to get around in Siquijor is either by renting a scooter or by taking a tricycle. Tricycles on Siquijor are pricey, especially compared to other places we've been to so far. Motor bikes can be rented from pretty much everywhere on the island, including straight from the docks. Unfortunately, our ferry arrived at midnight – a bit too late to rent a scooter. Surprisingly we found another travel couple to share a trike with.
Tricycle ride from port: 300 PHP. Trike rides are fixed prices independently from the amount of passengers. We split the costs in four, so that in the end each just paid 75 PHP. We always prefer to explore a new place on our own. The best way to do so is by renting a scooter. The Philippines is a destination easy to get around with a scooter. Most rental places ask for 300 or even 350 PHP a day for a scooter – just keep walking until someone wants to give a more honest price; we paid 250 PHP. We had some bad luck with this crappy, old scooter. It was leaking fuel so we returned the scooter and got a brand new one from another place, for the same price.
Motorbike rental per day: 250 PHP.
Where to stay?
The backpacker places are located in the town of San Juan. San Juan is in the West of the island, offering the best view of the sunsets. We stayed in Casa Miranda, the cheapest option we found. We paid 350 PHP per day for a private room. They have a restaurant with decent prices, however it was a little bit pricey for us.
Casa Miranda: dorm room for 250 PHP, private room for 350 PHP.
JJ's Backpackers Village: private cottage for 500 PHP, dorm room: 300 per person; you can also set up your tent on the beach for 400 PHP.
Tori's Backpackers: dorm room for 350 PHP, private room for 500 PHP.
Chell's Guesthouse: dorm room for 350 PHP, private room for 750 PHP.
Where to eat?
The food place we visited the most, is called Swiss Sternen. It offered backpacker friendly prices. When we were there, they had an unbeatable promotion for pizza. Pizza: two pizzas for 100 PHP.
For a quick snack, you can visit one of the bakeshops. They are still affordable. They usually sell sugary bread buns and slices of cake for under 5 PHP. Bakeshops are found in San Juan, Siquijor town and Larena.
We also tried food in Casa Miranda, our guesthouse.
Breakfast: 120 PHP.
Spaghetti: 150 PHP.
Chicken curry: 150 PHP.
Unique things to do in Siquijor
The best thing about small islands is that you can explore them within a few days. We drove around the island starting at San Juan, so our list follows the main route around the island. It's a road trip of about 90 kilometers. It can be easily done in 2 or 3 days, passing all the 6 municipalities San Juan, Siquijor, Larena, Enrique Villanueva, Maria and Lazi.
Litre of fuel (petrol station): approximately 35 PHP, litre of bottled fuel: 40-45 PHP.
Capilay Spring Park
The park is actually a free outdoor swimming pool made from a natural spring and free to access.
Location: San Juan.
Cost: free entry.
Lugnason waterfall
Lugnason waterfall isn't indicated on the maps nor are there any road signs indicating its location. Look out for a road leading inland between San Juan and Lazi.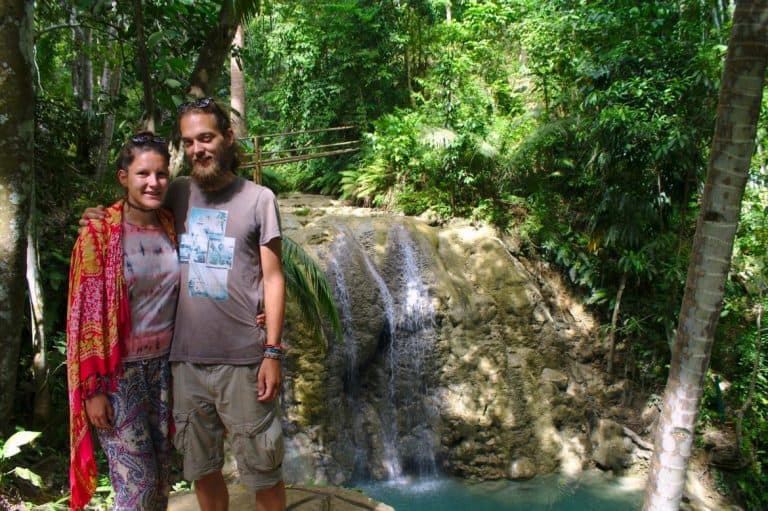 Once you arrive there, you'll find yourself enchanted by the beautiful scenery. Blessed by unique wilderness. Turquoise water so clear that you can see distant what is below you.
Location: San Juan/ Lazi.
Cost: voluntary donation.
Cambugahay Falls
Cambugahay is the famous and more popular waterfall. On the way there, you will pass the old church of Lazi. It's a popular place among adrenaline junkies to jump from the top of the waterfall and there is a rope to swing from.
Location: Lazi.
Cost: 10 PHP for scooter parking.
Century-old Balete tree
The oldest Balete tree (magical tree) of the island, said to be over 400 years old, can be found next to the road on the way to Lazi. A pool is built next to the tree where you can put your feet in the water with fish eating your dead skin.
Location: Lazi.
Cost: free to look, voluntary donation when going in the water.
Secret beach near Salagdoong Forest
On our way to Salagdoong Beach, we came across another beach. We walked up and found ourselves among bizarre mangrove trees growing along the shore. The trees grow so dense that from far away they look like a little island forest. It's tricky to access the beach. Look for a small road with a basketball backboard, leading to the beautiful beach we unexpectedly discovered.
Location: Maria.
Cost: free.
Cang-Isok House – abandoned fisherman house
We came across an abandoned fisherman house when we drove around the whole island and later found out it's a known tourist attraction called Cang-Isok house. The perfect Robinson Crusoe flair. Find a coconut or catch a fish. Most of all, indulge in the peaceful atmosphere.
Location: Enrique Villanueva.
Cost: free.
Larena Triad Coffee viewpoint
You can catch a great view over part of the island from the viewpoint at Triad. A sign indicates non-dining guests will have to pay 20 PHP entrance fee. We just got some drinks – the food was too expensive for us but it looked very nice – but actually, nobody seemed to care about collecting any entrance fee. There were no other guests when we visited. Halfway up, the road is no longer paved so expect a bumpy ride. Once you arrive, your effort will be returned by getting the best view of Siquijor.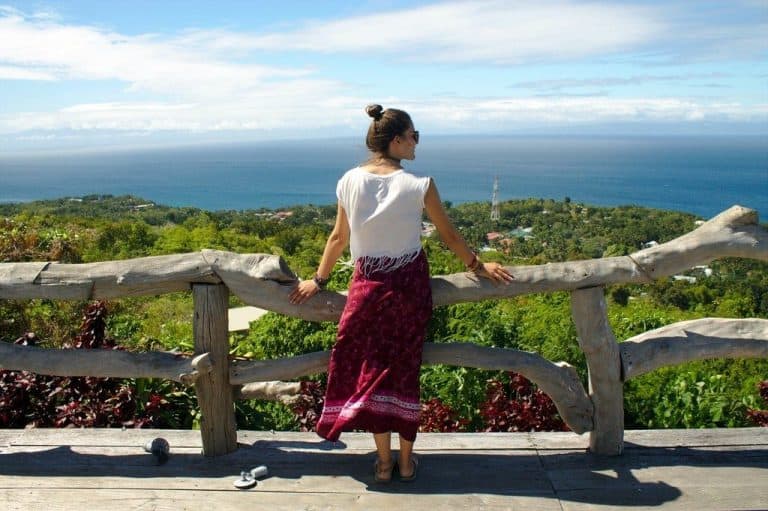 Location: Larena
Cost: a consumption or 20 PHP per person
How do you guys like these tips? Helpful?