Of all the cities and destinations in Italy, Verona and Lake Garda are often overlooked compared to the appeal of Rome and Venice. I didn't regret at all choosing these cities for my visit. Through this itinerary, you can enjoy the best of Verona and Lake Garda in just 3 short days!
About Verona & Lake Garda
When choosing cities to visit in Italy, Verona may not be most people's top choice. Relatively close to other bigger cities like Milan and Venice, small enough to be explored within a short period, this city would be perfect to be included in your next Italian bucketlist. The city has all the historical venues, romantic places, and serves as a gateway to an even more wonderful destination, Lake Garda.
Despite being the biggest lake in Italy, it is still less famous and touristy than its neighbor, Lake Como. This doesn't mean that this lake is any less beautiful. There are several towns surrounding this lake, Sirmione, Salo, Riva—to name a few. Upon your visit, you can pick to stay at one of these towns.
About This Itinerary
This itinerary was inspired by my visit to this area last September. Obviously, the great thing about visiting on the shoulder season is that it's less crowded and expensive, but we can still enjoy the wonderful weather. In Verona, it was still very humid and hot especially during the day. While in Lake Garda, the temperature was mostly great and sunny even though it gets misty in the morning and night.
You can easily swap out the days between exploring Verona and Lake Garda, whether you prefer to visit Verona at the beginning or at the end of your 3-day stay. This itinerary will focus on the south-western part of Lake Garda (Gardone Riviera to Peschiera).
How to get to and around Verona & Lake Garda
Verona is a very accessible city. You can come either by plane, train or bus from other cities in or outside of Europe.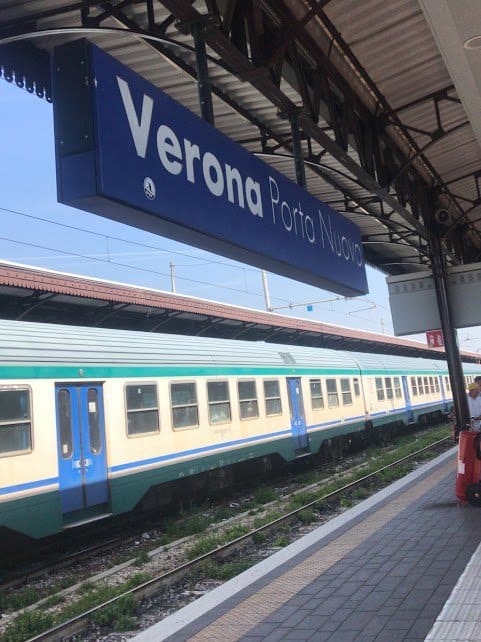 By Plane
There are several non-European flights coming into Verona Villafranca Airport, such as from Egypt, Tunisia, and Israel. Other than that, most of the flights are coming from within Europe.
From the airport, you can take Bus 199 to Verona Stazione FS then continue to the city center. There is no direct transit from the airport to Lake Garda, so you will need to take Bus 199 first.
By Train
The train from all over Italy and other countries will stop at Verona Porta Nuova. The train station is located comfortably in the city center, so you can continue on foot or by short bus ride.
If you plan to continue directly to Lake Garda, you can buy a train ticket (Trenitalia/Trenord) to Peschiera or Desenzano, which is on the south of the lake.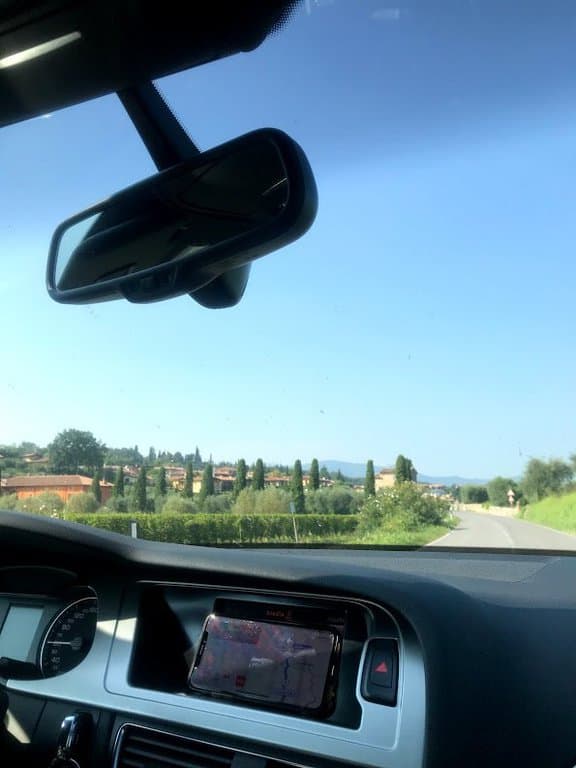 By Bus
The main bus station is Verona Stazione FS which is just outside Verona Porta Nuova, you can check the bus schedules and routes here.
By Car
If you want to do a road trip from another European city, Verona & Lake Garda are just north of the A4 and west of the A22 autostrada. Prepare the money for the autostrada.
This is also the most convenient way to explore Lake Garda, but expect heavier traffic and more crowded parking areas during summer months.
Verona and Lake Garda Itinerary
Day 1
Breakfast around Piazza Bra
The best way to enter Verona in style is through I Portoni della Bra, which will lead you to Piazza Bra. This arc is relatively a new one because in ancient time, the entrance to Verona is through Porta Borsari.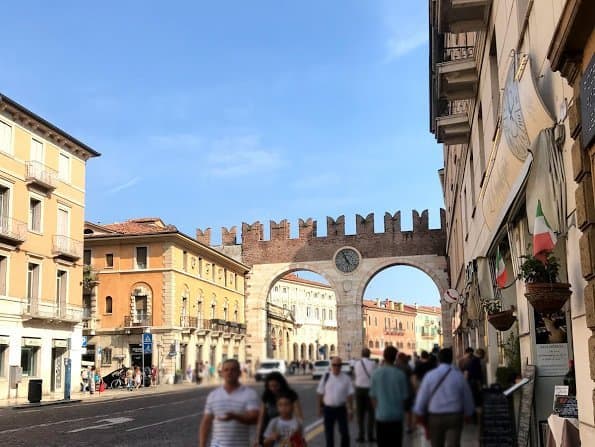 In this piazza you will find some notable buildings around the area, namely Arena di Verona and Palazzo Barbieri. You will also find a lot of restaurants, cafes, and gelato shops, but the one right on the piazza is very expensive. You can walk around the smaller streets and see a café that you like. My recommendation is Caffè Dersut a short walk to via Roma. After a cup of coffee and a brioche, enjoy the morning sun a bit more before heading towards other sites.
Arena di Verona
This looks like a smaller version of the Colosseum, but nothing less impressive. This amphitheater is also still very well preserved. Nowadays, the arena is used for concerts, opera performances and orchestra-philharmonic that attract visitors from around the world. If you happen to be in Verona in June 2020, make sure you come to the Opera Festival.
Right in front of the Arena, there is a statue of Vittorio Emanuele II, the first King of united Italy who assumes nickname of Padre de la Patria (Father of the Fatherland). There is also Palazzo Barbieri on the other side, which is now a city hall building. This part of town is usually very crowded, so always watch your belongings.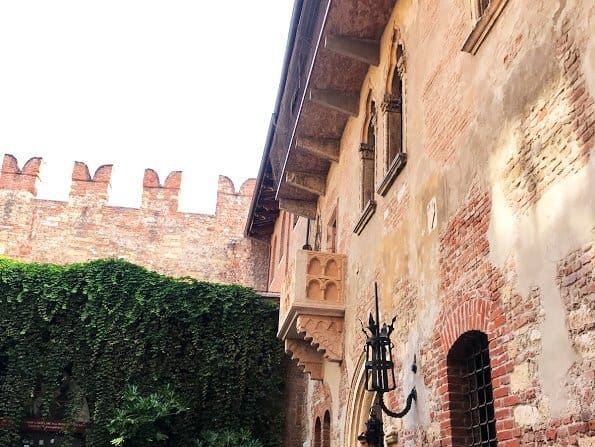 Casa di Giulietta
Only a short (confusing) walk from the Arena, you will find the other main attraction of this city. Juliet's House is always overcrowded with tourists . Inside, you will find Juliet's statue and the famous balcony. On the entrance, the wall is plastered with love letters from people all over the world who pours out their feeling in writing to (fictional) Juliet.
If you're confused how can one send a letter to a fictional person, you're not alone. The letters are actually handled by "Secretaries of Juliet" from Club di Giulietta, which is funded by the township of Verona. You can actually sign up to be one or book with them to read archive of these letters.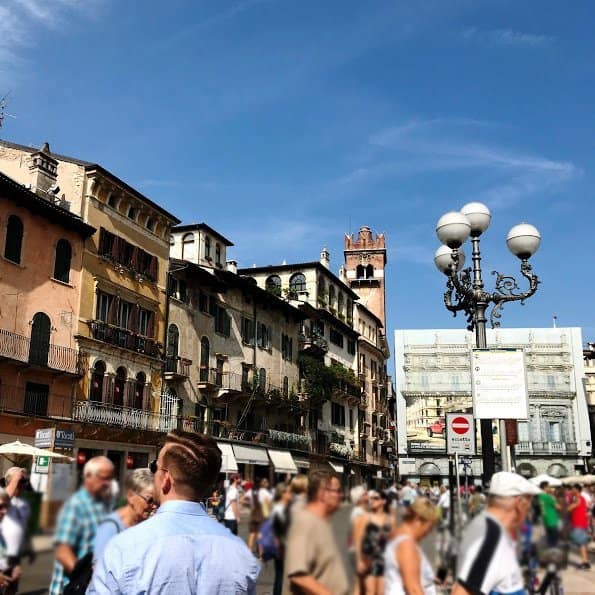 Lunch around Piazza delle Erbe
After wrestling your way in and out of Juliet's House, it would be nice to have a good lunch. Next Piazza to visit is only few minutes away. This Piazza was a forum back in ancient Roman days and now people still gather here around the square.
I would recommend Sapore Pizza. Even though I don't really like typical thick northern Italian pizza, I found the pizza delicious and very affordable. You can also have some dessert, go get a gelato! Gelateria Imperio would be my go-to gelato place at the piazza.
Stroll around Centro Storico and enjoy Adige River view
Enjoy your chilly treat and continue walking around. On the north of the Piazza there is Torre dei Lamberti, where you can climb the tower (either by stairs or elevator) and enjoy bird's eye view of Verona. If you walk towards the north, you will end up at Verona Cathedral and Ponte Pietra, which are great places to see as well.
Aside from being very pedestrian-friendly, the narrow streets of Verona to are very picturesque. Why don't you stop a bit and take some pictures?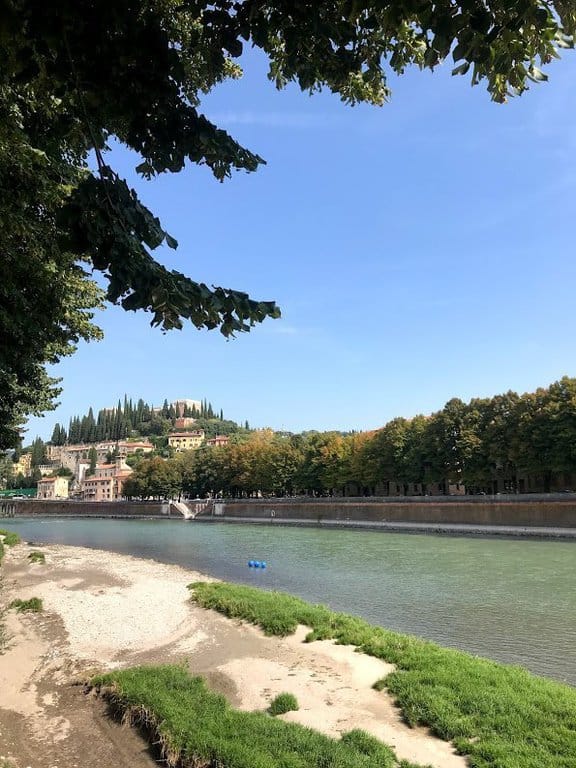 Getting to Lake Garda from Verona
You have finished exploring the whole Verona city center in just a day! Next you can choose to drive or take train/bus to Lake Garda and enjoy the sunset on the way, or you can stay in Verona for the night and head there in the morning.
Day 2
Exploring Gardone Riviera
After having breakfast, we can explore the western part of the lake. The must-visit attraction is this impressive lakeside estate called Vittoriale degli Italiani.
The Italian writer Gabriele d'Annunzio once lived in one of the buildings in this estate. The estate comprises a villa, an amphitheater, a cruiser, and a boathouse. During your visit, you will learn about the history of this estate and be given an amazing view of the lake. You can book your ticket in advance on their site, it costs EUR8 for the non-guided tour.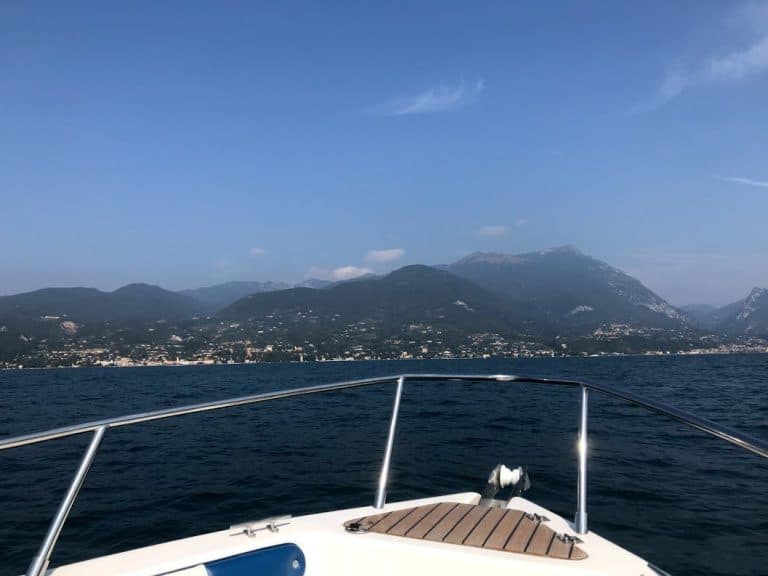 Picnic, Sunbathing and Boat Trip
If you have not had enough amazing view of the lake, drive south a little bit to San Felice. There are various beaches along the lake but this one is definitely my favorite. You can stop by the supermarket to buy picnic supplies, lay down a mat or towel by the lake and enjoy the sun! This beach is especially hectic during the summer months.
Want to take it up a notch? There is Garda Boat Rental along the beach where you can rent a boat for half a day (4 hours) and go around the lake a little bit. The afternoon is best as the morning mist is gone, you can enjoy the view of Monte Baldo on the other side and the castle at Isola del Garda. The small boat can take up to 7 passengers and only costs around EUR120 on shoulder to low season!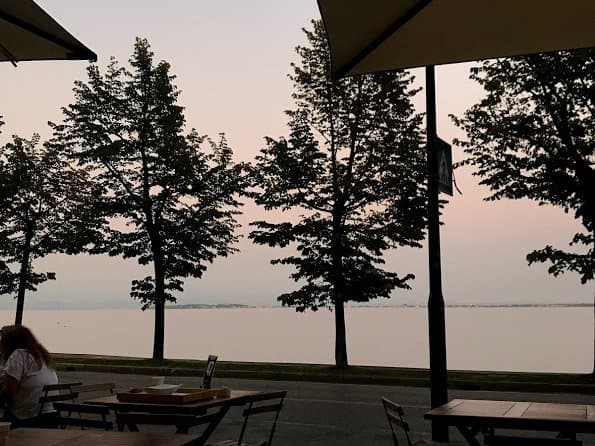 Dinner at Desenzano
After a great day by the water, it's time for amazing dinner. Most of the restaurants around Lake Garda are expensive, especially ones in front of the lake. I would recommend Santa, it is one of the more affordable restaurants in front of the lake. It has an amazing view, awesome food, friendly and quick service despite being a busy night there.
As Lake Garda is more catered towards families and honeymooners, there is barely any nightlife here. So enjoy some restful night before more adventure on the next day.
Day 3
Rocca Scaligera & Grotte di Catullo
In the morning, we drive to Sirmione, which is the peninsula in the south of Lake Garda. There are plenty of attractions in Sirmione, but there are two that you shouldn't miss. The first one is Rocca Scaligera (Scaligero Castle), a fortified port that was built in 13th century by the Scaliger Family of Verona, which is said to be the most well-conserved in the country. If you look at Lake Garda pictures on Instagram, there are plenty of drone shots because the panoramic view of this place is incredible. If you decide to enter, there is a museum that houses medieval artifacts inside.
See our drone buying guide if you don't have one yet.
The second site is called Grotte di Catullo. You should visit this site If you enjoyed or wanted to visit Pompeii. Surrounded by olive groves, this ancient Roman villa was constructed in 1st century AD and still well-preserved until this day. Enjoy the amazing view of Lake Garda from the ruins of the villa, which also has a museum in it. This site also serves as the set for Call Me By Your Name movie.
The ticket price is EUR14 for the castle, ruins & museum combo. It opens for longer hours during summer, even though the museum only opens until 2pm. These places are closed every Monday, January 1st, May 1st, and December 25th.
Winery tour around Sirmione
Lake Garda region is the northernmost Mediterranean climate in Italy, so it is mild enough to cultivate grapes, olives and citrus trees. Make sure you do a wine tasting or winery tour during your visit. The area is known for its Bardolino, a light red and Chiaretto Rosato, an even lighter and refreshing white.
There are so many wineries and tour operators offering winery tour, pick one that suits your preference, including whether you would like to be picked up at your accommodation, whether you would like the one that includes food, etc. My only advise would be, don't drink and drive!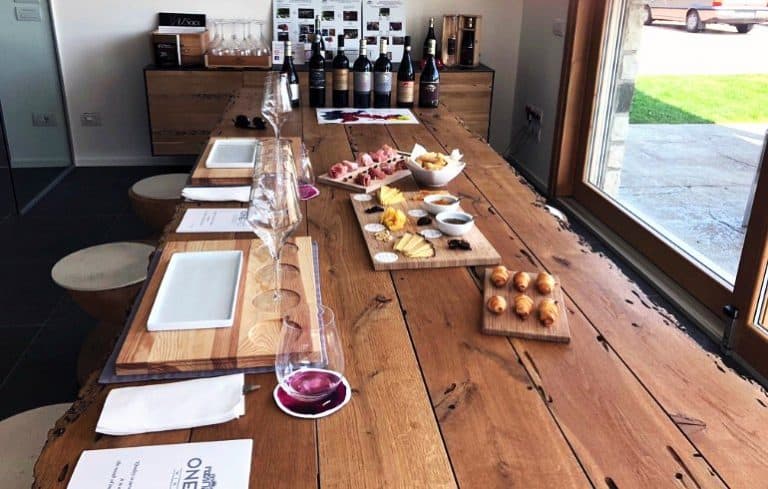 The price for a tasting could range pretty significantly between one winery and the other, as well as the tasting menu. I would recommend Onepiò, they offer from light wine tasting (three kinds of wine and breadsticks) all the way to platinum wine tasting (eight kinds of wine and variants of Italian chocolate).
Dinner & going back to Verona
If you still want to get dinner around Lake Garda, there are plenty of good restaurants in Sirmione and Peschiera. I discovered Pasta Salame in Peschiera, a restaurant with a simple menu that is less touristy, very affordable and tastes really good. If you still have room for dessert, make sure to try their tiramisu.
How to Travel to Verona & Lake Garda on a Budget
Lake Garda has been known as the summer destination for the elites, even in medieval times. With some tweaks and planning (and a lot of research) you will be able to stay in these cities without spending too much.
Accommodation Verona & Lake Garda
When picking a place to stay in Verona, pick accommodation right in the city center (Cittadella, Citta Antica) so you will be able to walk to all the important attractions. The map below can help you out with that.
To pick a place to stay in Lake Garda, that would depend on the mode of transportation you have. If you depend on public transportation, I would advise staying closer to the lakeside so you can walk to the lake without spending too much on bus ticket. If you rent a car, you can stay a bit further from the lakeside for cheaper, nicer accommodation.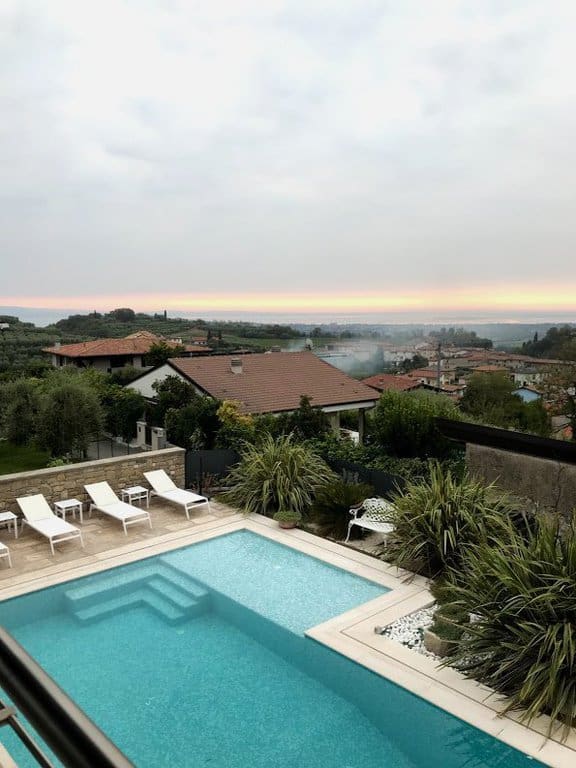 We stayed at a wonderful villa in Puegnago, with free breakfast, bathtub, huge pool and amazing (farther) view of the lake for only EUR120 per night. In comparison, similar place in Desenzano costs at least EUR205 per night. If you want more simple room, you could definitely get one for a lot cheaper. You can find somewhere nice to stay in Lake Garda as well using the map below.
Food in Verona & Lake Garda
If you're not too fussy about food, there are plenty of food stalls that offers delicious sliced pizza and panini for a really low price. Just take the food and eat at a park or back at your accommodation. If you want some pasta, you should try to find places where they offer a more simple menu and most locals go. You can also buy supplies at the supermarket (the local ones are called "Alimentari") and wine bottles for a really cheap price before visiting an attraction.
Attractions in Verona & Lake Garda
Most of the attractions in Verona are free. The views in both Lake Garda and Verona are amazing, so you don't really have to pay for anything. The attractions I mentioned above are totally worth it for a small amount of money, but you can totally skip them and still having a good time!
When to Visit Verona & Lake Garda
As you have guessed, visiting during the summer months will make everything more expensive. I highly suggest visiting in May, September or October. In winter months the region gets cold and in Lake Garda, it may get foggy. But if you love winter sports, you can go high altitude skiing on Monte Baldo or go for a thermal bath in Sirmione.
Pin It For Later