Drone, also known as unmanned aircraft system (UAS) or unmanned aerial vehicle (UAV), is a flying machine that you can operate from the ground. While it can be used for commercial and military purposes, in this article we will focus on drones for personal use.
This is a guide to buying a recreational drone for the first time, or upgrading to a newer one. Even a couple of years ago getting something more than a toy would cost you hundreds of dollars, but now you can get a drone for under 200 dollars that in 2016-18 would be considered a professional grade.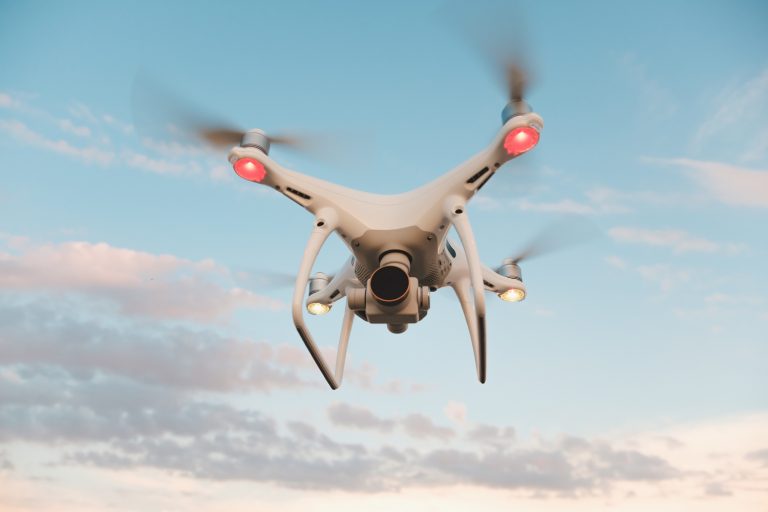 Things to Consider When Buying a Drone
There is a multitude of options on the market now, with each model excelling in something else. Hence, before you go ahead and buy your drone, decide what are the most important things to consider when buying one.
Purpose
Drone to Learn Flying
When you just wanna try and see if it's something for you, learn how to fly a drone and have some fun, it may be better to go for a cheap UAS. You can get one for as little as $30 and it will have all the functions you'll need. It may lack in video quality, or it can get heavy, but you will be able to play with it without worrying as much about crashing. It's a good idea to start with this and learn the ropes.
Here's a list of best drones for under 200 dollars in 2022.
Drone for Hiking
You can capture some of the best videos of yourself and your friends, as well as the landscapes, when you go hiking with a quadcopter. The most important things to consider when you buy a drone for hiking are weight, flight time, camera resolution and camera stabilization. It's also important to make sure it will fit into your drone backpack (yeah, that's actually a thing now).
With this in mind, we created a list of the best drones for hiking.
Drone for Selfies
It's no longer uncommon to see someone swapping a selfie stick for a selfie drone. From pocket drones that can take photos of you and your friends to machines that will follow your movement and react to voice commands/ hand gestures, there's a whole genre of devices built to accommodate the need for us to capture each moment from another perspective.
We created a list of best selfie drones, and there's even one that doubles as your phone cover so it's always with you.
Drone Weight
Depending on how you want to use your drone, its weight is probably the most important factor to take into consideration. If you want to take it with you everywhere, heavy UAS will soon prove to be a burden. Lightweight, however, often lack the extra features and have shorter flight times. Hence it's a trade off you'll need to consider first.
Important! Many countries regulate the licensing and use of UAV based on their weight. Do consider your contry's regulations before buying a drone. Many places around the world do not require licensing or registration to use drones under 250 grams.
Flight Time/ Batteries
How long you can fly your drone on each battery will determine how far you can go with it. When the first personal drones come out you had a minute or so to play with. Now there are drones that can fly for 30 minutes non-stop and then you can just swap a spare battery to continue.
Flight time of each battery charge is one of the most important things to check before making a purchase decision. Also, do not forget to see if the batteries can be easily replaced or even if the drone comes with spare ones.
Flight/ Control Range
How far you can fly without losing control can make a huge difference in the footage and fun you can get from your drone.
There are 3 main methods of communicating with your drone, which impact it's control range:
Radio
You'll need a controller to send and receive the radio waves to and from your drone. Depending on the size of the antenna, the range can extend up to 5 miles.
Wi-Fi
The maximum control range using Wi-Fi signals is about 650 yards (600 meters). It's often much shorter so you'll have to see the specs of each drone you consider. The good thing is that with some models you may not need a separate controller to fly your UAS.
GPS
It's also possible, with some models, to define a flight path that your drone will then follow using Global Positioning System (GPS).
Controller
With the things mentioned above in mind, there is a trade off between flight range and total weight of the equipment you have to carry with you. On one hand, it would be best if we could use your smartphone to fly the drone, so that you don't have to carry an additional controller, but on the other hand the range would suffer without it.
If you just want the drone for selfies, then lack of controller would be fantastic, but if you want to go far into the sea to capture whales, then you want to be in control at all times and from afar. Consider this before you choose your quadcopter.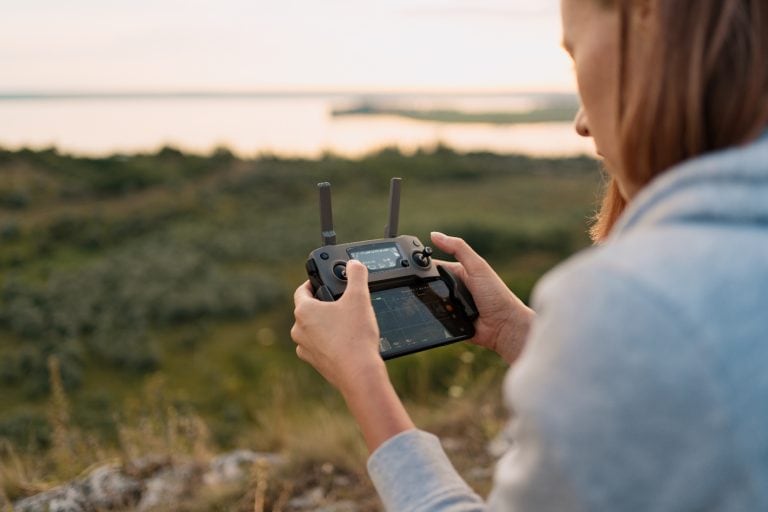 Camera Resolution
Most people use drones for videos, so you should check if your new drone would capture the world in low resolution, Standard Definition (SD), 720P High Definition (HD), 1080P Full HD (FHD), or 4K. Each one is at least twice better than the one before and something to consider.
It's also very important to check if the footage is recorded to an SD card in the drone, or sent to your smartphone before getting recorded there. If it's not built-in, whenever you lose connection, you lose that part of the recording. Whereas, with the on-board SD card you'll have the full footage at your disposal after retrieving your drone, even if it lost the connection with the controller.
Camera Stabilization
Your drone, if it has any camera stabilization at all which you should check, will either stabilize the recording with software or mechanically.
The best for the job is a 3-axis gimbal. Thanks to which, your videos will be filmed with a steady, cinematic motion that compensates for the shakes and wind movements.
Alternatively, some models compensate for the shaky conditions with built-in software. Not as good as a gimbal but much better than nothing at all. Some drones also come with the ability to mount a GoPro on it.
First Person View (FPV)
Check if it's possible to see through First Person View directly from your drone while flying. While you can control the AUV by looking at it directly, it would be better to sometimes see for yourself if everything you want to record stays within the frame.
Speed
The importance of your drone's speed becomes crucial when you need to fly in a strong wind. It may not be able to return back to you if you're standing upwind, and there are places where it would not be possible to retrieve your drone by walking up to it (imagine shooting at sea).
If you just want to use your drone for fun, then speed is important as it's just more exciting to fly it faster.
Why I Wrote This Guide
I just got back from a road trip around Scotland with my cousin which we captured with his drone. Until this moment, I thought drones are heavy, expensive and difficult to fly but now I see now I doesn't have to be the case.
With the right research, you can now buy a high quality lightweight, inexpensive and easy to fly drone. I wanted to get a drone for myself and so I've researched and summarized all the things to consider when buying a drone to find the best option and hope it will also help you make a good decision. Remember that drones can be quite fragile and if you want to prolong its shelf life, remember to check out our guide on drone care.