Camping is one of the most enjoyable ways to spend a summer. It's easy, it's free, and you can take your whole family with you! There are some things to keep in mind when camping though. One of those things is how to stay cool during the day while cooking dinner or just hanging out at camp. The best way to do that is by making sure you have the right tent fan for your needs! Read on for more information about this topic and tips on what type of tent fan will work best for you.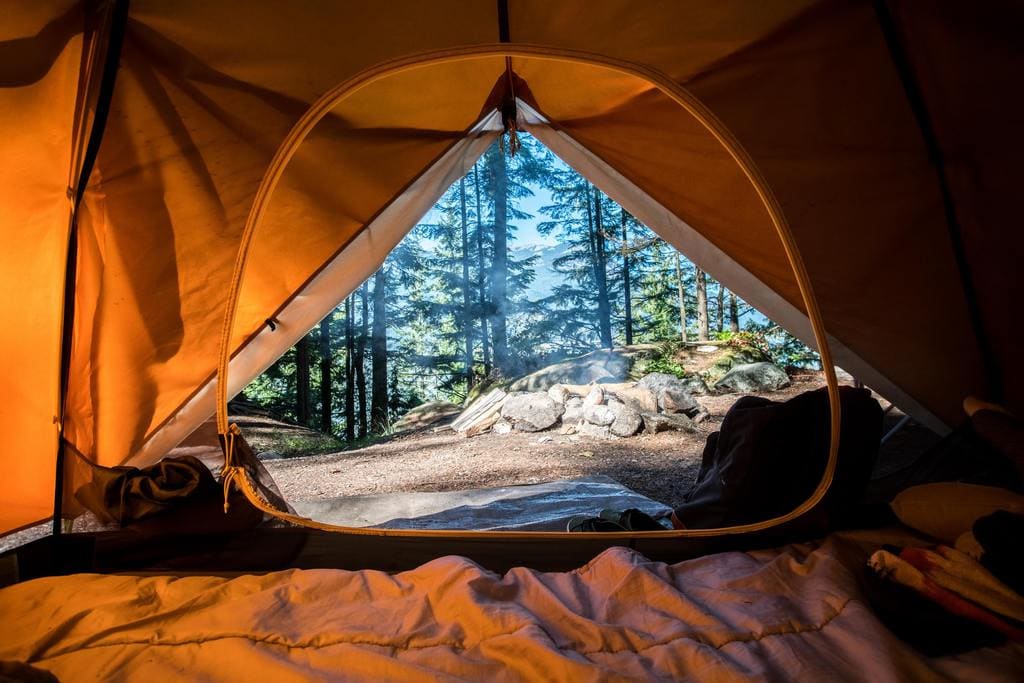 What is the Best Fan for Tent Camping?
We have compiled for you the top 7 Best Fan for Tent Camping in 2023. In this article we go through the products that we have used ourselves, checked what other users thought about them and we ranked them accordingly.
With years of experience with tent camping fans and having used several fans for tent camping you can trust our review.
Moreover, you can scroll to the end of this review to see our mini buying guide as well as the answers to some of the frequently asked questions about fans for tent camping.
Specs
Price: 💲💲💲💲 (fewer 💲 = cheaper)
Size: 10.2 x 8.7 x 4.3 inches (26 x 22 x 11 cm)
Battery: 10400mAh
Max Working Time: 36 hours
Features Lights: Yes
The Drchop 8-inch portable fan is a free-standing model that also features a hanging hook for various applications. It features a 10400mAh rechargeable battery with a capacity of 8-36 working hours depending on the fan speed. The battery can also double up as a power bank due to its high energy capacity and takes five hours to recharge fully. Additionally, this model's design allows you to use it while recharging, and it comes with four battery level indicator lights that alert you on the battery status.
The fan features a 2-in-1 design featuring an LED lamp with three brightness adjustment levels for nighttime use. Unlike other models that feature a 3-step fan speed control, the Drchop portable fan features a dial-up setting to set the speed you want. Additionally, it comes with a high-efficiency brushless motor with exceptionally low noise and 270-degree blowing angle adjustment for comfort.
Pros
Robust and sturdy construction for various applications,
Stable free-standing design available in three colors,
The high capacity battery provides extended operation hours,
Features 270-degree blowing angle for more coverage
Cons
The battery has a short service life before degrading,
Expensive for its quality
Specs
Price: 💲💲 (fewer 💲 = cheaper)
Size: 7.2 x 5.5 x 2.6 inches (18.2 x 14 x 6.5 cm)
Battery: 5000mAh
Max Working Time: 40 hours
Features Lights: Yes
The Comlife portable combination fan is a high-performance unit that features a brushless motor that delivers faster fan speed and quiet operation. The Comlife fan comes with two 18650 lithium-ion batteries with a 5000mAh rating that provides up to 40 hours of working time on the lowest setting. Plus, the fan is easily rechargeable with a laptop, car and wall chargers, power banks, or solar panels and takes about 4-5 hours to charge fully. Plus, the fan is usable while recharging, so you can enjoy a continuous operation during hot days.
Other features include a tent hanging hook, LED lighting, and a diffuser for liquid mosquito repellant or scented oils. The Comlife fan is slightly bulkier than other similar units in its price range, which allows it to deliver better air circulation performance in larger 4-person tents. Additionally, it also comes with adjustable settings for convenience and flexible mounting positions for non-camping applications.
Pros
It comes with a high-performance rechargeable battery,
Delivers faster fan speed for more effective air circulation,
Versatile charging options and applications,
Can use the fan while the battery is recharging
Cons
May have a short service life,
Batteries are not replaceable
Specs
Price: 💲💲 (fewer 💲 = cheaper)
Size: 8.5 x 5.5 x 4.3 inches (21.6 x 14 x 10.9 cm)
Battery: 4000mAh
Max Working Time: 40 hours
Features Lights: Yes
This BusyPiggy camping fan features a built-in solar panel to recharge the battery while camping or during a power outage. It also features a micro USB port to recharge with a power bank, laptop, or car charger, while the USB port allows you to charge small devices such as iPods and smartphones in an emergency. The battery takes 4-6 hours to recharge fully and can deliver up to 40 hours of working time on its lowest settings. Plus, it comes with indicator lights that show when the battery is charging with the solar panels or USB cable. This camping fan is suitable for backpacking and emergency preparedness, among other applications, due to its compact size and flexible charging options. It comes with four fan speed adjustments for convenience to circulate air in a small 2-person tent comfortably. The foldable LED lights come with four brightness settings that include high-light, low-light, and red-light options. Additionally, it has an SOS light function for emergency signal lighting.
Pros
Compact sized dual unit with hanging hook for camping tents,
Features a built-in solar panel for charging in off-grid situations,
High energy capacity battery delivers extended working hours,
Features rugged construction with ABS plastic for durability
Cons
It has a low impact effect for large spaces,
It does not feature flexible mounting options
Specs
Price: 💲 (fewer 💲 = cheaper)
Size: 7.9 x 5.7 x 2.8 inches (20 x 14.5 x 7 cm)
Battery: 5000mAh
Max Working Time: 35 hours
Features Lights: Yes
Introducing the Reenuo camping fan with LED lights, the ultimate portable fan to enhance your tent camping experience. Designed not just as a fan, it also serves as a handy lantern and diffuser, making it the perfect multifunctional companion on your off-grid adventures.
This compact, lightweight fan is a cinch to carry and charges via an everyday power bank, providing convenience even in the remotest locations. With a broad base for stability and a nifty hanging hook, it's versatile enough to suit your outdoor camping arrangements. Constructed from robust ABS plastic, this fan is designed for durability and longevity. Plus, it boasts an energy-efficient design, consuming only 4 watts of power, so it won't rapidly drain resources.
A feature you'll especially appreciate is the 5000mAh rechargeable battery. On its lowest setting, it can provide a cool breeze for up to 35 hours. Additionally, when solely utilizing the LED light function, it can deliver up to 440 minutes of illumination based on your preferred brightness setting. It includes three adjustable settings for both fan speed and light brightness, allowing you to customize your comfort level. Plus, the pair of water-absorbing sponges for aromatherapy add to the charm of this device.
Pros
Low noise level ensures undisturbed sleep,
Variety in fan speeds and light intensities,
Impressive battery life suitable for remote camping,
Flexible placing options with 360-degree rotation feature,
Multiple USB charging options available
Cons
Might not have a long lifespan,
USB port may be prone to damage
Specs
Price: 💲 (fewer 💲 = cheaper)
Size: 8.6 x 6.7 x 5.1 inches (21.8 x 17 x 13 cm)
Battery: 4 x C-Cell
Max Working Time: 15 hours
Features Lights: Yes
The Odoland Portable LED Camping Lantern with Ceiling Fan is a dual-purpose unit suitable for the hot season and off-grid camping, emergency preparedness, and power outages. The Odoland camping lantern relies on four C-Cell batteries to provide a long-lasting and reliable charge to power the fan and LED lighting. While C batteries come in various capacities and voltages, you can get up to five working hours with the fan on high speed and up to six hours with the lantern on full brightness with one set of batteries.
This feature makes the portable fan a necessary companion in natural disasters where the power will almost certainly go out, and you'll have no use for rechargeable batteries. The unit is compact-sized to fit in a medium-sized bugout backpack for emergencies and lightweight for hiking and backpacking excursions. Alternatively, you can opt for rechargeable C batteries when you are not using the portable fan frequently.
Pros
Lightweight and portable for various applications,
150 lumens lantern lights up large areas,
Replaceable C batteries for off-grid applications,
Sturdy construction for stability at high RPM
Cons
Not suitable for overnight use,
It may not give you a long service life
Specs
Price: 💲💲💲 (fewer 💲 = cheaper)
Weight: 0.99 pounds (0.45 kg)
Size: 6.6 x 6.6 x 5 inches (16.8 x 16.8 x 12.8 cm)
Battery: 5200mAh
Max Working Time: 25 hours
Features Lights: Yes
The Supology portable camping lantern and fan is a compact-sized unit that carries easily and is suitable for outdoor emergency applications and excursions. It comes with a remote control device to manipulate the fan conveniently and features three adjustment options for both fan and lantern combinations. While it is a small-sized unit, users note that it can light up and circulate air in a 4-person desert camping tent, which gives it better performance than the competition.
The Supology fan also features a 5200mAh battery that doubles up as a power bank for small devices. It takes 6-8 hours to recharge it and provides a current to run the fan at high speed for up to six hours. The unit also features a timer that automatically shuts off the fan and lantern to conserve the battery. This feature is convenient as you can set up the timer in combination mode to switch off both fan and light when you are settling down to sleep.
Pros
Features a unique design on the fan blades to move more air,
Provides convenience with remote control and shutoff timer,
High-efficiency motor delivers quiet operation for night time use,
Low power consumption allows extended battery working hours
Cons
Lightweight construction may not be durable,
It takes a long to recharge the battery
Specs
Price: 💲💲💲💲 (fewer 💲 = cheaper)
Size: 6.6 x 6.6 x 5 inches (16.8 x 16.8 x 12.7 cm)
Battery: 7800mAh
Max Working Time: 25 hours
Features Lights: Yes
The Tesoky Camping Fan with LED Lantern is a versatile piece of camping gear, serving a dual purpose of cooling a space and providing a light source. This portable fan ensures optimum air circulation courtesy of its high-performance brushless motor, making it an asset for hot weather camping. The unit runs on a powerful, rechargeable battery with a life span of up to 25 hours on the lowest fan speed and 8 hours on the medium setting. The heft of 7800mAh ensures impressive longevity and an added benefit – it powers up as a portable bank, ready to charge your devices in any emergency.
The fan operates on three different speed levels, thereby allowing you to customize the cooling as per your need. Furthermore, the LED lantern brightens the space with an adjustable three-level brightness setting – truly a feature for campers who prefer multi-functional devices. Convenience is at the heart of its design; it comes with a compact, user-friendly remote controller, enabling you to manipulate settings without moving an inch.
Switching it off is also hassle-free. The fan incorporates an auto-shutoff timer to preserve battery life, thus making it a reliable buddy for those long camping nights. It helps to have that efficiency when every ounce of power counts!
Pros
High capacity 7800mAh battery doubles as a power bank,
Fitted with user-friendly remote controller,
Three customizable fan and lantern brightness settings,
Considerate auto-shutoff timer to save battery life
Cons
Light-duty construction affects durability,
Size could impact the force of air circulation
Verdict
To summarize, we have gone through dozens of fans for tent camping and decided that 7 are worth your consideration. Out of these, the absolute Best Fan for Tent Camping is Portable Fan Rechargeable which we highly recommend as our overall best.
If money is not an issue, you can consider COMLIFE Portable LED Camping Lantern with Tent Fan as this is our Premium Pick.
Otherwise, there's no shame in spending prudently, BusyPiggy Solar Camping Fan with LED Lantern is the Budget Option.
Our other reviews you may find useful in your research:
What You Should Know Before Buying fans for tent camping
Size and Portability of Camping Fans
For the outdoor enthusiasts and adventurers out there, the size and portability of camping fans are just as important as their performance. Typically tipping the scale at less than 100 grams, these lightweight gadgets are designed to provide a respite from the heat without burdening your backpack. Powered by batteries, these fans are primed not just for camping but also for other outdoor events and cookouts. Their handheld design augments their portability, making them your perfect travel companions. Ingeniously designed, they fold up neatly, being no fuss to store in your vehicle or camping gear when they're off-duty. All in all, their compact design and easy portability make camping fans the go-to choice for any outdoor escapade.
Battery Life
It doesn't make sense to have a camping fan that runs out of batteries after thirty minutes. A good camping fan should run for at least eight hours at a low speed before needing new batteries.
Camping fans are meant to give campers a breeze while they sleep, so it's important that the batteries can maintain enough power to keep the fan running all night. Many people don't think about the type of batteries used in their fan until it stops working properly after being stored away for months or years. If your camping fan won't hold any charge, you can check if it has rechargeable batteries by taking out each individual battery and checking its label. If the batteries are rechargeables, then there is likely something wrong with the charger.
Power Supply
Camping fans can be powered by rechargeable batteries, car batteries or even solar panels. They have a smaller power requirement and will provide a steady breeze of air. They can be used for a long period of time if the power supply is adequate.
Durability & Warranty
Modern camping fans are typically very durable and reliable, with many brands having limited lifetime warranties.
Airflow
Airflow is the measure of how much air moves in one minute through a space. The airflow is measured by cubic feet per minute (CFM). If the airflow of the camping fan is over 50 CFM, you will not need to use an external exhaust.
Noise Level
In the context of camping and minimal disturbance to the surrounding tranquillity, a camping fan's noise level is one of the key aspects to consider. This parameter is measured in units known as decibels (dB). Just to paint a picture of how silent they usually are, a standard camping fan operates within 30 to 40 dB – relatively equivalent to somebody whispering nearby. So, if you're someone who values the silent whispers of nature at night, ensuring your chosen fan falls into this range should be a priority!
Camping Fan Design
Fans come with many features and styles, so look for a fan that fits your needs and preferences. They come in various sizes and shapes with different features so you need to identify the type of fan that you like and will work with your tent size.
Questions and Answers About fans for tent camping
Where do you place a fan in a tent?
It's a personal preference on where to place a fan in a tent. However, the one thing to keep in mind is that fans need airflow to be able to cool anything down. In other words, the fan needs an opening of some sort for it to blow air out of. For example, if you have a screen house with windows at the top and bottom–that's an ideal area for placement. If you have two screens put together without any windows open, then chances are it will end up creating more heat than cooling down your space since there isn't any airflow coming into or leaving your tent!
What type of camping fan is the quietest?
The quietest camping fan will likely correlate with its design, particularly in terms of speed and blade material. Key to identifying a quiet fan is its manufacturer-provided decibel rating, preferably around 40 or lower, indicating a superior noise performance. Consequently, fans featuring similar air-circulating features should display negligible difference in noise levels at an equivalent speed.
Should I get a camping fan with additional features?
Depends. Getting a camping fan with additional features, like LED lights can be beneficial. However, the multi-purpose fans may cost and weigh more while using up the batteries faster. On the other hand, you may not have to pack additional tent lights.
Can I use rechargeable fan while charging?
Yes, you can–just be careful about overheating problems. It's possible that using it while charging could cause the battery to overheat. Apart from this, there are no concerns with use of both at the same time.