Tokyo, a city famous for sushi, unique technology, street fashion, and Anime, is my favorite place in the world. There is no shortage of things to do in this wonderful city – as long as you have a thick wallet. Tokyo is the world's most expensive city to live in, according to a recent survey by the Economist Intelligent Unit. Traveling isn't much better, between train tickets, boutique hotels in Tokyo, food, and entry charges, it is easy to spend upwards of $200 a day, if you're lucky.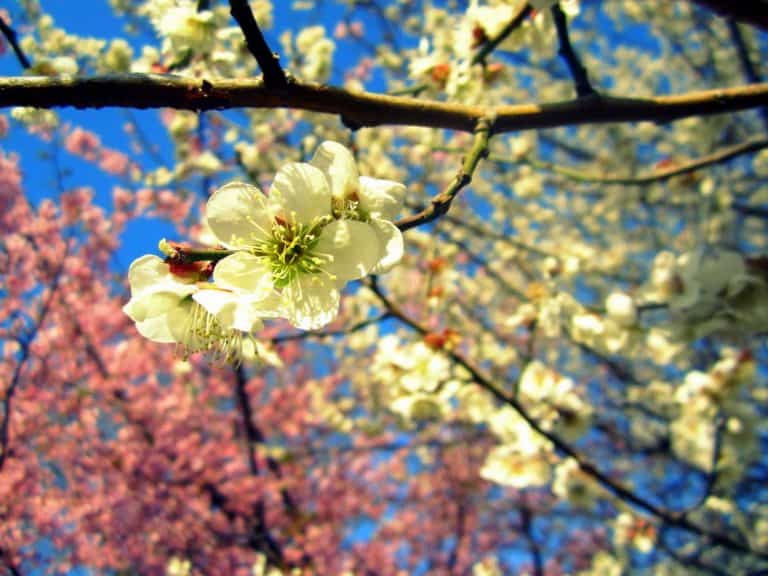 Traveling doesn't have to be expensive as Tokyo has some hidden, cheap things to do. Avoid the "brand name" tourist traps in Tokyo, and it is feasible to spend under $25 a day (excluding hotel rooms).
What to Eat
Nikuman / Anman
Originally taken from China, Nikuman is a steamed bun with pork, chopped vegetables, and thick gravy on the inside. With an identical appearance, Anman has anko, or Japanese sweet red bean paste, on the inside. Some places will have especially cute Anman or Nikuman buns.
Rotator-belt sushi
Skip the expensive sushi that can cost upwards of 5000 yen per person. In Tokyo, there are plenty of 100 yen or 105 yen rotation sushi joint. These rotation sushi restaurants, called kaitenzushi, are scattered throughout Tokyo, even in high-end districts. Seated on a bar stool or booth, you get firsthand access to fresh sushi, whizzing by on a conveyer belt.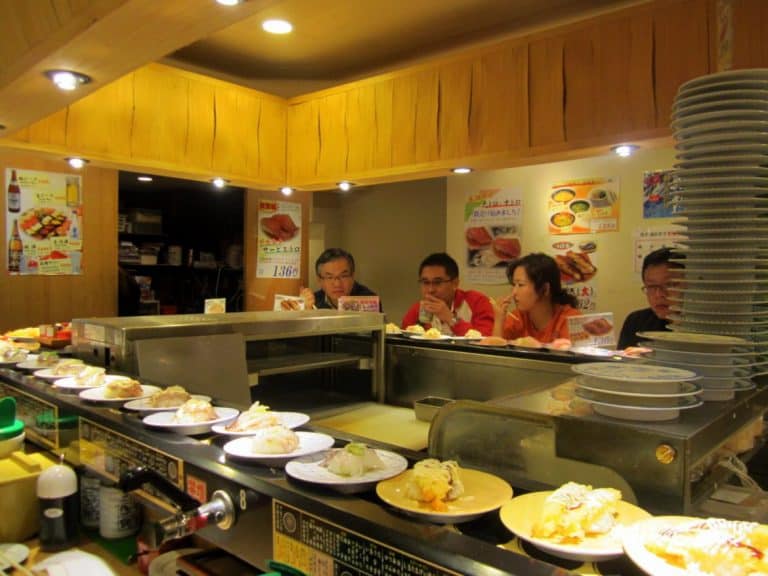 Gyudon
Gyudon, also known as beef bowl, is a traditional Japanese fast food specialty. With a variety of brands, such as Matsuya, Sykiya, and Yoshinoya, you can get a complete meal of beef, pork, or curry with onions, leeks, and red pickled ginger for 380 yen to 450 yen.
Convenience store Onigiri, corndogs, and Nikuman
As a place to pay your utility bills, pick up the latest weekly magazine, and grab a snack, convenience stores are the best place to grab a meal for under 500 yen. Some of the best things to try:
Onigiri
it's a triangular ball of rice with a special filling on the inside, surrounded by fresh, toasted seaweed. Popular filings include fish eggs, salmon, konbu seaweed, pickled ume plum, and tuna and mayonnaise. Most Onigiri are sold with a layer of plastic separating the rice and seaweed, so the seaweed stays fresh and crunchy.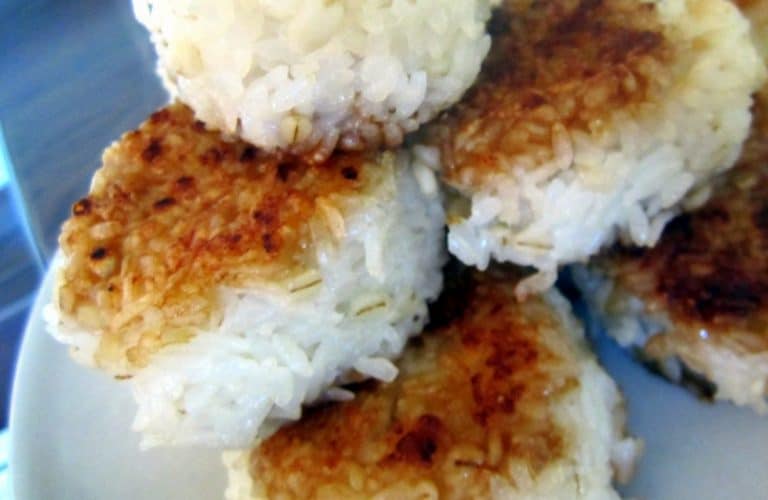 Corndogs
Corndogs, a famous American fast food, have taken a new spin in Japan. With a uniquely sugary corn dog batter surrounding a Japanese-style hot dog, corndogs in Japan taste almost dessert-like.
What to see
Pair up the spots you visit. Renting a car in Tokyo is impractical and expensive, taxis are even worse, and even something like renting a rickshaw driver can cost upwards of 4000 yen for twenty minutes. Trains and buses are the easiest way to see Tokyo, but you can easily spend over $25 a day on train tickets alone. Instead, buy a single ticket from your hostel to a specific spot in Tokyo, and then spend the rest of the day exploring the area on foot. Don't forget to pack comfortable walking shoes.
Some example day tours are:
Shibuya Station
Shibuya is the pop culture center of Tokyo. From the Hachiko exit of Shibuya station, check out the historically preserved train car dedicated to Hachiko, the Akita dog that waited for his master every afternoon at the train station, after his master suddenly died at work and never came home. Across the street from the Hachiko statue is Shibuya crossing, the busiest intersection in Tokyo. Down the road is Shibuya 109, the 13 floor, cylindrical shopping center. Hailed as the most famous shopping center in Tokyo, the small boutiques in Shibuya 109 are always crowded.
Akihabara Station
Akihabara is considered the "nerd" capital of Japan. In Akihabara, you can buy all sorts of Anime paraphernalia, cheap electronics, and sex toys. Avoid the themed cafés in Akihabara, especially the famous maid cafés – where the cover charge to sit down is usually 1000 yen or more.  Go to the enormous Donki Hote store, a seven floor chain shop with a variety of apparel, food, and weird Japanese toys. Grab a cup of coffee at the AKB48.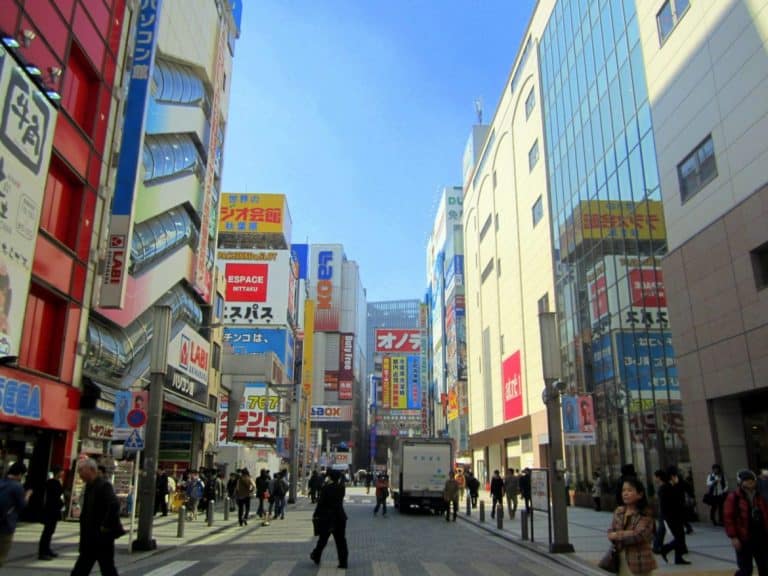 Themed café (named after AKB48, a famous girl group with 48 attractive members) and Gundam café (a themed café based on the Gundam anime).
Harajuku station
Meji Shrine, one of the largest shrines in Japan, is adjacent to Harajuku station. At Meji Shrine you can get your fortune told for 100 yen. Next, move to Yoyogi park (5 min walk), an enormous park famous for their free shows; every Sunday artists, musicians, dancers, and ventriloquists gather in this park, performing all day long. After that, walk through Harajuku, an area in Tokyo wildly famous for their "unique" street style. On weekends, teenage girls, young adults, and old ladies will dress up in exotic styles, often wearing colorful wigs, gothic Lolita style dresses, and heavy makeup and stroll around Harajuku.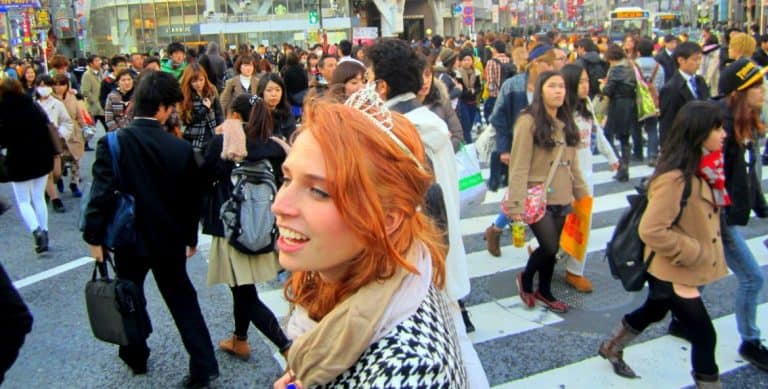 Asakusa Station
Asakusa is one of the best places in Tokyo for tourists. The Nakamise dori road that leads up to gorgeous Sensoji Temple sells a variety of souvenirs, traditional Japanese snacks, chopsticks, fans, and traditional clothing. The Sensoji Temple is a wonderful, looming temple, famous for the vivid red walling. Festivals are held in Asakusa year round; surrounding Sensoji temple are other, smaller temples. From the observation deck of the Asakusa tourist center, you can get some great pictures of the new Tokyo Skytree.
What to do
Go to day-time Karaoke
Karaoke is famous throughout the world. With thousands of songs from Japanese, Korean, Chinese, American, and other foreign artists, it is easy to spend several hours belting your heart out in the microphone. Each room is personal; rates are charged based on the number of people and the time of day. The weekday day rate is cheap; after 5pm or on weekends the rates double or triple.
Take Purikura
Purikura, roughly translating to "Sticker picture," are fun photo booths in Japan. Purikura booths exaggerate your features, giving foreigners abnormally large eyes. Once the pictures are taken, you can decorate them with an electric pen. The pictures are printed on sticker photo paper; groups of friends cut up and distribute the pictures, affixing the stickers to their cell phones, laptops, and notebooks. Purikura costs 400 yen.
Tour Ebisu Beer factory
Ebisu, a district in Tokyo named after Ebisu beer, has a quaint beer factory museum in the center. For 500 yen a person, you can get a fun tour and two complementary glasses of Ebisu beer (one dark, one light). After the tour, you can stay in the Ebisu beer factory tasting room, drinking heavily discounted beer until the museum closes.
---
Grace Buchele Mineta is an American engaged to a Japanese businessman, living in Tokyo. As a part-time blogger and full-time student, she enjoys backpacking throughout Japan, writing about Tokyo, and learning the sophisticated styles of Japanese cooking.