Wroclaw (pl. Wrocław, often called Wroclove by locals) is the city where students' lives blossom. With one of the best universities in Poland, it attracts countless young people who want to live there. But the city also has a rich history and great cultural offers that make people from all over the world come to this place and cherish all its beauty.
Furthermore, Wroclaw is one of the oldest cities in Poland. Located by the Oder (Odra) river, it connects the comforts of the city with the splendid nature of the region that interferes with the tissue of the town. One of the biggest medieval complexes of sacral architecture in Poland, stunning parks, extraordinary art, 12 islands, and over 100 bridges make this a place that you should put on your bucket list.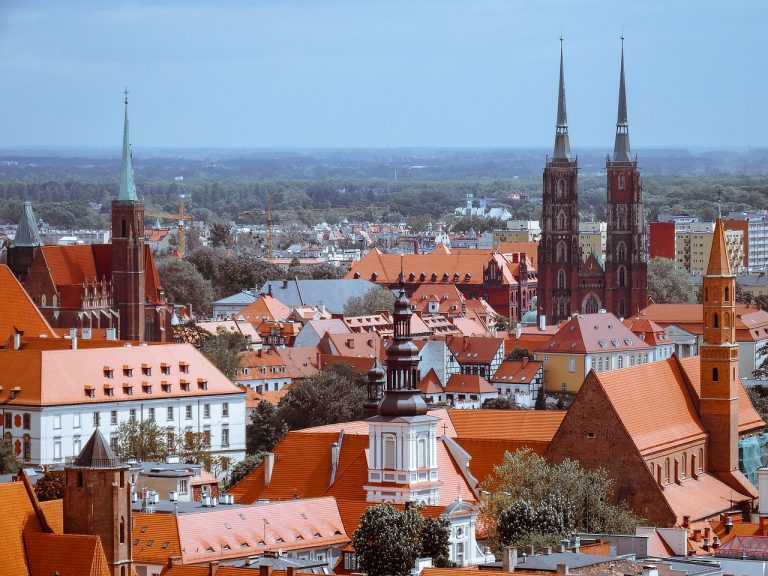 I've been to Wroclaw hundreds of times and I love the vibes there. It differs a lot from cozy Zakopane, hectic Warsaw and historical Krakow. Knowing this city by heart, it's my pleasure to be your guide today and show you around some of the most interesting spots you can discover in such a blooming place. If you're ready, let's start the adventure together!
Where to Stay in Wroclaw
Finding the right accommodation when visiting Wroclaw for a day or longer is key. To help you out, I have prepared a quick map for you. Feel free to browse through it to find somewhere convenient to stay, either a hotel or VRBO, if you haven't booked anything yet.
Have a Stroll Through the Old Town with its Market Square
The best place to start your trip in Wroclaw is Wroclaw's Old Town, the heart of it. It is a stunning building that serves as the town hall that towers over the main square. The Gothic building with its beautiful clock and soaring pinnacles can impress even the most experienced travelers.
The properties that surround the square create a full spectacle of various architectonic styles. Starting with the oldest, gothic ones, through Renaissance and Baroque, and Art Nouveau pearl to modernist facades, Wroclaw's Old Square gives you a kaleidoscope of Polish architecture.
In the middle of the square, you can find pręgierz (pillory). A pillory was an element that any respectful Polish city would have. It served as a place where public punishments were executed. Created in 1492, the original pillory survived until the Second World War. In the 80s, a faithful copy was situated in the same place.
Discover Sacral Buildings on Cathedral Island
Next, we're moving on to Ostrów Tumski (Cathedral Island), the oldest part of the city. During the medieval era, when the cathedral was built, Ostrów Tumski was actually an island. Nowadays, it's a part of the city, but the name remained.
You can visit the oldest church of Saint Idzi here, a stunning cathedral, bishop's palace, and much more. Approach the complex by Tumski bridge and enjoy the picturesque view of Wrocław city.
Learn Polish History from a Huge Painting: Racławice Panorama
To see one of the biggest masterpieces in the country, you need to enter a rotunda, designed specially to expose this picture. Saying that you can immerse yourself in Polish history and art is not a metaphor. The size of the painting is very impressive and even overwhelming.
The Racławicka Panorama is 15 meters tall and 120 meters long, covered with over 150 kilos of paint. This huge image was created in 1893–1894 by prominent painter Jan Styka, and Wojciech Kossak, who was specialized in painting horses. It shows the artistic interpretation of the Battle near Racławice, one of the most important events in Polish history.
Address: Jana Ewangelisty Purkyniego 11.
Pro tip: Because of conservation work, Racławicka Panorama is going to be closed until the second half or 2021.
Admire Stunning Art in Aula Leopoldina at the University of Wrocław
If you find yourself a bit fan of art, this place is a must-go for you. Aula Leopoldina is a truly artistic and architectural pearl, hidden in the walls of the University of Wrocław. The Aula was created in 1728-1732 and is a unique example of the late Baroque secular architecture.
The architects and decorators of this place were following the idea of Gesamtkunstwerk: a total piece of art. The room is filled with sculptures, frescos, and elements of architecture that intermingle, creating one complex wholeness where no element can be distinguished from another.
Address: Plac Uniwersytecki 1.
Prices: Aula Leopoldina 12 PLN. Consult combo ticket prices here.
Pro Tips: Aula Leopoldina is the most beautiful, yet not the only part of the University worth visiting. Check Oratium Marianum or the Mathematics Tower. You can also wander around the old corridors and feel some Harry Potter vibes.
Take a Close Look at Kolejkowo
Next on our list is something that is going to impress kids and adults. Kolejkowo is the biggest model railway in the country and can be admired in the heart of Wrocław. The world of Kolejkowo looks like a childhood dream turned into reality.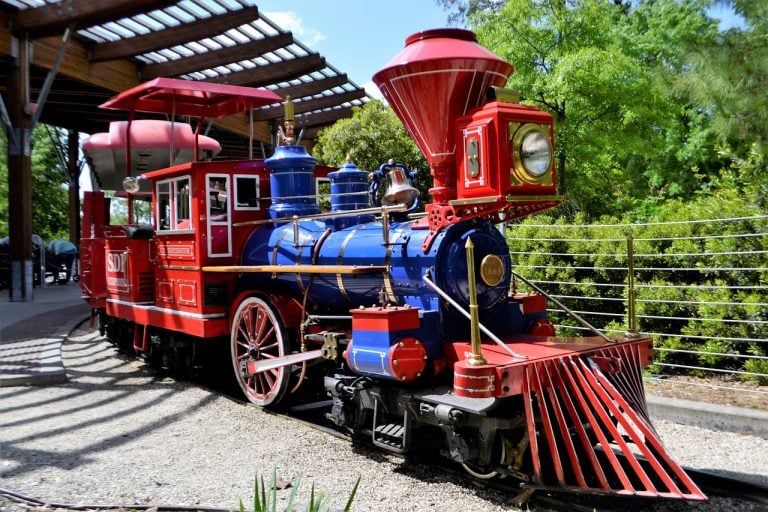 Take a close look at the model and discover all its elements: trains that pass by from one part to another, shepherds calling their sheep to come back home, car mechanics working on their vehicles, and much more. Kolejkowo shows the local areas surrounding Wrocław, but also the world of cowboys from the Wild West or medieval festivals with knights' tournaments.
The magic of the place is created not only by the miniature world but also by the sounds that you can hear. Listen to the hustle and bustle of the train station, the singing of birds, and the hum of the stream that passes by this unique, small, yet spectacular world.
Address: Plac Orląt Lwowskich 20B.
Opening Hours: Every day 10 a.m. – 6 p.m.
Price: 23 PLN.
Pro Tip: Kolejkowo is very popular and can be busy, so during the tourist season it is worth to book tickets in advance.
Follow the Dwarves
This is by way my favorite thing to do in Wroclaw! If you pay enough attention to what surrounds you, you can see a tiny statue of dwarves scattered all around the city. These figurines are local attractions that kids and adults love. Since 2005, the city has continually added them to different parts of Wrocław and other cities and towns around.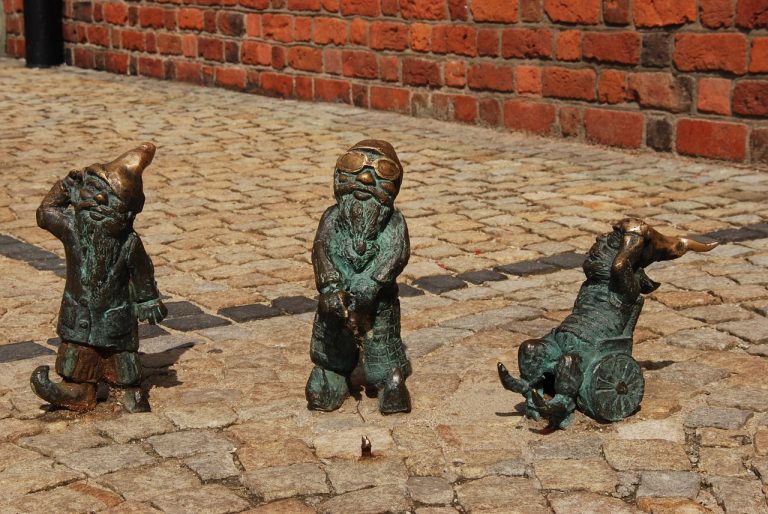 They commemorate "Pomarańczowa Alternatywna" (Orange Alternative), a movement of street artists that were creating graffiti and happenings ridiculing the communist government. After the Fall of the Berlin Wall, the tradition disappeared for years and was resurrected by sculptor Tomasz Moczek who first placed five dwarves around the city.
Pro Tip: If you like visiting a place with a local guide, you can find a rich offer of tours during which you can follow the dwarves and discover Wrocław at the same time. You can start with a Wroclaw free walking tour.
Have a Picnic or a Drink on Słodowa Island
At this point in your trip, you must be starving so it's picnic time!
Słodowa is a small island on the Oder river. Located in the middle of Wrocław, it is a perfect place to visit and relax on the path of nature. In the medieval era, this place held mills of the local Christian orders that had their monasteries nearby. One mill survived until 1975 when it was demolished.
Nowadays, the area is dedicated to leisure times, walking, and outdoor events. It's a great place to come and organize a picnic. You can even enjoy a drink while looking at the Oder river steadily passing by.
·Pro Tips: Drinking alcohol on the streets in Poland is illegal. In some places, such as Słodowa Island you are allowed to do it, but be sure that you don't drink after passing its borders because you can pay a fine for that.
Time Travel to the Era of Neons
Neon lights were very popular in 20th century Poland. Unfortunately, over time they were swapped for a less attractive form of advertising. In Wrocław, you can see them shining in full splendor once again.
In the backyard of one of the properties in Wrocław, you can find 22 neons, from places such as former cinemas, the Grand Hotel, or the Train Station. The Neon Gallery can be visited at any time of the day, but you should definitely wait until it gets dark to see the full beauty of the artifacts.
Price: Free entrance.
Address: ul. Ruska 46.
Savor Polish Cuisine in Rustic Kurna Chata
There is no better way to finish off your day than having some yummy Polish food.
If you are looking for a place where you can eat typical Polish cuisine and enjoy an atmospheric interior, Kurna Chata is the right choice.
In this restaurant, you can start your meal with a piece of bread with lard and pickles, or herring in cream. A rich offer of Polish soup, such as Barszcz (beetroot soup), mushroom soup, żurek (sour soup), or pea soup is going to satisfy the most demanding people. With a big choice of main dishes, you can discover how varied Polish cuisine can be.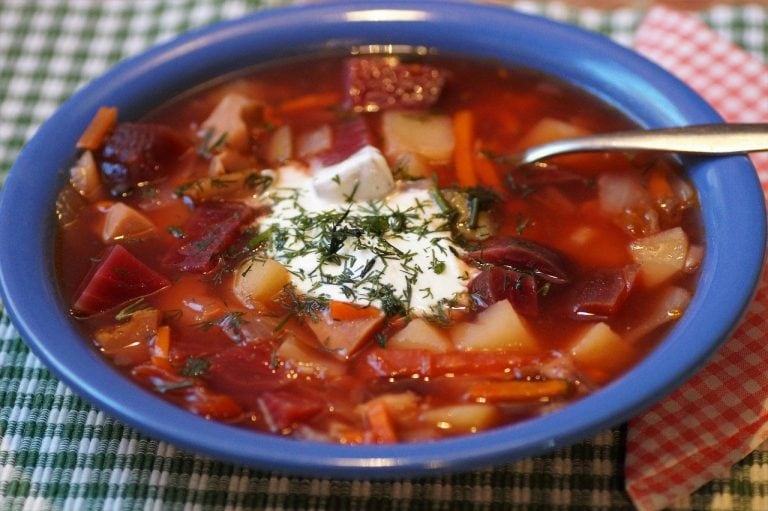 Kurna Chata is not only about what you can eat but also how it is served. All dishes are presented on beautiful, hand-painted dishes that add a charm to even the simplest meal. The warm, cozy interior design is going to make you feel like you are eating your dinner in an old cottage.
Address: Odrzańska 17.
Opening hours: Monday to Friday: noon to 9 p.m., Saturdays: noon to 10 p.m., Sundays: noon to 8 p.m.
Pack Your Bags for Wroclove
Imagine Wrocław in the full blossom of Spring, or illuminated by the Summer sun, or with a carpet of yellow, red, and orange leaves covering the sidewalks, or wrapped in a light fluff of the first snow. No matter the time of the year, you are going to simply fall in love with Wrocław. So now, don't wait and pack your ways, Wroclove is calling your name!
Have you ever been to Wrocław? What was your impression? Let us know which of the places in this city you would like to visit the most and why.