We have finally reached the Portuguese capital and base for our next few days of travel – but the Epic Road Trip was slowly coming to an end. However, before we regale you with the last tales in this adventure, we must first share a word about our accommodation in Lisbon.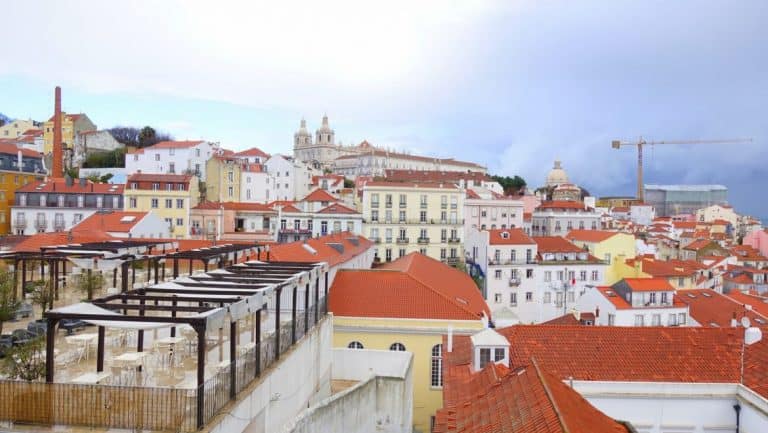 Eagle-eyed followers might notice that one of us eTrampers has actually been here before! Agness visited the Goodmorning Hostel back in 2014 when she was joined by her mom! This time it's my turn, and I'm joined as ever by my ERT companion Lydia. As Agness wrote a review four years ago, it was only fair that I come and check it out for myself!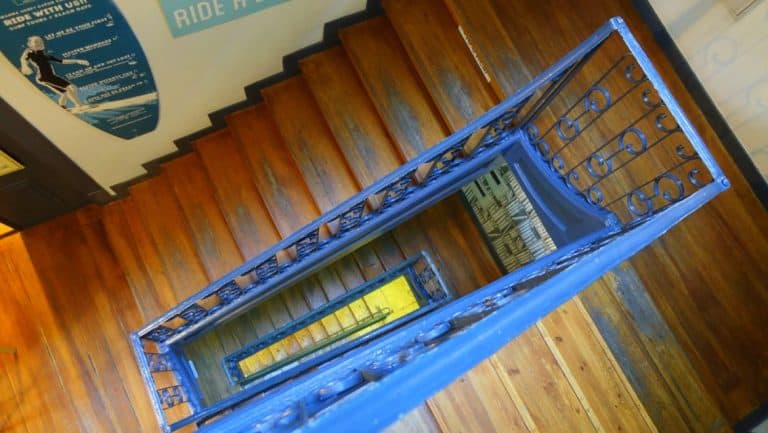 This was to remain our HQ until Lydia and I were due to part ways at the completion of our trip. So, is it all it's cracked up to be? Has anything changed in what is a relatively long time in travel years? Was Agness right in her appraisal or does she get things wrong when I'm not around?! Here's our new review of the Goodmorning Hostel, Lisbon.
Location
The hostel is located right in the heart of the city, on Restauradores Square – which is worth a visit alone while being a stone's throw from many other major sights and attractions. The entrance is actually located inside a souvenir shop – which is pretty handy for picking up a nice memento of your stay here – but not immediately recognisable from the outside.
Once through the door, be prepared for a little climb – but each step is humorously marked with the increments of -0.5 calories – and you'll burn about 30 of them without your luggage. Thankfully, there's a warm welcome waiting at the top!
Décor
Goodmorning Hostel has a colorful interior, with a bright and breezy feel and clean rooms. There's some funky decoration dotted around too, and since Agness' stay, the only real changes have been in redecorating a room here or there.
The chillout/common area is cool and there's a boutique vibe that comes with some nice finishes touches, including inviting comfy sofas, artwork and informative notice boards.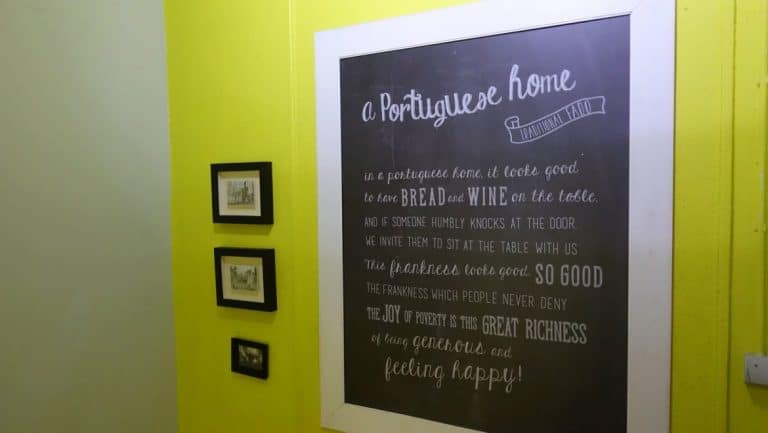 It's got a lot of character.
Staff
As you're probably all aware, staff can make or break a hostel, turning a good place into a great one and vice-versa. Thankfully, the staff here are friendly and approachable, and provide you with everything you need to enjoy your stay.
They're knowledgeable about what to see and do in Lisbon too, and are attentive to every guest ensuring there's a great atmosphere round the clock.
Facilities
Goodmorning Hostel has all the usual facilities you'd come to expect of a place with high ratings on Hostelworld and TripAdvisor. They have 4, 6, 8 and 10-bed dorms available, with female-only options included too. Double rooms are available as well – and many have views over the square, like the one Agness and her mum stayed in last time!
There's a communal kitchen for guests use and clean shower and washroom facilities. Wi-Fi is free but can get slow when everyone is plugged in. Maybe everyone should get out more?! Make sure you bring your own padlock for the lockers too – but that should be a standard practice that everyone should know by now!
Services
The free breakfast has everything you could possibly want to fill yourself up for a good day of sightseeing. It's done in a buffet style with a member of staff serving hot sandwiches and waffles over the counter too – and all the Nutella you could possibly feast on!
Free walking tours and cooking classes are offered so you can explore the city and learn about Portuguese cuisine here. In the evening they organise games for the guests to meet, greet and socialise with fellow travelers, with the option of joining them on a pub crawl or staying in the hostel bar. We didn't partake on this occasion – but you party animals out there will love it!
Atmosphere
As with any hostel, the atmosphere can depend a lot on the type of guests that come through the doors, but there always seems to be a good energy during our stay. We felt there was a sense of togetherness and a spirit of adventure here – where you can make a hostel "family."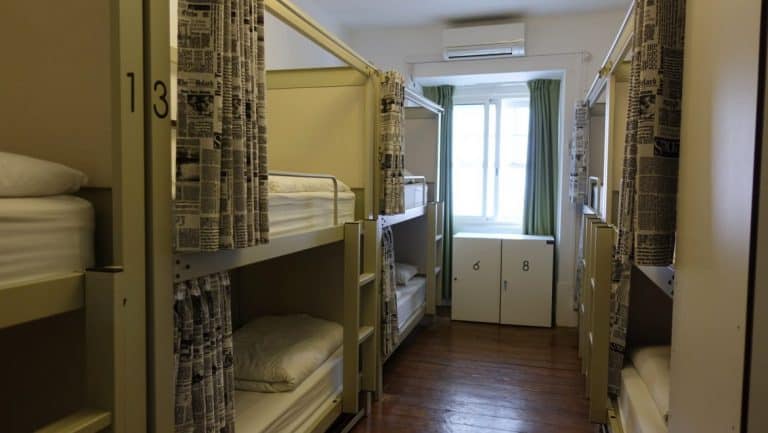 It's somewhere you could book for a couple of days and you end up staying a couple of weeks! Many online reviewers leave comments like "it's the best hostel I've ever stayed at" and "don't stay anywhere else in Lisbon." We're pretty sure you guys can make your own mind up though when you decide to pay it a visit!
Overall
Like Agness and her mom before us, we had a really comfortable stay here. They even remembered Agness staying from four years ago! We're not sure what she did to make such an impression – but let's just say the staff were being nice!
The hostel was recently awarded the third best medium-sized hostel on the planet for 2018, and you don't get that kind of accolade without some fire from that smoke!
Goodmorning Hostel, Lisbon once again gets the eTramping seal of approval. Keep up the good work guys – we'll probably be back in another four years!
Lisbon hostels are known for being highly rated in the backpacking community – have you stayed in any of them?