All good things must come to an end, and end they do with the arrival at our final destination on the Epic Road Trip, the Portuguese capital of Lisbon.
We were based here for a couple of days as we took in the sights and enjoyed a day excursion to Sintra and its castles, but before we bow out on this adventure, you must join us once more for an educational and informative walking tour. It was to be the last time (for now) that travel companion Lydia would accompany me to explore a city, but worry not – because plans are afoot to meet up soon, and do it all again somewhere on the other side of the world! So, keep watching this space travel fans, and in the meantime, as ever, feel free to use our guide for strolling around some of the best sights this amazing city offers – with a couple of top tips on where to eat thrown in for good measure. But let's work up an appetite first!
The Start Line
As we were staying at the comfortable and centrally located Good Morning Hostel, it is only fair that we begin our wanderings here. Lisbon is an ancient and culturally significant location, with a population of around 3 million in the metropolitan area. It is one of the oldest cities in the world, and certainly the oldest in western Europe, as well as the only capital to be on the Atlantic coast. It sits at the mouth of the river Tagus on a series of rolling hills, with a history entwined with the sea, voyage and discovery.
It also boasts an amazing climate, a laid-back vibe and astonishing culinary prowess. But we'll get to all that when our tums are rumbling!
The Monument to the Restorers
Right off the bat, as soon as you walk out of the hostel front door, you'll see this impressive monument in an equally impressive square. It is a 30-metre-tall obelisk which commemorates the victory in the Portuguese Restoration War, and the square is dedicated to the independence of the country from the Spanish. Make sure you spend some time here enjoying the architecture around the square's perimeter.
Rossio Square
A short walk along Rua Romana and you'll find yourself in another spectacular square. Get used to it – Lisbon has them by the boatload! This one is officially called Pedro IV Square and it's one of the main public spaces in the city, where locals and tourists regularly converge.
It's been a popular meeting point for centuries, and the café culture is strong here. You'll find more stunning architecture and detailed, baroque fountains and monuments, set in an epically grandiose setting. It's not to be missed on a visit to Lisbon – and it's right on your doorstep!
San Justa Lift
Continue in the direction of travel and take Rua Aurea, and on your right-hand side, you'll probably see a strange contraption poking out over the tops of the nearby buildings. With Lisbon being a city built on a series of hills, getting around has always proved something of a problem, particularly if you're not up for climbing stairs. This 1902 iron elevator was an ingenious solution, and since then it has become a tourist attraction in its own right and icon of Lisbon. The San Justa lift offers some wonderful views of the city as well as a practical way of getting up and down between neighbourhoods. Be warned though – it can be very busy during peak times.
Lisbon Baixa
We couldn't continue without a general word on the area you find yourself in. Baixa is a labyrinth of beautiful, marble mosaic, pedestrianised streets, with decadent, architectural facades on all sides and as far as the eye can see.
Many buildings in Lisbon were destroyed in the infamous 1755 earthquake here, but in this district, there are plenty original structures that remain. Rua Augusta is a particularly enjoyable street to wander down in the direction of the sea and one of the most popular avenues in the city – not least for its world-class shopping. Take in the buzzing street life with flower sellers, performance artists, buskers and more. For the daytime at least – this is where Lisbon comes to life.
Arco da Rua Augusta
At the end of the street, you can't miss the ornate archway which will lead you closer to the water. It was built to celebrate the cities reconstruction after the earthquake, and visitors can climb the structure for a wonderful view of the surrounding neighbourhood and Commerce Square from the top. The enormous sculpture depicts Glory crowing Genius and Valour, and there's an exhibition for those who want to learn more about the significance of this breath-taking arch.
Commerce Square
Walking underneath the arch and finishing the Rua Augusta sandwich is the magnificent Praça do Comércio or Commerce Square. It's an enormous river-front square that opens onto the mouth of the Tagus, and a place you could quite happily spend hours – especially if you're blessed with the kind of weather Lisbon is famous for most of the time! There's a seemingly endless selection of restaurants and café bars on the perimeter – but we'd recommend holding off until later as they can typically be quite pricey.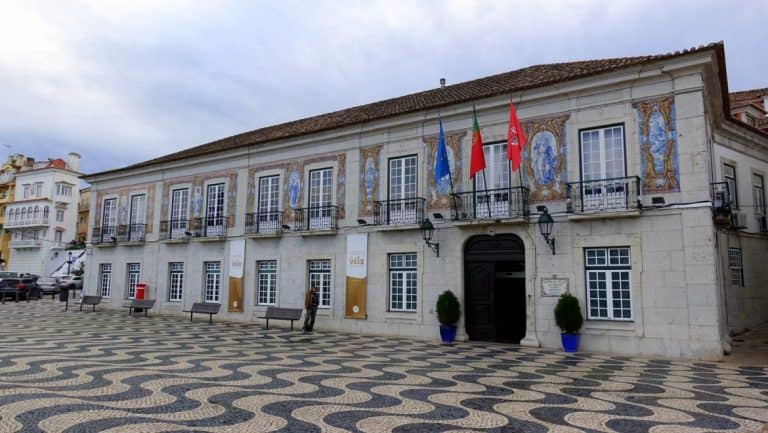 Don't rush through here though – it's a stunning place to walk around. One more great tip – even if the suns out, this place is open to the elements and the wind can be quite chilly, so make sure you pack a warm sweater just in case.
Lisbon Cathedral
With the Tagus river in front of you, swing to your left and make your way to the Lisbon Cathedral. Known locally as "the Sé," this is the oldest church in the city close to the historic Alfama neighbourhood. It was consecrated in 1150 but almost completely destroyed by the 1755 earthquake and rebuilt several times down the centuries. The iconic, twin bell towers and beautiful rose window are unforgettable Lisbon institutions and are best viewed when the sun is just dipping its head in the late afternoon.
Arco do Castelo
Continuing in your wander through the Alfama district and with a bit of luck you'll stumble upon the Arch of Castelo. Not to be confused with the restaurant of the same name in the area – which is apparently very good – this delightful stone arch is your way-marker for knowing you're heading in the right direction for Lisbon's number one attraction.
Before you make the climb however and if you're feeling peckish, Alfama is Lisbon's oldest quarter and you can find some fantastic restaurants here. Try A Baiuca – Fado Vadio for traditional Portuguese cuisine while listening to Fado – the country's unique musical genre.
São Jorge Castle
Nestled high on a hill overlooking the entire city and dominating the skyline from almost everywhere you look in Lisbon, is the São Jorge Castle, a Moorish fortress with links back to 48 BC. It's a towering citadel with immensely fortified walls and it's a lot of fun to explore!
As most people will tell you, it is particularly beautiful if you time it for when the sun is going down, and you'll find it's a popular spot for lovers of all ages to find their own secluded corner of the ramparts and watch the light change across the city. With plenty of open spaces and hidden nooks and crannies, this place has the potential to keep you occupied for hours – and kids especially will have a wonderful time scrambling over its old stones. Adults will pay 8.50 Euro per ticket while children under 10 get in for free.
Tram 28
In a perfect position in the shadow of the castle, you'll find tram 28's main stop. You might have to walk a little further, but trust us – it's there. Tram 28 is a famous route that takes you round all the major sights in the city for a fraction of the cost of those big, red tourist traps on four wheels. It's also particularly handy, as you'll no doubt be feeling the ache in your poor little tootsies, and you'll want someone to carry you home. Jump on this, and it'll whisk you right to your next destination because as sure as you are tired, you're going to be hungry too!
Barrio Alto
Now it's time to get the party started! Or, if you're not into parties, have a nice meal and head home for a well-deserved sleep. Barrio Alto is Lisbon's nightlife hot-spot, and on a warm summer evening, everyone who is anyone will be heading here to play.
But fear not if it's just a hearty feed you're looking for, as this region has some incredible cafés and restaurants serving traditional Portuguese fare – which will most likely lean heavily toward delicious seafood and exquisite desserts. There are loads to choose from, but try 100 Maneiras for some stylish eats and tasting menu to sample the best of Portuguese cuisine.
It's Nearly All Over!
Once you've tackled this lot, you'll be sleeping deeper than a sloth on tranquillizers. Our Epic Road Trip was just about at an end, with one more day-trip to go before Lydia and I went our separate ways. This is all from Lisbon though – a truly magical city and one you'll want to return to time and time again. So, as the Portuguese say – tchau!
Have you been to Lisbon? Let us know your experiences of this historic capital