Lisbon is one of these cities in Europe where I could easily move to, if I didn't live in Amsterdam already of course.
It's not only doable for $25 a day, but it's also gorgeous – have you seen my postcards from Lisbon already? Besides, its climate which is ideal, it's perfect for beach lovers and its food …. Honestly, I had one of the best experiences with food and wine when staying in Lisbon with my mom two years ago! We both gained some weight, but it was so worth it. I still remember digging into Portuguese desserts every single day and if you have not seen my top 15 best desserts you can't afford to miss in Lisbon, click here.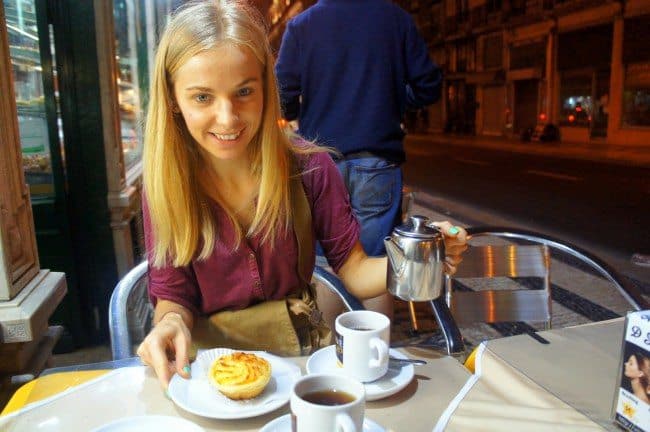 Let's forget the food for now and focus on accommodation. We often get asked where to stay and what budget sleeping options are available in Portugal, more precisely in Lisbon. If you are planning to visit Portugal's capital city for a holiday break, these top 10 budget accommodation options may be worth checking out:
1 – Airbnb
Lisbon is a very common city to rent rooms, houses and apartments from locals. The prices start from 12 euro per night and you can bring with friends with you. Some deals include breakfast and bike rental. Airbnb a good option for couples and a bunch of friends wishing to have their own place for longer than one or two days without paying much. Budget: 12 euro+ / night.
2 – Couchsurfing
If you are traveling solo and looking for some company, go couchsurfing. Your host will offer you a free place to stay overnight, he / she may want to show you around Lisbon and introduce you to a typical local lifestyle. You can share some travel stories, have few beers and laugh all night long. Budget: 0 euro.
3 – Goodmorning Hostel
Perfect hostel option for anyone who is looking for a great Portuguese breakfast in the morning, nice company and daily activities, affordable prices and very comfortable and tiny rooms. I stayed there for few nights with my mom and we couldn't be happier with the place. I still miss guys from reception, good wine and these freshly made waffles that made my day each morning! If you want to read more about my experience with Goodmorning Hostel, click here. Budget: 12 euro+ / night.
4 – Ibis Lisboa Liberdade
It is a good option for budget travelers who value good quality of hostels and care a lot about location. Ibis Lisboa Liberdade, that can be found on AccorHotels.com, is a 2-star place where rooms are very clean and comfortable and breakfast is tasty. The size of rooms is good, room cleaning is done daily and it is located only 15 minutes walk from the main square. If you need some extra help, the staff is there to help you out. Budget: 15 euro+ / night.
5 – Lisboa Central Hostel
This hostel rates very high on Hostelword due to its friendly and nice staff, free soups served daily and free milkshakes given away every Monday. Moreover, it is located in the heart of Lisbon, in Marques de Pombal and the famous Avenida da Liberdade. All of Lisbons major hot spots are easily accessible on foot, thus saving you the cab fare home at night. Really fun and fresh place for those who like local atmosphere and a lot of good food. Budget: 11 euro+ / night.
6 – GSpot Party Hostel
It's a place for everyone who likes to have fun, meet people and party. You will find here cozy corners for social meet-ups, good beer and free breakfasts. This hostel also offers discounts on tours, surfing and festivals so if you are a typical party animal, that's the place for you. The hostel is very well-located, in the heart of Lisbon, just steps away from the famous Avenida da Liberdade and the historical downtown area and the world record neighborhood with the most bars and clubs. Budget: 8 euro+ / night.
7 – Lost Inn Lisbon
One of the best things about this place is its location. It is placed in the historical and elegant district of Chiado – very central, just 5 minutes walk from the Metro and Train Station Cais do Sodré. This area is surrounded by fashion bars, clubs and restaurants where locals and tourists meet together. What is more, Lost Inn Lisbon is housed in an eighteenth century building that has been completely renovated. Just staying there could be a great experience you can't miss. Budget: 10 euro+ / night.
8 – Lisbon Chillout Hostel
It is a true Lisbon hostel where you can chill and experience the real Portuguese hospitality. The hostel staff plans daily a lot of various events everyone can attend, from free city tours to local meals with music in the garden. The hostel is located in a very traditional neighbourhood in Lisbon where you can find local food and great bars. It can be a bit far from the city center, but public transport and local bikes are just around the corner. Budget: 12 euro+ / night.
9 – Lisbon Destination Hostel
This place is all about cozy atmosphere. All members of the staff make sure you feel like home so you are fed properly and will be surrounded by friendly people. It's a high-standard place with decent rooms and perfect location for backpackers – located in Rossio train station. There are plenty of activities each evening to make sure you never feel lonely so if you travel solo, that could be a place for you to stay. Budget: 12 euro+ / night.
10 – Alfama Patio Hostel
It's typically a hipster place with awesome garden patio and roof terrace where most of activities and parties take place – perfect for summer and hot weather. The hostel serves a Portuguese dinner nightly in the garden which is a great way to gather all hungry peeps together and make them get to know each other. By staying here you can experience the real Lisbon in one of the most beautiful and characteristic districts of Old Town. Budget: 10 euro+ / night.
As you can see, Lisbon offers a lot of different accommodation options for everyone who is traveling on a tight budget. You can find fun, friendly and hipster hostels where you will feel like home in every corner of the city!
Have you visited Lisbon already? If so, what hostel / hotel did you stay at and would you recommend it?