Following our encounter with rock-hard bread-cakes being hurled from the roof of a local church for the popular Festas de São Gonçalinho, we survived and decided to explore our current location on foot. We were in the beautiful seaside town of Aveiro, which has an extensive maritime history and has the enviable moniker the "Venice of Portugal."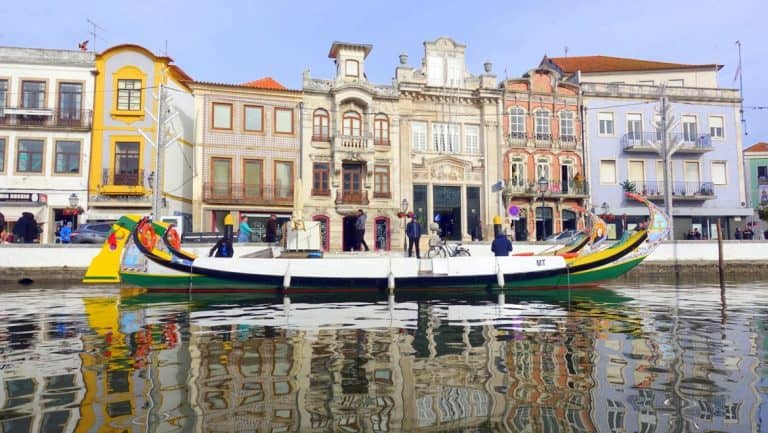 As romantic as this was, Lydia – my Epic Road Trip companion, decided that seeing the town on our own steam was a more productive – and slightly less embarrassing – use of our time here. So, we set our best feet forward from our home base and explored the town. So, it is our pleasure to share our experiences here.
Aveiro sits an hour south of Porto on the North Atlantic coast, and apparently famous for its production of salt and seaweed. Like our previous destination Salamanca, Aveiro is also a notable university town and the city itself dates back thousands of years. We spent two days exploring this delightful place and loved every second of it. So, here's what you can see in the city centre.
Exploring the Waterways
The city is set along a lagoon known as the Ria de Aveiro, and it is from this that the canals and waterways are fed. Like its more famous Italian counterpart, Aveiro's canals are regularly navigated by gondolas, only in these parts they are known as "moliceiros." These brightly colored boats were originally used for harvesting seaweed, which was in turn used to fertile the surrounding landscape.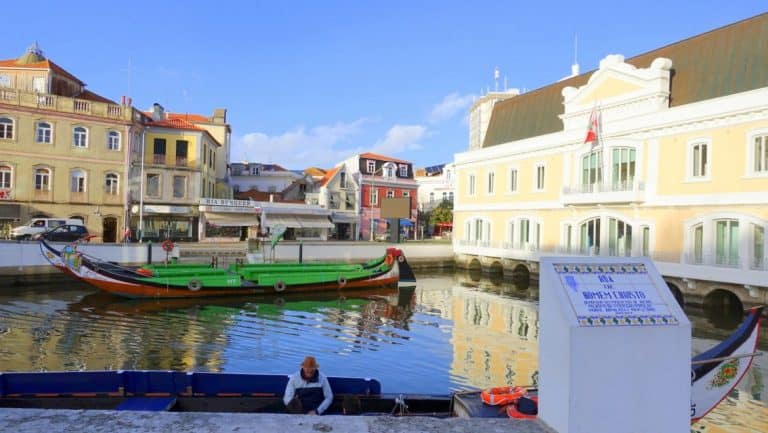 Today, plentiful tourists more than keep them occupied and if you're that way inclined you can board one and see the city from the water. Simply walking along the towpaths is still a great way to see the sights though. And the beautiful art nouveau architecture the city is famous for. However, at just 8 Euro for a 45-minute ride, it sure beats Venice for value for money on the waterways!
São Gonçalinho Chapel
We should note that not far from our location at the Aveiro Rossio Bed & Breakfast you can find the São Gonçalinho chapel. It is the building where everyone throws the cakes from for the Festas de São Gonçalinho. It's worth a detour through the back alleys and mazy streets of the Rossio neighbourhood if you have time.
Art Nouveau Museum
As you begin to explore the canal towpaths, your first port of call upon leaving the Aveiro-Rossio B&B is likely to be the Art Nouveau Museum. You're already in the beautiful Rossio quarter of the city, which is an amazing neighbourhood filled with art nouveau architecture.
And not least the museum itself, which is housed in the wedding-cake Casa Major Pessoa. The museum will give you an insight into this detailed and delicate artistic trend that spread from Paris and made it to Portugal in the 19th century. They even have a walking tour themselves – should you specifically want to visit all the art nouveau buildings in the region.
Rossio Garden
Directly opposite the museum, you'll find the Jardim do Rossio, a lovely little tranquil garden you can while away the afternoon in. Hence, we'd recommend popping in on your way back from your walk.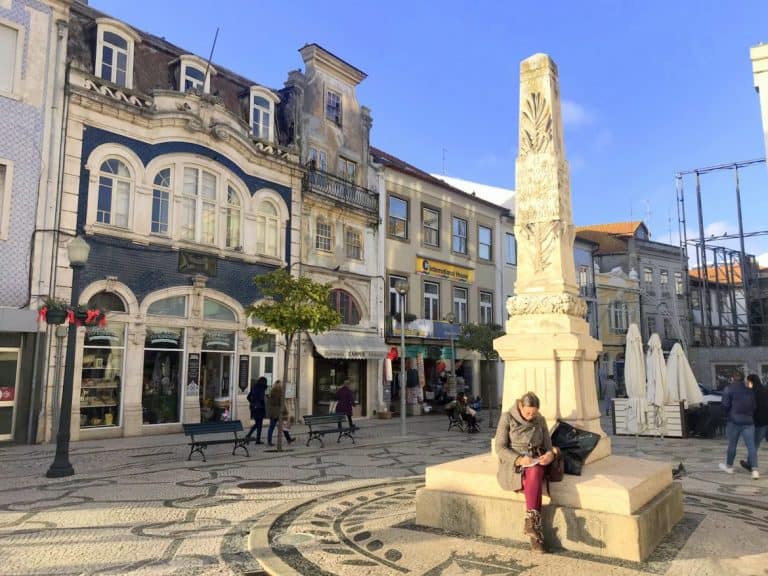 There's a play-park to keep any young ones entertained. And as well as being a great spot for a picnic, there's plenty of highly rated restaurants in the area too should you feel like splashing out on some delicious Portuguese seafood. A great spot to forget about your troubles.
Sweet Workshop
For those of you – like me – who have a sweet tooth, you're going to delight at your next port of call. Aveiro is also famous for its traditional sweets, delicacies that are unique to this region, made from eggs and sugar. Known as Ovos Moles, they come in a variety of shapes, sizes and fillings, all beautifully decorated and mind-blowingly delicious!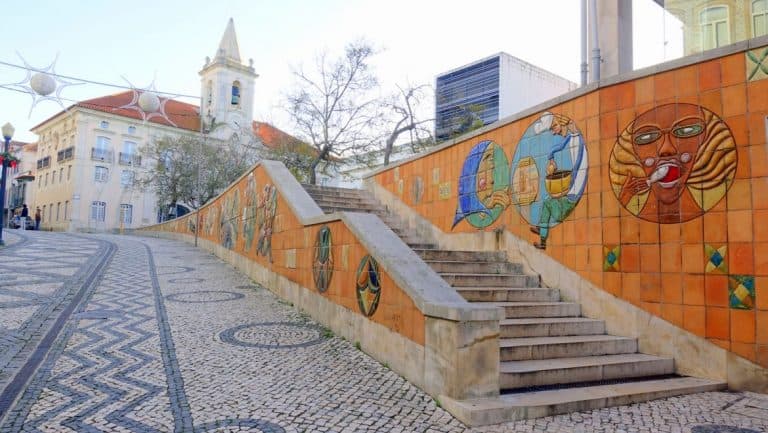 The Oficina do Doce (the Dove's Workshop) is a fascinating place where you can watch these 'sweet-eggs' being made. You can, of course, sample them until your heart is content! Remember – there's still plenty to see in the rest of the city!
Aveiro City Hall Area
Following the canal, a little further down you'll come to a roundabout and opportunity to cross the water. From here you'll make your way past the Aveiro City Hall. It is a beautiful building dating back to 1797 and overlooking a charming square decorated with mosaic circles.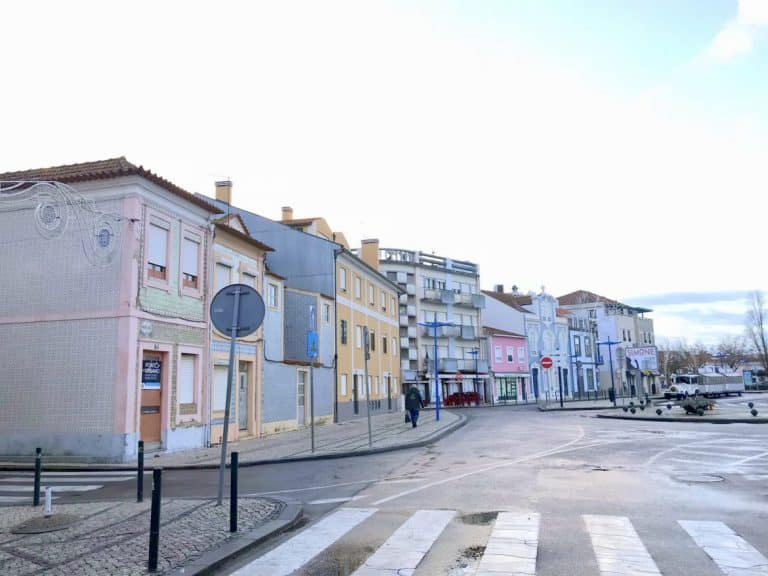 Along the way you'll be walking through delightful old-world streets, passing by the famous Misericórdia Church – which is adorned with blue and white tiles. It's well worth peeking through the giant wooden door to see the lavishly decorated interior too.
Museum of Aveiro
You'll cross through Santa Joana park to find the Museum of Aveiro, a 15th-century convent and home to a permanent exhibition of important sculpture, artwork and local crafts.
You can explore the convent itself too, which includes the tomb of Princess Saint Joana – whose name was given to the museum and park. She was the daughter of the first king of Portugal and you can learn her story here, as well as viewing some truly stunning exhibits in the collection.
Aveiro Cathedral
The final location on the walking tour before you head for home is the city cathedral, known as the Church of St Dominic. It's a beautiful 15th-century building with an ornate interior of carvings and statues.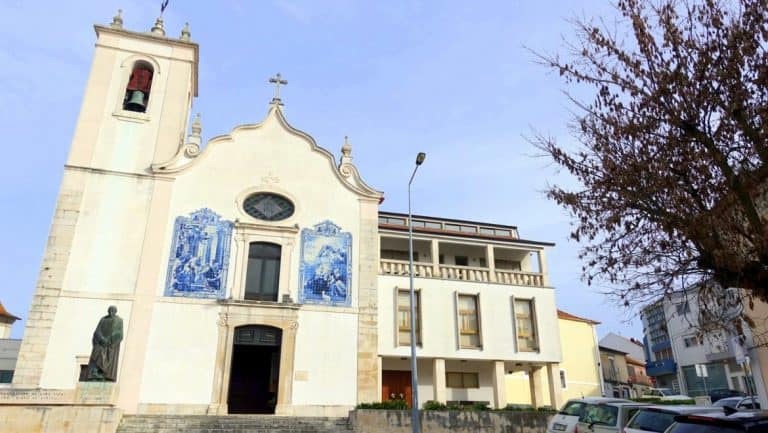 However, it has come under fire for its choice of décor following years of modernisation. Have a look and decide for yourself if you like what they've done with the place.
Strolling Home
When you turn for home, head towards the Forum – which is a shopping centre along the canal front. It's an interesting design in itself and features a garden on the roof that looks out across the city. The food court is popular to grab a bite too, but then simply make your way back along the canal at sunset and put your feet up when you're home. If you've explored everywhere on our walking tour – you'll have earned it! Up next is Lisbon, which we will start from checking in at Goodmorning Hostel.
Aveiro is a popular tourist destination with lots going for it. What appeals to you the most about visiting here?