Fresh from our wonderful walk-around in Lyon, Lydia and I were once again ready to hit the road on the second leg of our Epic Road Trip together. With Agness still getting ready for the mischief in Africa (stories that will no doubt be told in the near future), it was up to new travel buddy Lydia to fill her shoes and keep me company as we gallivanted around Europe this winter.
Next stop on the schedule was a trip to the magnificent, medieval, fortified city of Carcassonne.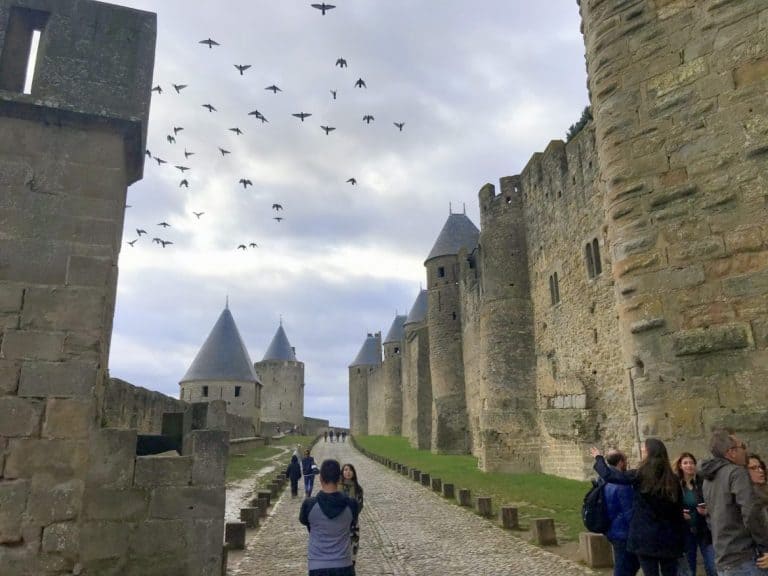 And you might well have heard this name before, as aside from being an ancient walled city with roots back to Neolithic times, it's also an immensely popular board game. So much so, that many people don't realise Carcassonne is actually a real place!
But we can assure you that it is, and we had an absolute blast exploring its winding streets, nooks, crannies and old stones. To use a familiar cliché – it was like stepping back in time. But it was! Honest!
So, join us now as we guide you through the best sites this city has to offer – and there's not a meeple in sight!
The Medieval Castle Poster Boy
Carcassonne is considered one of the finest – if not the finest – medieval fortifications in the world. It dates back thousands of years, but the ramparts, spires, turrets, battlements and other ancient architectural features were only restored as (relatively) recently as 1853.
It's located in the south of France, 80 kilometres from Toulouse, perched high on a rock from which it dominates the landscape. You might have seen this view before too – as it was used as a location in the 1991 movie – Robin Hood Princes of Thieves.
UNESCO honoured it with world heritage status in 1997, and it continues to attract around 4 million visitors each year – of which we were just two of them!
The Cité de Carcassonne
The most famous part of the area is the Cité. Or La Cité as we should probably say. Here we should give you some interesting figures.
The walls of this part of Carcassonne are 3 kilometres long and are dotted with no less than 52 towers! It might take you a while to explore them all.
Interestingly, it is also said that it was one of the inspirations for Walt Disney's 'Sleeping Beauty castle' – and it's certainly got some credibility there – with its fantasy-esque "pointy hat" spires.
Château Comtal
We're sure your inner child is going to be desperate to walk the ramparts – and you definitely should – but you'll need to go through the Château Comtal to do so.
The "Count's Castle" is a 12th-century stronghold within Carcassonne's walls, at the highest point in the city. As such, you're going to get some fabulous views from the extensive ramparts – but you need to pay for the privilege.
However, for those on a budget, try going on the first Sunday of the month in the offseason for a free pass. You get to cross this cool bridge over the moat too! There's sadly no water in it – but all castles should have a moat!
The St Nazaire Basilica
Rivalling both Lyon's cathedral (which we saw on our previous ERT episode) and the more famous Notre-Dame in Paris, is the St Nazaire Basilica in Carcassonne. Completed in the early 12th-century, the church was rebuilt in a marriage of the Roman and Gothic styles and is famous for its impressively large, rose, stained-glass window.
There's also the largest pipe organ in the south of France located here for those interested in a jam session.
The Museum of the Inquisition
Not for the squeamish, this small but charming museum contains all the usual suspects when it comes to medieval devices of torture. And what would a trip to a medieval castle as significant as Carcassonne be without delving into the brutality of the middle ages?
It's your chance to put a loved one on the rack! Be advised though if you're traveling with younger history buffs – you don't want the exhibits to scar them for life!
The Pont-Vieux
For one of the finest views of the whole magnificent structure, head down to the Pont-Vieux. Literally translated as "the old bridge" it is the oldest crossing over the Aude river – and one of the most beautiful.
It's from here that you will achieve your best picture-postcard moment of the citadel – particularly if you go at night when everything is sumptuously lit up. Don't forget your tripod or all you'll be left with is a fuzzy shot and bitterness.
Canal Du Midi
For something a little different or if you're all castled-out, why not enjoy a barge trip on the Canal Du Midi that runs through the city? Here you'll be on part of the 240 kilometres that make up the canal – at arguably its most beautiful section.
Built to link the Atlantic and the Mediterranean, where once it transported goods, now it regularly transports tourists. It's a must to see the city from a unique and unforgettable angle.
Why Don't You Just Get Lost?!
Seriously, it's not an insult. Just do what we did – spent most of our time wandering through the old streets of this open-air museum and time-capsule. There are some amazing features to be discovered at every turn, from great city walls to defensive fortifications, to fine eateries, cafes and funky souvenir shops where you can purchase your own copy of the citadel in all shapes and sizes.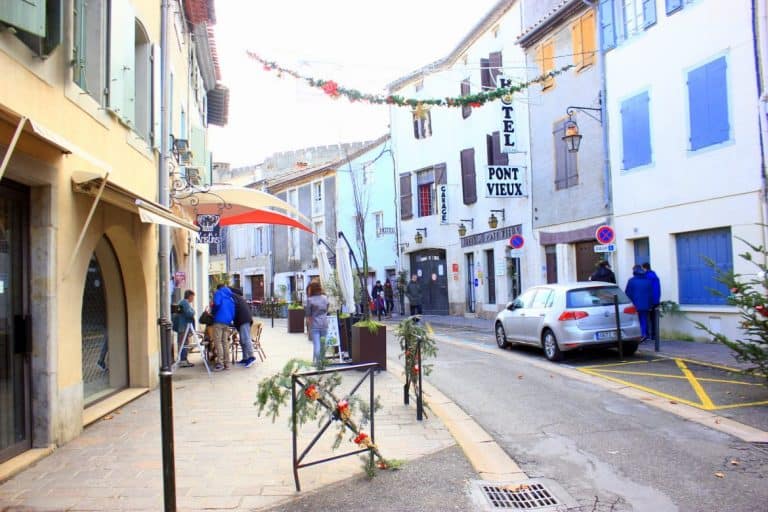 Apart from full scale – which would be difficult to get through customs.
Onwards!
It was such a shame we only had a short time to visit, as the road was calling for our next adventure and there was a real possibility of one of us getting lost here and never seen again.
Stay tuned to the ERT series for our visit to Andorra, but we won't forget Carcassonne and its medieval magic in a hurry. Now we can be really annoying when we next play the board game because we've been there!
Do you think Carcassonne is it the finest castle in the world? Let us know your thoughts!