Did you know that there are less than 1,000 gorillas alive today? Most of them can be seen up-close in Volcanoes National Park, in the country of Rwanda. These magnificent creatures live in the Virunga Mountains, among bamboo slopes.
The Volcanoes National Park has breathtaking scenery with the most extraordinary apes to see and spend 1 hour observing. If you would like to take on this experience, choose the best experts you can find. This way, you will see and learn mountain gorillas' daily life only a few meters away.
Arriving in Volcanoes National Park and Trekking Logistics
Rwanda's Volcanoes National Park has three boundaries. Thus, there are three entrances. One is in Uganda, another one in Congo and another one in Rwanda. Regardless of this, most of these trips leave from the city of Kigali, Rwanda's capital. This city is the nearest point to all three entrances, making it a strategic point.
It's a 2-hour drive from Kigali international airport to the Volcanoes national park. Try to arrive at the park entrance at 7 am. There is no public transport from the nearest village to the ORTPN. Make sure you have a ride there very early in the morning. Once there, if you have already purchased the permit and the safari tour, you are good to go.
Arriving During COVID-19 Pandemic
It's once again possible to go for a Gorilla Trek during Coronavirus Pandemic, even though the activity was paused for a while in 2020.
How hard are Gorilla Treks?
Hiking to the gorillas in Volcanoes National Park has been called easier than other gorilla destinations. You have a choice to select a long tough hike and a moderate and easy one where gorillas are much near with easy terrain.

The terrain is manageable most times of the year but gets hard especially in the wet seasons. So you need to be in good shape. There are porters available you can hire to make your trek easier. It is important that you follow all the park rules to the dot.
Why is Gorilla Trekking in Rwanda Expensive?
Thirty years ago, gorillas were on the verge of extinction. Today, there are people who protect them all year long. Volcanoes National Park is the most popular wildlife destinations on the African continent.

As gorilla trekking is a sensitive activity, the government of Rwanda decided not to allow too many people at the same time. Permits are not only expensive but scarce. The aim is to keep the impact on the environment at a minimum and to provide a source of revenue for the community and for the conservation of the park.
How to Buy Gorilla Viewing Permits?
The first rule to go on a gorilla trek is to book a gorilla pass in advance. These permits are quite scarce, only 8 per group each day, and they run out very fast. So make sure you buy it on time. They cost $400 DRC (in Congo), $1500 (in Rwanda) or $600 in Uganda. These permits help the government control the number of people going for gorilla safaris. So the animals do not get stressed and their habitat remains the same.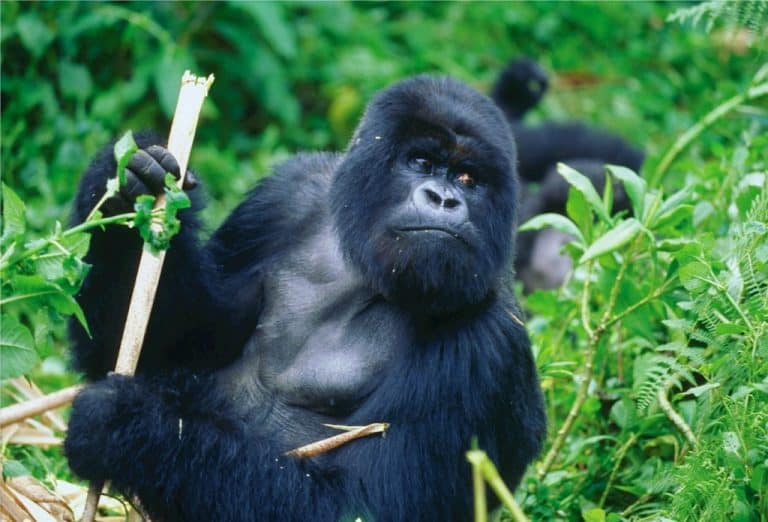 You can buy permits through the Rwanda Development Board (RDB) or through a travel agency. Visitors must be over the age of 15 to buy a gorilla viewing permit.
Best Moment to Take a Tour
When planning to visit, especially for Rwanda gorilla trekking any time of the year is good to travel a tropical climate as it can rain any time. But the best time to do it, is during the dry seasons, between the months of December and March, or between June and December. In the dry seasons, the temperature goes up to around 30 degrees Celsius.

The rest of the months are very rainy. Heavy rains can make the hiking terrain difficult as it is the rainforest. For those looking for discounts, the wet season is the cheapest and there are more permits available.
Gorillas Photographing Tips
In the park, you may take photos but only without flash as it may frighten the gorillas or other animals in the area. Mind you, the vegetation is very dense, and you may not have time to change lenses if the gorilla moves. Make sure you bring short to medium lenses, so as not to be fiddling with your equipment. You may lose the chance to take a shot.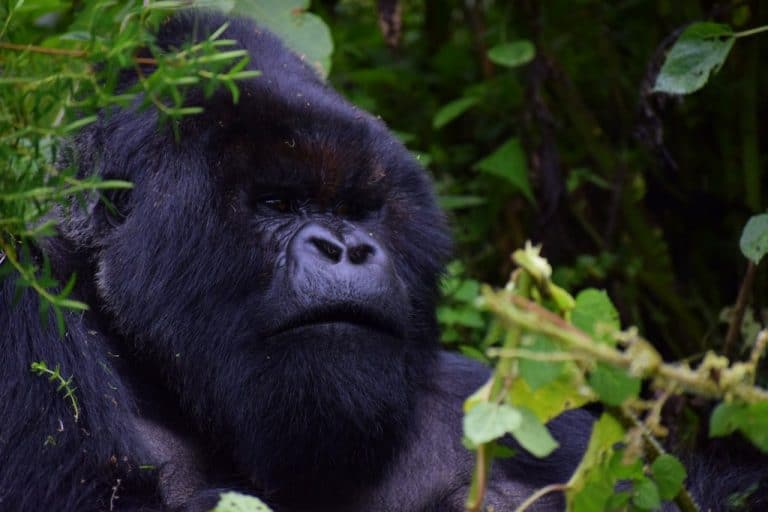 According to the protocol, you have to leave your backpack 100 meters away from the gorillas, so you need to be able to carry your camera.
What to Wear and Pack for Gorilla Trekking?
For a gorilla trek, it is advisable to carry only a small backpack with water, some food, binoculars and, of course, a camera! Everything you take with you should be light, as you will need to walk and climb for some hours. Lightweight hiking boots are a must. Make sure they are waterproof so you don't hurt your feet.
As weather conditions and temperature may vary, take some jacket and trousers. Wearing long-sleeved trekking shirts and trousers is the best choice to avoid insects such as ants and mosquitoes. Also carry sunscreen and a hiking hat to protect your-self from the sun, and an insect repellent. Don't forget to keep yourself hydrated and to bring some energy with a snack. Gorilla trekking can take from half an hour to more than eight. You can pay a porter to carry your backpack and camera, and to help you along the hike.
Gorilla Trekking Rules
The RDB advises visitors to follow a strict set of rules. So as not to transmit any human disease to the gorillas, visitors cannot go closer to 22 feet from the animals. If you have a cold, flu or anything contagious, please do not visit the park.

There is a maximum of 8 visitors per group and viewing time is one hour. Visitors cannot spit, cough, or sneeze near the animals, not only to prevent disease but also to be quiet. Try not to move fast or make loud noises that may frighten the gorillas. And, of course, do not litter!
Certainly, gorilla trekking in Rwanda can be one of the most exciting wildlife tours in the world. These magnificent creatures are very friendly and let you observe their daily life as long as you do not disturb them. There are plenty of agencies that offer you tour packages. Just make sure you check their reviews and choose the most reliable one. Government websites also provide you with resources to find everything you need. Good luck and have a nice trek!
Is Gorilla Trekking in Rwanda an adventure you'd like to go on?