"Happiness is the meaning and purpose of life, the whole aim and end of human existence." We think that Aristotle was onto something when he (probably) said those words, and for us, there is no better happiness than travelling. Fitting then, the way we should introduce this article about the great scientist and philosopher's old stomping ground – the Greek capital of Athens.
Along with his teacher Plato and in turn his teacher Socrates, they helped to establish Greece as one of the cradles of civilisation, as just some of the founding fathers of modern thought. So, let's take a look at a shortlist of the very best this city has to offer.
Of course, if you really want to know what to see and do here, you're better off finding a local. Internet is full of best itineraries for Athens and some may give you a great overview and a lot of inspiration on what to do and see in the Greek capital, like this 3 day Athens itinerary, but the help of a fellow human is invaluable. Every local, born and raised in Athens, will have some secret tips and tricks up their sleeve to share with you. Some hidden gems, best eats – and all at locally acceptable prices.
So, if you can, try to find a friendly local to show you around. But for now – you'll just have to make do with us.
The Acropolis
One of the most recognisable locations in the world is this Athenian hillside citadel, for centuries home to the corridors of power of the Greek empire. Its imposing location overlooking the city contains a myriad of ancient architecture, the likes of which has few rivals around the world. The most famous of course is the incomparable Parthenon – the temple to the goddess Athena.
But don't skip everything else just to see antiquity's poster child. There's so much more to satisfy your history fix – too numerous to list here.
The Acropolis Museum
Athens' new pride and joy is this stunning, multi-level museum dedicated to all things ancient Greece. It boasts over 4,000 artifacts on five levels, more than enough to keep you enthralled and occupied for most of the day. It's especially ideal when it's too hot to move outside.

This state-of-the-art facility is a must-see when visiting the city, at the very least so you can understand exactly what it is you're looking at outside. Perfect for all the family, the Acropolis Museum has won numerous awards since it finally opened to the public in 2009.
The Theatre of Dionysus
The ancient Greeks enjoyed a fair bit of merrymaking, which is reflected in the abundance of centuries old theatres you can discover in Athens. The oldest happens to be dedicated to Dionysus – the Greek god of wine, song and all things debaucherous.

Standing for around 2,500 years, it might not be the prettiest of the theatres here (that accolade belongs to the Odeon of Herodes Atticus), but who wouldn't want to have a dance and a jig on the stage as a homage to the god it was built for? Dionysus would certainly have approved.
The Plaka
Stepping away for a moment from the ancient stuff (which to some can get old pretty quickly – pun intended), let's explore the delightful Plaka neighbourhood, the vicinity of which you're likely to be in.

This is Greek culture and hospitality at its finest, with charming, narrow streets, leafy walkways, and plenty of boutiques, cafes and restaurants serving the finest local cuisine. You won't feel like you're in a capital city while getting lost here.
Syntagma Square
The city's historic main square is of particular interest to visitors because of a tradition that takes place here at 11 am every morning. The changing of the guard in front of the tomb of the unknown soldier is an experience not to be missed – perhaps most notable for their striking, traditional uniforms.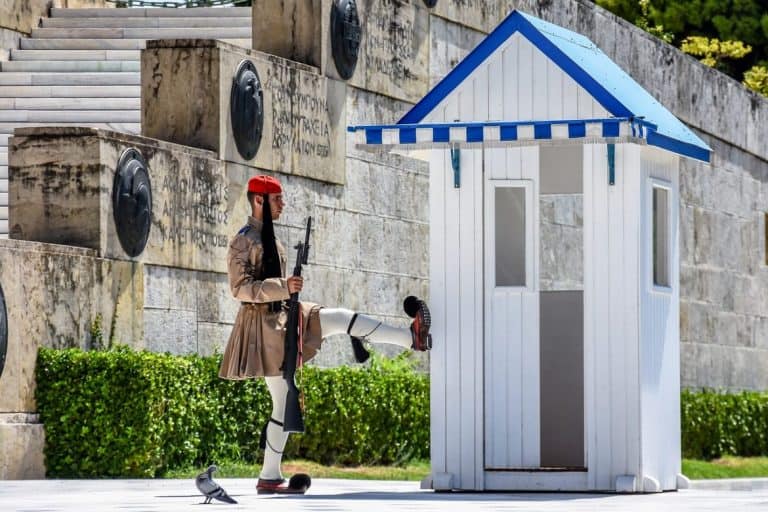 Plaid skirts and pom-pom shoes are an interesting fashion statement, but it is an homage to the first modern king of Greece – Otto. As well as this fascinating spectacle, the square has a number of other points of interest, including the Old Royal Palace, and is a location of much significance in the capital.
Monastiraki Flea Market
If you're looking for a really unique souvenir or a present for someone back home, then look no further than this Athens institution. The region is known for its shopping culture, but every Sunday is when it really goes to town. Here, you can buy just about anything.
Old coins, nick-knacks, clothing, military gear, knock-off watches, knock-off everything, stuff people don't want…you'll find it in this shopper's paradise. It gets lively at night and there's plenty to keep you entertained even if you're not parting with your hard-earned cash.
Panathenaic Stadium
No less than 60,000 spectators can cram into this magnificent arena, there to watch heroic Olympians compete for glory. It was built around 330 BC in which to enjoy the Panathenaic Games – a religious, sporting and cultural festival held every four years.

It was rebuilt in 1896, but it's still very much in use today as a focal point for anything Olympian – such as the passing of the torch. It served as a venue in the 2004 games, hosting the archery competition and as the marathon finishing line.
The National Garden
Athens isn't the most aesthetically pleasing city on earth, but it does have its moments. One such moment is to be found in the tranquil National Gardens, 38 acres of much-needed green space in an otherwise hustling and bustling metropolis. There are multiple entrances, close to both the main square and the Panathenaic Stadium.
Full of a variety of flora and fauna, the gardens will seem like an oasis of calm after your hectic schedule of sightseeing. It's a historic and important place for Athenians, who visit to get away from it all. You must join them in guessing the right time from the famous sun-dial at the entrance.
Accommodation in Athens
To see and experience all of these spectacular things in Athens, you need to find a place in a suitable location. To do so, use the map below. The search bar will bring you to any place and the icon on the bottom right will show you a heat map of areas with tourist attractions, shopping and nightlife to make sure you're based in the right spot.
Wonder is the Beginning of Wisdom
Coming full circle (and to look really smart) we'll finish on this Socrates quote.
Athens is indeed a place to fill you with wonder as you walk in the footsteps of an extraordinary culture. At the very least, you will definitely learn something during your visit to this intriguing city. And it's an easy place to get to by bus, ferry or flight.
Have you been to Athens? What would you have included as a must-see attraction?