Trekking to Dian Fossey's tomb in Rwanda is one of the most popular after safari activities. Inside the Volcanoes National Park, there's a trail to her former research camp and tomb. It takes an hour and a half to get there, and you can see all kinds of animals on the way. The campsite is at an altitude of about 3000 meters and was abandoned during the Rwandan genocide in the 1990s. Though it is a bit ruined, they have reconstructed it for tourism. Here's everything you need to know about Dian Fossey and visiting her tomb.
Dian Fossey Biography
Dian Fossey was a primatologist, that is, a person who studied primates. Dian Fossey loved animals right from the time she was a child. In later life, she met Doctor Louis Seymour Bazett Leakey who was impressed by her love for animals. He sold her the idea of studying primates in Africa. She took up the challenge and specialized in mountain gorillas that were on the verge of extinction.
Dian Fossey spent nearly 18 years studying the gorillas in Congo and Rwanda. She established the Karisoke Research Centre in between the two mountains Karisimbi and Bisoke in the year 1967. Dian Fossey was the first human to study and understand the complex behavior of mountain gorillas. She learned their body language, played with them and managed to win their acceptance.
Dian Fossey also found that in order to be accepted in a gorilla group, the first thing to do was focus on gaining the acceptance of the dominant silverback. Her work included fighting poachers which won her many enemies. She used extreme methods to scare off local poachers hence reducing poaching significantly.
When Dian arrived in Congo in 1967, she started doing her research. A few months later, in July, the army arrested her and her assistants. They had to bribe the guards to let them escape. In September of that year, she went to the Rwandan side of the park and set up the research center. Her favorite silverback gorilla was Digit and they are buried next to each other. Together with her friend, she raised awareness about mountain gorillas.
She published a book titled "Gorillas in the Mist" that later led to a movie by the same title. Dian Fossey's Fund still carries out research on gorillas to this date. By the time of her brutal murder In December of 1985, Dian Fossey had won herself many enemies including some important players in animal trafficking and poaching. She was found murdered in the middle of the night in her home up to the mountains. Dian Fossey was buried in the research center alongside the gorillas she had given her all to protect.
Despite her tragic murder, Dian Fossey left a great legacy behind. She is credited for protecting the few mountain gorillas then from total extinction by using tough methods to stop poaching. It was Dian Fossey who first discovered how to make wild gorillas used to humans around them. Because of heavy poaching, the mountain gorillas feared humans and would attack anyone who came near them. Most of the principles used currently for gorilla habituation were first used by Dian Fossey. Rwanda gorilla safaris are therefore possible for visitors all over the world because of the early work of Dian Fossey.
After her death, the Dian Fossey Gorilla Fund was established to continue with the good work she started. The Fund is currently protecting 10 gorilla groups (out of the 15 that live in Rwanda). They have gone beyond gorilla protection in Rwanda to general wildlife conservation within East and Central Africa. Walking Dian's steps is an amazing experience not only for your body but also for your soul. She was a selfless person who devoted her life to these animals. The Dian Fossey Hike is a really inspiring experience.
Permits for Hiking to the Grave of Dian Fossey
You need to acquire a permit before embarking on the Dian Fossey hike. If you are planning to go between the months of June to September, you should buy the permit a few months in advance. It's the high season and many tourists visit the park. Yet, this hike is not as in demand as those of gorilla trekking. The permits can be secured from the official website of the Rwanda Development Board. A permit cost 75 USD and includes a guide.
How to get to Dian Fossey Tomb?
Dian Fossey worked and lived within what is now known as the Volcanoes National Park. To get to the park you need to take a taxi or transfer from the capital Kigali to Muzane. It's a 2-hour drive and it will cost you around 2 USD one way.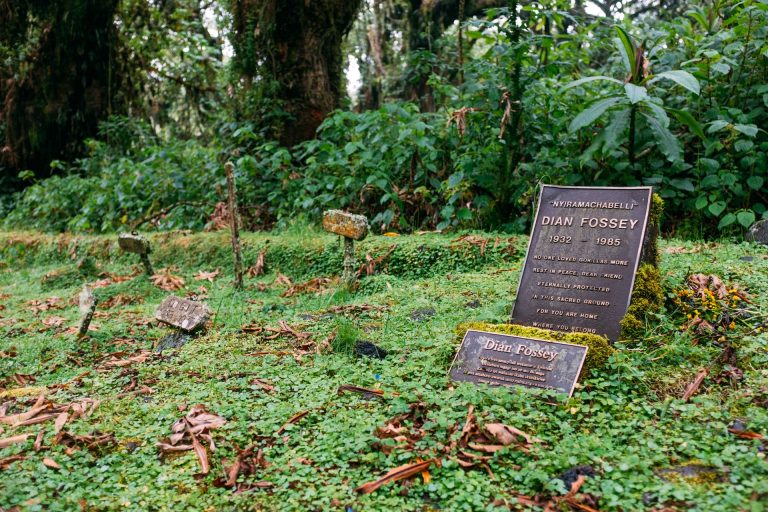 There are some buses with WiFi to pass the time but you can also hire a private vehicle or use the services of a tour operator. Once you get there, you should go directly to the park's headquarters. If you are using public means, you will stop at the town of Musanze. From Musanze you'll have to take a cab that will cost you 17 USD as no public options to the park are available.
Once in the park, you'll need a 4×4 vehicle. You can either drive yourself or hire a driver. This happens since the first part of the road is not in good condition and it takes about half an hour to get to the actual entrance of the park. Hotels offer packages of around 50 USD for a driver to pick you up and leave you at the end of the hike. Remember you have to be at the park to start the trek by 7 am. The best and most convenient means of traveling to the park and for the hike for international travelers is to use the services of a good tour operator. They will organize the activity on your behalf leaving you with the task of showing up.
How Difficult is the Dian Fossey Hike?
The hike to her tomb takes about two to three hours with rest stops in between to eat a snack and drink water. It's not difficult for regular hikers but beginners may get tired by. The terrain is very muddy during the rainy season so you have to take careful steps so as not to fall. Walking sticks are great to keep balance and you should definitely get hiking boots.
Packing List for Visiting Dian Fossey Grave
It's important to stay hydrated in such hot weather so bring enough water. Pack only light snacks like energy bars. It is advisable to buy some gaiters to cover your ankles and calves and avoid red ants. You can hire them in the park but they are quite expensive. Wearing gloves with a good grip is also a good idea. Also, wear long-sleeved hiking shirts and trousers as the park has stinging nettles and mosquitoes.
Bringing a light jacket and a change of clothes might be a good idea in case it rains. Waterproof clothes and shoes are the best options for the rainforest. Same goes for the way you'll carry all this. It is good to bring a waterproof duffel bag so that your dry stuff stays dry.
Dian Fossey Hike
During the hike, you'll go together with park rangers. The role of the rangers is to protect hikers from any stray wild animals or poachers. Poachers are almost non-existent and animals rarely attack park visitors but the park authorities will take no chances. This makes it a very safe African country. On your way to the ruins of Dian Fossey's house, you can observe plenty of wildlife. There are small primates and many different birds. You might even get lucky and spot the endangered mountain gorillas and golden monkeys along the mountain slopes. As you climb the mountains, you can observe the beautiful Albertine rift valley among the volcanoes.
Once you reach the tomb, you have enough time to pay homage to Dian Fossey and learn about her work with the gorillas. She is buried in a cemetery with several of her favorite gorillas including Digit. After taking time in the gorilla cemetery, you can proceed to her former Karisoke Research Centre and living quarters.
Dian Fossey Hike During COVID-19
It's still possible to go for this hike despite some of the other travel destinations being in lockdown. For more info, see our Guide to Gorilla Trekking During Coronavirus Pandemic.
In conclusion, you can explore Dian Fossey's tomb site while observing rare gorillas in their natural habitat. When you plan your safari in Rwanda, you should definitely include this hike. This experience will enrich you spiritually as you will get a deep understanding of Dian's lifework.